Happy Earth Day!
---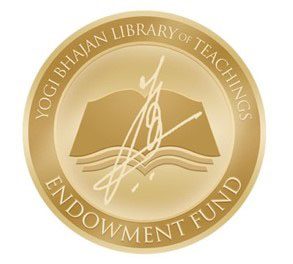 The Yogi Bhajan Library of Teachings Endowment Fund

SUPPORT THE KUNDALINI RESEARCH INSTITUTE & THE LIBRARY OF TEACHINGS

---
A Note From Nirvair
Sat Nam.
Greetings from New Mexico!
April 22 is Earth Day, and Yogi Bhajan frequently spoke of our relationship to Mother Earth and Mother Nature. He was very concerned about what was happening to the planet. On the day after the 20th anniversary of Earth Day, he was reflecting on the small number of people, only about 2%, that cared about the planet. He went on to say on April 23, 1990, "According to all bylaws of the rules of Earth, if this rate continues, in fifty years the planet Earth will not be habitable for humans. Period. That is not an emotional calculation, that's very, very factual." He urged the students in the class to take action for recycling and conservation of energy and resources.
Personally, I always appreciated how Yogi Bhajan would relate a concept, like consciously taking care of the Earth or recognizing the laws of nature, to a practical and spiritually uplifting instruction.
"If you call, this entire universe around you is at your service. If you know who you are and what your relationship is with the universe, you can always call. Sometimes, you have no faith and you do not even believe that nature can help you. Nature is a woman, that's why they call her 'Mother Nature'. Nature is a giver, a helper, a true friend, a sustainer, and nothing but constant harmony. So, if you are an aware person, then you must learn an attitude, which you can do very systematically. Sometimes, you do not know what to do. All right, just relax and say, 'What should I do?' You immediately will find that Mother Nature, in the form of consciousness and awareness, will start talking to you." 6/30/77
My feeling is that it is time to start consciously talking to our Mother, the natural world. This awareness of our life on Earth can be aided by taking care of our internal and external environments, with small and large actions. So, on this Earth Day, join me in making a resolution to be kind to our own nature and to our natural Mother – the beloved Earth.
All the best with blessings,
Nirvair Singh Khalsa
CEO KRI
---
---
The Top Reasons to choose a KRI® Teacher Training

Have you decided to become an instructor of Kundalini Yoga as Taught by Yogi Bhajan®? If so, congratulations on making one of the most impactful decisions of your life. For Kundalini Yoga teacher training, KRI is the place to be.
• The Only Official Authority
KRI is THE ONLY institution commissioned and approved by Yogi Bhajan himself to provide Kundalini Yoga teacher trainings.
• Personal Transformation
More than a certificate and set of techniques, KRI training will evoke the positive transformation of your personal lifestyle and spiritual journey.
• Authentic Community
KRI is a diverse and inclusive community devoted to connecting, supporting, and co-creating. The 3HO International Kundalini Teachers Association (IKYTA) membership provides professional support, development, and networking.
• Portal to Advancement
An official KRI Level One teacher training is your starting point and prerequisite for advancement to the depths of the Level Two and Level Three training programs.


• Individual Support
Support is available each step of the way from dedicated, experienced, and spiritually mature teachers.
• Safe & Ethical
KRI upholds high standards in its CODE OF ETHICS and a zero tolerance policy. Any violation is reviewed and enforced by a third-party governing body.
• Global Consistency
You will find a consistent, top quality curriculum at any official KRI training, anywhere in the world. With a KRI licensed trainer, you can be sure that the program is aligned with Yogi Bhajan's teachings.
KRI Teacher Training programs can be found all over the world. Find a KRI Teacher Training near you!
---
Cover Your Head for Kundalini Yoga

When practicing Kundalini Yoga, we always cover our head with a natural cloth, such as cotton. It can be a bandana, a cap, a wrap, a turban, or any style that covers the hair and head. This is done in reverence for the teachings but it is also a tradition that is rooted deeply in yogic technology.
Through Kundalini Yoga, the practitioner trains to become aware of and master the subtle energies. Yogi Bhajan taught that the hair is alive and has an important energetic function, regulating the sun energy in the body system. By covering the head, the energy generated by the practice is contained within. It stabilizes the energy and allows it to collect in the region of the sixth and seventh chakras. The sixth chakra is at the third eye point, the point between the eyebrows, which is the seat of intuition. The seventh chakra is at the top of the head, and it is the connection to higher consciousness. By containing the energy generated during practice, it stabilizes the nervous system and opens the intuition.
Here is what Yogi Bhajan said in 1997: "We are not asking everybody to tie a turban, what we are asking is for teachers to at least cover their heads. In old times, in any spiritual [tradition], Christianity, Judaism, Islam, they covered their heads. God has given the human hair on their heads for a purpose. Hair is a pure protein, a pure, heavy protein. Your gray matter and this pure, heavy protein is connected. This bunch of hair protects the solar centers in your skull. If you don't have any value for it, go and get them cut, it's okay. You shave your head, it's fine; but the caliber of your intuition will change. So what we want, when a person invokes the Divine, is that they should cover their head. Somebody asked, 'What should I do? I am in a ski place. Can I put on a ski cap?' I am not telling you to cover your head with a wood block, I am telling you to cover your head with anything available to you that can cover. It is fine with me."
Covering the head provides a sense of containment and focus while doing any practice or work that requires clarity of thought. It literally helps "keep your head" together!
---
Do you want to immerse yourself in Sikh Dharma? Camp Miri Piri is for you!

Sikh Dharma is still a mystery for many people who practice Kundalini Yoga. If you have been yearning for a deep experience of Sikhism, Camp Miri Piri is for you. Camp Miri Piri is for and about Sikhs – five days of sharing the spiritual warrior experience. The camp is a celebration and a dedication to Guru Hargobind, the sixth Sikh Guru, who started the warrior tradition in Sikhism. He wore two swords, naming them "Miri" and "Piri". These swords represented the balance between spiritual and worldly powers. This concept of the warrior-saint has permeated the Sikh philosophy and lifestyle ever since.
The goal of Camp Miri Piri is to challenge you to connect to your soul in a deep way. Here, you will find recitation of the five morning Banis, a powerful group Sadhana, challenging physical training, and inspiring Sikh stories and meditation. You will gain an in-depth experience of Sikh values by balancing the mind, body, and spirit through the practice of Gurbani Kirtan, Kundalini Yoga, meditation, and warrior workouts, as well as classes to build healthy relationships.
June 7-11, 2019 at Hacienda de Guru Ram Das in Espanola, NM, USA
Join us in the midst of the mountains and blue skies of New Mexico where you and your family will have a chance to take a deep journey within to experience the identity of the spiritual warrior.
These camps are for adults, age 18 and older, however children are welcome and attend free when accompanied by a parent.
---
Celebrating Krishan Kaur's 80th Birthday
Join KRI and all your friends in Los Angeles on May 4th to celebrate the amazing Krishan Kaur's 80th birthday! It will be the party of the year and not to be missed! Click here for more information on Celebrate Krishna!
---
The Role of Yoga in Treating Inflammation: Getting in Line with Self-healing
by Raj Kaur Khalsa (Naila Omar Khayyam Alieva), Ph.D.
Sat Bir Singh Khalsa, Ph.D.

Inflammation is a disordered physiological response or consequence of immune reactions to acute injury or a chronic condition and has been associated with a number of diseases. Inflammation involves local or global changes in blood vessels, nerves, and tissues with symptoms including pain, redness, immobility, swelling, and heat of the affected area. Additionally, inflammation of internal organs, often associated with chronic conditions, may also occur and could include fatigue, nausea, mouth sores, chest pain, abdominal pain, fever, rash, joint pain, sleep disturbance, depressive mood, irritability, and mild cognitive difficulties with attention and memory. Chronic inflammatory diseases are the most significant cause of death in the world. The World Health Organization (WHO) ranks chronic inflammatory diseases as the greatest threat to human health. Worldwide, three of five people die due to chronic inflammatory diseases like stroke, respiratory diseases, cardiovascular disorders, cancer, obesity, and diabetes.
Inflammation is actually a defence mechanism in the body and a part of the body's normal immune response. Infections, wounds, and any tissue damage would not be able to heal without an inflammatory response. In cases where harmful stimuli have not been removed and the inflammatory response has been maintained for a long period of time, the body develops chronic inflammation, which itself can eventually lead to disease conditions, including allergies, skin problems, and some cancers. Inflammation can also affect organs in so-called autoimmune diseases, in which the immune system attacks its own tissues as if they are threats to health. Examples of some autoimmune chronic inflammatory conditions include inflammation of the heart (myocarditis), kidney (nephritis), large intestine (colitis), and joints (rheumatoid arthritis).
Diagnosis of acute or chronic inflammation involves blood examination to evaluate the increased level of several inflammatory biomarker molecules including gamma globulins, C-reactive protein and fibrinogen. Additionally, patients with chronic conditions would have additional biomarkers assessed, including pro-inflammatory cell-to-cell signalling cytokines, such as tumour necrosis factor alfa (TNF alfa), interleukin-1 beta (IL-1beta), interleukin-6 (IL-6) and interleukin-8 (IL-8). In several research studies, up or down regulation of the expression level of several pro and anti-inflammatory transcription factors have also been assayed. Recently, the possibility of detecting salivary cytokines was assayed in several randomized controlled trails (RCTs), which provided promising results on non-invasive sampling among yoga practitioners even during practice (before and after breathing exercises, for instance).
There are several lifestyle-related risk factors associated with the development of chronic inflammation, such as obesity, unhealthy diet, smoking, stress, and sleep disorders. Altogether these factors induce accumulation of chemically aggressive free radical molecules, an increase in visceral body fat, and higher production of pro-inflammatory cytokines. There are several conventional drugs currently available to treat both acute and chronic inflammatory conditions and/or reduce accompanied symptoms. Depending on the type and severity of symptoms, patients might be prescribed non-steroidal anti-inflammatory drugs (NSAIDs), such as naproxen, ibuprofen, aspirin, acetaminophens (paracetamol), and Tylenol (even though these only reduce pain without affecting the inflammation itself). In more severe cases corticosteroids, disease-modifying antirheumatic drugs (DMARDS), and biological response modifiers (BRMs) might be administered. Anti-inflammatory treatments are prevalent in all known schools of traditional medicine, such as Ayurveda, Chinese medicine, and Russian herbal medicine. Known remedies include a root known as devils claw, the wood spider or grapple plant (Harpagophytum procumnens), the Hyssop plant, ginger, turmeric, and, in some cultures, cannabis.
Behavioural strategies, including lifestyle and dietary changes and mind-body practices, provide another useful tool for treating inflammation. Recent reviews have summarized the research on the benefits of mind-body interventions (MBIs) such as yoga for reducing inflammation in acute and chronic conditions. Even though it is not completely clear how MBIs work at the molecular or cellular level, several hypotheses have been proposed based on recent research advances. First, it has been shown that MBIs reduce expression of gene activity involved in the inflammatory response that are induced by stress. Several studies indicate that these practices are associated with downregulation of the nuclear factor kappa B (NF-kB) pathway, reduced signalling through the proinflammatory transcription factor NF-jB, increased activity of the cAMP response element-binding protein (CREB) family transcription factors, and upregulation of the glucocorticoid receptor gene. Potential mechanisms for these effects include alterations in neuroendocrine, neural, psychological, and behavioural processes. Second, yoga breathing exercises and meditation have been demonstrated to reduce pro-inflammatory cytokines, such as IL-1 beta, IL-6 and TNF-alfa and have a positive impact on depression, anxiety, cognition, and pain. Lastly, yoga and other practices are well known to directly stimulate the vagus nerve. It was found that an increase in vagal tone is correlated with the capacity to regulate the stress response and likely contribute to resilience and the mitigation of mood and anxiety symptoms, which ultimately might reduce inflammation symptoms.
A significant number of RCTs have been conducted to address possible benefits of MBIs on inflammation status of both healthy and diseased individuals. A positive effect of a yoga-based lifestyle intervention was demonstrated in RCTs on groups of healthy individuals exposed to occupational hazards by three independent groups of researchers in India. There was only slight induction of pro-inflammatory factors observed after 12 weeks of regular yoga training as compared with a control group of non-yoga practitioners, in which the induction of proinflammatory factors was significantly higher. This suggests that regular practice of yoga can protect against inflammatory diseases and metabolic risk factors.
Another example of the prophylactic role of yoga is from studies on metabolic syndrome (MetS), which is a well-known precondition associated with diabetes and cardiovascular diseases, defined by increased blood pressure, high blood sugar, excess body weight, and an increased level of numerous biochemical proinflammatory factors. In several recent RCTs conducted independently in Hong Kong and India, it was shown that MetS symptoms were decreased after 12 weeks of regular yoga practices in the study in India and after one year in Hong Kong. In India, healthier choices in diet (dietary interventions) were also included in the intervention. In both cases, it was concluded that yoga and dietary interventions may have an important role in prevention of inflammatory conditions.
In the case of already developed pathologies, yoga might help to reduce post-treatment inflammation conditions and thereby expedite the healing process. In two independent yoga studies on breast cancer survivors (at Ohio State University (OSU) and the University of California, Los Angeles (UCLA)), it was reported that there was reduced activity of NF-kB, increased anti-inflammatory transcription factors, increased proinflammatory cytokines and also improvements in symptoms such as persistent fatigue and vitality in the group assigned to 12 weeks of 90-minute twice weekly hatha (OSU) or Iyengar (UCLA) restorative yoga classes, as compared with the control group. Such improvements are valuable for this population, since cancer survivors are known to be more than twice as likely as individuals without a cancer history to have these symptoms associated with poor health and disability.
Another example of yoga-based complementary/adjunct therapy is research on patients with rheumatoid arthritis (RA), which is a severe chronic inflammatory system disease affecting both psychological and physical health. Comorbid depression is an important psychosomatic factor in this condition, which negatively interferes with the process of recovery. In a recent study from the prestigious All India Institute of Medical Sciences in New Delhi comparing yoga plus RA medication versus RA medications only, the addition of yoga practice to conventional RA treatment re-established immunological tolerance, shown at the molecular and cellular level, along with a significant reduction in depression score. Significant improvements were observed in RA patients after just eight weeks of yoga practice that included, exercises, breathing, and meditation practices as compared with a control group.
In summary, there is an increasing body of research evidence on the positive effect of yoga, other mind-body practices, yogic healthy lifestyle and diet on inflammatory conditions. Long-term yoga and meditation practitioners have been shown to exhibit stronger immediate gene expression changes as compared to short-term practitioners, which in turn evokes the downstream health benefits. However, the "Achilles's heel" of any behavioural approach is its need for discipline, commitment, and active participation from the patient, in contrast with much of conventional allopathic medicine where drugs and treatments are usually administered to the patient. In this respect, the role of patient self-care and behavioural strategies is very important for success in addressing the widespread occurrence of inflammation and inflammatory conditions.

Naila Omar Khayyam Alieva (Raj Kaur), PhD, is yogi and scientist. She is a certified Kundalini yoga instructor and Gong sound therapy practitioner. Naila teaches Kundalini Yoga and organizes yoga events and workshops in Singapore. She is also an active research scientist at the Institute of Molecular and Cell Biology, A*STAR, Singapore.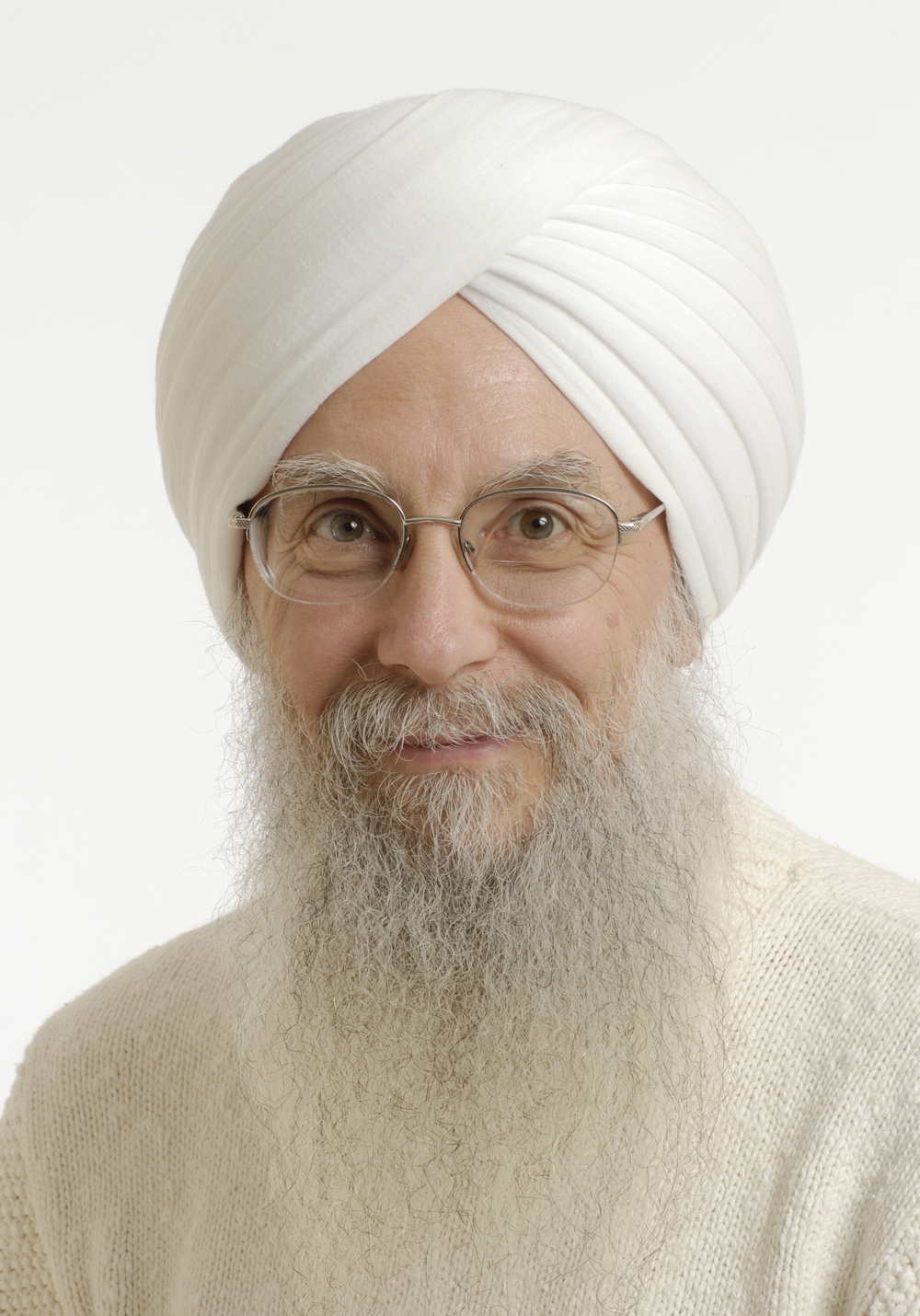 Sat Bir Singh Khalsa, Ph.D. is the KRI Director of Research, Research Director for the Kripalu Center for Yoga & Health, and Assistant Professor of Medicine at Harvard Medical School. He has practiced a Kundalini Yoga lifestyle since 1973 and is a KRI certified Kundalini Yoga instructor. He has conducted research on yoga for insomnia, stress, anxiety disorders, and yoga in public schools. He is editor in chief of the International Journal of Yoga Therapy and The Principles and Practice of Yoga in Health Care and author of the Harvard Medical School ebook Your Brain on Yoga.
---
Sat Nam from The Yogi Bhajan Library of Teachings®
April brings very beautiful but windy weather here in New Mexico, a reminder that winter has passed and spring is here! April also brings Earth Day, a celebration of our beloved Mother Earth. As many of you know, Yogi Bhajan advocated for the environment at every opportunity. He encouraged everyone to take care of themselves and the earth in a conscientious way. Here's an excerpt from Earth Day (April 22nd) in 1990.
"Start looking at His creation as part of him. Start respecting it, and loving it, and start to be gentle and kind. You don't have to do any other exercise, you will be fine. Start seeing the spirit and soul of every human being. Look bright and beautiful and saintly – you represent God…
Now, you are trying not to pollute yourself and not to pollute the earth. A consciousness has set in, a time has started, and there shall be growth. Mankind will live in nobility, peace, and tranquility and that's a reality. It's not anybody's affair, it is everybody's affair. We are all part of One and One is part of all. It's my prayer that we guide ourselves to that righteousness. My prayer and my request is that you have an obligation to create a lot of joy, a lot of happiness, and elevate yourself so that the pollution can be counteracted with a joy in the body and in beings, so that you can feel wonderful and healthy. With this blessing and these prayers, may your life be very fulfilled and noble. I wish you the best of luck. Be prosperous, be generous, be kind, and be compassionate. Walk like angels, complete and perfect, pure in your psyche, and God shall walk with you. Wahe Guru Ji Ka Khalsa. Wahe Guru Ji Ki Fateh."
Read the original lecture for more teachings on how to uplift our consciousness and better care for this precious earth. I love the reminder that our earth is an extension of God, just as we are a representation of God.
To all of you who support this important work of preserving the teachings of Yogi Bhajan, we cannot thank you enough! Your endless support and generous gifts are keeping this resource growing and improving all the time.
In Gratitude,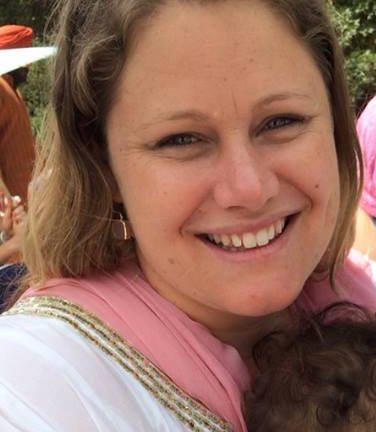 Shabd Simran Kaur Adeniji, Fundraising Coordinator
The Yogi Bhajan Library of Teachings®
Kundalini Research Institute
Email: donations@kriteachings.org
Find us on Facebook "The Yogi Bhajan Library of Teachings"
www.libraryofteachings.com
The Yogi Bhajan Library of Teachings® is a non-profit organization and all donations are tax deductible under IRS code 501(c)(3).
---
KRI April 2019 Specials

KRIYA
Yoga Sets, Meditations & Classic Kriyas
From the Early Years of Kundalini Yoga as taught by Yogi Bhajan®
• Challenging physical kriyas from the 1970s and 1980s
• More than 100 Meditations, including Visualisations, Pranayams, Silent Meditations, and Meditations with Mantra
• Includes Material from the "Intermediate Manual", K.R.I.Y.A., Under the Blue Skies and More!
Retail:
Formerly $44.95
New lower everyday price: $39.95
Promo: $33.96
---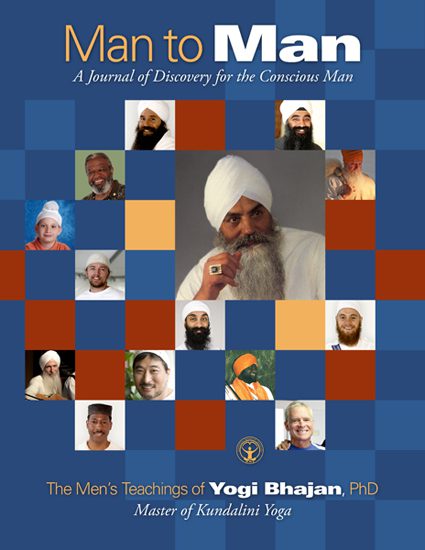 Man to Man
A Journal of Discovery for the Conscious Man
The Men's Teachings of Yogi Bhajan, PhD
Master of Kundalini Yoga
"You can be what you want to be, but you can't be what you wish to be. The time has come. We want to be, we should be, and we have to be—men." –Yogi Bhajan
No one has ever talked to men—about men—like this before! These no holds barred lectures tell a man how to master being a man. Everything you've always wanted to know is here: how to succeed as a man, how to communicate as a man, how to make love to the woman in your life, the relationship between sex and spirituality, potency and projection, consciousness and creativity… plus special foods, diets and exercises especially for men.
Retail: $49.95
PROMO: $42.46
---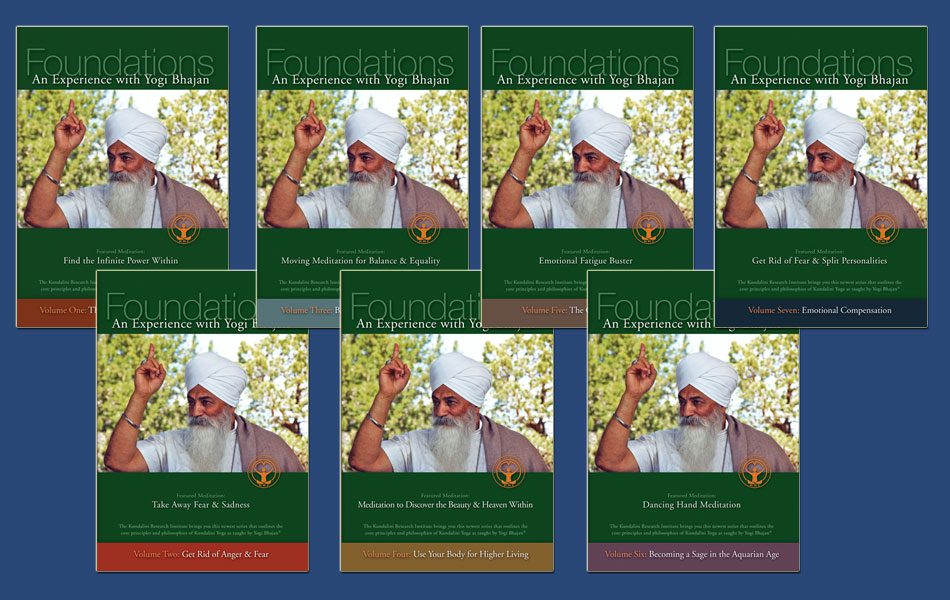 Foundations DVD Series
Create a firm foundation for your yogic practice, and gain insight into what it takes to live as a Teacher of Kundalini Yoga as taught by Yogi Bhajan with these essential lectures and meditations.

Volume 1: The Purity and Power of a Teacher
Volume 2: Get Rid of Anger and Fear
Volume 3: Balance & the Law of Equality
Volume 4: Use Your Body for Higher Living
Volume 5: The Change of the Age
Volume 6: Becoming a Sage in the Aquarian Age
Volume 7: Emotional Compensation

Retail: $19.95 per DVD
Promo: $16.96
Or take advantage of our regular full set discount of all 7 DVDs for $108.00!
KRI Newsletter April Recipe
Yogi Bhajan's Gobi Tamaatar—
Spicy Cauliflower & Tomato Curry
Excerpt from
"From Vegetables, With Love: Recipes and Tales from a Yogi's Kitchen (Revised and Expanded New Edition)"
Siri-Ved Kaur Khalsa
Yield: 8–10 servings
This curried cauliflower dish tastes of Indian barbecue and is even more fantastic served with basmati rice and chapattis.
⅓ cup ghee or oil
1 heaping teaspoon turmeric
2 onions, chopped
2 bulbs garlic, whole peeled cloves
¼ cup chopped fresh ginger
1 tablespoon ground cinnamon
1 teaspoon black pepper
1 heaping teaspoon crushed red chiles
1 teaspoon ground cloves
1 cup of water
6 tomatoes, peeled and quartered
¾ cup of malt vinegar
3 medium heads cauliflower cut into large bite-size pieces
Tamari soy sauce or salt
Heat oil in a large heavy saucepot or sauté pan over medium-high to high heat. Add turmeric and let sizzle for 10 seconds. Add onions, whole garlic cloves, and ginger.
Sauté 2–3 minutes on a medium-high flame, stirring frequently.
Add cinnamon, pepper, chiles, and cloves. Stir to combine and add water. Cook at least 5 minutes, adding more water as required to prevent scorching. Add tomatoes, vinegar, cauliflower, and tamari or salt.
Add water as desired for a soupier consistency. Lower heat to medium and cook about 1 hour, uncovered, adding small amounts of water as needed, until the oil separates and the cauliflower is easily pierced with a fork.
Trainer's Corner
What is a Trainer Forum?
A Trainer Forum is a meeting place for open dialogue amongst members and applicants of the Aquarian Trainer Academy. It is an opportunity for professional development as a trainer, a time to come together as a community of trainers to refresh our spirit and revisit our values, build skills and share best practices, create new relationships and deepen existing ones.
Key elements of every Trainer Forum include:
Peer-to-Peer Meetings – network, connect, and share best practices and learned lessons
Global Decision Making – share your voice and participate in hot topic discussions
Workshops – interactive presentations on specialty areas led by both KRI and local trainers
We look forward to seeing you at an upcoming Forum! For more information visit: http://trainersupport.kundaliniresearchinstitute.org/trainer-forum/
2019 Trainer Forums: Culture, Communication, Community
Summer Solstice: Hacienda de Guru Ram Das, Espanola, New Mexico
New Times! June 12, 8:30a – 5:30p & June 13, 8:30a – 12:30p
Register Here
Europe: Chateau Anand, Saint Pierre de Maille, France
New Times! July 25, 8:30a – 5:30p & July 26, 8:30am – 12:30p
Register Here
Australia: Australia Kundalini Yoga Festival
October 7th, 6:00p – 9:00p & October 8, 9:00a – 6:00p
China
October 2019 – details TBA
Winter Solstice: Hampton Inn, Lake Wales, Florida,
December 14, 8:30a – 5:30p & December 15, 8:30a – 12:30p
---