November 2016
---
A Note From Nirvair
Sat Nam. Greetings from New Mexico. With the cold weather rolling in and Winter Solstice approaching, this is a great time of year to give thanks for all the beautiful things in our lives.
Yogi Bhajan often talked about an attitude of gratitude. I am very grateful to the hard working staff here at KRI. We have a wonderful group of Yogis that work here and consciously live Yogi Bhajan's teachings every day. This consciousness appears in the little things that happen during the day; the random kind word, the expressions of gratitude, the extra effort to make it "right", and the lovely humility of each person.
I am also very appreciative of our KRI Board of Directors. It is a high caliber group of volunteers who love the teachings of Yogi Bhajan. They volunteer their time and resources so that our staff and mission are supported in the important work that they do. You can meet them all here.
Yogi Bhajan gave a wonderful Gurdwara lecture on November 24, 1994 about his gratitude for the teachings of higher consciousness brought to us through the Sikh Gurus.
He said, "We are grateful that Guru Nanak said Akal Purakh (the Undying Divine One), that Guru Gobind Singh gave us the Rehit (the code of conduct of the Khalsa) to live by, and today we are this reality combined in one person. I feel personally that we will go through changes, through many times, and that this is what history has said to us many millions of years ago; That in every trend, Truth flows. Truth always prevails and the consciousness and the power of man will always lead humanity to its state of grace. Our thanks from the bottom of our heart for the guidance of the Guru that gave us the endurance of spirit, the consciousness of character, the power of forgiveness, the life of gratitude, the attitude of service, and the ability to stand out so we can serve. All this for which we are grateful. This Thanksgiving Day is not to cook a turkey. We are very grateful and this Thanksgiving Day today is to save a turkey. It is a very powerful thing to understand and respect life."

Speaking of gratitude. I am grateful for the breath of life. Watch the November monthly video and practice with me! We are practicing a classical Kundalini Yoga as taught by Yogi Bhajan® pranayama (breathing exercise) from the KRI book "Praana, Praanee, Praanayam".
I am really enjoying practicing these monthly kriyas with you. May we all give Thanks for our many blessings.


Nirvair Singh Khalsa
CEO KRI
---
Yoga Research
Yoga and Autism: Application and Research
By Nikhil Ramburn and Sat Bir Singh Khalsa, Ph.D.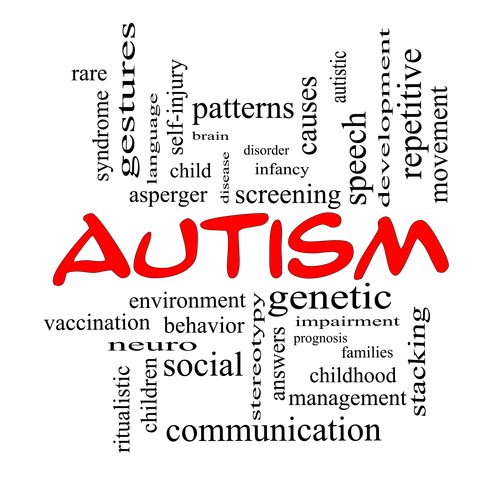 The term autism has gone from a relatively obscure medical diagnosis to a household word. The autism spectrum disorder (ASD) now includes disorders that were previously considered separate such as Asperger's syndrome and childhood disintegrative disorder. ASD is a neurodevelopmental disorder that impairs a child's ability to communicate and interact with others. Symptoms vary widely between patients and include restricted repetitive behaviors, interests, and activities. In addition, speech delays are common in children with ASD. Although, the specific causes of ASD have yet to be identified, several risk factors have been identified in the literature research, such as genetics, prenatal and perinatal factors, neuroanatomical abnormalities, and environmental factors. In recent years, the number of children identified with ASD has increased and doctors are better trained to identify ASD even in adulthood. The prevalence of this disorder is global, with approximately 1-3% of all children diagnosed with ASD. Its social impact is devastating.
Treatment options for ASD have increased but most interventions are outcome-driven and remain heavily dependent upon meeting insurance standards, often at the detriment of meeting the patient's multiple overlapping needs. In addition, conventional pharmacological treatments only address the external symptoms such as irritability, depression, and hyperactivity. Pharmacological interventions show no clear benefit in treating core symptoms and have known adverse effects. The non-medical treatment options for comorbid depression and anxiety in ASD primarily includes cognitive behavioral therapy (CBT) and while studies have described positive effects of this intervention, researchers have also highlighted several limitations. Notably, the gains from CBT may be relatively short-lasting and generalization of CBT to real-life situations appears to be limited. Therefore, holistic therapies that address the varying needs of patients, and facilitate the learning of long-lasting skills such as self-management and social awareness are required.
Yoga and meditation may prove to be one such holistic intervention. Indeed, meditation positively affects core executive functions such as self-control and cognitive flexibility and this can help patients better handle situations of high executive demand. Meditation has been shown to strengthen inter-hemispheric brain connectivity by increasing activation of the Corpus Callosum, a white matter structure which connects the left and right brain hemisphere. Since ASD patients often suffer from sensory integration dysfunction, they could benefit from more efficient interhemispheric information transfer and the resulting increase in integration of complementary experiences. Furthermore, meditation improves breathing patterns and studies showing changes in hormone levels demonstrate the potential of meditation to change physiological parameters and rhythms. Other traditional forms of yogic meditation employ the use of mantras that act as psychophysical modulators of health. Since language, music, and singing share the same functional networks, singing mantra with music may compensate for deficiencies in language acquisition. In addition, chanting of mantra accompanied by mudras or hand gestures facilitates interhemispheric synchronicity, which is set into motion by rhythmic vocal sounds and breathing patterns. These traditional forms of meditation, which have become known in the west through disciplines such as Kundalini Yoga, are easier to adhere to and to monitor.
Apart from the benefits of the breath, mantra, and mudra, yoga also includes body movement and awareness. Physical activity allows children with ASD to learn concepts related to impulse control, the ability to calm the body after activity, and overall self-regulation. In fact, children with ASD often lack coordination and body awareness and yoga movement has been shown to increase vestibular and proprioceptive awareness that can support sustained attention, behavioral regulation, and general body awareness. The repetition and routine of movement sequences such as sun salutations may increase a child's capacity to carry out motor plans and has the benefit of capitalizing on the patient's inherent need for structure and repetition. Furthermore, parents who practice alongside their children may also benefit from reduced parenting stress, keeping them from rejecting and becoming over-reactive to their children.
A 2015 review of the research on the efficacy of yoga for patients with ASD by Gwynette et al. reveals that so far only two studies published in peer-reviewed journals have implemented a standardized protocol, assessed clinical outcomes, and utilized either a control group or the subjects as their own control. Nevertheless, these studies together with other published trials suggest that yoga interventions may indeed improve core symptoms of ASD and several case studies support this finding despite inherent weaknesses in statistical power, risk of bias in the experimental design, and inconsistent outcome measures.
One of the studies in the Gwynette et al. review is a 2011 pilot study from the Saint Francis Hospital and Medical Center in Hartford, Connecticut. The researchers looked at the efficacy of an 8-week yoga, dance, and music therapy program using a group of 24 ASD-diagnosed children aged 3-16 years. While the study reported statistically significant improvements for all subjects in psychological and behavioral characteristics, the multimodal nature of the treatment prevents us from knowing how much the yoga component contributed to efficacy.
Another small study in Bengaluru India, applied vigorous warm-ups and loosening practices followed by traditional yoga postures (asana), yogic breathing, and mantra in 12 children with ASD over a period of two academic years. The results confirmed previous reports of qualitative behavior changes including increased tolerance of sitting and adult proximity, and subsequent socialization. Quantitative results showed regularization of aberrant immune activity.
In another study, Koenig et al. compared students undergoing a daily 16-week yoga intervention with students who engaged in their standard morning routine. They found that the intervention group showed a reduction of maladaptive behaviors, including irritability, lethargy, social withdrawal, hyperactivity, and noncompliance. Since this was a manualized yoga curriculum, it may serve as a viable behavioral intervention for school-based therapists. Although the study demonstrates the significant impact of yoga interventions on key classroom behaviors among children with ASD, the lack of randomization and absence of blind raters may have contributed to bias in the study.
As ASD awareness increases and is more commonly diagnosed, application and testing of holistic therapeutic interventions are important, such as yoga, that address the various needs of the patient. Despite the significant limitations in the research in this new field, the potential efficacy of yoga appears promising. It is a potentially cost-effective therapeutic approach that seems to be well received by ASD patients and their parents and so future research of increasing quantity and quality is warranted.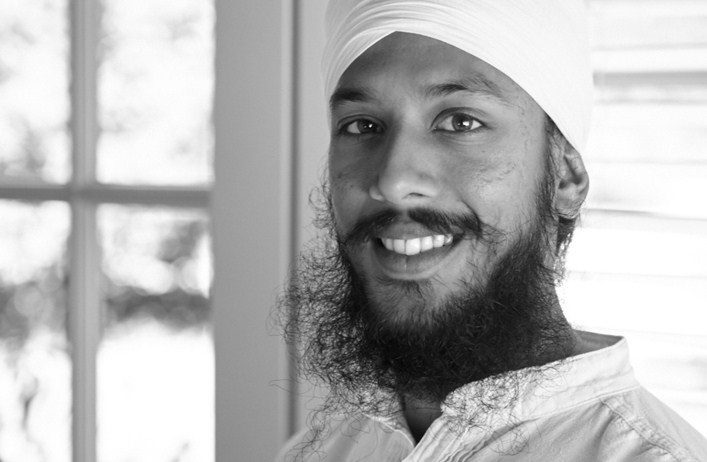 Nikhil Rayburn grew up practicing yoga under mango trees in the tropics. He is a certified Kundalini Yoga teacher and has taught yoga to children and adults in Vermont, New Mexico, Connecticut, India, France, and Mauritius. He is a regular contributor to the Kundalini Research Institute newsletter and explores current yoga research.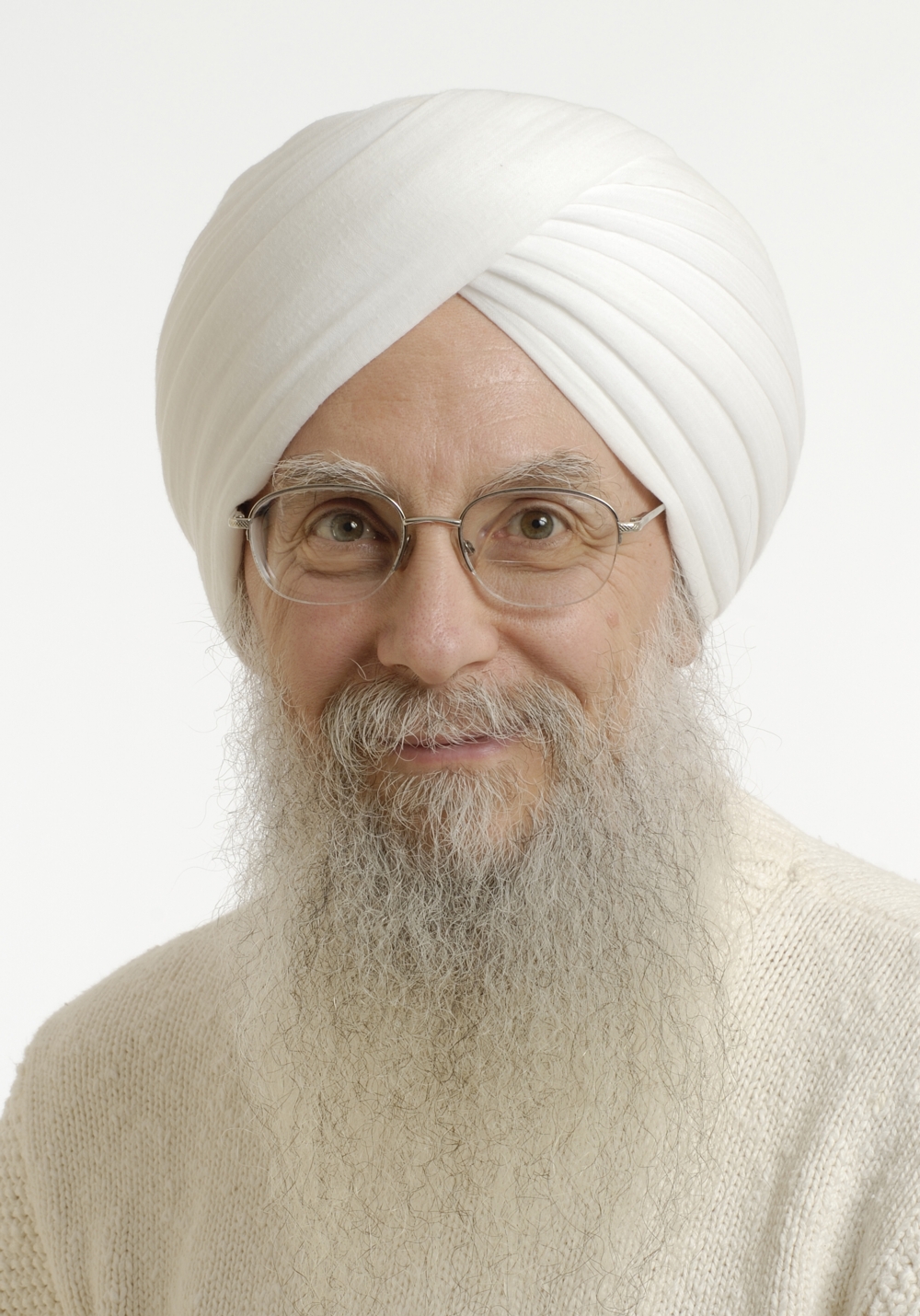 Sat Bir Singh Khalsa, Ph.D. is the KRI Director of Research, Research Director for the Kripalu Center for Yoga & Health, and Assistant Professor of Medicine at Harvard Medical School. He has practiced a Kundalini Yoga lifestyle since 1973 and is a KRI certified Kundalini Yoga instructor. He has conducted research on yoga for insomnia, stress, anxiety disorders, and yoga in public schools, he is editor in chief of the International Journal of Yoga Therapy and
The Principles and Practice of Yoga in Health Care
and author of the Harvard Medical School ebook
Your Brain on Yoga
.
---
Sat Nam from The Yogi Bhajan Library of Teachings®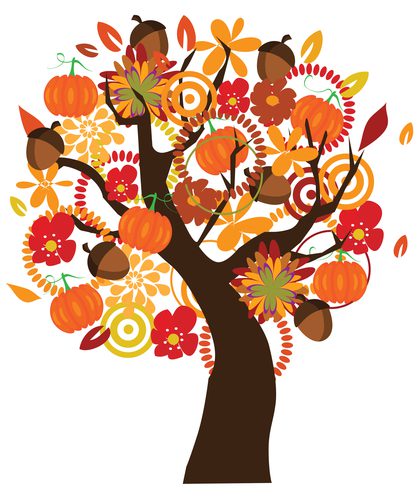 Fall is one of my favorite times of year here in New Mexico, the beautiful fall colors and the time of coming together with family and community. This month brings the Thanksgiving holiday in the U.S. giving us the opportunity to appreciate all that we have to be grateful for.
I want to take a moment to share our deep gratitude for all of our generous donors. You are what make The Yogi Bhajan Library of Teachings® this invaluable resource of Yogi Bhajan's lectures. Without your contributions, love, and support we would not be able to make these teachings available online to the world for free…Thank you!
On Thanksgiving Day in 1971 Yogi Bhajan spoke about the many things we have to be thankful for and offers a beautiful Thanksgiving prayer at the end of the lecture:
"According to this western land, today is Thanksgiving Day. It is almost a ritual now. It is a ritual in the sense that we cut down turkeys, sit together in the family, eat and enjoy and feel happy that we are together as a family. But if you go back to the history of this day, the people who landed on this land went through all those days of hardships together that they were not prepared to relate to mentally or physically. Then one fine day they felt they were secure and settled. They knelt down before God in consciousness and thanked Him and ate together whatever was the best food they could get.
In this world of ours, we like to give many things without knowing what we are giving. Actually everything is already given to us and we are the custodians of those things. It is in misunderstanding that we think we are the owners of those things. I am giving you this thing, but how did I get it? Why shouldn't somebody else have it? This whole philosophy is there to remind man that there should be a time in one's life to give away in consciousness for the Supreme Consciousness. That's all it is. Thanksgiving is a day of surrender. It is not a day of surrendering to somebody, it is a day of surrender in your own consciousness. It is a great day. Today we give away our ego and adopt the path of the Supreme Lord Creator in consciousness and we thank Him. As a family we sit together, eat and pray, worship and pray, be together, enjoy, and be happy. It is all prayer. It is a total meditation."
He continues…
"Our thanks to every such environment where man is supposed to grow in peace and harmony, in love and tranquility. Our thanks for all that is graceful around us and also our thanks for everything that forces us to become graceful. Our thanks to that negativity that has made us positive. Our thanks to the power that overtakes us, that has given us the power to love and sustain ourselves. Our thanks to all those natural calamities that have given us joy and beauty when we have crossed them. Our thanks to all those sicknesses and weaknesses and laziness that has given us the power to triumph and survive so that we can chant the Holy Naam. Our thanks to all those enemies who made us strong so that we love to live. And our thanks to the Almighty Creator who has created us to go through all this experience in the Holy Name, which prevails through everybody; that Cosmic Power which is the instrument of our life and our dignity; that Adi Shakti of which we all are part of in one brotherhood of pure beings; to that height of consciousness that holds this world. We pray in Thy consciousness, oh Consciousness of all consciousness, that you be with us and bring love, tranquility, and peace to every heart." Yogi Bhajan, November 20th,1971
Read this complete lecture, which is one of the earliest recorded in 1971. The entire lecture focuses on Thanksgiving and offers so much beautiful wisdom on this topic of gratitude.
Thank you again to all of you who make this resource what it is today. Your continued support is what is allowing it to grow and evolve to include all of Yogi Bhajan's lectures in one free resource. Thank You!
In Gratitude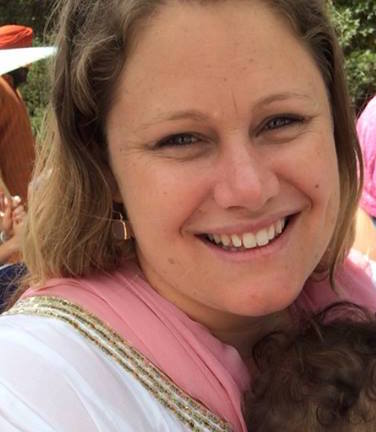 Shabd Simran Kaur Adeniji
The Yogi Bhajan Library of Teachings®
Kundalini Research Institute
Email: donations@kriteachings.org
Find us on Facebook "The Yogi Bhajan Library of Teachings"
www.libraryofteachings.com
Shabd Simran Kaur Adeniji was blessed to be raised in the 3HO community. Originally from Oregon, she attended school in India from the age of 6 years old. Her professional background lies in woman's health and community building, spending many years abroad as a midwife. She is a Conscious Pregnancy Instructor and has a deep love for Yogi Bhajan's teachings. She integrates these precious teachings in her work as a midwife and educator. Today Shabd Simran serves the Yogi Bhajan Library of Teachings® and is a tireless advocate for the Endowment Fund.
---
Seva Sadhana Program in New Mexico – Living and Working in Consciousness
By Sat Purkh Kaur Khalsa
"The dirt of this land will change your destiny."–Yogi Bhajan
Many of you who are now Teacher Trainers began your life as a yogi in an ashram. You may have longed to create that same ashram experience for your students and your student-teachers. Well, now you can! Hacienda de Guru Ram Das, here in New Mexico – the Land of Enchantment, invites you to participate in Seva Sadhana, a program created to serve people's spirits while they serve the Mother Ashram.
Sevadars are invited to create their own ashram experience in our shared housing, while they serve in the Guru Amar Das Community Garden, the community langar, Ishnaan Seva, and the weekly Akhand Path as well as other service projects within the community.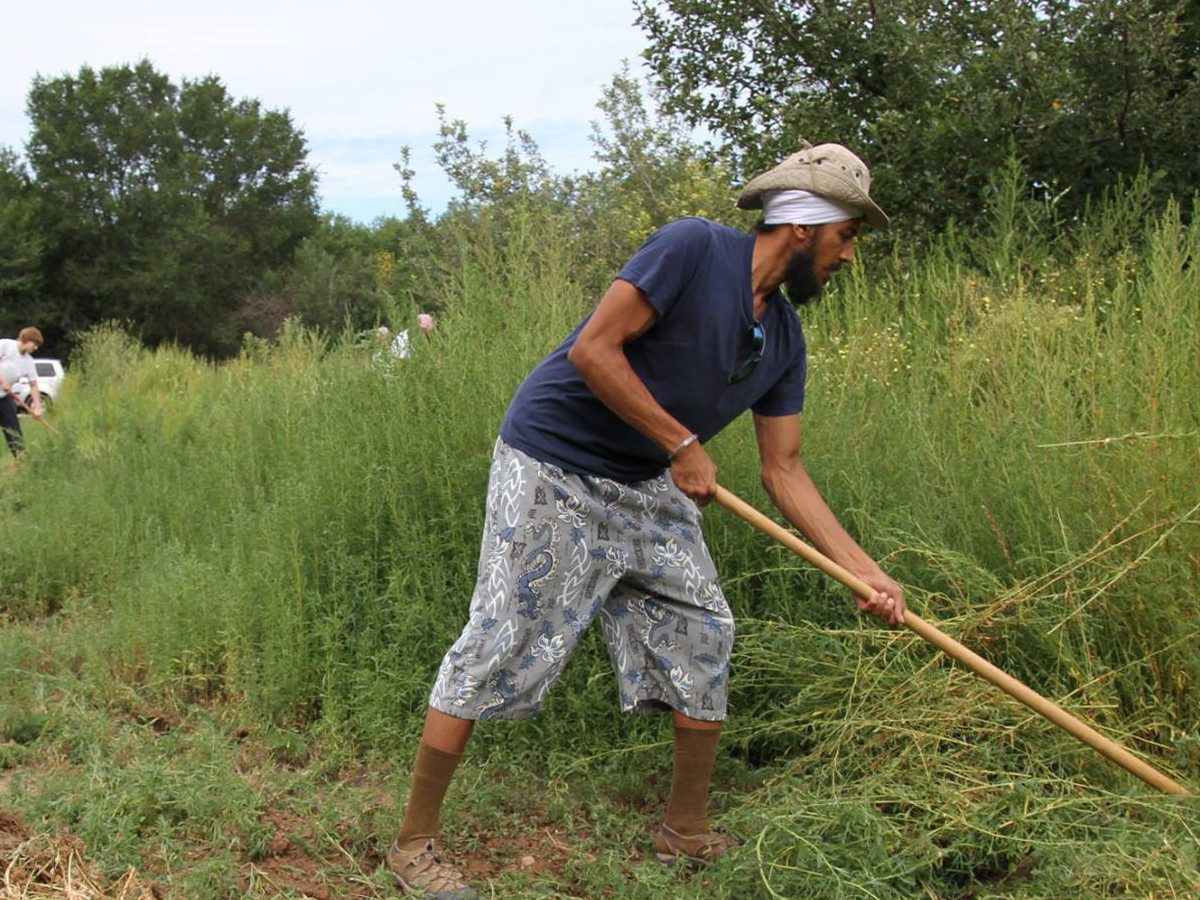 The exchange is physically demanding but incredibly rewarding. For $11-$27 a day or $300 per month, your students can share in the community life of Hacienda de Guru Ram Das. This includes daily Aquarian Sadhana, yoga classes, workshops, community kirtan, and more.
We currently have one Nivas available that houses 7 people. We will be opening a second Nivas in the spring that will house an additional 12 or more participants.
If you have a student who you think would benefit from our program, and who in turn would be a benefit to the ashram, please send them our way. Or, if you'd like to bring a group of students to do seva together, please contact us. We look forward to creating opportunities for students and teachers to serve together.
Many blessings and Sat Nam,
www.sevasadhana.org
FUNDRAISER: https://www.generosity.com/community-fundraising/seva-sadhana-program-in-espanola-nm
Testimonial
I had very few expectations coming to Hacienda de Guru Ram Das Ashram to enjoy some seva. After two weeks the reality of humility and healing that is the blessing of Guru Ram Das unfolded as a reality for me to experience as fully and joyfully as my psyche allowed.
Hearing that the soil could heal you if you touched it to your forehead seemed quite far fetched. Yet, while working in the garden a certain serenity and bliss occurred that was not my normal state. Harvesting the vegetables and fruits from this land somehow carried the vibration of the healing tantric energy that the compost infused into the plants and through them to us.

When I attended Sadhana in the ambrosial hours trudging up the hill under the moon and stars the sacredness of the temple felt simultaneously ancient and modern all at the same time.

The friends that I made are lifetime friendships that are unequaled since we lived together, worshiped together, sang together and served together. All on hallowed land.

This truly was an exceptional opportunity to expand my spiritual practice in a protected and supportive environment. I can't wait to come back to the Mother Ashram.

—Siri Om Kaur, Florida, USA
A writer, editor, poet, singer and songwriter—and a pretty good cook, too—Sat Purkh Kaur Khalsa is a KRI Certified Kundalini Yoga Instructor, Practitioner, and Teacher, as well as a Professional Trainer in the KRI Aquarian Trainer Academy. She has seven albums of sacred music and is also the author of Everyday Grace: The Art of Being a Woman, an introduction to the Women's Teachings of Yogi Bhajan.
News From KRI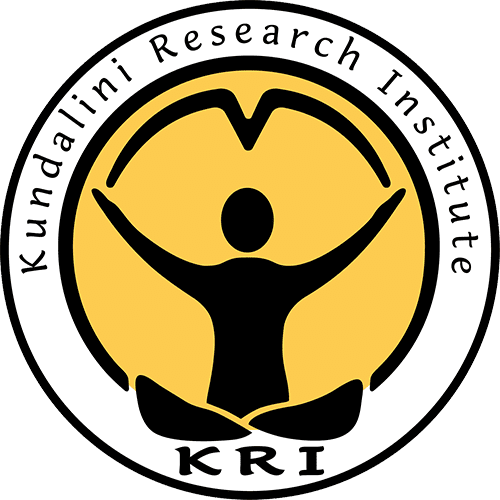 ---
---
---
---
---
---
Message & Meditation of the Month

---


Level Three Enrollment Has Begun!
Apply Today!
For more information about the Level Three program,
visit: LevelThree.KundaliniResearchInstitute.org
email: LevelThree@KriTeachings.org
2017 MELA Dates & Location
The annual gathering for Level Three participants
June 12th – 14th: Espanola, New Mexico
OR
July 25th – 27th: Chateau Anand, France


---
KRI November Recipe of the Month
Perfect for Thanksgiving, for Vegans and Everyone Else!
Excerpt from:
From Vegetables, With Love: Recipes and Tales from a Yogi's Kitchen
(Revised and Expanded New Edition)
Siri-Ved Kaur Khalsa
Tofu-Walnut-Oat Loaf
Yield: 1 loaf
Purely vegan and super delicious served with Mushroom Gravy with Onions (page 108). Refrigerated leftovers slice up great for sandwiches or burgers too.
20 ounces firm tofu (1½ cartons)
¼ cup ketchup
¼ cup tamari soy sauce
1 tablespoon Dijon mustard
⅓ cup chopped parsley
⅛ teaspoon turmeric
¼ teaspoon black pepper
¾ cup chopped onion (in ¼" dice)
2–3 cloves garlic, minced
¾ cup rolled oats
2 tablespoons nutritional yeast flakes
⅓ cup chopped or ground walnuts
Preheat oven to 350°. Drain tofu. Put in a medium mixing bowl and mash with a fork, masher, or hands. Add remaining ingredients and mix well. Lightly oil sides and bottom of a loaf pan. Press tofu mixture into the pan and smooth top surface with hands. Place in a hot oven and bake 1 hour.
Wheat-free Mushroom Gravy
Yield: 4 cups
The key to making a perfect wheat-free gravy is to thicken it with either cornstarch or arrowroot powder. If you use arrowroot powder, once added it is important to cook only long enough to thicken and do not allow it to come to the boiling point; overheating will return it to a watery consistency. With cornstarch you will have a more stable result.
¼ cup ghee or olive oil
1 pound sliced mushrooms
½ bunch green onions, chopped
1 teaspoon minced garlic
4 cups water
½ teaspoon poultry seasoning
½ teaspoon black pepper
¼ cup arrowroot powder or cornstarch
3 tablespoons tamari soy sauce or Bragg Liquid
Aminos to taste
Heat ghee or oil in a large sauté pan or skillet over medium-high heat. Add mushrooms, onions, and garlic and sauté until browned and soft. Add water, poultry seasoning, and pepper. Bring to boiling point and let simmer few minutes. Turn heat to low.
Happy Thanksgiving!!
---

We have fabulous holiday gifts for the Kundalini Yoga instructors on your list! Look for the Holiday Gift Specials coming to The Source on November 11th.
---



KRI November Newsletter Specials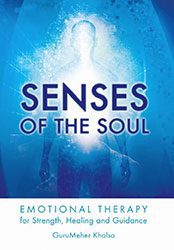 Senses of the Soul
Emotional Therapy for Strength, Healing, and Guidance
Gurumeher Singh Khalsa
Emotions are the senses of your soul.
Recognizing emotions as guides and allowing them to help you transcend suffering and thrive will lead to a peaceful, abundant life.
Senses of the Soul reveals how to…
*Allow your emotions to serve you rather than control you.
*Find answers on your own to solve problems instantly.
*Quit living with paring and past trauma, and resolve issues at their source.
*Trust yourself and maintain personal power within relationships.
*Discover strength is sensitivity and gain control over how you feel.
Retail: $29.95
Promo: 25.46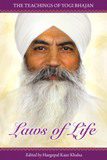 Laws of Life
The Teachings of Yogi Bhajan
Edited by Hargopal Kaur Khalsa
Over the years, Yogi Bhajan outlined hundreds of Laws to live by. This book is a small gem, a collection of Yogi Bhajan quotations and meditations for living a life of joy, kindness and compassion.
The law of happiness is, "Let things come to you." What comes to you will make you happy. What you go after shall make you miserable.
-Yogi Bhajan
Retail: $14.95
Promo: $12.71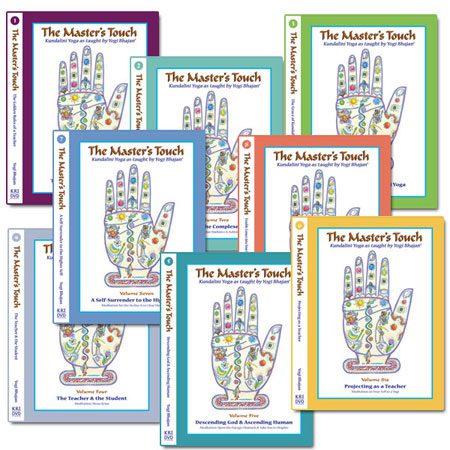 The Master's Touch
Video and Lecture DVD Series
Kundalini Yoga as taught by Yogi Bhajan®
On Being a Sacred Teacher for the New Age
This is for every teacher of Kundalini Yoga as Taught by Yogi Bhajan®, and for everyone on the spiritual path. In July of 1996 and April of 1997, Yogi Bhajan did what he loved best – training Kundalini Yoga teachers – in Master's Touch programs in Española, New Mexico and Assisi, Italy
His enthusiasm for this, his stated mission, is apparent in the compelling lectures from these courses which make up this masterpiece of instructive wisdom.
Yogi Bhajan told the student-teachers, "You are born to be a Teacher, and shall teach, but in His Name, and to all, big and small." The class meditated daily with Yogi Bhajan to develop these attributes and more: Tuning into Your Aura, Meditate on Your Self as a Yogi, Discover the Beauty & Heaven Within, Experience the Essence of a Teacher, Develop the Guidance of the Soul, Healing Breath Formula, Elevated Caliber of a Spiritual Teacher and Opening the Lock of the Heart Center.
Yogi Bhajan, Ph.D.
Master of Kundalini Yoga
Volume One: The Golden Rules of a Teacher
Volume Two: Overcoming the Complexes of Life
Volume Three: The Grace of Kundalini Yoga
Volume Four: The Teacher & the Student
Volume Five: Descending God & Ascending Human
Volume Six: Projecting as a Teacher
Volume Seven: A Self Surrender to the Higher Self
Volume Eight: Trouble Comes into Your Life When You Ask for It
Regular Price per DVD: $19.95
Promo per DVD: $16.96
You can also get the entire 8 Volume Set for the everyday discount price of $119.70!
---
---
NEWSLETTER ARCHIVES: