Please click on any of the titles of the Research articles to view the full article.
The Neuroimaging of Long-term Changes in Brain Function with Yoga and Meditation
Neuroimaging Research on Yoga and Meditation: EEG Studies
Nikhil Ramburn and Sat Bir Singh Khalsa, Ph.D.
Meditation is a cognitive activity that requires us to focus our attention and awareness. Chronic distraction, via technology and information, is so widespread in the Aquarian Age that Yogi Bhajan called the phenomenon "info-dementia". One of the antidotes is the regular practice of meditation, which gives us the cognitive tools to control our attention. This leads to improved mind-body awareness, which is in turn associated with numerous benefits including improved emotional regulation, stress-coping, and resilience. When we engage in the act of meditation, we activate the attention networks of the brain in the prefrontal cortex that inhibit the limbic system responsible for emotion, which is one of the ways that we self-regulate. Meditation, like any other behavioral activity, improves through repetition and practice as our brains become more skillful at performing the task. We now have the technology to observe and objectively measure how the brain activity of meditators changes over time. Neuroscientists use modern tools such as functional magnetic resonance imaging (fMRI) and single-photon emission computed tomography (SPECT) to record changes in cerebral blood flow (CBF), which is an indirect marker of brain activity.
With the advent of this new technology, research studies are showing that there are brain function changes in long-term meditation practitioners. SPECT and fMRI meditation studies have highlighted brain regions showing changes related to mind-body awareness, attention control and emotional regulation. While specific changes in CBF and brain activation have been recorded in meditators during actual practice, other neuroimaging studies have evaluated the long-term effects of meditation.
Such long-term changes were measured in an early 2007 study from the University of Wisconsin on Tibetan Buddhist meditators with varying levels of experience. The evidence suggested that a sustained meditation practice can have lasting changes in brain activity. Researchers observed a subtle and interesting difference in the caudate region, which is located deep within the brain near the thalamus and plays a key role in sustained awareness. During the first few minutes of the meditation session, novice and experienced meditators alike had increased caudate activation. However, as the meditation session progressed, caudate activity decreased in expert meditators. On the other hand, novice meditators did not display the same activity decrease in the caudate region. Increased caudate activity is common in novice meditators during mindful breath or mantra awareness. It appears that as meditators get more advanced, the caudate region only gets activated in the beginning of the practice. This suggests that experienced practitioners may begin by focusing their mind but subsequently access a less focused and more transcendental state as they transition into a deeper state of meditation. However, caution is indicated in generalizing this finding to all meditation practices, since this difference may be a unique characteristic amongst Tibetan Buddhist meditators.
In later research in 2010 comparing brain function in meditators and non-meditators, Andrew Newberg M.D., director of research at the Jefferson-Myrna Brind Center of Integrative Medicine, and colleagues evaluated the cerebral blood flow (CBF) of long-term and non-meditators using SPECT imaging. The twelve long-term meditators who participated had more than fifteen years of practice and meditated for 30-60 minutes daily. In experiments where participants meditated in the scanner itself, researchers found that experienced meditators had significantly higher CBF levels in the prefrontal cortex, parietal cortex and caudate. The frontal lobe in particular is associated with the ability to self-regulate and underlies attention and sustained concentration. These differences in brain function are congruent with the well-documented phenomenon that long-term meditators can better self-regulate, focus and sustain their awareness.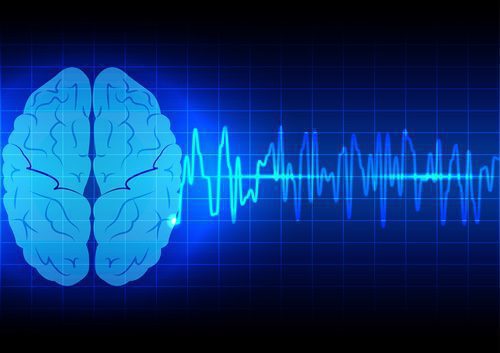 Another finding from the same study revealed that long-term meditators had higher CBF in the parietal lobe regions even while they were in a resting or non-meditative state. The higher ongoing normal brain activity in long-term meditators is in contrast to previous evidence of a decrease in parietal lobe activity during meditation. Researchers explain this discrepancy by speculating that long-term practitioners start out with a higher activity level and thereby experience a larger decrease in parietal lobe activity during meditation. The parietal lobe is associated with personal space and has been implicated with out-of-body experiences. This is consistent with advanced meditators reporting feelings of transcendence and non-localized awareness, where their experience seems untethered to the physical body. Furthermore, long-term meditators had significantly higher CBF levels in the midbrain, which is related to the autonomic nervous system. This alteration of mid-brain function is indicative of profound effects on the autonomic nervous system, which regulates much of the body's involuntary vital processes like the control of respiration and cardiovascular function. Significant research shows that long-term meditators have the ability to control autonomic functions previously believed to be beyond conscious control, which is a hallmark of self-regulation.
Another interesting question in this field pertains to the time required for the changes in brain function to take place. It appears that changes in brain function can begin to occur in as little as 8 weeks of regular meditation. A later study by Newberg along with Dharma Singh Khalsa, M.D., the president and medical director of the Alzheimer's Research and Prevention Foundation, and his colleagues looked at the cerebral blood flow (CBF) levels in the frontal lobe regions of 15 subjects with memory impairment. Within only 8-weeks of practicing Kirtan Kriya (KK), a well-known meditation practice within Kundalini Yoga as taught by Yogi Bhajan, these inexperienced meditators had significantly higher CBF levels in their frontal lobe and right superior parietal lobe than control subjects. This was associated with improvements in several memory tests as well as significant improvement in fatigue and anxiety measures. The fact that Kirtan Kriya was able change brain neurophysiology within only 8 weeks, shows that meditation can quickly change brain function.
The observation that brain activity of long-term meditators is different from non-meditators has important implications for understanding the relationship between the brain and meditation. However, this field is still in its infancy and the current studies are limited by small sample sizes, which reduces the statistical strength of the findings and hinders our ability to make generalizations across meditation styles. Another challenge, as with any research on behavioral activity, is to determine whether the subject is actually meditating and succeeding or not meditating when asked to do so. Another confound is that expert meditators consider meditation to permeate their everyday states of awareness thereby blurring the lines between strictly meditative and non-meditative states. Finally, the noisy environment created by these scanners during the experiments is also a challenge for the act of meditation. However, despite these experimental weaknesses and limitations, there is now a growing body of research showing that we can indeed image and objectively measure the changes in brain activity that occur over time in meditators. The brain function changes in long-term meditators is reflected in the improvements in behavior and mental-emotional states.
Nikhil Rayburn grew up practicing yoga under mango trees in the tropics. He is a certified Kundalini Yoga teacher and has taught yoga to children and adults in Vermont, New Mexico, Connecticut, India, France, and Mauritius. He is a regular contributor to the Kundalini Research Institute newsletter and explores current yoga research.
www.nikhilyoga.com
Sat Bir Singh Khalsa, Ph.D. is the KRI Director of Research, Research Director for the Kripalu Center for Yoga & Health, and Assistant Professor of Medicine at Harvard Medical School. He has practiced a Kundalini Yoga lifestyle since 1973 and is a KRI certified Kundalini Yoga instructor. He has conducted research on yoga for insomnia, stress, anxiety disorders, and yoga in public schools, he is editor in chief of the International Journal of Yoga Therapy and The Principles and Practice of Yoga in Health Care and author of the Harvard Medical School ebook Your Brain on Yoga.
Yoga as a Therapy to Treat Depression - March 2016
Yoga as a Therapy to Treat Depression
By Ajeetdev Kaur (Kerry Vanden Heuvel), M.A. and Sat Bir Singh Khalsa, Ph.D.
Depression is a prevalent and debilitating mental health condition that can affect anyone at anytime. Researchers have found that the majority of individuals with major depressive disorder (MDD) report only a 50% decrease in symptoms with the use of antidepressant medication, the standard treatment for depression. MDD significantly affects daily functioning, with 60% of depressed individuals reporting that the condition has a severe or very severe impairment on their daily lives. The chronic nature of depression is that there is most likely a cyclical relationship in the brain mechanisms involved in the regulation of mood and stress responsivity, such that depression may occur because of life stress and life stress may be a result of depression. This suggests that managing stress may break this cycle.
As a common complementary therapy in the United States, yoga may be particularly helpful for depression because it can be adapted to daily mood through integrating practices to enhance physical, emotional, and spiritual health. Most notably, yoga is easily available and can be self-administered. The slow rhythmic breathing practices and meditative/ relaxation practices of yoga are designed to induce a sense of calm, well being, stress tolerance, and mental focus, all of which can be of help for depressed individuals. Stress is one of the major known risk factors for the development of depression. Increased risk of depression can result from life events like divorce, death, or loss of employment, in addition to chronic stresses like illness, lack of social support, and numerous daily stressors. Given yoga's ability to improve stress coping, yoga has some potential for both preventing and coping with depression and its symptoms.
In understanding how depression works, it is important to examine the brain, in particular the ventromedial (or subgenual) prefrontal cortex (VMPFC). The VMPFC integrates limbic, emotion-related information and translates this into modulation of autonomic and behavior outflow. Also, the VMPFC appears to function as a nodal brain region whereby social and emotional conditions interact with information from the body related to stress and relaxation, and is likely to contribute to mechanisms by which mind-body therapies like yoga can influence mood, social function, as well as autonomic output. Major input to the VMPFC includes projections carrying feedback from the body related to stress and viscerosensory signals. Because yoga encourages mindfulness, positive self-talk, and self-acceptance, which may help increase self-confidence and sense of self, these aspects may engage the VMPFC by encouraging a focus on body movements and the breath. In fact, researchers have shown that the application of mindfulness and meditation over the long-term enhances emotion regulation by reducing emotionally reactivity and this is reflected in actual structural changes in the brain; the amygdala in the limbic system responsible for emotion is actually reduced in size. This, in turn, reduces concentrations of stress-signaling molecules and increases dopamine levels. These effects improve the potential for better control over emotions, mood, and anxiety and for increased relaxation. Further, it is important to point out that practicing yoga does not typically involve ignoring depressive or anxious thoughts, but rather focuses more on non-judgmental acceptance of these thoughts, resulting in positive effects for depressed individuals.
The use of yoga as both an alternative and an adjunct to standard treatment for depression is reflected by the increasing number of studies assessing yoga as a treatment for depression. The quantity of this research has reached the point where there are now well over a dozen published systematic reviews and meta-analyses of the research on mind-body medicine approaches for depression including 4 review papers specific to yoga for depression published since 2005. An early 2005 review identified and described 5 clinical randomized controlled trials suggesting some benefit of yoga. In 2010, a review paper by researchers at Brown University School of Medicine reported on 8 clinical trials, and in addition to supporting yoga's potential efficacy, also described the potential mechanisms involved. More recently in 2013, a more rigorous review, a so-called meta-analysis that applies statistical analytic techniques to published research results, was published by a group led by German yoga researcher Holger Cramer. This study found 27 clinical trials and examined the 12 of these that were randomized controlled trials that involved a total of 619 patients/research participants. They concluded that yoga is efficacious as compared with usual/standard clinical care, and somewhat better than relaxation or aerobic exercise, and benefits were shown for both patients with depressive disorders and in individuals with elevated levels of depression.

Interestingly, they also noted that the more meditation-based forms of yoga appeared to be more beneficial than the more exercise-focused yoga styles. However, a more recent informal review paper in 2014 reported on six studies employing yoga styles that had physical practices/asanas as a core component, and concluded that there were positive benefits. Not surprisingly, as with any novel field of research, there are limitations on the quality of the yoga for depression clinical research literature and therefore of what can be claimed. For example, there are few studies that solely investigate the effects of yoga for depression, the study sample sizes are small in many studies and the generalizability of benefits noted in participants who demonstrate the motivation to participate and comply in studies of yoga may be questionable, the severity of depression is not known across studies, and although adverse effects have not been reported in these studies, details of how the assessments have been completed are lacking. Nevertheless, the research literature is encouraging enough to support publication of a brief 2014 Journal of Family Practice paper (that reaches more practicing clinicians) that summarized these published reviews concluding that "Yes, yoga can reduce symptoms of anxiety and depression…".
An advantageous factor in the application of yoga as a treatment for depression may be that yoga is safe, cost-effective, and can be used as an adjunct to medication. Increasingly, health care providers are encouraging their clients and patients to use self-management approaches for the treatment and management of chronic diseases such as depression. The fact that yoga is versatile, allows for personalization, and can be practiced in studios, gyms, outdoors, and at home is ideal for this form of self-care. Mind-body therapies, like yoga, can support pharmacological and psychological therapies by improving stress and emotion regulation and reactivity. Social support, which is an additional benefit of group yoga practice, has proven to have a positive impact on some individual's mood and coping skills. Thus, the practice of yoga warrants serious consideration as a potentially efficacious strategy that would allow depressed individuals to cope with their depressive symptoms and their consequences. Further rigorous research is warranted to clarify specific mechanisms of yoga's efficacy for depression and to determine the best practices and application of yoga that yield optimum benefit.
Ajeetdev Kaur is a KRI certified Kundalini Yoga instructor and teaches weekly classes in Scottsdale and Phoenix, AZ. She holds a Masters degree in Cultural Anthropology from the University of Kansas where she studied South American health and healing, and theoretical issues in Medical Anthropology.
Sat Bir Singh Khalsa, Ph.D. is the KRI Director of Research, Research Director for the Kripalu Center for Yoga & Health, and Assistant Professor of Medicine at Harvard Medical School. He has practiced a Kundalini Yoga lifestyle since 1973 and is a KRI certified Kundalini Yoga instructor. He has conducted research on yoga for insomnia, stress, anxiety disorders, and yoga in public schools, he is editor in chief of the International Journal of Yoga Therapy and The Principles and Practice of Yoga in Health Care and author of the Harvard Medical School ebook Your Brain on Yoga.
Neuroimaging Research on Yoga and Meditation: EEG Studies - February 2016
Neuroimaging Research on Yoga and Meditation: EEG Studies
Nikhil Ramburn and Sat Bir Singh Khalsa, Ph.D.
Historical anecdotal evidence abounds for the benefits of yoga and meditation and even for the underlying psychophysiological and psychological mechanisms of its action. Since the history of the practice goes back thousands of years, the writings of the yoga and meditation masters over the millennia have given us valuable insight into how meditation works. However, anecdotal evidence can be very subjective and may not apply to the general population. Therefore, more objective studies have tried to quantify the effects of meditation and the neurophysiological processes involved. One of the early scientific tools used to study the contemplative practices has been electroencephalography (EEG). The EEG records the electrical activity of the brain with electrodes on the surface of the scalp and registers the distinctly different brain wave patterns that occur over different regions of the scalp and that change their characteristics over time and with different meditation practices.
EEG research has revealed that yoga has positive and unique effects on brain activity by stimulating alpha, beta, and theta brainwaves. These changes in brain activity have been associated with improvements in cognition, mood, and anxiety. Alpha brainwave activity has been correlated with increased cognitive performance such as faster recall of information from memory. Likewise, beta waves have been linked to increased cognitive skills, which are associated with improved academic performance and mood. Those beneficial brain wave activities were observed in the various EEG studies on yoga practitioners.
The first EEG studies from the early sixties and seventies revealed increases in alpha and theta wave amplitude in yoga practitioners. Later studies were consistent with these findings, such as in a 1992 Indian EEG study, in which a breathing and relaxation yoga practice was equated with gradual and significant increases in alpha activity over 30 consecutive days of training. Those increases in alpha activity were registered in the occipital and prefrontal cortices of the brain. Scientists have found an integral link between the prefrontal cortex and the personality. This finding is consistent with Yogi Bhajan's description of the frontal lobe of the brain as the control center for the personality and several meditations in the Kundalini Yoga tradition target this brain area.
In another more recent study from 2013, a group of Indian police trainees performed asana-based yoga and pranayama. Just as in the previous study, these subjects also displayed increase in alpha wave activity along with amplification of beta brainwaves. Several more EEG studies have demonstrated that a natural practice like yoga can induce brain wave activity associated with a vast array of cognitive and mood benefits. Therefore, the EEG studies have been instrumental in initiating our understanding of the yogi's meditative mind.
The recent advent of the popularity of Buddhist inspired mindfulness meditation has yielded an additional body of research literature on its EEG characteristics. In a recent review of EEG studies on mindfulness meditation published in a 2015 issue of the journal Neuroscience and Biobehavioral Reviews by a team of U.K. researchers, the authors examined 56 publications. They concluded "that mindfulness was most commonly associated with enhanced alpha and theta power as compared to an eyes closed resting state, although such outcomes were not uniformly reported. No consistent patterns were observed with respect to beta, delta and gamma bandwidths." This conclusion is in essence not much different from previous meditation studies, in which a single point, or closed focus, form of meditation has been used. The fact that the EEG is not able to show substantial differences between meditation forms may suggest that it has significant limitations.
Despite its benefits, the capability of EEG recordings may not do full justice as a tool to evaluate the subtlety of meditative practices and experience. This technology has the limitation of representing the activity of millions of neurons through interpreting brain wave activity alone. Another major limitation to the EEG is its poor spatial resolution since it is most sensitive to the neural activity in the superficial layers of the brain, because the scalp electrodes are a significant distance away from the neurons through the barriers of the skull and scalp. Deeper structures in the brain that are further from the scalp electrodes such as the cingulate gyrus or hippocampus have less contribution to the EEG signal. While the early neuroimaging studies have yielded valuable information about the effects of yoga on brain activity, the limitations of the EEG technology have restricted what we can learn from these studies. There is now new neuroimaging technology that offers measurements that are free of the many artifacts and limitations of the EEG.
Nikhil Rayburn grew up practicing yoga under mango trees in the tropics. He is a certified Kundalini Yoga teacher and has taught yoga to children and adults in Vermont, New Mexico, Connecticut, India, France, and Mauritius. He is a regular contributor to the Kundalini Research Institute newsletter and explores current yoga research.
Sat Bir Singh Khalsa, Ph.D. is the KRI Director of Research, Research Director for the Kripalu Center for Yoga & Health, and Assistant Professor of Medicine at Harvard Medical School. He has practiced a Kundalini Yoga lifestyle since 1973 and is a KRI certified Kundalini Yoga instructor. He has conducted research on yoga for insomnia, stress, anxiety disorders, and yoga in public schools, he is editor in chief of the International Journal of Yoga Therapy and The Principles and Practice of Yoga in Health Care and author of the Harvard Medical School ebook Your Brain on Yoga.
The Emerging Neuroscience of the Wandering Mind and Meditation - January 2016
The Emerging Neuroscience of the Wandering Mind and Meditation
By Hsin-ya Chow, M.F.A. and Sat Bir Singh Khalsa, Ph.D.
Like an imaginary friend, mind wandering might keep us company when we're waiting for a bus or waiting in the doctor's office. However, it also pays us less welcome visits when we're trying to concentrate on reading or completing a time-sensitive task. This ubiquitous characteristic of the human mind has been well-known for centuries and was described in the ancient Upanishad scriptures: "…this mind of mine is extremely restless" and "It wanders from a cloth to a pot and thence to a big cart. The mind wanders among objects as a monkey does from tree to tree." (Annapurna Upanishad III-5 and Annapurna Upanishad III-6).
Human beings have a natural propensity for mind wandering. Mind wandering is what occurs when we are contemplating scenarios of our past or future such as last week's argument with the spouse or the outcome of an upcoming business meeting. There are some recent and ongoing studies that show the evolutionary advantages of mind wandering. Creative problem solving, future planning, and as a refresher or relief from tedium are some of the possible benefits. However, it is when we dwell, as we most often do, on more challenging or stressful topics, such as the past argument with the spouse or the upcoming business meeting, that a less friendly form of mind wandering occurs. This may progress further into a more pernicious activity known as rumination, in which there is a persisting continual loop, the chewing of thoughts over and over, and this comes with a price. Emotionally, it comes at the cost of one's happiness and sense of well-being. The study of mind wandering has now actually become a focus of scientific research to understand its consequences and underlying mechanisms. Most notably, a Harvard study on mind wandering in everyday activities, published in the prestigious journal Science, showed that people were less happy when their minds were wandering than when they were not and that, "The ability to think about what is not happening is a cognitive achievement that comes at an emotional cost."


In the brain, mind wandering is primarily associated with a network of interacting brain regions called the default mode network (DMN), although recent research is suggesting that other brain regions are also involved. Some forms of activity in the DMN have been shown to have a direct link to mood disturbance and psychiatric conditions. The more one ruminates, the more the default mode network is strengthened. This phenomenon is known as brain plasticity and works very much like the way building a muscle might happen. The more time spent exercising the muscle, the more it grows, and the stronger it becomes. The more time spent in mind wandering and rumination, the more the brain is dominated by performing that activity, and the unhappier you become. Over time, too much DMN activation in rumination is associated with risk factors for mental health conditions such as depression, addictive behaviors, attention deficit disorders, and anxiety disorders.
On the flip side, there is a brain activity that is very different than mind wandering or rumination which is associated with task-oriented functions that require focus and control of attention. One of these activities is meditation, the relaxed focus of attention. Instead of the past or future thinking in mind wandering, this activity involves focus on the here-and-now and involves activation of the attention networks in the brain in the frontal lobe. Meditation is a proven mechanism for training the mind and there are two primary meditation forms. One is closed focus or concentrative meditation, in which one focuses attention on a single point or target such as the breath, an image, or a mantra. The other form is referred to as open focus, open monitoring, or mindfulness meditation in which one observes the flow of thought or sensation in consciousness. What is common to both forms of meditation is that mind wandering inevitably intervenes repeatedly, and the task is to redirect the mind to the object of attention in a relaxed manner.
This alternation between focus of attention and mind wandering is a hallmark of the practice of meditation. An elegant neuroimaging research study of meditation in the fMRI brain scanner (functional magnetic resonance imaging) distinguished this pattern of activity during meditation, revealing four distinct phases in a repetitive sequence: mind wandering, awareness of mind wandering, shifting of attention back to the intended focus, and sustained attention or focus. It was the DMN that was observed to become active during the mind-wandering phase, whereas the prefrontal cortex was activated during the focus phase. In longer term meditators, it was noted that these individuals were able to more quickly return to the focus phase of meditation, suggesting that there are lasting changes in brain regions associated with long-term practice of the task-focused attention in meditation. Other research is indicating that activation of the attention networks in the prefrontal cortex has inhibitory effects on the limbic system where emotions are regulated. This is significant, because it means that the minds of meditators, on the whole, are benefiting in a sustainable way.
Research is suggesting that individuals more prone to mind wandering and rumination are potentially more at risk for the development of mood disturbance and even psychiatric conditions. In long-term meditators, regions of the limbic system are actually structurally reduced in size compared with non-meditators and the risk for mood disorders is reduced. There is lowered emotional reactivity and an increased ease in decision-making. Increases in relaxation, improvements in focusing, and higher performance emerges. The more one meditates, the more one spends time activating the attention networks, and the less time one spends in DMN activity, and it is likely that structural changes follow the degree of activity in each network. Ultimately, with long-term meditation, the first known published description of the active control of attention in the act of meditation in the Upanishad scriptures is realized: "… the man who has a discriminating intellect as his driver, and a controlled-mind as the reins, reaches the end of the path--that supreme state of Vishnu." (Katha Upanishad 1-III-9).
Hsin-ya Chow has lived in Manhattan, Amsterdam, a commune, and a basement. She has worked for householder magazines such as Harper's Bazaar, Money, and TimeOut New York, as well as written for newsletters serving the developmentally disabled and eco-engineering communities. She holds her MFA in Creative Writing from Sarah Lawrence College, a BA in Journalism from New York University, and an undying devotion to learning and loving. At Hsin-ya's monthly Kundalini Yoga party, SundaySessions, everyone is encouraged to be at home exactly where they are.
Sat Bir Singh Khalsa, Ph.D. , the KRI Director of Research, received his doctorate in human physiology and neuroscience at the University of Toronto and has conducted research in neuroscience, biological rhythms, sleep and sleep disorders for more than 25 years. He has been involved in the practice of yoga for more than 35 years and is a KRI certified Kundalini Yoga. He is currently an Assistant Professor of Medicine at Harvard Medical School in the Division of Sleep Medicine at Brigham and Women's Hospital in Boston.
Research on Yoga in the School Setting - November 2015
Research on Yoga in the School Setting
Nikhil Ramburn, B.A. and Sat Bir Singh Khalsa, Ph.D.
Children and teenagers today face mounting pressure to perform academically along with numerous stressors in their social and family lives. The consequence has been an alarming increase in the prevalence of physical, mental health, and behavioral problems. Despite the long-held role of schools to provide an academic education leading to success in the job market, parents, educators, and students are increasingly demanding more than academic success from schools. As a result, numerous programs to promote health and prevent problem behavior in the school system have sprung up. Unfortunately, many programs are fragmented and not well-integrated into school structures. To address this problem, the education system is in need of programs that support mental and physical health and that can be easily integrated into the school curriculum.
Studies on the therapeutic effects of yoga for youth indicate that it is efficacious in improving both physical and mental health, making yoga a prime contender to meet the school system's need for an effective and holistic health and wellness program that can promote social and emotional learning (SEL) goals such as self-awareness and stress regulation.
Research into school-based yoga programs is a nascent and growing field. The first study of this kind, published in the journal Academic Therapy in 1976, reported that elementary school children exhibited calmer behavior and improvement in psychomotor skills following a yoga program. The authors also suggested that yoga may be more beneficial than other gross-motor physical activities because of its calming aspect. A follow-up study in the same journal in 1979 by the same researchers surveyed 34 children in Delaware who exhibited educational problems. The children were six to eleven years old and given fifteen minutes of yoga instruction before being assessed for their concentration levels. The study showed that students worked with greater efficacy following periods of yoga. However, like many studies in a new field of investigation, sample sizes were small, there was no control group and there was actually no statistically significant differences in improvements between changes in a yoga period as opposed to a general psychomotor program. However, statistically significant results were found in a 1989 randomized control trial of 80 students attending a private, religiously affiliated middle school in northern New Jersey. This study published as a doctoral dissertation at Seton Hall University showed that yoga meditation showed efficacy as a self-regulation strategy, thereby demonstrating the value of yoga to meet SEL goals.
Over the past ten to fifteen years, evaluations of school-based yoga and meditation approaches targeting children have increased significantly in both quantity and quality of studies. The recent surge in the popularity of mindfulness practices by the general public and has also been reflected in educational settings. In a small, randomized control trial of urban youth in 2014, application of the well-known Mindfulness-Based Stress Reduction was associated with qualitative outcomes of increased calm, conflict avoidance, self-awareness, and self-regulation. These are all essential characteristics that make a productive learning environment and healthy school community. Mindfulness practices were also associated with a significant reduction in depression and stress in a nonrandomized parallel group study in 2012 showing the benefit of mindfulness programs in addressing the mental health epidemic facing today's youth. More recently, a larger randomized control trial with fourth and fifth-grade students showed that students receiving a school-based mindfulness program showed greater decreases in depression, aggression and were rated by peers as more trustworthy, kind and helpful. Those same students had a more normalized diurnal profile of the stress hormone cortisol as determined by salivary assays.
With respect to yoga studies in school settings, a recent review paper published in the International Journal of Yoga Therapy identified twelve peer-reviewed studies of school-based yoga programs. Seven of the studies reviewed were conducted in the United States in public elementary schools both within the curriculum and in after-school programs. In India, studies were conducted on yoga programs in both residential schools and special education schools and studies of English and German public school yoga programs were also identified. Research designs involved in this research included pilot studies, single group trials, quasi-experimental and randomized clinical trials. Although most of the students were normally healthy youth, some of the yoga studies included students with autism, and with intellectual and learning disabilities.
In terms of characteristics that were observed to improve, students receiving the yoga intervention reported fewer negative behaviors, showed less body dissatisfaction and lower levels of stress. In addition, students were able to plan and execute tasks more quickly, were more self-confident, and communicated better with their teachers and peers. A study of Indian students, showed that students made fewer errors in depth perception after a yoga intervention. In a German public school, there was a decrease in group aggression and increase in stress-coping ability. Finally, significant improvements on IQ and social adaptation were noted in a special education school in India. Although the effects of participating in school-based yoga programs appeared generally beneficial, methodological limitations including the lack of randomization, small samples, limited details regarding the intervention and statistical ambiguities have limited the drawing of definitive conclusions at this point.
Despite these weaknesses, these findings do suggest that yoga provides a skillset to facilitate SEL such as stress management and self-regulation, thereby providing a cost-effective, evidence-based program to schools. As a holistic system of mind-body practices, yoga has been found to be an effective complementary therapy to promote health and reduce many factors related to physiological diseases in the adult research literature. Given that strong evidence exists between the promotion of SEL and beneficial student outcomes, more rigorous trials and funding are needed to support the research into school-based yoga programs. Further high quality research will be useful towards justifying the inclusion of yoga into the school curriculum, which may then become a universal practice and spread across the globe, completely reshaping education in the Aquarian Age.
The Early History and its Significance - October 2015
The Early History and its Significance
Sat Bir Singh Khalsa, Ph.D.
The contrast between East and West provides a fascinating study in the difference in perception and understanding of the nature of the world. The origin and development of the contemplative practices of yoga and meditation date back to the most early of Eastern civilizations, and the East is deeply imbued with a reverence for the value of the most profound internal experiences. Western culture, on the other hand, has been more influenced by the development and influence of the scientific method in understanding the physical world, systematically and precisely uncovering the underlying physical laws of the Universe. The earliest research on yoga and meditation is one that is characterized by this East/West contrast, historically mirrored by the Western British rule of India for centuries, and by the marked difference between the technological, reductionistic nature of scientific research and the holistic, integrative and unitive nature of yoga.
The first biomedical scientific research on yoga was conducted by Indian investigators in Indian institutes. In the 1920's, Swami Kuvalyananda founded the Kaivalydhama Yoga Institute in Mumbai and the yoga research journal Yoga Mimamsa (which are both still very active today) and began research on specific yoga practices. In the frontispiece of the first issue of Yoga Mimamsa dated October, 1924, he prophetically wrote:
The Yogins, right from Patanjali, the greatest exponent of Yogic science, knew how to induce the highest spiritual stages. As the objective sciences had not developed till late, it was not possible for these stages to be experimented upon; and though lately there has been a startling advance in modern sciences, their exclusive material tendency and the equally exclusive spiritual tendency of the Yogins have led to a complete but an unlucky divorce of the two schools of thought. The Kaivalyadhama is anxious to wed these together and produce results which will lead to the realization of the ideal indicated above.

THE Yoga-Mimansa Quarterly will publish researches of the Asrama Kaivalyadhama. The workers of this Asrama are tackling, according to the modern scientific methods, the great Yogic culture of India in its different aspects. Nothing that has not been tested either clinically or in the laboratory will appear in the pages of this periodical. What truths will be revealed by these researches nobody can predict. But it looks very probable that the research-work of the Asrama will enrich the field of physiology, psycho-physiology, therapeutics, spiritual and physical culture, etc. Years of labour in psycho-physiology may help the scholars to solve some of the toughest problems of philosophical thought.
Given what is only a very recent exponential growth in integrative medicine and yoga research over the past decade, it is clear that Kuvalyananda was a visionary far ahead of his time. His early research at Kaivalyadhama involved x-ray and pressure measurements of the yogic abdominal exercises nauli and uddiyana and the blood pressure effects of yogic postures. Later studies in the 1950's examined at gas exchange and air pressure changes occurring during pranayama practices. One of Kuvalyananda's students, K.T. Behanan, pursued studies on pranayama as a research fellow at Yale University in the 1930's, which yielded publications in American biomedical journals and his book Yoga: It's Scientific Basis in 1937.
Aside from research out of Kaivalyadhama, over the course of the 3 decades from the 1930's through the 1950's, there were only a handful of other yoga research initiatives that led to publications. In one of the earliest instances of research on yoga for therapeutic purposes was a brief German report published in 1933 evaluating yoga treatments on 42 subjects with constipation showing complete recovery or marked improvement in 28 of them. In the U.S., a Minneapolis physician stumbled across the benefits of long deep breathing for the treatment of angina pectoris in his patients, coming to the realization that this was a yoga-based practice after correspondence with yogi Paramahansa Yogananda, and called the practice "attentive breathing" in a case series report published in 1948.
Early reports over the past 3 centuries by Western travelers and writers described the feats of expert master yogis and "fakirs" to dramatically alter their bodily and psychological functioning. These yogis could purportedly survive prolonged underground burial, withstand pain, stop their heart activity and achieve profound altered states of consciousness. These reports suggested special skills or abilities unknown to medical science, which peaked the interest of a number of Western scientists. In 1851, a regimental surgeon in Benares named N.C. Paul who had studied and practiced yoga for 35 years, published the book Treatise on the Philosophy of Yoga in which he analyzed the biology of gas exchange and metabolism apparently involved in the yogic feat of surviving prolonged underground burial and he also tried to address the relationship between frequency of breathing and yogic states of consciousness. However, this work did not involve any real experimentation or measurements, and so was therefore more of a hypothesis paper than a research report.
It was almost a century later, that Western physiologists outside of India traveled to India with portable recording equipment to investigate these claims. Therese Brosse, a French cardiologist who was a fellow at Harvard Medical School came to India in 1935 to investigate the claim that accomplished yogis could stop their heart beats. Although her published study was not fully convincing with respect to the ability to completely stop the heart rhythm, it did show that these practitioners had the ability to slow their heart rates substantially, suggesting that they could control the autonomic innervation of the heart. A 1950 report in the prestigious British medical journal Lancet described a witnessed account of the survival of a yogi in a sealed underground chamber for over 3 days. Also in the 1950's, French researchers Das and Gastaut reported results of electroencephalographic recordings that showed discrete and profound changes in brain waves during the deep meditative state of Samadhi, that were also associated with marked changes in heart rate. Perhaps the best study of this kind was the classic report "Electro-physiological correlates of some Yogi exercises" published in 1957 by Basu Kumar Bagchi, a University of Michigan professor and close boyhood friend of Paramahansa Yogananda, and Marion A. Wenger, a UCLA psychologist. They spent 5 months traveling across India seeking out yoga masters and holy men and described their challenges in that paper: "Dozens of informants and Yogic subjects were personally contacted in 17 places in different parts of India, in addition to carrying on a fairly large volume of correspondence from America and in India. A large number of leads on Yogis proved unproductive. Many Yogis were not interested, some would not cooperate. Many could not be reached. It would appear that more time, effort, travel, and expense were involved than would be considered warranted in an adventure like this." Recordings with their portable electrophysiological recording equipment showed that these yogis had a marked slowing of breath rate, an ability to slow heart rate, and a deep relaxation of the autonomic nervous system.
The key value of the very early research in yoga was in first bringing to light the possibility for self-regulation of internal physiological functions through yogic practices, a construct that was novel to conventional modern psychophysiology and medicine. These early findings on self-regulatory abilities inspired accelerated research in the 1960's and later, and have stood the test of time having been echoed and confirmed by the results of many subsequent modern research studies on yoga, meditation and other contemplative and mind-body practices. Physiological and psychological self-regulation, particularly stress coping and resilience (and control of the autonomic system and the hypothalamic pituitary adrenal axis) and emotion regulation, now represents one of the most important outcomes of yoga practice and has enormous implications for improving both human functioning and disease symptomatology.
Yoga in Public Schools: A Nationwide Grass Roots Movement - September 2015
Yoga in Public Schools: A Nationwide Grass Roots Movement
Nikhil Ramburn and Sat Bir Singh Khalsa, Ph.D.
According to recent national surveys, there is currently a large and growing burden of psychological disorders such as depression, anxiety and substance abuse in our youth that is almost universal. In addition to this, a significant percentage of youth are obese and at risk for lifestyle diseases such as type 2 diabetes. Furthermore, behavioral problems such as physical inactivity, bullying, and school dropouts are becoming commonplace. Key factors contributing to these problems are the inability of youth to cope with the chronic stress of modern society and a lack of mind body awareness. Unfortunately, the focus of our school system has been exclusively on academic performance and preparing children to succeed in the adult job market, and it has essentially ignored the teaching of life skills such as stress and emotion regulation that would represent an education of the whole child.
Yoga includes practices designed to calm the nervous system and is ideally suited to alleviate the stressors faced by students. It represents a lifelong skill that can be learned and applied over a short period of time. Furthermore, yoga promotes mind-body awareness that can lead to sustainable and long-term positive changes in behavior. It is therefore logical and likely that school-based yoga interventions may have a preventive impact, targeting early risk factors for physical and psychological disorders and negative behaviors.
Remarkably, the implementation of grassroots yoga programs in public schools by both individuals and by formal yoga in school organizations offering school-specific yoga curriculums has actually become a movement. In a paper recently accepted for publication in the journal Advances in Mind-Body Medicine (School-Based Yoga Programs in the United States: A Survey by Butzer B, Ebert M, Telles S, and Khalsa SBS), a survey of these yoga in schools programs across the U.S. was conducted. The study identified and characterized 36 programs, which have been offering yoga in over 940 schools and have formally trained over 5,000 instructors in their curricula. To be included in the analysis in this study, yoga in school programs had to include yoga physical postures and exercises and/or yogic breathing practices, but virtually all also included relaxation techniques and meditation/mindfulness practices. The study analyzed each program's scope of work, curriculum characteristics, teacher certification and training requirements, implementation model, mode of operation, and primary geographical region.
All programs were designed to be secular and teach universal values or life skills, which makes them suitable for public school settings. Most programs also included aspects beyond the physical by incorporating ethics or philosophy in their lessons. Several additional activities were also included in a number of these programs. Games, songs, journaling, crafts and team building exercises that would not typically be considered yoga per se are common auxiliary learning tools that have been seamlessly woven into the yoga lessons. The inclusion of those non-traditional components allows the yoga programming to be integrated with school values and social and the few social and emotional learning programs already in existence. In recognizing the need for this social and emotional component, the Collaborative for Academic, Social and Emotional Learning (CASEL) has been promoting the inclusion of social and emotional learning in schools. Although the majority of the yoga programs have no formal relationship to the CASEL, many of the program goals are aligned with the core CASEL competencies of enhancing students' self-awareness, self-management, social awareness, relationship skills, and responsible decision-making.
While some programs focus exclusively on school programming, others also run their yoga programs at mental health organizations, community youth programs, or at-risk community youth organizations. The Kundalini Yoga-based Y.O.G.A. for Youth program based out of Los Angeles offers yoga classes to urban youth, giving them tools for self-discovery, discipline, self-respect and community engagement (see: http://www.yogaforyouth.org). Since its inception in 1993, Y.O.G.A. for Youth has served over 16,000 young people in Los Angeles county alone. Y.O.G.A. for Youth offers opportunities for youth to practice yoga and relaxation in schools, community facilities, hospitals and detention centers. Its unique programs have been designed to combat a myriad of issues that plague our youth today including stress, anger, depression, anxiety, low self-esteem, poor concentration and obesity. A recent research study was conducted on Y.O.G.A. for Youth programs in L.A. charter schools, in which notable improvements in stress, resilience and mood were noted. An ongoing research study is evaluating the benefits of an after school Y.O.G.A. for Youth program in North Carolina.
Traditional bureaucratic structures and misunderstanding amongst parents about the secular nature of yoga has led to some reluctance in the implementation of yoga in schools. Future research should examine the most effective and feasible avenues for delivering school-based yoga programming given these unique challenges. The yoga in schools movement is an appropriate countermeasure for the current challenges in our youth's health and behavior and should lead to improved social and emotional skills, classroom behavior, and academic performance. There is also a critical need for research studies to quantify and document these benefits in order to provide policy makers with the justification to support the widespread implementation of yoga in our school curricula.
The Rationale for Yoga in Schools - August 2015
Have you been teaching yoga in schools or wanting to pitch a yoga program to your local school? We hope Dr. Sat Bir's article this month provides you some general insight and direction for how to approach teaching yoga in a school near you!
The Rationale for Yoga in Schools
By Ajeetdev Kaur (Kerry Vanden Heuvel), M.A. and Sat Bir Singh Khalsa, Ph.D.
Children and adolescents living the United States today are faced with many stressors, including problems with family and peers, the pressure to perform well and succeed academically, and the many physical and emotional changes that come with puberty. If unmanaged, chronic stress can lead to significant mood disturbance and is well-known as a risk factor for psychiatric conditions. In fact, a comprehensive research survey has revealed that the cumulative prevalence of psychiatric problems by age 21 exceeds 80% in the United States suggesting that these conditions are nearly universal in our youth. Furthermore, another survey study indicates that the majority of psychiatric conditions in adults have child-adolescent onsets. Therefore, there is a great need to address this high mental health burden in children and adolescents and to also prevent the occurrence of psychiatric disorders in adulthood. A growing number of educators, parents and students believe that schools need to provide more than academic instruction in order to ensure that children are not only successful in school, but also in life. However, the modern education system is faced with the pressure to enhance the academic performance of students, resulting in a lack of time and resources for developing students' life-coping skills.
An important recent construct relevant for the behavioral competence of youth is so-called social and emotional learning (SEL), which refers to the processes through which children and adults acquire and effectively apply the knowledge, attitudes, and skills necessary to understand and manage emotions, set and achieve positive goals, feel and show empathy for others, establish and maintain positive relationships, and make responsible decisions. The Collaborative for Academic, Social, and Emotional Learning (CASEL) strives to advance SEL science, evidence-based practice, and policy, and provides a published guide to existing programs that are believed to be effective for SEL. In an ideal world, CASEL would see every school in the nation providing evidence-based SEL programming to all students in preschool through high school.
The practice of yoga is effectively a form of SEL, with potentially additional advantages. With yoga practice, students start developing the ability to regulate their stress and emotions, to develop full awareness of their mind and body, and improve their physical health and functioning through the physical movements and postures, breathing exercises, meditation practices, and relaxation techniques. These are skills which lead to improved functioning and coping overall, thereby preventing the risk factors for impaired mood, behavior and health. Encouragingly, the Kripalu Yoga in Schools program has just recently been included in the CASEL guide, and it is likely that other contemplative practice-based curricula will be added in future. Traditional SEL programs are often challenging to integrate into the standard academic curriculum, mostly due to limited time and resources. School-based yoga programs, on the other hand, have the advantage of possibly being integrated relatively seamlessly into existing standard physical education class settings.
There is a growing number yoga programs being implemented in public schools across North America. Research on these programs indicates that offering yoga programs within the school curriculum is an effective way to help students develop self-regulation, mind-body awareness, and physical fitness, resulting in the promotion of SEL skills and positive student outcomes. School-based yoga research is in its infancy, however it is important to note that it is a growing field. Most existing studies are preliminary and have focused on elementary school students with limited studies on the long-term effects of yoga in schools. School-based yoga programs have been shown to improve behavior, mental state, health and performance, while at the same time preventing much of the stress experienced by students. Specifically, studies have revealed that yoga interventions produce positive effects on several factors such as emotional balance, the ability to concentrate, cognitive efficiency, anxiety, negative thought patterns, emotional and physical impairments, emotional and stress reactivity, and negative behaviors. Several studies have also found the beneficial effects of school-based yoga programs on teacher-perceived factors such as classroom behavior and SEL skills, concentration, mood, ability to function under pressure, hyperactivity, attention, adaptive skills, behavioral symptoms, and internalizing symptoms.
Additionally, a small number of studies have examined the effects of school-based yoga physiological outcomes and found that yoga participation was associated with decreased cortisol concentrations, more stable breathing patterns, and improvements in heart rate variability. A credible hypothesis regarding the meditative/mindfulness component of yoga practice, is that they increase mind-body awareness, which in turn leads to positive behaviors; specifically, an increased awareness of the rewarding feelings and experiences that occur when one engages in positive behavior, encourage more of that behavior. For example, after yoga training, students may find that they are no longer attracted to junk food, because they become acutely aware of the negative bodily response and sensations after consuming it. Recent neurobiological hypotheses suggest that yoga may exert its beneficial psychological effects through physiological mechanisms that calm the nervous system, possibly through the stimulation of the vagus nerve, as a result improving stress management and self-regulation. Other recent studies suggest that yoga may enhance several aspects of physical fitness, such as improved respiratory function, increased exercise adherence, and reduced obesity risk factors. There are also studies suggesting that yoga is as effective as, and in some cases better than, standard physical exercise in the improvement of positive health-related outcomes.
The movement of yoga in schools shows promise for improving a variety of student outcomes, however, the need for more studies and future research is critical. Because school attendance is mandatory, yoga in schools may play a vital role in helping children establish healthy lifestyle behaviors from an early age. Therefore, the implementation of yoga in schools could have far-reaching implications for school health, and also for society as a whole. In summary, there is a need for SEL skills for our youth, existing research suggests that yoga provides SEL skills that improve mental and physical heath in childhood, and, therefore, school-based yoga programs may as a result have long-term implications for health in adulthood. Currently, grassroots efforts for yoga programs in schools across North America have been increasing, but more studies showing the benefits of these programs will be instrumental to expanding the presence of yoga in schools. The scientific rationale for yoga in the public schools described in this article has been more fully articulated in a peer reviewed manuscript that is currently in press in the Journal of Children's Services (Yoga within the School Curriculum: A Scientific Rationale for Improving Social-Emotional Learning and Positive Student Outcomes; Butzer B, Bury D, Telles S, Khalsa SBS), which we hope will be of use as a supportive document for yoga-in-school program administrators in justifying the application of their programs in school settings. We are hopeful that yoga could become a well-accepted and universal part of school curricula.
Yoga for Substance Abuse: Scientific Rationale and Research Evidence - July 2015
Yoga for Substance Abuse: Scientific Rationale and Research Evidence
By Nikhil Ramburn, B.A. and Sat Bir Singh Khalsa, Ph.D.
Substance use disorder is marked by a dependency on alcohol or drugs to function, and may include impaired control and inability to moderate one's substance use. It becomes clinically significant when the behavior pattern and day to day activities are impaired or the patient is under distress. The user may experience recurrent social or interpersonal problems and may find himself in physically hazardous situations. Another symptom is the increased tolerance for the substance along with substance-specific withdrawal syndromes. Substance use disorder and addictive behavior are complex conditions with numerous underlying psychological, behavioral and physical components. The pathological pursuit of relief through substance use or other addictive behaviors affects neurotransmission within reward structures of the brain, thereby altering motivational impulses and supplanting healthy self-care behavior. This leads the patient to adopt maladaptive behavior in seeking rewards such as food, sex, alcohol and other drugs. Another psychophysiological underpinning to this disorder is stress. Stress is correlated with negative health behaviors and physiological impairment, contributing to substance use and/or abuse and chronic disease development. Given the chronic nature of substance abuse, the likelihood of relapse is high. Therefore, treatment that is truly successful over the long term often involves a radical shift in perspective and a change of deeply rooted behaviors.
In 2011, the Centers for Disease Control and Prevention reported that there were more than 40,000 unintentional drug overdose deaths in the United States. The abuse of tobacco, alcohol, and illicit drugs costs more than $700 billion annually in expenses related to crime, lost work productivity and health care. It has been plausibly ascertained that 47% of the U.S. adult population suffers from maladaptive signs of an addictive disorder.
Yoga is widely recognized as an effective treatment for stress but the benefits of yoga in treatment of substance abuse may extend beyond stress relief alone. Yoga and meditation have been proposed as effective treatment for this condition because of their positive impact on several psychophysiological processes. Yoga has been demonstrated to reduce both the overt behavioral and underlying neuroendocrine components of stress. Those suffering from substance use disorder will often seek relief from daily stressors by using drugs or alcohol, and yoga may prevent relapse by offering a healthy way of managing stress. Yoga has also been shown to improve conditions of depression and anxiety and induce a higher state of consciousness that effectively replaces the attraction of substance-induced high. This is particularly important given the chronic nature of addiction and the pathological search for pleasure through substance use. Furthermore, yoga has been shown to improve self-awareness of one's mental and physical state, thereby allowing for improved self-regulation and preventing destructive behavior before its onset. Moreover yoga can improve self-esteem and promote a better understanding between an individual and his/her social world.
There are a few notable studies of yoga for addictions, some of which have shown that it is successful in addressing some of the psychophysiological underpinnings of the disease. An older Indian study evaluating yoga for alcohol abusers, revealed that subjects receiving yoga treatment showed normalization of the stress hormones cortisol and catecholamines. At Ankang hospital in Tianjin, China, yoga was found to significantly improve mood and quality of life in women undergoing detoxification for heroin dependence. A Harvard researcher in Boston found that outpatient methadone clients undergoing weekly yoga classes showed equivalent improvements in psychological, sociological and biological measures to subjects undergoing psychotherapy over a six-month period. Finally, in another small Indian study, yoga was shown to offer statistically greater improvements in withdrawal symptoms for drug addicts.
One of Yogi Bhajan's efforts on his arrival in the West was to provide Kundalini Yoga as a way out of drug use. 3HO SuperHealth® is a therapeutic yogic lifestyle developed by Yogi Bhajan that combines Kundalini Yoga, meditation, therapeutic dietary and juice formulas, and counseling and Humanology (applied psychology from the Kundalini Yoga perspective). 3HO SuperHealth® has been used to address dependency on alcohol, drugs, smoking, food issues, co-dependency, gambling, work, and computers. It also includes tools to manage stress, depression, fatigue and anxiety. SuperHealth® has been accredited by the Joint Commission on Accreditation of Healthcare Organizations and received its highest commendation, being rated in the top 10% of residential programs in the United States.
In 1991, a report on the 3HO SuperHealth® program running successfully for many years in Tucson, Arizona concluded that Kundalini Yoga and Kundalini Yoga meditations play a major role in treatment success for drugs, alcohol and anxiety, especially in maintaining recovery. After the SuperHealth® program, participants reported significant improvement in their spiritual life, peace of mind and ability to handle stress. Currently, 3HO SuperHealth®, spearheaded by Mukta Kaur Khalsa (author of Healing Addictive Behavior:Yogic Science for Transformation as taught by Yogi Bhajan) offers trainings around the world in this yogic approach to breaking addictive behavior.
More recently, a 90-day residential SuperHealth® program for substance abuse was conducted at a psychiatric hospital in Amritsar, India. This region in northern India is particularly prone to substance abuse due to its proximity to strong opium production and trafficking in Pakistan. The primary therapeutic modality was 45 days of thrice daily Kundalini Yoga as taught by Yogi Bhajan® supplemented by a variety of additional SuperHealth® and integrative medical therapies delivered by a number of Kundalini Yoga instructors and therapists. Study participants showed improvements on a number of psychological self-report questionnaires including the Behavior and Symptom Identification Scale and the Quality of Recovery Index. Qualitatively, participants reported greater emotional wellbeing, less pain, less reactivity and the ability to sleep better. These results were published in the peer-reviewed Journal of Ethnicity in Substance Abuse in 2008.
The results of these initial studies point out the effectiveness of yoga and yogic lifestyle as therapy in their own right and as complementary treatment to more conventional clinical practices. Yoga has been shown to effectively target the psychological, biological and behavioral functions implicated in the pathophysiology of addiction. However, more research is needed with larger sample sizes, over a longer timeframe and with replicable methodology to see if similar results are achievable across different programs.
The Prevalence and Characteristics of Yoga Practice in the General Public - June 2015
The Prevalence and Characteristics of Yoga Practice in the General Public
By Srilatha Vuthoori, M.S. and Sat Bir Singh Khalsa, Ph.D.

Yoga has become very trendy in modern society and is rapidly increasing in popularity. Yoga is so well known for its reputation as a healthful practice that it is also used in numerous media advertisements to market products from pharmaceutical drugs to insurance. There is now also an official International Day of Yoga, on June 21st, recently designated by the UN General Assembly in response to a proposal by the prime minister of India. This increase in the prevalence and popularity of yoga in mainstream society is unprecedented.
Swami Vivekananda was the first influential figure to bring yoga to the West. Addressing the 1893 World Parliament of Religions in Chicago he described the universality of religions and the philosophy of aspiring to infinite consciousness. Other notable yoga figures in the 1920's and 1930's were Paramahansa Yogananda who lectured to Boston academics, and political and religious leaders, Indra Devi who opened a yoga studio in Hollywood, and Krishnamurti, famous for his eloquent lectures on Eastern philosophy and yoga. In 1966 B.K.S. Iyengar's Light on Yoga was published in the US, a book that is still considered a classic for yoga practice. The 60's and 70's saw the arrival of many yoga masters who came to teach yoga to North Americans including Swami Satchidananda, Amrit Desai, Swami Rama, Swami Vishnu-Devananda and Yogi Bhajan. Despite yoga's popularity in the West not much was known regarding the prevalence and demographics of yoga users.
We now have available a number of statistical studies describing the use and the characteristics of yoga practice in different populations. A Yoga Journal survey found that 8.7% of U.S. adults (20.4 million adults) practiced yoga in 2012. The National Health Interview Survey (NHIS) conducted by the U.S. Centers for Disease Control (CDC) tracks the public's practice of complementary and integrative medicine and revealed that yoga practice almost doubled between 2002 and 2012, increasing from 5.1% (10.4 million adults) to 9.5% of the population, respectively. In Australia, 12% of the adult population was found to practice yoga.
Studies conducted in the U.S., the U.K. and Australia also found that yoga users are likely to be young, female, white, college educated and employed (82% with disposable incomes). Adults aged 18-44 were the majority of those practicing yoga in 2012 (11.2% of U.S. adults aged 18-44). According to Yoga Journal's survey, the individuals practicing yoga are 4 times more likely to be female (82.2% woman vs. 17.8% men). Another study examining the sociodemographic barriers in U.S. adults for mindfulness practices found that men were three times less likely to practice yoga. Reasons that may account for this gender imbalance include the possibility that men are not attracted to yoga because they are less flexible than women, or may feel out of place in venues dominated by women. However, the introduction of Power yoga, Bikram yoga and other yoga focused on strengthening may be slowly increasing the number of men practicing yoga. The NHIS survey also found that white adults were the majority of yoga users (11.2% of white adults in 2012). In contrast, the use of yoga among Hispanic adults and blacks was approximately 5% of these minorities in 2012. A survey tracking income in yoga practitioners revealed a strong disparity in this characteristic showing that over 30% of yoga users have an annual household income of $75,000 or more, with 15% earning over $100,000. A similar disparity exists with regards to education with nearly 50% of yoga practitioners having completed a college-level education or higher.
Flexibility, general conditioning, stress relief, improvement in overall health and physical fitness were the top reasons for starting yoga. In Australia, while 58% of respondents gave 'reduce stress or anxiety' as a reason for starting yoga, 79.4% of participants continued for this reason. A study of participants in the beginner's yoga programs provided by the Yoga studios in Austin, Texas entitled Yoga in the Real World: Perceptions, Motivators, Barriers and Patterns of Use was recently published in the journal Global Advances in Health and Medicine. This study showed that the major reasons for practice included general wellness (81%), physical exercise (80%) and stress management (73%). Other reasons for practice included seeking a spiritual experience (37%) and therapeutic intentions including alleviating a health condition (28%), illness prevention (23%), and doctor recommendation (5%).
There are more than 400,000 photos tagged #yogi on Instagram, enough to warrant a New York Times trend piece. The popularity of yoga is also reflected in the use of yoga in surprising places. There is an annual closing of New York City's iconic Times Square for thousands of people to practice yoga on June 21st, The International Day of Yoga. Last year over 11,000 people participated, which is truly remarkable. This year delegates from the U.N. and India will be present to recognize the International Day of Yoga. Several airports now have dedicated yoga rooms for air travelers (e.g. San Francisco International and Helsinki Airports). There are also numerous fashionable yoga retreat spots now available in destinations including Mexico, Costa Rica, Bahamas, Hawaii and Bali.
Despite yoga's popularity overall, yoga is most prevalent among white, female, educated, and higher income segments of the population. A recent CDC report on health disparities in the U.S. showed that education levels and race are predictors of poor health outcomes. For example, minorities and low education individuals were more likely to report fair or poor self-rated health and more physically and mentally unhealthy days than others. Meanwhile, studies show that yoga practice can help reduce stress and anxiety, improve fitness, and enhance mood and overall sense of wellbeing. However, the minority populations that need yoga the most (in terms of stress relief and increased well-being), are least likely to practice yoga. Although there are programs to promote yoga for underprivileged populations, the effort is small and penetration to the broader public is slow. Therefore, conducting well-designed clinical research studies could provide the evidence base required to justify implementation of yoga programs in the public schools, healthcare system, and workplace, extending the benefits of yoga to a larger number of people, including disadvantaged populations.
Yoga Research on Neurodegenerative Diseases - May 2015
Yoga Research on Neurodegenerative Diseases
By Elizabeth Morris, M.Div. and Sat Bir Singh Khalsa, Ph.D.
Although life expectancy and the percentage of the population that is elderly has risen dramatically since 1970, so too has the rise in the number of people suffering from neurodegenerative diseases such as dementia, Alzheimer's disease, and Parkinson's disease. Some of the greatest risk factors for neurodegenerative diseases include chronic stress, stroke, depression, sleep deficits, and mood disturbance. Statistics suggest that as many as 36 million people currently suffer from neurodegenerative diseases such as dementia. By 2030, this statistic may almost double in magnitude with scientists predicting that as many as 66 million people could be affected.
Despite this alarming trend, substantial growth is occurring in research specifically focused on reducing behavioral risk factors of neurodegenerative diseases and/or preventing the degenerative changes that come with aging through mind-body therapies such as yoga and meditation. A notable example of interest is a set of studies conducted by the laboratory of Harvard Medical School researcher Sara Lazar in which changes were measured in brain activity, cortical thickness and gray matter with meditation. Gray matter is involved in muscle control, sensory perception, memory, emotions, speech, decision-making and self-control. The findings suggest an increase in cortical thickness in areas associated with emotional integration and attention among experienced meditation practitioners as compared to individuals with no history of meditation. In addition, the results suggest that meditation is brain protective and associated with reduced tissue decline with age. A study assessing fluid intelligence and aging in long-term yoga and meditation practitioners found that fluid intelligence declined more slowly in yoga practitioners and meditators. Fluid intelligence governs an individual's capacity to think logically and solve problems in new situations and often declines steadily with aging. In general, meditation was positively correlated with an increase in resilience and showed a slower rate of decline in brain functional architecture and a preservation of brain network integration. It is likely that we are at the beginning of an era that will see a substantial increase in research devoted to mind-body medicine on aging.
Despite this growth in research on aging and risk factors, very few mind-body studies have been conducted on cognitive impairment relative to existing neurodegenerative diseases. A recent review study published in the journal Frontiers in Behavioral Neuroscience in 2014 assessed seven studies focusing on a range of meditation techniques classified as both open monitoring and focused attention on elderly suffering from neurodegenerative diseases. This review concluded that meditation practices have a positive effect on memory, verbal fluency and cognitive flexibility. A study on Kirtan Kriya, a well-known practice within Kundalini yoga as taught by Yogi Bhajan™, showed particularly significant improvements in stress, quality of sleep, mood, sympathetic activation and memory in adults suffering from cognitive decline. Kirtan Kriya was incorporated into an 8-week trial and participants who practiced Kirtan Kriya on a regular basis showed significant increase in blood flow to the prefrontal, parietal and auditory areas of the brain. Participants also showed significant improvement in verbal fluency, logical memory and retrospective memory, or the ability to remember people, words, and events encountered in the past. This mantra-based meditation apparently leads to positive biochemical transformation in the brain and activates areas of the brain associated with attention and exclusive functions (frontal area, cingulate cortex), while diminishing the negative impact of aging on the brain.
One organization that is at the forefront of promoting cutting edge research in this area is the Alzheimer's Research and Prevention Foundation (ARPF; see: www.alzheimersprevention.org), a nonprofit dedicated to preventing neurodegenerative diseases such as Alzheimer's by funding research and providing educational initiatives and memory screenings. Dr. Dharma Singh Khalsa, M.D. founded the ARPF in 1993 and the influence of his organization and its efforts inspired an invitation to testify before the U.S. Congress in 2003 to articulate the importance of lifestyle influences on Alzheimer's disease. The ARPF continues to fund studies on the therapeutic benefits of Kundalini Yoga on subjective cognitive decline, mild cognitive impairment and Alzheimer's prevention. The ARPF has research initiatives in California, West Virginia, Pennsylvania and Sweden, and educates the public on ways to maximize brain function and reduce memory loss through diet and brain-specific nutrients, stress management, physical and mental exercise and spiritual/psychological wellbeing. By focusing on Kirtan Kriya, the ARPF suggests that cognitive decline can be significantly reduced based on studies that show Kirtan Kriya's effects including reducing memory loss, improving sleep, increasing cerebral blood flow during chanting meditation, down regulating inflammatory genes, increasing frontal lobe activity to significantly improve attention and concentration, and improved immunity.
Of particular significance, the ARPF is currently supporting the Finnish Geriatric Intervention Study to Prevent Cognitive Impairment and Disability (FINGER) in partnership with the Ministry of Health in Finland. The FINGER study is a groundbreaking research project and the largest study in history to date on the prevention of Alzheimer's disease. It will include over 1,200 subjects undergoing nutritional guidance, exercise, cognitive training and social activity. Research being conducted at UCLA and the University of West Virginia, aims to show that Kirtan Kriya is a viable mind-body prevention for the millions who suffer from cognitive decline. Mind-body practices such as yoga and Kirtan Kriya may be highly effective in reducing the incidence and influence of the common risk factors associated with the escalation of neurodegenerative diseases.
Yoga for Psychotic Disorders - January 2014
Yoga for Psychotic Disorders
By JanSev Singh and Sat Bir Singh Khalsa, Ph.D.
Research on the therapeutic value of yoga has been growing rapidly, including research studies that are becoming more rigorous in research design, and studies that are evaluating diseases never before evaluated. Had you asked just a decade ago whether yoga might have been useful for more serious psychiatric conditions such as autism, psychosis or schizophrenia, the answer would likely have been an outright negative or at least an expression of strong skepticism. However the efficacy of yoga as therapy seems to know no bounds, and there is now credible evidence emerging in favor of yoga for treating such disorders, especially for the psychotic disorder schizophrenia.
A psychotic disorder refers to an abnormal or deranged function of an individual's mental state with delusional and paranoid tendencies as well as depression, social dysfunction, endocrine irregularities and lack of motivation. Schizophrenia and psychosis stand out among psychotic disorders listed in the DSM-V (the widely accepted clinical reference text for psychiatric diagnoses) for their highly debilitating symptoms and the ongoing struggle to effectively provide treatment. The prevalence of schizophrenia is roughly 5 people affected in 1,000 and more than 60% of the patients diagnosed with schizophrenia have recurring symptoms for life. A lack of understanding of schizophrenia makes the disorder a burden to diagnose, let alone treat. Risk factors include an individual's genetic predisposition, exposure to chemicals, pharmaceuticals and recreational drugs and low socioeconomic status.
Because the underlying causal factors for schizophrenia are not yet fully known, the best course of action for clinicians is to aim at symptom control. Drug therapy treatments have made significant advances, especially with so-called "positive" symptoms such as delusions and hallucinations, while the "negative" symptoms (amotivation and depression) as well as cognitive symptoms tend to linger. Also, pharmacotherapy for schizophrenia has been known to cause other complications both clinical and psychological, leading to a desire for possible effective behavioral treatments that would eliminate both side effects and compliance issues with medications. Given that yoga therapy has been shown to improve emotion regulation, cognition, endocrine function and metabolism as well as menstrual dysfunction, it is not surprising that it has been considered for psychotic disorders. As it turns out, yoga appears to have potential benefit for schizophrenia. Over a dozen research trials evaluating yoga as a primary or adjunct treatment for this disorder have been published over the past six years, many of which were conducted by the research team of Dr. B.N. Gangadhar at the Advanced Center for Yoga, Mental Health and Neurosciences within the prestigious National Institute of Mental Health and Neurosciences in Bengaluru, India, which is India's premier psychiatric treatment and research institution. In fact, the quantity of this research has led to publication of at least three review papers summarizing this evidence, although given the small number of trials, most of which are preliminary in nature, only modest conclusions of efficacy are possible at this point in time.
In a study by Gangadhar's group published in 2012, schizophrenic patients were tested using a Positive and Negative Symptom Scale at the start of a four-month trial. During the four months one group practiced 45 minutes of yoga nearly every day while another group did not. The group that practiced yoga showed improvements, based on a negative symptom scale report, of 35 percent of the patients the while less than 10 percent of the patients who did not practice yoga showed improvement. Other studies that focused on yoga as an add-on therapy showed improvements in both negative and positive symptom scales and even quality of life scales. While the biological mechanisms of how yoga works are not entirely known, researchers have identified some possible explanations through experimental findings.
Schizophrenic patients tend to display social cognitive deficits. It is understood that one particular hormone, oxytocin, modulates social cognition by enhancing the processing of positive social emotional cues. Individuals with low levels of oxytocin demonstrate impaired social functioning, as seen in individuals diagnosed with autism. One study which focused on oxytocin levels and social cognition indicated that yoga improved oxytocin levels in schizophrenic patients who were also undergoing pharmacological therapy. One explanation of how yoga affects oxytocin levels is through stimulation of the vagus nerve, which in animals has been correlated with increased oxytocin levels. Although the impact of yoga treatment has been reported in "negative" symptom scales, there are also studies that report improving trends in positive symptom scales as well.
Supported by just a few studies, yoga may also be proving a useful treatment for patients suffering from psychosis as an add-on or adjunctive treatment in patients concurrently treated with antipsychotics. Clinically, yoga seems to be most beneficial in promoting quality of life and alleviating negative symptoms such as social dysfunction and depression. In one study, psychotic patients in a yoga practice group displayed comparable improvements in negative symptom measures to those that exercised, but the yoga group's depression ratings improved more sharply than those in the exercise group. Future research studies might aim at employing longer term practices in comparing yoga with exercise in order to reveal more differences between these two forms of add-on therapy, as other studies have already done in non-psychosis research.
Yoga offers an approach to healthcare that many allopathic researchers and practitioners have yet to fully understand, exerting its therapeutic benefit at the connection and interface between the mind and body. Fortunately there are inspired pioneer clinicians and biomedical researchers dedicated to the advancement of yoga therapy as an accepted clinical treatment. However, like research on other behavioral and psychological interventions, research on yoga comes with significant scientific and technical challenges including reliance on "subjective" measures and the possible influence of multiple confounding variables in the intervention. For example, a strength of the study in which oxytocin was reported to be elevated from yoga practice is the use of an "objective" biochemical measure. However, another possible mechanism by which patients could have improved in this study is the social exposure that came with attending a yoga class. Addressing this issue requires refinements/improvements in the experimental design to control for this variable. Once the volume of clinical research evidence becomes convincing, and the underlying psychophysiological mechanisms are more clearly understood, yoga treatment may ultimately become a routine prescription for various conditions by healthcare providers, and, at least in some cases, not just as an adjunctive treatment.