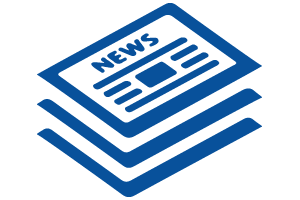 Below you can find all of the issues of the KRI Newsletter published to date. If you are looking for a specific issue, please contact customer service. In the mean time, please feel free to browse through the newsletter issues below.
---
---
News From KRI - March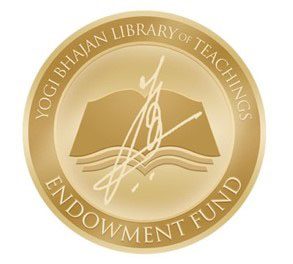 The Yogi Bhajan Library of Teachings Endowment Fund
---
A Note From Nirvair
Sat Nam. Greetings from New Mexico! Spring will bloom for us in a few weeks when the vernal equinox balances light and dark. It is a time of renewal, realizing the strength in optimism and an opportunity to leave the winter behind. With the sun getting warmer and the days getting longer, we at KRI® get excited because it means summer is coming! June, July, and August are when we welcome you into our home and host the summer programs once again. Don't miss out – this could be your summer in New Mexico! This is the Summer Issue of our KRI newsletter and it is devoted to giving you a sneak-peek into our summer programs and trainings. For those interested in ashram living, check out
Seva Sadhana's new 40-day program
. The summer starts with Sikh Dharma's
Camp Miri Piri on June 8th – 12th
followed by 3ho's incredible
Summer Solstice Sadhana Celebration at Ram Das Puri
, June 14th -23rd. Immediately after Summer Solstice Sadhana the KRI programs begin.
June 10th - 13th is the Level Three Mela
, an inspiring personal journey to Self-Realization. For Level Two Practitioners, it is the next step in refining and evolving your identity as a Teacher. June 13th and 14th will be the Summer Solstice Trainer Forum, an exciting meeting of trainers from all over the world to discuss current issues and share insights.
June 24th - July 1st is Level Two Mind and Meditation
, one of the five modules of Level Two. And in August, we host the
Level One Teacher Training Immersion program August 4th – 31st
, 28 amazing days of growth, expansion, and inspiration. At whatever level you join us, you will be challenged, inspired, and will gain the experience and tools you need to keep yourself in balance and to help others around you. Dive in the deep-end and be the person you want to be - become a teacher. And if you are already KRI certified, support your growth and continue to expand!
International Women's Day, March 8
We honor and support all women on this planet, rejoicing in the divine feminine and recognizing the power and beauty of our mothers, sisters, and daughters. In this spirit, we celebrate International Women's Day on March 8th. Yogi Bhajan was a tireless champion of woman as a spiritual being, and we have books and videos in
the Source
that are drawn from the amazing Women's Camps that Yogi Bhajan taught here in New Mexico.
We are now giving the KRI Seal of Approval to qualified Specialty Courses
KRI supports the spread of the Teachings of Yogi Bhajan® and Kundalini Yoga as Taught by Yogi Bhajan® in as many ways as possible. We already have a system in place for approval of yoga manuals, books, CDs, DVDs, research articles, website content, on-line products, and translations of existing KRI products. Qualified Specialty Courses may now earn the KRI Seal of Approval. We have two courses approved to date. Find out how to get your
course approved here
, and check out the courses that have already been
approved
. All the best in all ways. Happy Spring, and I look forward to seeing you this summer!

Nirvair Singh Khalsa CEO KRI
---
Level One Immersion Training in New Mexico- This is Your Summer!
Are you the person you want to be? Do you see yourself in that golden light? If you have ever felt the urge to be a teacher, this is your summer to finally dive in the deep-end. It will transform your life and make a difference to everyone around you. Whether you wish to deepen your personal practice of Kundalini Yoga or long to become a certified Kundalini Yoga Instructor, your journey begins here. Join us this summer to become a Certified Instructor of Kundalini Yoga as taught by Yogi Bhajan®. This 27-day residential program in beautiful New Mexico is an amazing opportunity to study with Trainers who learned directly from Yogi Bhajan. You will learn a lot about Kundalini Yoga and yourself during the Immersion and the six months of home study that follows. It is a life-changing experience! Here are some powerful things you'll take away from Teacher Training Immersion this summer:
A solid foundation in the science of Kriya and Meditation - You will study the theory and practice of Kundalini Yoga kriyas (yoga sets), asanas, and mudras, and make them part of your own experience. You will learn Kundalini Yoga meditations, mantras, and pranayam (breathing techniques), and experience the power of this technology.
An experience of the yogic lifestyle– Living for 28 days in an ashram will give you a deep connection to the teachings and the experience of yogic life. You will learn the history and tradition of Kundalini Yoga, as well as the underlying philosophy behind all yogic practices. Living clean and simple, meditating in the early morning, and eating a vegetarian diet of wholesome and delicious food will make a big impact on your consciousness.
A practical grasp of basic anatomy and physiology – We study traditional Western anatomy, its purpose and function, as well as Yogic anatomy and the energy systems of the body. This essential knowledge will build your proficiency as a yoga instructor and help you fully understand how yoga effects the human body.
An understanding of the skills and techniques to become a successful yoga instructor – You learn the business side of yoga, preparing you for your next steps in life. The topics including practical strategies for teaching beginners, ethical guidelines, curriculum development, and the transformational role of the teacher in developing a successful yoga practice.
An authentic connection to the source of the teachings – You experience the Master's Touch through DVD classes led by Yogi Bhajan and a personal connection with teachers who studied with him directly. Although Yogi Bhajan left this earth in 2004, at Hacienda de Guru Ram Das his energy is still strong and felt by those who come here to learn.
And finally, the skills and confidence to teach your own Kundalini Yoga class - There is a lot to learn before you can sit before a class of students and guide them through a Kundalini Yoga class. As you connect deeply to the teachings, living it day-by-day, you gain the understanding and knowledge to teach and serve others. In the Immersion training, you will get to practice teaching to your peers, and you will learn from each other's classes until you are ready to teach on your own.
Experience the personal healing that comes when you explore the depths of this amazing technology. Together, with other people who share your lifestyle and your passion for yoga and meditation, you will grow in ways you cannot imagine. This summer, leave nothing to chance. Become a Certified Instructor of Kundalini Yoga as taught by Yogi Bhajan.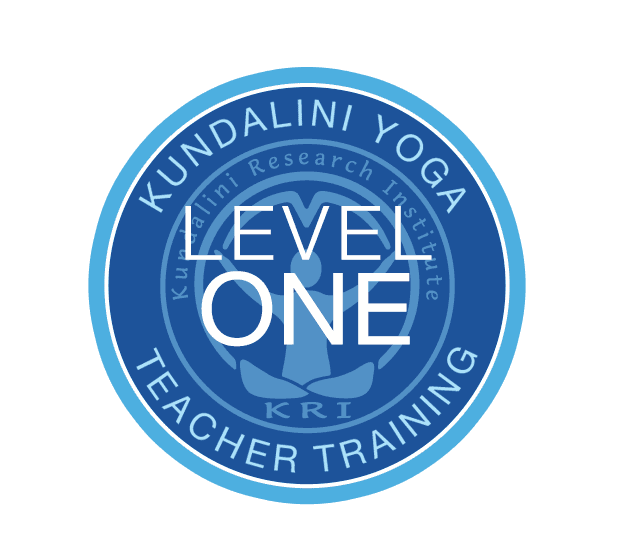 The Aquarian Teacher, KRI Level One Teacher Training Program August 4- August 31, 2018 Espanola, New Mexico http://immersion.kundaliniresearchinstitute.org Important Note: Fulfillment of the program certification requirements continues through February 2019
---
Mind and Meditation – KRI Level Two Teacher Training
After the experience of Level One training, you inevitably start to change and evolve as a person and as a teacher. That is the power of this technology! Kundalini Yoga as taught by Yogi Bhajan® is a transformational experience. Level Two Teacher Training will deliver you to the next step in your personal development. This summer in New Mexico, KRI is presenting KRI Level Two – Mind and Meditation. This course is an opportunity for you to build your meditative skills and refine your approach to meditation by consciously assessing and commanding the mind. To master the mind, you must master meditation. Give yourself seven empowering days immersed in Kundalini Yoga and Meditation. Experience the beauty of morning sadhana at Hacienda de Gur Ram Das, delicious yogic meals, and the special energy of this unique place. Surrounded with the peaceful environments of sacred community, you will:
Enhance the depth of your understanding of meditation.
Focus on and understand your relationship to your own mind.
Increase your ability to observe neutrally, to become still, to clear your mind of distractions and intrigues, to recognize when you establish a state of shuniya, and to recognize the different functional parts of your mind.
Experience and practice the use of intuition as a primary skill that comes from Kundalini Yoga and Meditation.
Learn the structure of the mind and examine the impersonal minds, guna qualities of the mind, and the nine aspects of the mind.
Understand how to use the 27 projections of the mind.
Examine how to apply this to your own mind and in your life.
Be confident to teach and incorporate these ideas in your classes.
Experience this powerful training in Espanola, where Yogi Bhajan lived and taught. Join Deva Kaur from Florida USA, Devinder Kaur from Canada, Ravi Kaur from South Africa, and Nirvair Singh from KRI for what promises to be a wonderful transformational experience.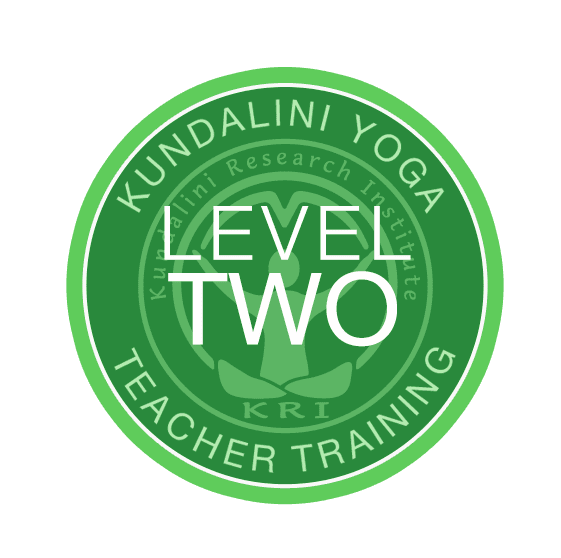 The Aquarian Teacher, KRI Level Two Teacher Training Program Mind and Meditation June 24- July 1, 2018 Espanola, New Mexico http://transformation.kundaliniresearchinstitute.org KRI Level One Certification is a prerequisite for this course. Mind and Meditation is one of five required courses for KRI Level Two Practitioner certification.
---
Are You Ready for Level Three? - Begin Your Journey this Summer at the Annual Level Three Mela
The Level Three Program is a 1,000-day personal journey to Self-Realization in which we refine our identity as a Teacher and deepen our unique relationship to the Sacred. Level Three focuses on the three qualities of a Teacher: Spiritual Maturity, Meditative Mind, and Seva. Level Three participants have said that this program was just what they were looking for in their development as a teacher. The commitment of Level Three, and the support from a community of peers, propels you in your inner evolution. Here are ten good reasons to start Level Three this summer:
Expand Yourself. You teach and serve others every day. Now it is your turn to work on yourself and expand your spirit.
Revitalize your Spirit. Rejuvenate yourself and fill your cup with light, love, and good energy.
Nurture your Heart. Grow your capacity to love though meditation and self-assessment.
Cultivate your Spiritual Maturity. Commit to a 1,000-day journey of self-realization and spiritual growth that will expand your consciousness and deepen your self-mastery.
Develop your Meditative Mind. Dive deep into inner awareness and self-reflection, expanding your capacity for meditation to new heights.
Serve your World. Align your individual passion and purpose with a higher destiny to build communities and serve the greater good.
Discover the Power of Spiritual Support. Experience positive support and genuine trust with a group of your peers who walk with you each step of the 1,000-day sadhana.
Connect to your Teacher. Immerse yourself in the teachings of Yogi Bhajan and discover new ways that this wisdom can penetrate and change your life.
Intensify your Teaching. Deepen your teaching ability, and bring a wealth of knowledge and inspiration that can be shared with all your students.
Answer your Soul's Calling. Be the teacher that you are destined to be, and make this your summer to start the journey towards being a Level Three teacher.
"In KRI's Level Three program, one becomes a teacher, a teacher of truth and spirit. You develop the ability to penetrate and communicate through your presence alone and uplift the students through your subtle body. This is the teacher of the Aquarian Age, the Aquarian Teacher. Students experience the truth within them through your intention, projection, and purity. ... Remember - as a Teacher, anything and everything you do must upgrade the other person." Yogi Bhajan, 1996
Testimonials
"I am grateful for being part of this whole process. I am grateful to understand more about the teachings of our teacher Yogi Bhajan." "It's a great program. My small group and meditation experience is excellent." "The thousand-day meditation process is so different than 40/90/120-days. I am experiencing both a steadying and elevation through it. In Gratitude, Thank you."
CLICK HERE to Start Your Application Today Step 1: Application – Deadline extended to March 30, 2018 Step 2: Self-Reflection Form – Due: April 25, 2018 Step 3: Register & Pay for the Mela – Due: May 15, 2018
The Aquarian Teacher, KRI Level Three Teacher Training Program 2018 MELA Dates & Locations The annual gathering for Level Three participants June 10th – 13th 2018 in Espanola, New Mexico, USA July 22nd – 26th 2018 in Chateau Anand, France For more information: LevelThree.KundaliniResearchInstitute.org Email: LevelThree@kriteachings.org
---
Master Chef Returns to Immersion 2018
Sat Kartar Singh, a highly creative and conscious chef with a holistic approach to cooking, is once again returning as master chef for the Immersion Teacher Training in New Mexico this summer. Sat Kartar prepares a delicious lacto-vegetarian menu, made from fresh organic produce, and includes vegan and gluten free choices. With Sat Kartar in the kitchen, you never go hungry! Sat Kartar tells us in his new cookbook, "When you eat well, you feel well. It's as simple as that. Meals shouldn't make you feel bloated and stuffed. They should nourish. They should be filling, but not fill you up… You often need to have an unhealthy experience to appreciate a healthier one. That was how I discovered my new-found passion for food and wellbeing… It was during my own personal rejuvenation and renaissance that I found my new approach to cooking." Now, we are the beneficiary of his personal renaissance and enjoy his fresh and inspired cooking throughout August during our Level One Immersion program.
---
Immersion in Anandpur – Save the Date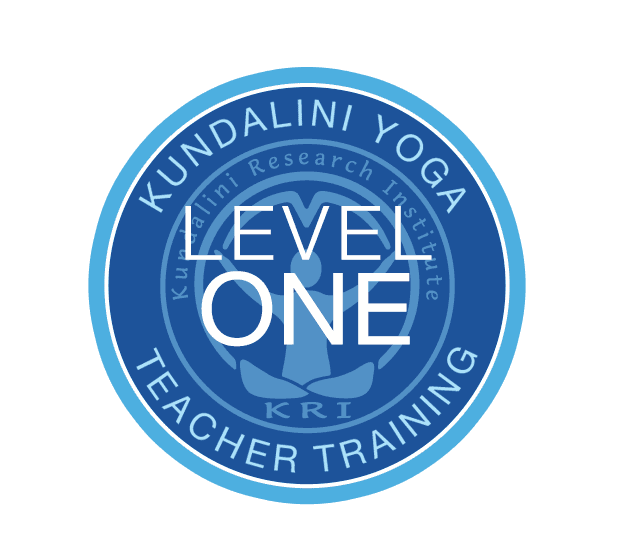 SAVE THE DATE
KRI Level One Teacher Training Immersion in India Kundalini Yoga as Taught by Yogi Bhajan with Sat Siri Kaur and Amrit Singh October 22nd – November 18th 2018 Dasmesh Sadan Anandpur Sahib, India
---
Yoga Doesn't Work if You Don't Do It: Research on Barriers to Yoga Practice
By Nikhil Ramburn and Sat Bir Singh Khalsa, Ph.D.
The usefulness of a medical intervention (either a pharmaceutical or a behavioral treatment) in either clinical practice or research should be evaluated not only by its efficacy but also by its cost-effectiveness, patient acceptability, and treatment adherence. Compliance or adherence describes the degree to which a patient correctly follows the prescribed treatment recommendations. Patient nonadherence can include not accurately carrying out the instructions, such as chanting the wrong mantra or breathing improperly in a yoga intervention, which can be due to misunderstanding the instructions. Nonadherence is also notoriously due to not carrying out the prescribed treatment such as not doing the yoga practice when scheduled, or not doing it for long enough, which is due to a number of factors such as time constraints, forgetting, or even completely ignoring treatment protocols. Apart from being a possible threat to the health of patients, nonadherence also carries a significant economic cost. The field of behavioral medicine views the reasons for nonadherence as 'barriers' to the accomplishment of a specified behavioral intervention. Those barriers may be subjectively reported by the patient or objectively measurable and include cultural issues, financial concerns, time constraints, space, and technological limitations. Despite the promise and general popularity of yoga and yoga therapy, there are a number of barriers to yoga practice. One of these is the general public perception that yoga is primarily for women. Surveys in the general public consistently show that 75 to 80 percent of yoga practitioners are female. In fact, according to a 2015 University of Miami study, men are half as likely as women to engage in mindfulness practices. This same study found that those with a higher level of education were more likely to adopt a mindfulness practice and that non-Hispanic blacks and Hispanics were less likely to do so. A 2016 study by researchers from Simon Fraser University in Vancouver, Canada found that time constraint was the most common barrier for yoga practice. Other prevalent barriers include the belief that yoga requires great flexibility, is difficult to practice, and/or that it is unsuitable for special populations such as children, the elderly, or the obese. Those with larger bodies face high levels of stigma in relation to yoga (and physical activity in general) and this may serve as a strong barrier to their participation. Other significant barriers are beliefs that yoga is a religious practice or that it is inconsistent with one's cultural heritage. On the other extreme, there is even a belief that yoga is nothing but physical postures. Finally, socioeconomic factors such as the cost impediment to yoga classes (such as transportation to classes and child care costs) can deter certain disadvantaged and low socioeconomic status populations from practicing yoga. These barriers are problematic because patients and research participants may entirely withdraw from the treatment before deriving any therapeutic benefits from their yoga practice. Despite the benefits and growing acceptance of yoga and the importance of addressing barriers to practice, the literature has few studies on the factors contributing to the adherence to regular yoga practice. One such study was conducted by the SVYASA yoga university in Bengaluru, India and published in the International Journal of Yoga in 2014. The researchers evaluated students who had undergone a 1-month residential instructors' course at the yoga university and found that irregularity in lifestyle, family, and occupational commitments were perceived as the strongest barriers to practice. Similarly, a 2009 focus group study of 50 participants from the University of Maryland School of Public Health also found the largest barrier to be lack of time, especially when taking yoga classes. The study included 36 yoga practitioners and one fourth of them found classes to be too costly. For the 14 people who had never previously practiced yoga, negative beliefs about the high level of flexibility required, that yoga is dominated by women or "new age" individuals with alternative lifestyles were significant barriers to participation. A 2013 study by Mary Quilty, Sat Bir Singh Khalsa, and other colleagues highlighted this disparity in demographics for yoga participants. This study surveyed 604 adults who had registered for 4-week beginners' yoga programs within the Yoga Yoga network of studios in Austin, Texas and found the yoga demographics to be primarily female (87 percent), white (88 percent) and college educated (79 percent). Similar to other studies, they again found the primary barrier to practice was time constraints and availability. Interestingly, respondents perceived yoga to be primarily an exercise activity (92 percent), although there was also a strong perception of it being a spiritual activity (73 percent). The main reasons for their participation was for general wellness (81 percent), physical exercise (80 percent) and stress management (73 percent). In fact, 98 percent of participants believed that yoga would improve their health, making this internal motivator a significant facilitator to the practice of yoga.
Another notable study explored the perspectives of students and their classroom teachers on the implementation of a school-based yoga program. Too often, the opinion of these two key stakeholders have been ignored in favor of program implementers. This 2017 study by the University of Cincinnati and Johns Hopkins Bloomberg School of Public Health researchers focused on qualitative perspectives of 22 fifth and sixth-grade students and their teachers after a 16-week school-based mindfulness and yoga program in three public schools. Those schools serve low-income urban communities and therefore provide us with valuable insight into this underserved demographic. In this context, the most frequently mentioned instructor quality valued by youth was "respect," which the youth associated with "fairness" and "not yelling a lot". However, conflicts in scheduling was a major challenge to youth program participation since attending yoga required that they miss other activities they enjoyed, such as art class. Although teachers reported positive expectations from the program, factors that could enhance buy-in included training staff on the program goals and generalizing the yoga mindfulness skills into the classroom. While the previous study focused on youth from low-income communities, a recently published 2017 study at Brigham and Women's Hospital and Harvard Medical School (including one of the authors, Sat Bir Singh Khalsa, as part of the research team) investigated the barriers and facilitators to yoga among low-income, racial/ethnic minority adults. Examinations of beliefs surrounding yoga participation among vulnerable populations are lacking in the literature and so this study bridges that gap. Twenty-four adults with and without prior yoga experience were recruited from an urban housing community to participate in an individual interview or focus group. The results highlighted barriers to engagement that included the perception that yoga lacks physicality and weight loss benefits. In addition, subjects talked about fear of injury, lack of perceived ability to perform the exercises, preference for other physical activities, and scheduling difficulties. On the other hand, the facilitators of yoga engagement included having a quality yoga instructor who provides individualized instruction, beginner level classes, and information highlighting the potential benefits of yoga such as stress reduction. It is interesting to note that participants were unsure about whether yoga provided sleep benefits and if the benefit was purely physical exhaustion. Therefore, much work remains in promoting yoga and educating on its benefits and underlying mechanisms. Apart from adequate promotional messaging, in order to address the other significant barriers of cost and time, strategies are being developed to deliver yoga digitally, on demand, and in the comfort of participants' homes. A 2017 commentary by the PrairieCare Medical Group in Minnesota explored the use of technology-assisted relaxation for pediatric patients that had been prescribed as Mind-Body techniques. Healthcare providers already know that delivering treatments through "play" experiences is an ideal way to provide therapeutic interaction and this is often termed "therapeutic play". Given the prevalence of video games, children and teens may be particularly suited to therapeutic multimedia games that help them connect with the imagistic, emotional, and sensory elements of the right brain for symptom management and healing. There are currently several interactive mobile apps that promote yoga and other Mind-Body practices such as "Yoga by Teens", "Take a Chill", and "Breathing Bubbles". A recent study published in the Journal of Alternative and Complementary Medicine in 2017 evaluated the feasibility of a home-based TeleYoga intervention on patients with both chronic obstructive pulmonary disease (COPD) and heart failure. Fourteen participants took part in either an 8-week TeleYoga intervention or an educational control group. The yoga classes were transmitted live via an internet connection to the participants' televisions. The researchers found that the yoga intervention participants were adherent to classes despite technical issues. In addition, these frail patients were able to safely participate, enjoyed the program, and their dyspnea after exercise improved. In conclusion, detailed evaluation of barriers to yoga practice is a new and growing area of research with promising insight into the adherence issues in yoga practice. The common barriers to yoga therapy appear to be time, cost, beliefs about yoga being a religion, impression that yoga is only for women, and fear that yoga requires great flexibility, as well as a lack of clarity as to the benefits of the practice. It is important for yoga therapists and researchers to address these barriers when delivering yoga interventions to ensure adherence and treatment success. Future studies should focus on minorities and men as well as medically underserved and vulnerable populations to better understand their specific barriers. Findings from future research could reveal what catalysts promote the initiation of yoga beyond benefits that most already know. For instance, is hearing about the health merits of yoga sufficient or is experiencing yoga necessary to address barriers to practice?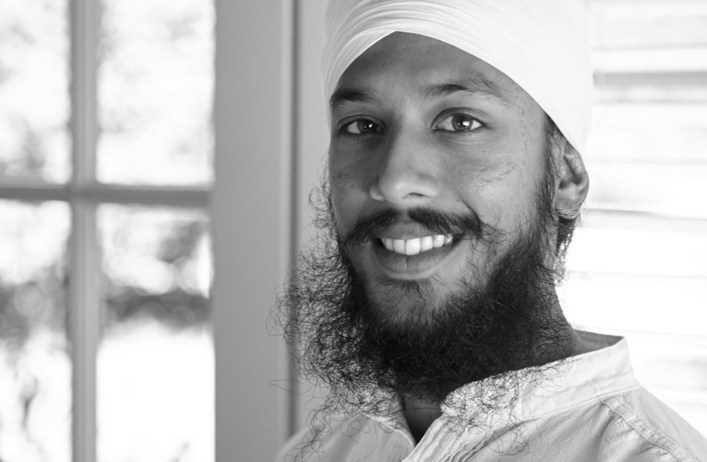 Nikhil Rayburn grew up practicing yoga under mango trees in the tropics. He is a certified Kundalini Yoga teacher and has taught yoga to children and adults in Vermont, New Mexico, Connecticut, India, France, and Mauritius. He is a regular contributor to the Kundalini Research Institute newsletter and explores current yoga research.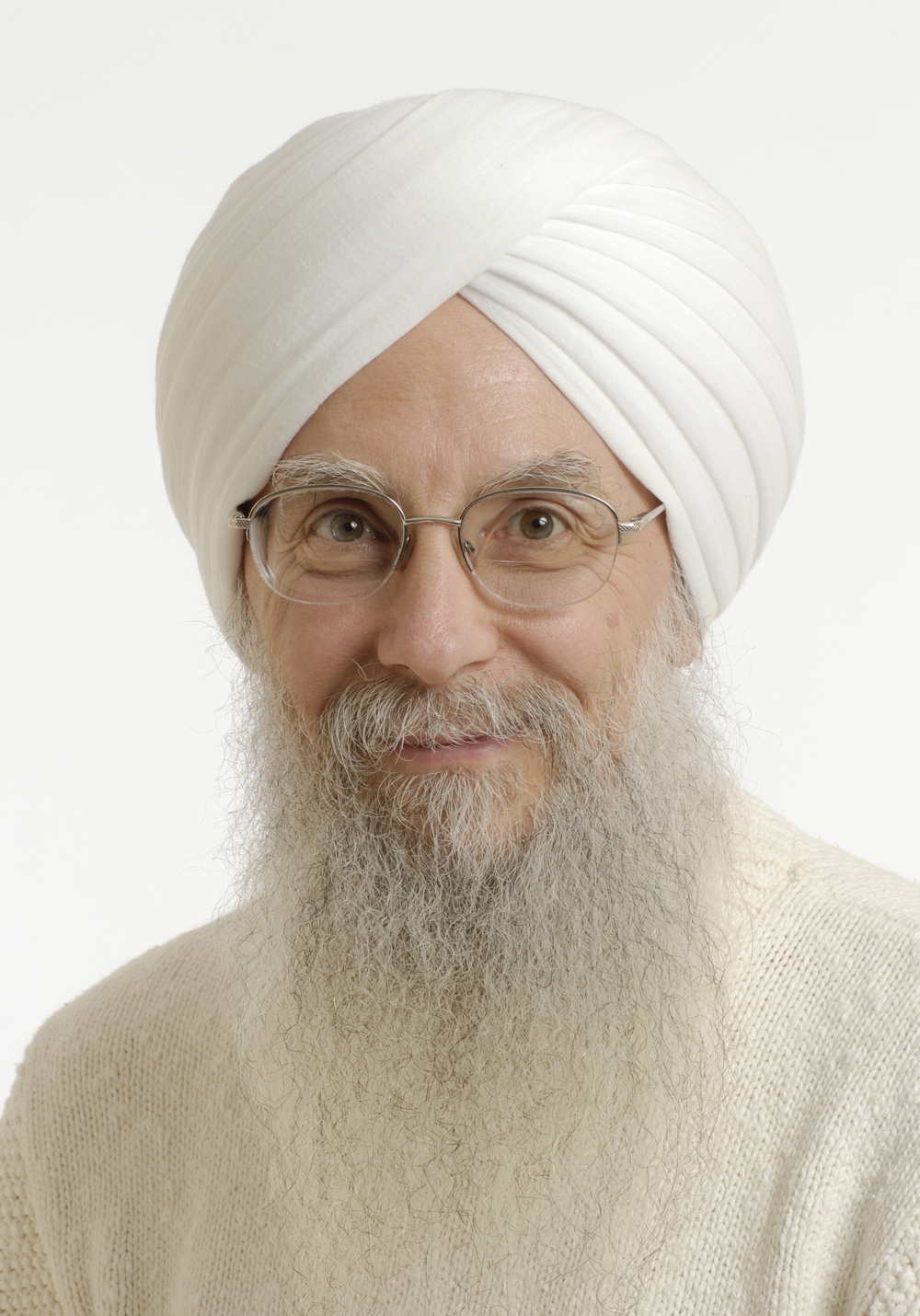 Sat Bir Singh Khalsa, Ph.D. is the KRI Director of Research, Research Director for the Kripalu Center for Yoga & Health, and Assistant Professor of Medicine at Harvard Medical School. He has practiced a Kundalini Yoga lifestyle since 1973 and is a KRI certified Kundalini Yoga instructor. He has conducted research on yoga for insomnia, stress, anxiety disorders, and yoga in public schools. He is editor in chief of the International Journal of Yoga Therapy and
The Principles and Practice of Yoga in Health Care
and author of the Harvard Medical School ebook
Your Brain on Yoga
.
---
KRI Specials of the Month for March 2018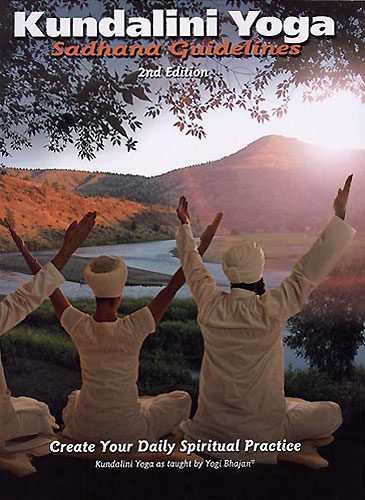 Kundalini Yoga Sadhana Guidelines
2nd Edition
Create Your Daily Spiritual Practice Kundalini Yoga as taught by Yogi Bhajan In this 2nd Edition of Kundalini Yoga Sadhana Guidelines, you'll find steps toward cultivating the consciousness available by practicing in a group as well as suggestions for developing your own personal sadhana. Open these pages and begin the journey of a lifetime. Retail: $29.95
Promo: $25.46
---
New Book!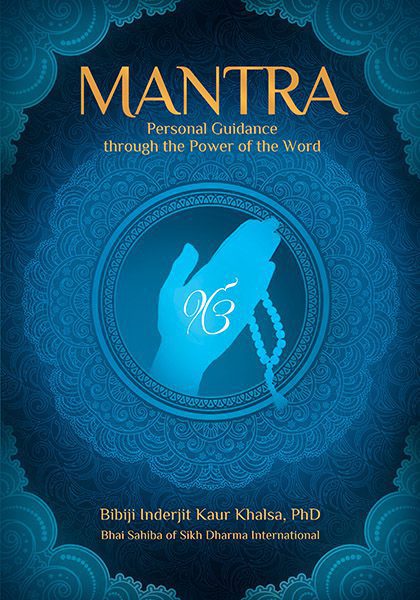 Mantra
Subtitle: Personal Guidance through the Power of the Word Author: Bibiji Inderjit Kaur Khalsa, PhD Bhai Sahiba of Sikh Dharma International Clarity-Healing-Intuition-Peace Self-Esteem-Stability-Trust-Wisdom
This book contains hundreds of beautiful mantras to recite and repeat for these and other personal needs you face in your life. The Mantras in this book have been lovingly collected, translated and commented upon by the devoted wife of Yogi Bhajan, the spiritual teacher who brought Kundalini Yoga to the United States in 1969 and built the extensive 3HO (Happy, Healthy, Holy Organization) worldwide community. Mantra is an important component of Kundalini Yoga as taught by Yogi Bhajan®. Kundalini Yoga teachers follow a variety of spiritual paths, and the mantras in Kundalini Yoga are of a universal nature. They transcend religious belief and embody universal truths that every human being can experience. Retail: $39.95
Promo: $33.96
---
The Chakras
Kundalini Yoga as taught by Yogi Bhajan®
The chakras are the keys to being human and being happy. In this collection, Yogi Bhajan, the Master of Kundalini Yoga, defines the nature of the chakras, how they work, their interaction, projection and potency with both humor and subtlety, and often surprising candor.
Regular Retail: $29.95
Promo: $25.46
---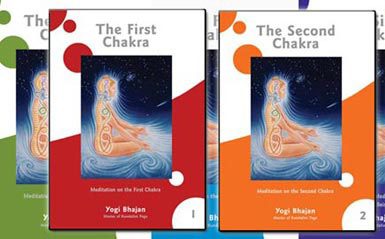 The Chakras
7 (2 DVD per set) DVD Series
"The progressive nature of the human is to succeed…and that is where the science of the chakras came through"
The First Chakra: Meditation on the First Chakra
The Second Chakra: Meditation on the Second Chakra
The Third Chakra: Meditation on the Third Chakra
The Fourth Chakra: Meditation on the Fourth Chakra and Arti Kriya
The Fifth Chakra: Meditation on the Fifth Chakra
The Sixth Chakra: Chaar Padh Meditation and Meditation on Being a Yogi
The Seventh Chakra: Hissing Meditation for the Glandular System l and ll
Regular Retail: $24.95 per 2 DVD Set
Promo: $21.21 per 2 DVD Set
Or take advantage of our everyday Full Set Special of $130.00 for all 14 DVDs in 7 DVD packaged sets
KRI March Recipe of the Month 2018
From: Happy Belly by Sat Kartar Khalsa
Sat Kartar Singh will once again be our chef for the 2018 Summer Level 1 Immersion Teacher Training here in New Mexico and we are all looking forward to his wonderful cooking!
Mediterranean Roasted Vegetable Orzo with Chick Peas
The Vegetables
1 small eggplant, peeled and ¾ inch diced 1 yellow bell pepper, 1 inch diced 1 red bell pepper, 1 inch diced 1 fennel bulb 1 red onion, peeled and 1 inch diced 2 garlic cloves, minced 1 ½ teaspoons kosher salt 1 ½ teaspoons freshly ground black pepper Preheat the oven to 425 degrees F. Toss the eggplant, bell peppers, fennel, onion, and garlic with the olive oil, salt, and pepper on a large pan. Roast for 40 minutes, until browned, turning once with a spatula.
The Orzo
1 medium red onion 2 tablespoons fennel seeds 3 tablespoons extra virgin olive oil ½ lb orzo pasta Sautee one red onion and 2 tablespoons fennel seed in 3 tablespoons olive oil slow and low, developing a caramelized flavor. Boil ½ pound orzo separately until al dente, then toss with onion and fennel seed sauté mix.
The Chickpeas (garbanzo beans)
1 clove garlic 2 tablespoons extra virgin oil 1 15 oz. can cooked chickpeas 1 tablespoon tahini paste (sesame seed paste) Slow roast garlic in 1 tablespoon olive oil, add 15 oz. cooked chickpeas and stir in 1 tablespoon tahini
Mediterranean Flavor Layer Mix
4 scallions, minced (white and green parts) ¼ cup pinoli (pine nuts), toasted ¾ pound feta, ½ inch diced (not crumbled) 15 fresh basil leaves, cut into julienne
The Dressing
⅓ cup freshly squeezed lemon juice (2 lemons) ¼ cup extra virgin olive oil 1 teaspoon kosher salt ½ teaspoon freshly ground black pepper Whisk ingredients together
To Plate
First layer the orzo, then chickpeas, next vegetables, then the flavor layer. Repeat, ending with flavor layer. Decorate plate with dressing in a circle. Garnish with fennel fronds.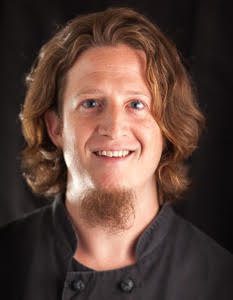 Sat's Secrets- Many people are sensitive to the alkaloids in nightshades like the peppers and eggplant in this recipe. Their bodies react with inflammation or allergy-like symptoms. Avoid these vegetables if you think you are sensitive. Replacements could be butternut squash, okra, or halved baby artichokes. Fennel seeds and bulbs are great digestive aids
---
---
NEWSLETTER ARCHIVES
News From KRI - February
---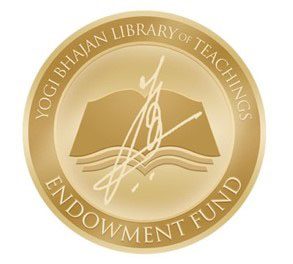 The Yogi Bhajan Library of Teachings Endowment Fund
---
A Note From Nirvair
Sat Nam. Greetings from New Mexico!
Because of Valentine's Day, February is always associated with love. It is a good time to think about relationships and love in life. Yogi Bhajan had some wonderful perspectives on this topic. Yogi Bhajan said, "Valentine's Day. There is a secretary's day, there is a mom's day, there is a papa's day, why do we do all this? It is billions of dollars' worth of industry because we have yet not understood in the depth of us what love really is. Actually, to be very honest with you, we have not yet found out who we are. What I want to tell you is how easy, not in talk but in experience, how easy it is to find your Self within yourself…. If you can find your balance within yourself, you will be a totally changed and happy person. I am not promising you that your life will not have trouble but you won't feel the trouble. When you take Tylenol, it doesn't mean that your headache is gone. The headache is there, the cause is there, but the feeling of that headache is gone. You understand that? When you love, there is no such thing as love. The feeling of love gives you hope that you belong to somebody or somebody belongs to you, which is a status you enjoy." February 17, 1991 "In love, we never forget. If you love somebody we talk about that person, we remember that person, we make phone calls to that person, we wait for that person, we keep the pictures of that person, we do everything for that person. Exactly the same way is when you love God and Guru. It is the same thing. As it is here, so it is there. Whatever is Brahm, that is what Parabrahm is. Whatever your behavior indicates here, … that indication is what is Divine in you." December 28, 1986 Experience your own loving Divine nature in our monthly meditation. In February, we are practicing the "Heart Shield" meditation from
The Mind: Its Projections and Multiple Facets
. Yogi Bhajan taught it on November 10, 1980. Practice with me! Are you considering becoming a teacher in Kundalini Yoga as taught by Yogi Bhajan® and studying Yogi Bhajan's amazing teachings? Now is the time for teachers. We have students coming from all over the world for this training program and I hope that you can join us this August. Registration is open now for our
Level One Teacher Training Immersion in New Mexico
and our
Level Two program
this summer, "
Mind and Meditation
".
All Blessings, all the time,

Nirvair Singh Khalsa CEO Kundalini Research Institute
---
Improving Employee Health and Wellbeing with Residential Yoga Retreat Interventions
By Nikhil Ramburn and Sat Bir Singh Khalsa, Ph.D.
The impact of employee wellbeing on overall productivity has attracted great attention in the last few years. Workers today are increasingly impacted by stress, musculoskeletal conditions (especially back and neck pain), low empowerment, sleep disturbance, low quality of life, low job satisfaction, and a sedentary lifestyle. Reasons for these modern challenges vary but it seems that the rising dependency on volatile global market forces create more pressure to make organizations more profitable, efficient, and accountable. Furthermore, the growth in technology at work, organizational restructuring, and the absence of clearly defined "work" hours have all negatively impacted employee wellbeing. Chronic stress has been a key factor. Research has shown that stress can lead to depression, reduced job satisfaction and disruptions to personal relationships that can all increase the risk of injury to the workers themselves or to the people that their company serves. Stress also negatively impacts high-level cognitive functions, especially attention and memory, and this raises the already high stakes for those professionals who cope with situations that affect human lives on a daily basis. Stress can lead to "burnout," which has been defined as a syndrome of depersonalization, emotional exhaustion, and a sense of low personal accomplishment. An early theoretical model proposed two processes for the development of burnout. First, long-term job demands from which employees do not fully recover may lead to sustained arousal levels, eventually resulting in exhaustion, which is the energetic component of burnout. The second aspect is the motivational component of burnout, manifesting as reduced motivation, or withdrawal, and acts as a self-protective strategy to prevent further depletion. A revised model included a health impairment process, whereby burnout leads to depression, cardiovascular disease, or psychosomatic complaints. The burnout syndrome is highly prevalent, with fewer than one in every five workers actively engaged in their work. Disengaged employees can be the cause of detrimental corporate outcomes such as poor job performance, low productivity, poor employee interactions, low creativity, absenteeism, presenteeism (on the job but not productive), and high employee turnover. Average adults spend a quarter of their waking lives at work and job satisfaction accounts for a quarter of overall life satisfaction. Happiness at work should not be taken lightly since happiness provides positive benefits for not only the happy individuals themselves but also for their coworkers. In this light, happiness is almost a responsibility to one's self and one's coworkers. Indeed, research and site investigations have uncovered enormous financial and human costs associated with unhappy and unhealthy organizations. In one study of MBA students, those who scored high on wellbeing were shown to be superior decision makers, demonstrated better interpersonal behavior, and received higher overall performance ratings. Fortunately, the notion of a healthy workplace has evolved throughout the past 60 years and human resource professionals have begun to prioritize healthy workplace programs as a competitive advantage to curtail rising health care costs, retain employees, and boost employee morale and interpersonal relationships. There is consistent evidence that a good social environment at work is associated with employee wellbeing and some companies are using team-building exercises, facilitated dialogue groups, and improved workspaces to increase the frequency of shared activities between workers. Other businesses are promoting physical activity as a strategic corporate priority to improve worker health and business performance. Employers are also turning to conventional cognitive behavioral interventions to improve worker wellbeing. In fact, a 2017 meta-analysis of digital mental health interventions delivered at work found statistically significant improvements on both psychological wellbeing and work effectiveness scores. Yoga is yet another strategy that provides several of the psychological and physical health benefits mentioned above and, in addition, provides acquisition of a skill of self-regulation of stress and emotion. Its meditative component improves mindfulness that has been associated with improving quality of life and increasing self-compassion. On a deeper level, the philosophical and spiritual component of yoga can help employees increase life's meaning and purpose. A 2014 review of yoga and exercise interventions in working populations evaluated five yoga studies, which reported improvements in stress and anxiety. They hypothesized that yoga may be superior to exercise interventions. Yoga programs can be delivered in multiple ways. Employees can be enrolled in a residential yoga program at a yoga retreat center allowing for an in-depth exposure to yoga practices and lifestyle in a highly supportive and nurturing environment. Alternatively, yoga can be delivered outside of the workplace at a nonresidential external venue or at home via DVD or an online program. Finally, yoga can be delivered onsite at the workplace. In this article, we focus on residential program research. A study published in the
Journal of Alternative and Complementary Medicine
in 2016 compared 69 healthy individuals (58 women and 11 men) who were quasi-randomized to either a six-day Ayurvedic intervention of yoga, massage, diet, and journaling or a six-day residential vacation, both at the Chopra Center for Wellbeing at the La Costa Resort in Carlsbad, California. The participants in the program with yoga showed significant and sustained increases in ratings of spirituality and gratitude when compared to the vacation group, which showed no change. Interestingly, the yoga and Ayurveda group also showed increased ratings for self-compassion as well as a reduction in anxiety at the one-month follow-up. These findings suggest that a short-term intensive program in body-mind practices can lead to long term changes in perceived wellbeing. We should also note that the results show that a vacation alone is insufficient to yield sustained improvements in certain aspects of wellbeing. A 2011 study from the
Swami Vivekananda Yoga Anusandhana Samsthana University
(S-VYASA) in Bengaluru, India further supports the benefits of a residential yoga intervention to enhance wellness. 72 corporate executives from the Oil and Natural Gas Corporation Limited went through 5 days of the Self-Management of Excessive Tension (SMET) program which combined "stimulating" yoga postures and "calming" supine rest practices in a comprehensive residential yoga lifestyle program. Brain wave recordings at baseline and post-intervention showed an increase in delta, theta, alpha, and gamma wave coherence but a decrease in beta waves. The authors concluded that these changes in brain wave coherence may point to heightened states of consciousness and increased wakefulness and vigilance, which are essential components of "executive efficiency." Furthermore, they suggested that increases in frontal alpha coherence could reflect an enhancement of frontal lobe integration, which would result in greater cognitive flexibility, intelligence, and emotional stability. These findings, in combination with results from an Emotional Quotient (EQ) questionnaire test, indicate that the SMET program improves emotional stability and may have implications for "executive efficiency." A newly published study in the
Journal of Occupational and Environmental Medicine
by the coauthor (SBSK) and his colleagues examined the effects of a residential yoga-based program on the psychological health of frontline professionals who work with at-risk individuals in areas such as education, health care, and law enforcement/corrections. This is the first scientific investigation of the "Resilience – Integration - Self-awareness - Engagement" (RISE) program of the
Kripalu Center for Yoga & Health
that incorporates yoga-based practices with meditation, body scan, mindful communication, healthy nutrition, and sleep. 64 frontline professionals from education, healthcare, human services, and correctional institutions completed a baseline survey before participating in a five-day residential immersion program at the Kripalu Center in Stockbridge, MA. The program included five hours of daily structured sessions of yoga postures and exercises, meditation, breathing techniques, and education about mindful communication specifically targeted for these workers. The study found that participants' self-reported stress, resilience, positive and negative affects (mood), mindfulness, empowerment, vitality, sleep quality, amount of exercise, and vegetable and fruit intake was significantly improved after participating in the RISE residential program. At the two-month follow-up, all measures remained improved except for duration of exercise. In fact, self-compassion only reached statistical significance at the two-month follow-up, suggesting long-term gains from a short residential yoga intervention. These studies provide preliminary support for the benefits of residential yoga programs for stress reduction, improved behavior, and emotional and physical resilience in working adults. However, it is likely that corporate policymakers may prefer to invest in more economical worksite or home-based interventions, which have also been the focus of a larger number of published research studies. It remains to be seen whether intensive yoga retreat interventions may have better long-term outcomes than home or worksite-based yoga interventions, which would be best evaluated in a head-to-head comparison of a similar intervention in the same population within a single randomized controlled trial. In either case, the appearance of research on yoga in the workplace is a welcome addition to that of the parallel growth of research on yoga in schools and in healthcare.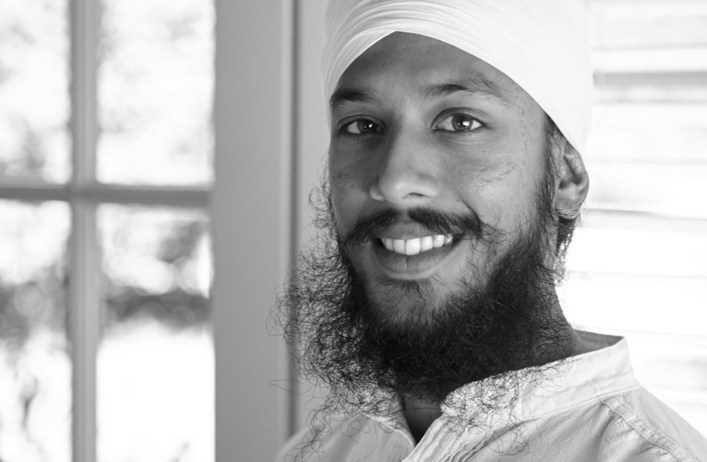 Nikhil Rayburn grew up practicing yoga under mango trees in the tropics. He is a certified Kundalini Yoga teacher and has taught yoga to children and adults in Vermont, New Mexico, Connecticut, India, France, and Mauritius. He is a regular contributor to the Kundalini Research Institute newsletter and explores current yoga research.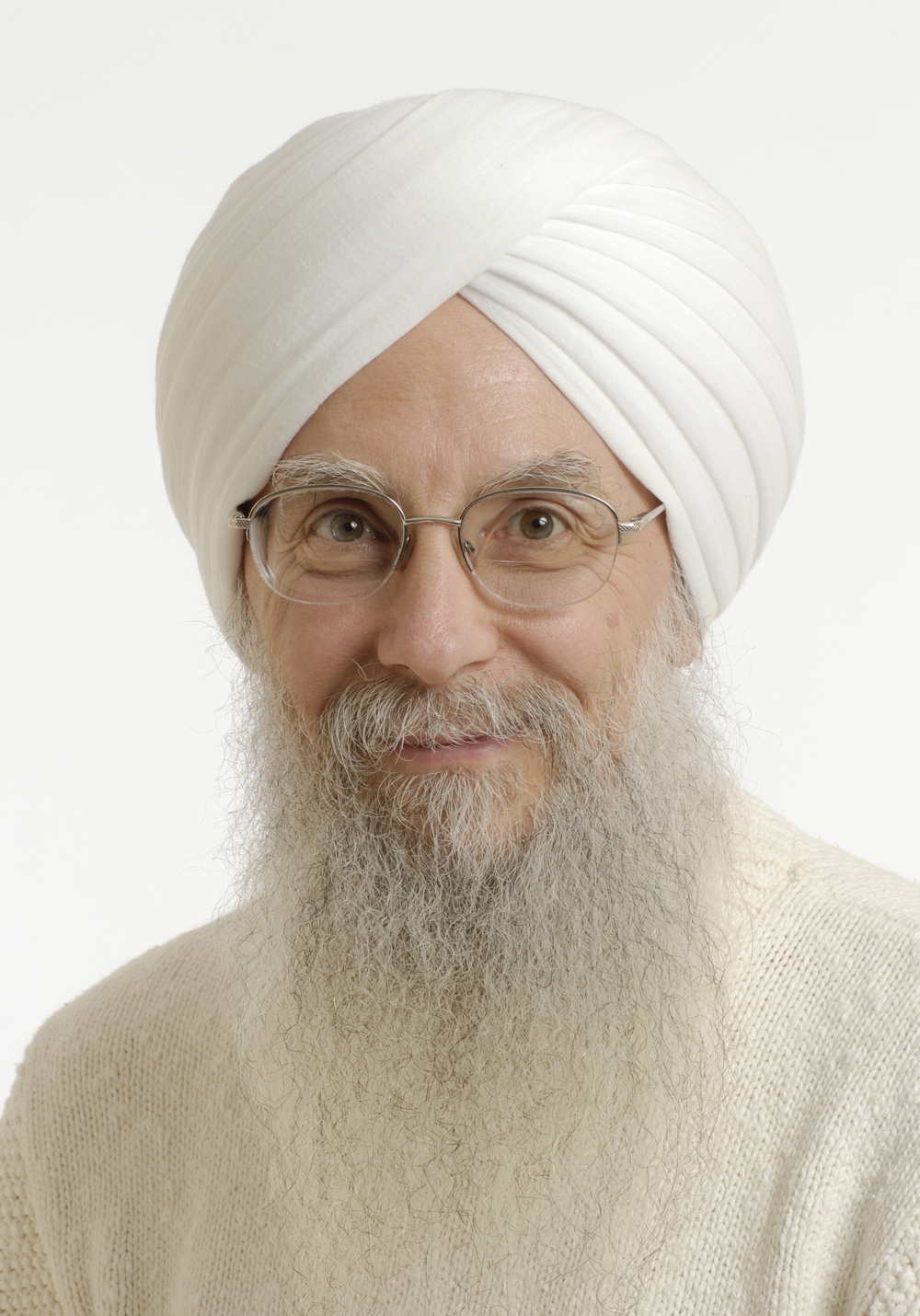 Sat Bir Singh Khalsa, Ph.D. is the KRI Director of Research, Research Director for the Kripalu Center for Yoga & Health, and Assistant Professor of Medicine at Harvard Medical School. He has practiced a Kundalini Yoga lifestyle since 1973 and is a KRI certified Kundalini Yoga instructor. He has conducted research on yoga for insomnia, stress, anxiety disorders, and yoga in public schools. He is editor in chief of the International Journal of Yoga Therapy and
The Principles and Practice of Yoga in Health Care
and author of the Harvard Medical School ebook
Your Brain on Yoga
.
---
The Yogi Bhajan Library of Teachings®
We hope your New Year is off to a wonderful start! February 14th brings Valentine's Day in many parts of the world. It gives us a chance to celebrate and value our loved ones and cherish the love that we all have in our lives. In a lecture given on Valentine's Day in Espanola, New Mexico in 1994, Yogi Bhajan challenges us to make every day Valentine's Day! "Today is Valentine's Day. There is a lot to the story, but essential it is a day of love. Somebody became a saint and their love was infinite – so now we send each other cards saying, 'Be my valentine.' 'I am your valentine.' "We are the valentine! Why can't we be a valentine to each other everyday? Why don't we just fix that frequency? Why not? We are actually the valentine of each other. We have a vigor, we have a valor, and we have a virtue of life. There is no reason that we should not be a valentine!" Yogi Bhajan February 14, 1994 What a wonderful concept Yogi Bhajan touches on here - to be each other's valentine each and every day. Act with love, valor, and consciousness not just one day a year but every day. I am setting my intentions for this New Year to make each day a celebration of
love
. I hope you will join me! Thank you to those of you who support The Yogi Bhajan Library of Teachings! Your gifts are what keep this mission of preserving these teachings thriving and evolving. We continue to add more lectures to the searchable database because of you!
In Service,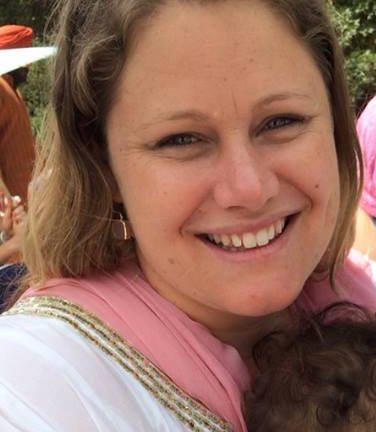 Shabd Simran Kaur Adeniji,
Fundraising Coordinator
The Yogi Bhajan Library of Teachings
®
Kundalini Research Institute Email: donations@kriteachings.org Find us on Facebook "
The Yogi Bhajan Library of Teachings
"
www.libraryofteachings.com
---
Level Three - 21 Stages of Meditation at Sat Nam Fest April 9-15th
The 21 Stages of Meditation
is an amazing adventure, giving you tools and experiences to deepen your meditation and come to a profound understanding of your Self. This program will be offered at Sat Nam Fest Joshua Tree this spring, in partnership with the Kundalini Research Institute. Students and teachers from all contemplative traditions are invited. If you are in the
Level Three Kundalini Yoga Teacher Training program
or are thinking about starting Level Three, now is a great time to take The 21 Stages of Meditation. This training program will fulfill one of the requirements for the Level Three certification. Level Three is a 1,000-day journey that can be started once you have completed Level Two Certification and other pre-requisites. Plan now for starting Level Three by taking 21 Stages or take it while you are in Level Three. During this training program, you will join the entire Sat Nam Fest community for morning sadhana, meals, and evening concerts and you will spend your days exploring the depths of meditation with two powerful KRI teachers - Krishna Kaur and Nirvair Singh. The 21 Stages of Meditation Program may be taken by anyone. You do not need any prior certification and there are no pre-requisites required to attend.
Have you just started taking Kundalini Yoga? This program is a great foundation for deepening your understanding of meditation as taught by Yogi Bhajan.
Are you a Kundalini Yoga Teacher? This program will deepen your practice and give you new perspectives and techniques to pass on to your classes.
Do you practice a different style of meditation? This program will broaden the scope of what you understand meditation to be and open new doors of perception in your life and in your practice.
Have you been practicing and teaching Kundalini Yoga for years? This program will reawaken your passion for the practice and provide the groundwork for a new understanding and relationship to your Self.
Have you already participated in 21 Stages of Meditation? Taking this program a second or third time could provide you with a profoundly different experience each time. It has been observed by participants who have taken it multiple times that they have learned something different and amazing each time.
In The 21 Stages of Meditation, we will engage in three separate journeys; each journey is comprised of seven stages, taking you step by step into a deeper level of awakening and realization. We will move through the rudimentary skills of meditation to the deeper levels of awareness and integration and finally into identity, projection, and merger in the Infinite Pulse of Creation. Each journey takes 2 days. You can choose to sign up for a single journey, two journeys, or complete all three journeys consecutively.
Journey 1: The Crystallized Self (April 9-10)
Journey 2: The Expressive Self (April 11-12)
Journey 3: The Transcendent Self (April 13-14)
Registration for The 21 Stages of Meditation is now open at Sat Nam Fest Joshua Tree.
Apply Soon!
CLICK HERE to Start Step 1 of Your Application Process Today
Extended Deadline: March 30, 2018
2018 MELA Dates & Location
The annual gathering for Level Three participants June 10th – 13th: Espanola, New Mexico July 23rd – 25th: Europe
For more information about the Level Three Program
website:
LevelThree.KundaliniResearchInstitute.org
email: LevelThree@KriTeachings.org
---
KRI Specials of the Month for February 2018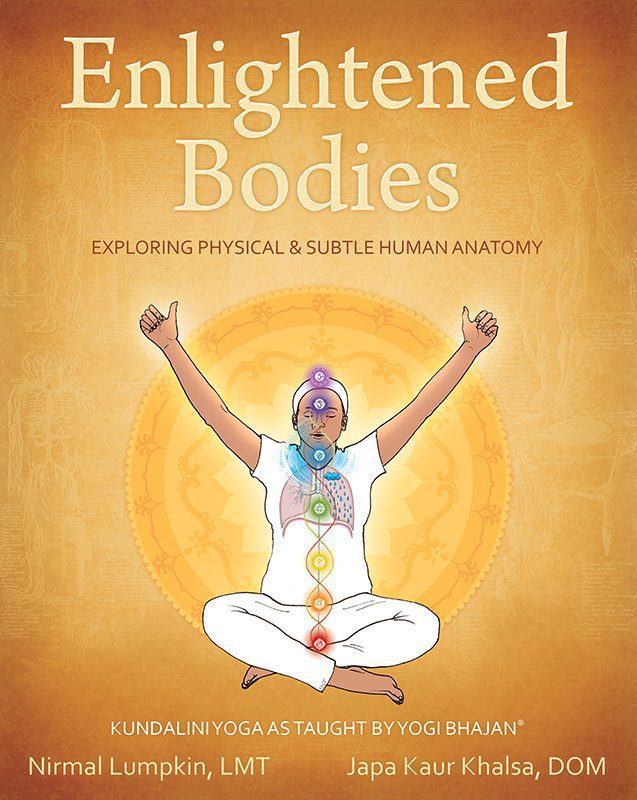 Enlightened Bodies
Exploring Physical and Subtle Human Anatomy Kundalini Yoga as taught by Yogi Bhajan® Nirmal Lumpkin, LMT and Japa Kaur Khalsa, DOM Enlightened Bodies inspires and elevates the approach and study of the human body, interconnecting anatomy, physiology and ancient yogic teachings. Enlightened Bodies presents the complexities of the body in a refreshing and approachable style, integrating multiple perspectives including:
Human Anatomy
Ayurveda
Kundalini Yoga
Traditional Chinese Medicine
Self-Care
Other lifestyle traditions
This is an essential book for yoga enthusiasts and healthcare practitioners who are looking for a deeper understanding of the human body and ways to incorporate complementary health practices in their treatment plan. Regular Retail: $39.95
Promo: $33.96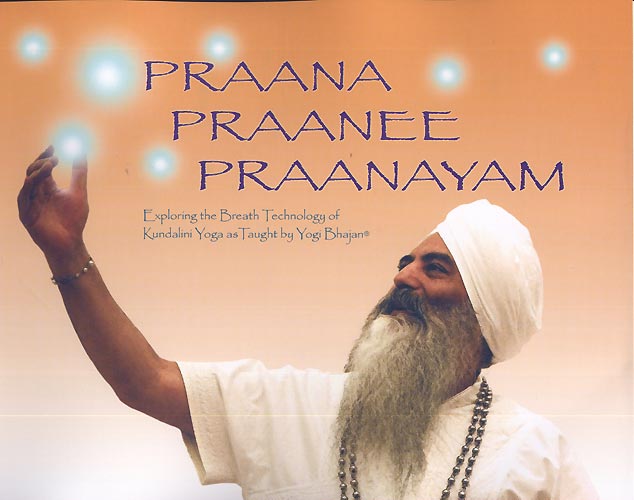 Praana, Praanee, Praanayam
Exploring the Breath Technology of Kundalini Yoga as Taught by Yogi Bhajan ® Compiled from the Teachings of Yogi Bhajan and illustrated by Harijot Kaur Khalsa Praana, Praanee, Praanayam is a collection of Yogi Bhajan's quotes and kriyas gathered from lectures throughout his 35-year teaching career in the West. Yogi Bhajan is a Master of praanic energy and these quotes and kriyas can help you to understand and experience who you truly are in the universe of praana. Regular Retail: $35.00
Promo: $29.75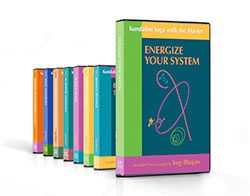 Kundalini Yoga with the Master DVD Series
The Kundalini Yoga with the Master DVD Series is your chance to practice a demanding physical kriya with Yogi Bhajan. The all new picture-in-picture guide shows the proper posture and timing while you are challenged to "Keep Up!" by the Master himself.
Volume 1: Energize Your System Featured in Owner's Manual for the Human Body
Among other benefits, this kriya contains exercises to: - energize the heart chakra and stomach - give power to the immune system - adjust the spine - cleanse the liver and purify the blood
Volume 2: Balance the Vayus Featured in Owner's Manual for the Human Body
There are five principal Vayus: Praana moving in the heart area; Udaana in the throat; Samaana in the navel region; Apaana in the pelvic floor; and Vyaana which circulates throughout the whole body. This set moves all five Vayus of the body and brings equilibrium to the glandular system.
Volume 3: For Mental Balance Featured in Owner's Manual for the Human Body
Concludes with Yogi Bhajan playing the gong while you nap. Yogi Bhajan said that by regularly practicing the first and second exercise in this kriya for three minutes each and then repeating frog pose 108 times you can achieve physical and mental health.
Volume 4: Optimum Health Featured in Owner's Manual for the Human Body
Refine your radiance with Optimum Health. This physically demanding set is balanced with great moments of relaxation including an 11 minute nap to
Guru Ram Das Lullybye
and a gong meditation.
Volume 5: Automatic Endurance Featured in the manual Owner's Manual for the Human Body
Let this DVD show you: - Conscious breath for total self-purification - The Power of baby pose - How to develop tolerance, grit and nerves of steel
Volume 6: Wake Up the Body to Handle Stress and Strain Featured in the manual Owner's Manual for the Human Body
This video contains ideal exercises to do in bed or just out of bed first thing in the morning!
Volume 7: Yogic Salutations Featured in the manual Self Knowledge
This kriya incorporates a variety of salutations including: -
Narda Pranaam
-
Hans Pranaam
-
Guru Pranaam
Volume 8: Massage for the Lymphatic System Featured in the manual Physical Wisdom
Stimulating eliminative movement in the lymphatic system is essential to a strong body and healthy immune system. Give your lymphatic system a massage with this original kriya taught by Yogi Bhajan!
All DVDs in this series: Regular Retail: $19.95 per DVD Promo: $16.96 per DVD Or get the entire set for the everyday low "set price" of $119.70 (25% off full retail)
KRI February Recipe of the Month 2018
Excerpt From: Man to Man A Journal of Discovery for the Conscious Man Yogi Bhajan, PhD.
Garlic Saffron Almond Rice
Enhances creativity 1 cup milk 1 teaspoon saffron 1½ cups basmati rice 6 cloves garlic 2 cups homemade yogurt ½ teaspoon cinnamon 1 teaspoon salt ½ cup almonds 1 Tablespoon ghee Soak saffron in milk overnight. In the morning, blend until smooth. Soak the almonds overnight or in boiling water to remove their skins. Then slice the almonds. Peel and slice the garlic into quarters. Sautee garlic and almonds in ghee. Rinse rice thoroughly. Boil basmati rice in saffron milk and 2 cups of water. Add garlic and almonds, Simmer for 20 minutes. (Add the saffron milk when dish is half-cooked.) It should be eaten with yogurt and the yogurt should always be homemade. To cleanse the internal organs, then eat this dish with Golden Yogurt, using turmeric. In that case, yogurt should be made from golden milk. Boil ½ teaspoon of turmeric in 1 quart of milk. Use this milk to make the yogurt.
---