We all have (happily) heard  about the health benefits of eating chocolate.  It is music to my ears!  Here's a great article from the Mayo Clinic that you will enjoy entitled: Healthy Chocolate – Dream or Reality.  
Dr. Zeratsky confirms that cocoa has some very healthy aspects, and wisely cautions you about the unwanted fat, sugar, and calories of commercial chocolate.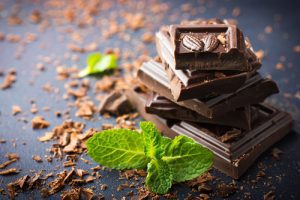 My sister recently shared this very easy recipe with me for do-it-yourself chocolate that has all the goodness and none of the drawbacks… except of course, the calories.  So moderation is always the best plan.
Healthy Chocolate
½ cup of high-quality, unsweetened cocoa
½ cup of coconut oil
3 Tablespoons of coconut sugar
3 Tablespoons of heavy cream or coconut creme.
Melt the cocoa and the coconut oil together over a low flame.  Combine the coconut sugar and creme and mix well, then add it to the cocoa.
Prepare a pie plate or dish by lining it with parchment (and some nuts if you like).  Pour the cocoa mixture into the pie plate and refrigerate for a few hours until solid.
Enjoy!  Keep refrigerated to maintain it firm and easy to eat.