In Kundalini Yoga we can use different mudras to stimulate the different energetic channels or meridian points in our fingers. This mudra stimulates the positive ego (thumb) and the pinkie finger (Mercury). Mercury rules the domain of the mind, communication and electrical systems. This mudra works to bring you clarity and effectiveness through the power of your communication.
The word of us as humans binds us to one another so we need to be as precise and as impactful as possible. The less we speak, the better. Through speaking, we are re-lay-ting to one another. It is a relay of two people or more. That is what a relay-tionship is, the relating of two human beings. Through our words, we can either create heaven on earth or hell on earth. The word has its own psyche and potential, like a seed.
Not only are we communicating with our word, but we are also communicating with our gestures, our tones and our energy. Which chakra are you communicating from? What do you really mean?
When you realise the power of your own word, you will begin to speak from a state of presence and you will relate to others in a compassionate and in a harmonious way.
When we succeed in what Yogi Bhajan describes as conscious communication:
The impossible becomes possible
You use your intuition not your impulse
You find your character not just your characteristics
Your word is real and you are real
Every word you speak has an impact because you are fully present
This meditation will activate your true self and stimulate the meridian points of the thumb (positive ego) and the Mercury finger (communication). It will bring you to a state of neutrality and bring you into a state where easeful and powerful communication is possible.
---
Activate the Power of Communication
August 22, 1986
"Learn to be alert. Answer with the power of the soul. Relate with an affirmation. Every word you say should be an affirmation." —Yogi Bhajan
POSITION: Sit in Easy Pose.
MUDRA: Touch the thumb and Mercury (pinkie) finger of one hand to the thumb and Mercury finger of the other hand. Bend the Sun (ring) fingers in toward the palms, but do not let them touch the palms. Leave the Jupiter (index) and Saturn (middle) fingers pointing straight up, but not touching. Place the mudra 3 to 4 inches in front of the Heart Center.
TIME: Start with 11 minutes and work up to 31 minutes.
MANTRA: Meditatively listen to Beloved God, the first song on Singh Kaur's Peace Lagoon recording.
---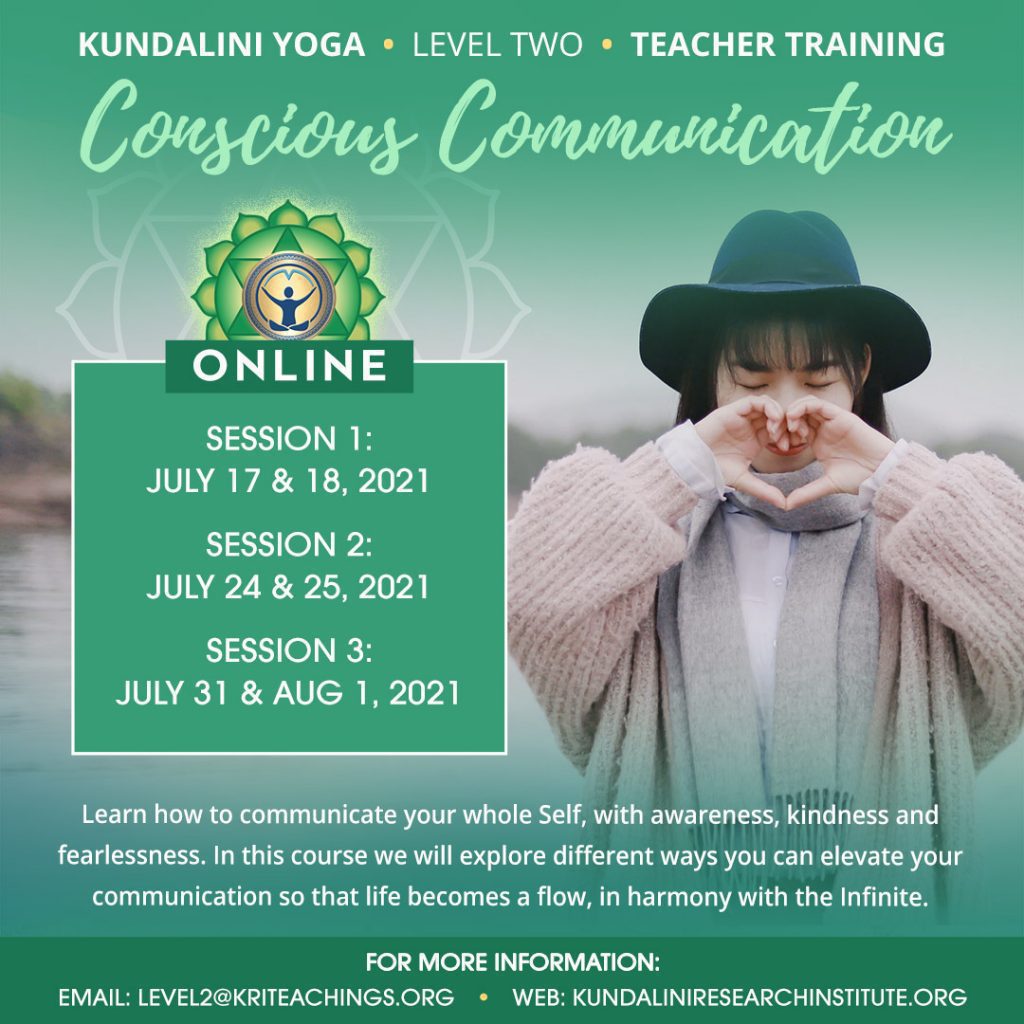 Join us for a deep dive into the art of Conscious Communication 100% online starting July 2021. The course is not only for Kundalini yogis but for everyone who is interested in conscious relating and communication.
Register now to take advantage of the early bird special discount.
Article written by Isabel de Erice
Based on the teachings of Yoghi Bhajan
Sources: Gurucharan Singh Khalsa, Ph.D., Tarn Taran Kaur Khalsa, Nirvair Singh Khalsa, Guruka Singh Khalsa, Kundalini Training Level Two Conscious Communication Manual, Kundalini Research Institute, 2006
Meditation can be found in the book, Success and the Spirit, an Aquarian Path to Abundance. With over 40 prosperity meditations and 15 lectures from the Siri Singh Sahib, Success and the Spirit is the most comprehensive guide created for prosperity and successful, joyous living. Click here to learn more and purchase this one of a kind manual for abundance.
Teacher