KRI April 2019 Recipe of the Month
Taken from From Vegetables, With Love: Recipes and Tales from a Yogi's Kitchen
(Revised and Expanded New Edition) by Siri-Ved Kaur Khalsa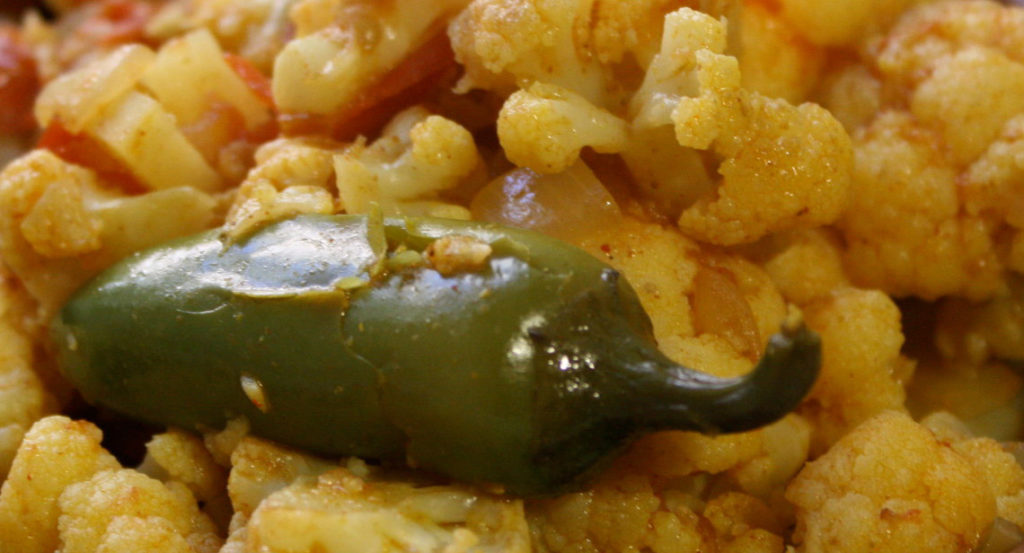 This curried cauliflower dish tastes of Indian barbecue and is even more fantastic served with basmati rice and chapattis.
Yogi Bhajan's Gobi Tamaatar – Spicy Cauliflower & Tomato Curry
⅓ cup ghee or oil
1 heaping teaspoon turmeric
2 onions, chopped
2 bulbs garlic, whole peeled cloves
¼ cup chopped fresh ginger
1 tablespoon ground cinnamon
1 teaspoon black pepper
1 heaping teaspoon crushed red chiles
1 teaspoon ground cloves
1 cup of water
6 tomatoes, peeled and quartered
¾ cup of malt vinegar
3 medium heads cauliflower cut into large bite-size pieces
Tamari soy sauce or salt
Heat oil in a large heavy saucepot or sauté pan over medium-high to high heat. Add turmeric and let sizzle for 10 seconds. Add onions, whole garlic cloves, and ginger. Sauté 2–3 minutes on a medium-high flame, stirring frequently. Add cinnamon, pepper, chiles, and cloves. Stir to combine and add water. Cook at least 5 minutes, adding more water as required to prevent scorching. Add tomatoes, vinegar, cauliflower, and tamari or salt. Add water as desired for a soupier consistency. Lower heat to medium and cook about 1 hour, uncovered, adding small amounts of water as needed, until the oil separates and the cauliflower is easily pierced with a fork.
Yield: 8 – 10 servings
Teacher