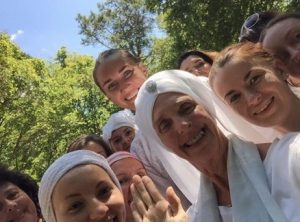 Hello sweet world from Russia!
We just celebrated  the birthday of our Teacher, Yogi Bhajan, with the Russian Kundalini Yoga Sangat. We had a beautiful sadhana of Japji and 2.5 hours of long Ek Ong Kar in the Amrit Vela. The beauty and diversity of our global community is miraculous. I bow to the Infinite One with deep gratitude.
Happy Birthday Siri Singh Sahib ji!