On Thursday  June 15th  (from 9-5)  and Friday June 16th  (from 9-2) over 100 trainers of the Aquarian Trainer Academy will meet at Hacienda de Guru Ram Das for the annual  International Summer Solstice Trainer Forum.  This year the theme of the Forum is "Unity.  Service.  Renewal."
The ATA Trainer Forum is an opportunity for trainers to come together to talk about what is important both ind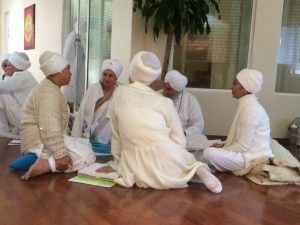 ividually and collectively, to build and renew skills, establish and strengthen relationships.    Now more than ever we are being called upon for service in the world.  In these uncertain and challenging times, Kundalini Yoga as taught by Yogi Bhajan® is an important way to help humanity.
This year we will focus on "Unity in Service" to the global community of teachers, students, and future teachers.  At the Forum, we will discuss how we develop, nurture and sustain trusting relationships. We explore what is needed to support communications that allow for open and authentic feedback and discussion. And how can we reach out in service as Trainers to those who need Kundalini Yoga but do not have access to Teacher Training because of geographical or economic challenges.
The Forum in New Mexico will have trainers from the United States, Mexico, Canada, Chile, China, Taiwan, South Africa, Bolivia, Brazil, Argentina, Malaysia, and Japan.   With this global representation, the Trainers will meet in small and large groups to look at how we can build and sustain the International Teacher Training program which is multi-cultural and multi-generational, taught in 22 languages in over 52 countries. We will address the question of how we can make decisions together in a transparent and inclusive way that recognizes our diversity.  There will be workshops in "The Anatomy of Sound", "How to Manage a Contract," as well as open dialog on "How to Meet the Challenge of the Times; Building Teachers for the Aquarian Age." 
The Forum is a gathering where Trainers and those who wish to become trainers come together in service to one another and in service to the planet.  We are unified by our common mission to share the teachings of Kundalini Yoga with all people who seek it.  For more information on the Forum please contact Paramnam Singh Khalsa at projectcoodinator@kriteachings.org.