---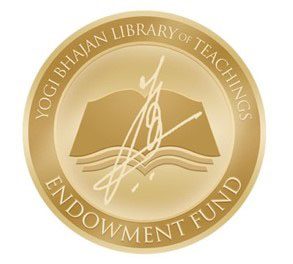 The Yogi Bhajan Library of Teachings Endowment Fund

SUPPORT THE KUNDALINI RESEARCH INSTITUTE & THE LIBRARY OF TEACHINGS

---
A Note From Nirvair
Sat Nam.
Greetings from sunny New Mexico. Summer Solstice Sadhana Celebration and the 50th Anniversary of 3HO is here!
On July 7, 1977, Yogi Bhajan talked about Summer Solstice Sadhana. I have used this quotation before, but it really captures the essence of Solstice for me.
"The purpose of a human being is to release oneself from this earth so that one can go to the heavens. That's why they say, heavens are above, earth is below. Whosoever is bound to the earth shall remain bound to the earth and remain bound to earth for infinity. You shall be nothing, your destiny is decided. There is no hell for you, there is no heaven for you, all there is for you is ghost, ghost, ghost, and ghost. That's why, when we do White Tantric Yoga at the summer solstice time, the entire land is filled with souls begging to hear you chant. It is amazing! There were six hundred people one day chanting [during White Tantric Yoga]. We were in ecstasy, and there was so much fighting above us! Those souls were trying to come deeper and deeper, the magnetic field expanding to go over and over, and in that hassle… I couldn't explain it. I wish you could all have those eyes. You should have watched what was going on. They were your ancestors who were hung in this earth-bound circuit for thousands, hundreds of thousands of millions and zillion years seeking liberation. It was an amazing sight to see. It was a wonder of God. That is why this time, when we wanted to let God speak to us, we heard a huge thunder clap. God spoke to us from mercy, not because we were very wonderful human beings, but because those thousands and hundred-thousand souls got relieved and released. That's called yagna, that's what we do.
"People do not understand summer solstice. These Americans do not understand it at all. That is the time when the sun's energy and the earth's magnetic field are at the peak. Aah, that is the most wonderful combination, to meditate, recite, and chant [during this time]. And in that openness, in the wilderness of the Mother Nature, we call upon the Heavenly Father."
There is a lot of activity and opportunity to use the sun energy of the summer to accelerate our yogic and spiritual practices. Summer Solstice Sadhana Celebration in New Mexico and the July European Yoga Festival in France are very special events. You get to be with a large group of Kundalini Yogis, study with excellent teachers, and practice three Days of White Tantric Yoga®. Solstice and Yoga Festival will rejuvenate and uplift you for months to come. Yogi Bhajan often said to plan the year around our Solstice celebrations.
I will be teaching at the special 50th Anniversary of 3HO at Summer Solstice Sadhana this year. Join me for a physical and a meditative kriya Friday June 14th under the Tantric Shelter at 10:15 AM. See you there!
Come by KRI's booth in the bazaar to see and buy new books and DVD's. We are excited to present a new book in The Teachings of Yogi Bhajan series entitled Your Own Infinity. In this latest collection of curated quotes, Hargopal Kaur explores the concept of God as presented by Yogi Bhajan. It is an amazing read, drawing you deeper and deeper into the concept of Infinity. Here is an excerpt from the introduction:
"In virtually every lecture, Yogi Bhajan steered us to God, to the Infinite, and to ourselves. Sometimes, he dropped a pearl of wisdom that shattered our misconceptions, our preconceptions, and exposed our astounding lack of perception. He found the angles that could penetrate our consciousness and clear a path to awareness."

Does practicing Kundalini Yoga inspire you to want to teach? Now is the time for Teachers! I just was teaching at our Spring Immersion in Bali. We had students from 22 different countries. I can't say enough about the greatness of the KRI Immersions. Not only do you truly learn how to deliver a class in Kundalini Yoga as taught by Yogi Bhajan® but it is a deep and profound experience of spiritual community!
The Aquarian Age is here, and it is calling you! We still have space available in our International Teacher Training Level One Immersion in Espanola, New Mexico. Become a Teacher of Kundalini Yoga as taught by Yogi Bhajan this summer at the ashram and ranch of Yogi Bhajan. I really look forward to this training program; it is a truly incredible experience for the students as well as the teachers.
In the Name of God, I serve.
Nirvair Singh Khalsa
CEO KRI
---
---
Yogi Bhajan's Ranch

Hacienda de Guru Ram Das, affectionately known as "The Ranch," was the home of Yogi Bhajan and his family in Espanola, New Mexico. It was here, on October 6, 2004, that he breathed his last breath and merged with Infinity. He loved his Ranch, and the spirit of Yogi Bhajan vibrates in every tree and rock still today. One of the very special parts of KRI Level One Immersion in Espanola is that you have the opportunity to experience the Ranch and make a physical connection to the place where Yogi Bhajan lived.
The Ranch started as a small adobe home on a country road, when Yogi Bhajan purchased it in 1974. They expanded over time and beautified the land to match his vision. He and his wife Bibiji worked tirelessly to make their home a place to welcome students and guests from around the world. The Ranch was always open to visitors for spiritual conversation and a delicious meal.
The Dome was Yogi Bhajan's private meditation room, built by his students in 1975 as a gift of love and dedication to their teacher. Once asked about why the shape of a dome was chosen, Yogi Bhajan said, "If you take the globe and cut it in half, it is the shape of a dome. Because of this, a dome contains the energy of the earth." Here, in this simple structure, he spent many long hours. It was his place of peace and solitude, where he meditated and worked.
Yogi Bhajan taught the first summer course in 1975 at the Ranch, a lecture series now known as "Under the Blue Sky of New Mexico." Students came and sat in the garden courtyard and listened every day throughout the month of July as Yogi Bhajan lectured on how to walk the spiritual path as a conscious human being. Over the next 30 years, people came from around the world to visit and learn from Yogi Bhajan at the Ranch.


Once, a student asked, "Sir, we have met you and know who you are, but what about the children who are yet to be born and the yoga students who did not get to meet you? How will they understand who you are?" Yogi Bhajan replied, "Take a stone as tall as I am (he was 6'2½") and engrave it, 'Born Zero, Died at One'." This is the memory stone that now stands at the Ranch. Born at Zero means he came from the Infinite, as symbolized by the circle. Died at One means he died when his consciousness was at One with God, the One Creator of everyone.
As you experience the Ranch, take a moment of silent stillness and feel the subtle energy. That is the energy of Yogi Bhajan, the Mahan Tantric, the Siri Singh Sahib. It is potent, powerful, and yet comforting and calming. It is something you will remember and reconnect with many times on your journey as a teacher of Kundalini Yoga as taught by Yogi Bhajan®.

The Aquarian Teacher, KRI Level One Teacher Training Program
August 3 – August 30, 2019
Espanola, New Mexico, USA
http://immersion.kundaliniresearchinstitute.org
Important Note: Fulfillment of the program certification requirements continues through February 2020
More images from the ranch:

---
---
The Genesis of Yoga Therapy Research
by Sat Bir Singh Khalsa, Ph.D.

Historically, yoga has been fundamentally a spiritual practice to attain unitive states of consciousness or the samadhi state. However, given the fact that yoga employs both physical (asana, pranayama, relaxation) and cognitive (meditation) practices to foster self-regulation and optimize human functioning, its relevance to restoring optimal functioning in disease states has been an obvious possibility. Even in the 15th century Hatha Yoga Pradipika are statements attesting to the benefits of specific yogic practices in reducing obesity, removing abdominal disorders, fatigue, and edema and generally "destroying all diseases" including leprosy.
By the beginning of the 20th century, we see the systematic application of yoga as a treatment for therapeutic conditions in India. The Yoga Institute in Mumbai documented the application of yoga as therapy to 124 patients in 1918-19, reporting "Symptom relief in most cases. Occasional verification by physician." In a two-year period from 1920-22, 2,000 patients were treated with the identical claim of clinical improvement. Similarly, the Kaivalyadhama Yoga Institute, founded in 1924 and also in Mumbai, was reporting in its 1930 volume of its research journal Yoga Mimamsa that "nearly two thousand people have been treated…as…patients. People suffering from constipation, dyspepsia, auto-intoxication, nervous debility, asthma, piles, seminal weakness, heart troubles and a variety of other diseases have found great relief from Yogic Therapy." Unfortunately, such vague descriptions of clinical benefit clearly failed to meet any kind of acceptable scientific or clinical criteria that provide confidence in attesting to the safety and efficacy of yoga therapy.
Even as late as 1964 in a four-paragraph report by Higashi in the prestigious medical journal Lancet we are still provided with minimal documentation of specific quantitative details of clinical improvement. In a Tokyo sanatorium, they applied a daily 10-minute pranayama practice over a year to 50 male schizophrenic patients. The clinical outcome is marginally and vaguely described with the text: "About the beginning of the third month, we noticed that the patients gathered spontaneously at the usual place. When the session ended a quiet atmosphere prevailed for some time. Moreover the average number of patients participating was 81% as against 56% in the previous year." It's conclusion stated, "An exercise which controls breathing favourably influences the psychiatric regimen."
Given the proliferation of yoga therapy in India, yet conducted without adequate research and clinical documentation, the Ministry of Health of the Government of India created a committee in 1960 led by well-known leading yoga researcher Dr. B.K. Anand to evaluate yoga therapy claims. It collected information from 71 institutions across India, visiting 19 select institutions, and yielded the 1962 Ministry of Education 72-page document entitled "Report of the Committee on Evaluation of Therapeutical Claims of Yogic Practices." It concluded that for lack of proper data and the personnel adequately trained to collect such data, it was not possible for it to evaluate Yogic therapy claims. It further stated, "Unless a scientific assessment of the patient treated by Yogic therapy is organized under controlled conditions, it will not be possible to evaluate the important therapeutic claims of Yoga."
Finally, in 1966 we see the publication of perhaps the first acceptably-reported biomedical research evaluation of yoga therapy by Vahia, Vinekar and Doongaji in an 8-page paper in the British Journal of Psychiatry. In this case series study conducted with the Kaivalyadhama Institute they describe results of 4 to 6-week yoga therapy sessions with patients at the K.E.M. Hospital in Mumbai. A table in the report describes multiple characteristics including demographics, diagnoses, treatment durations, and quantitative percent improvements for 30 patients with psychosomatic conditions such as anxiety, depression, headache, insomnia, cognitive difficulties and other stress-related symptoms. They further included 3 detailed case reports that were presented in the format and with the amount of detail that would be viewed as reasonable from a modern clinical research presentation perspective.
It was not long after this that we see the first humble clinical trial publication in yoga therapy published in Yoga Mimamsa in 1967, to be followed by the first randomized controlled trials on yoga for hypertension by yoga researcher Chandra Patel in the U.K. in the early 70's. From that first 1967 trial of yoga for asthma through to 2003, there were approximately 150 clinical trials published, a number which tripled to about 450 publications 10 years later by 2013. We are now fortunately in the position in this field in that we are experiencing an exponentially increasing growth in the number of clinical yoga research studies and publications with more and more of the rigorous randomized controlled trials and meta-analyses necessary to justify recommendation of continued yoga therapy research and implementation of yoga interventions in modern medicine.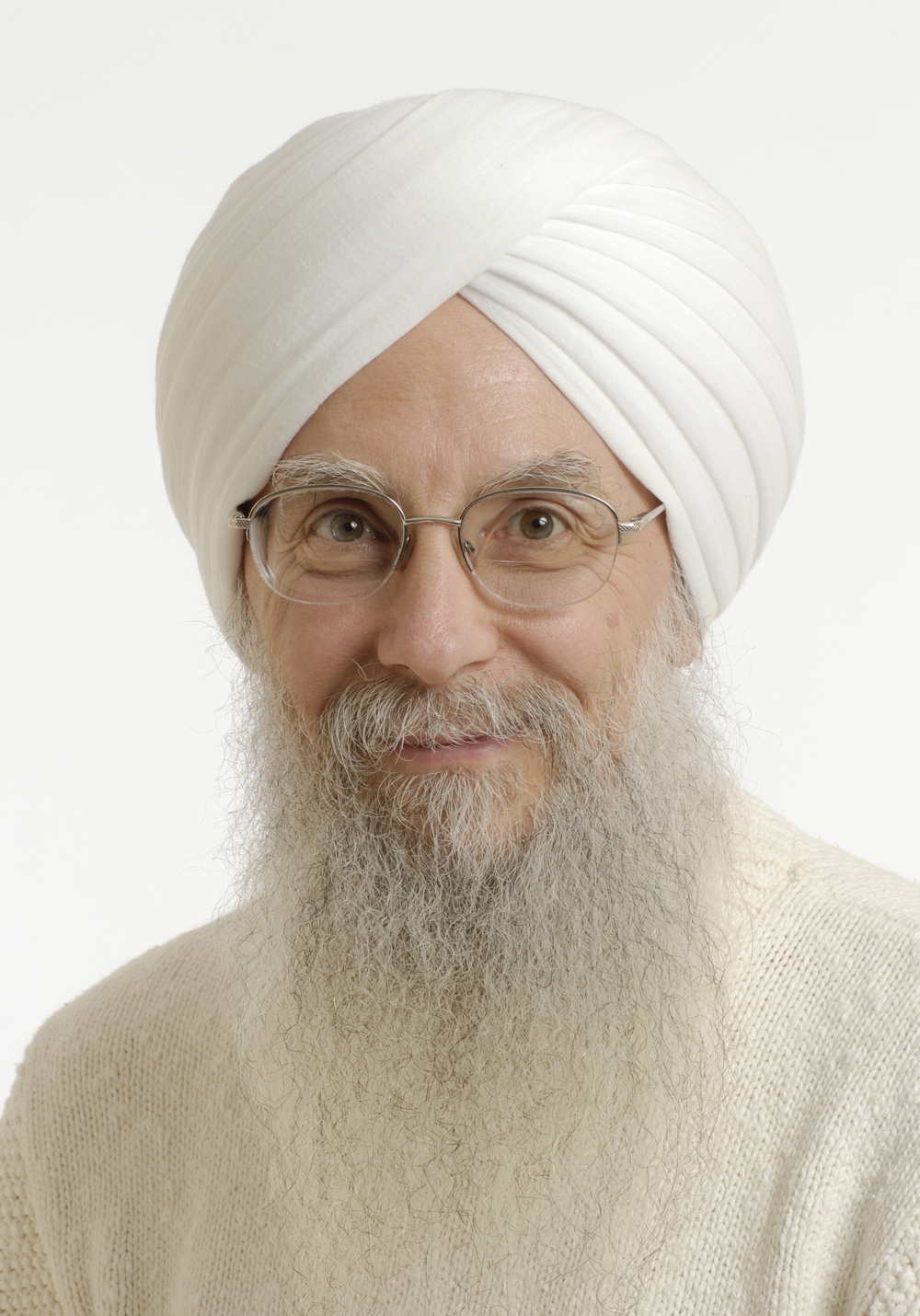 Sat Bir Singh Khalsa, Ph.D. is the KRI Director of Research, Research Director for the Kripalu Center for Yoga & Health, and Assistant Professor of Medicine at Harvard Medical School. He has practiced a Kundalini Yoga lifestyle since 1973 and is a KRI certified Kundalini Yoga instructor. He has conducted research on yoga for insomnia, stress, anxiety disorders, and yoga in public schools. He is editor in chief of the International Journal of Yoga Therapy and The Principles and Practice of Yoga in Health Care and author of the Harvard Medical School ebook Your Brain on Yoga.
---
Back to Basics
Pranam Mudra – Prayer Pose
Pranam Mudra, or Prayer Pose, is one of the most frequently used mudras in Kundalini Yoga. Each class begins with hands in Prayer Pose, chanting the Adi Mantra, and closes with the "Long Time Sun" song, hands in Pranam.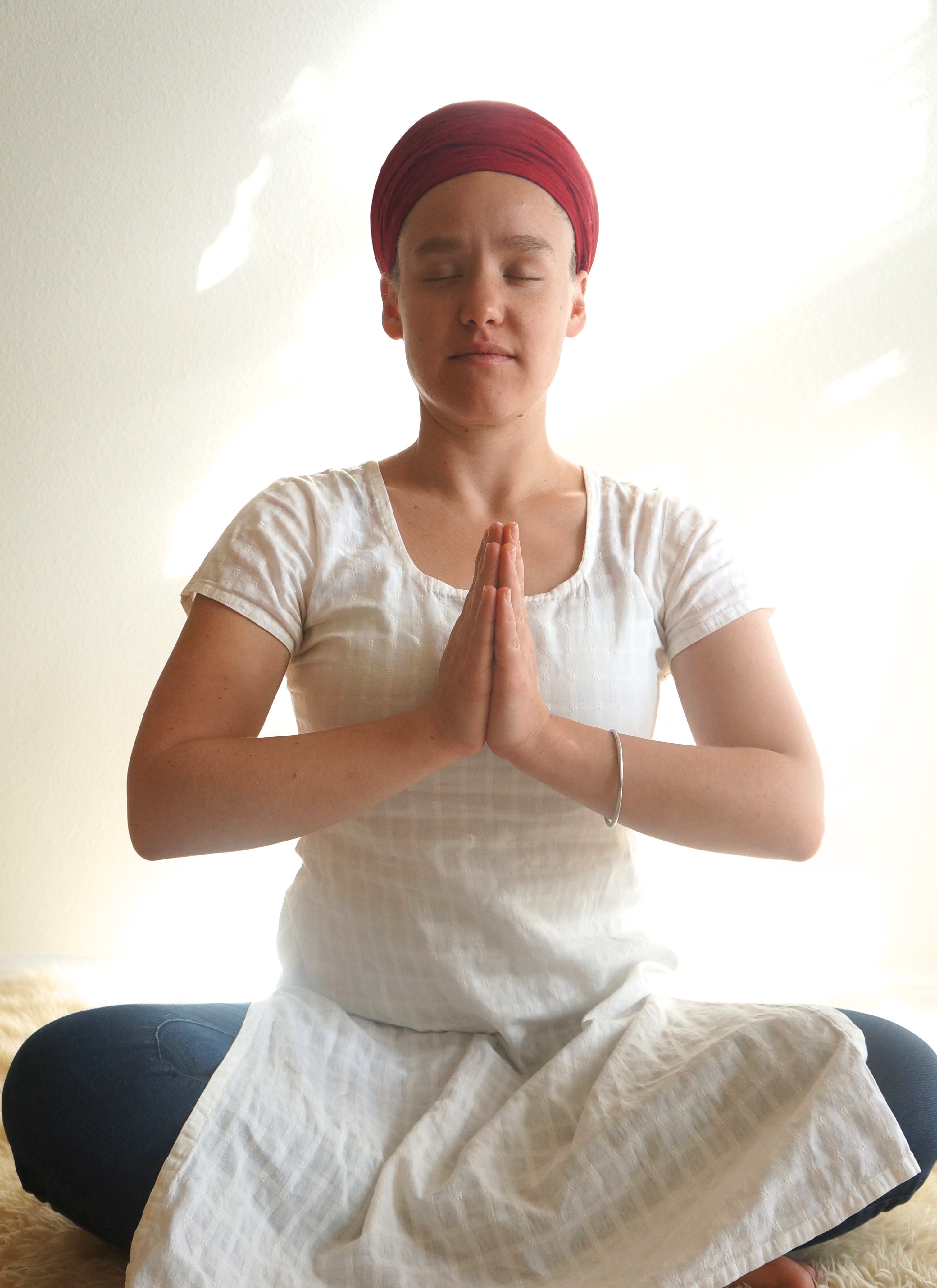 Pranam Mudra balances and neutralizes the positive side of the body (right, sun, masculine) with the negative side (left, moon, feminine). It is a perfect way to bring the human system into harmony and prepare to receive the benefits of Kundalini Yoga. It is a graceful and humble mudra of supplication, acknowledging and opening the heart to the One.
Many students tend to hold the mudra a little low or let the fingers angle out away from the body. Take a moment in your next class to bring their attention to Pranam Mudra and help your students perfect the angles.
Palms are together with the bracelet lines of the wrist (where the palm and wrist join) placed at the heart center. The fingers are at 90 degrees, pointing straight up under the bottom of the chin. Apply an even and constant pressure on all 10 fingers and the palms as well as against the sternum (the breastbone).
"Now, please fold your hands. Watch, some people do not know how fold their hands… [Hold it at] exactly 90 degrees, all fingers together, thumbs together. And this is a 'V' shape, victory shape, between your thumbs and your fingers. It has to be at the heart center. Base of the three rings, [the bracelet lines of the wrist] health, wealth and happiness, must be at the heart center, understood?" Yogi Bhajan, April 22, 1997
---
Sat Nam from The Yogi Bhajan Library of Teachings®
Have you explored the Historical Notes tool in the Library of Teachings? This delightful feature allows users to view Historical Notes while reading or viewing a lecture or kriya. Historical Notes are notations done by students in the class, pertaining to the kriya, at the time the original lecture was given. You will notice that the notes vary widely – some are just a few handwritten lines while others are typewritten text with hand-drawn diagrams. You can gain valuable insight from the Historical Notes, picking up emphasis and perspective that only first-hand experience can give.
These Historical Notes are made from scanning the original documents contributed by legacy students. We then create the notes as Adobe documents that are downloadable for readers.
To Search for lectures that contain Historical Notes:
Simply enter the topic into the search-bar on our homepage (see Example [1] below searching for the topic "Love")
Next look for the 'Filters' to the left of your search results and select the plus sign next to 'Media.'
Under 'Media' you will see the option 'Historical Notes.' It will note the number of lectures that contain Historical Notes (in the sample below it shows there are 12). Click on 'Historical Notes' and it will take you to the results of this search.
Once you select the lecture and you want to view the Historical Notes, click on this icon:
The student notes will pop-up in the document. (See Example [2] below.)
This feature is one that scholars and novices alike will enjoy. And as always, let us know what you think. Email us at donations@kriteachings.org.
In Gratitude,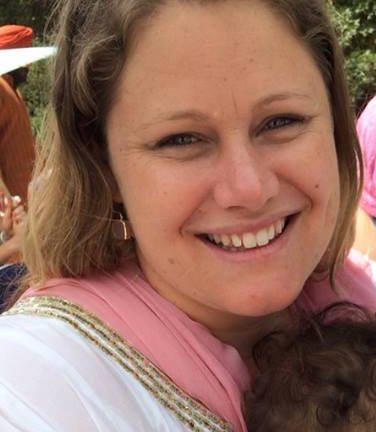 Shabd Simran Kaur Adeniji, Fundraising Coordinator
The Yogi Bhajan Library of Teachings®
Kundalini Research Institute
Email: donations@kriteachings.org
Find us on Facebook "The Yogi Bhajan Library of Teachings"
www.libraryofteachings.com
The Yogi Bhajan Library of Teachings® is a non-profit organization and all donations are tax deductible under IRS code 501(c)(3).
---
Trainer's Corner
What is a Trainer Forum?
A Trainer Forum is a meeting place for open dialogue amongst members and applicants of the Aquarian Trainer Academy. It is an opportunity for professional development as a trainer, a time to come together as a community of trainers to refresh our spirit and revisit our values, build skills and share best practices, create new relationships and deepen existing ones.
If you are interested in joining the Steering Committee for your local/regional Forum contact trainerforum@kriteachings.org
2019 TRAINER FORUMS: CULTURE, COMMUNICATION, COMMUNITY
SUMMER SOLSTICE: Hacienda de Guru Ram Das, Espanola, New Mexico
New Times! June 12, 8:30a – 5:30p & June 13, 8:30a – 12:30p
Register Here

– Featured Summer Solstice Trainer Forum workshops –
Consciously Leading Rebirthing Workshops with Dr. Krishna Kaur and Sant Kaur
I AM with You – Facilitating the Flow of Collaboration in Community with Puranjot Kaur and Jai Gopal Kaur
The Hidden Challenges of Mentoring with Siri Neel Kaur, Tarn Taran Kaur, and Awtar Kaur
Level Two: Vitality & Stress with Deva Kaur
All Forum Workshop: Global Racial Inclusion to support Diversity & Inclusivity in the Academy with Dr. Japa Kaur, Vedya Amrita, DukhNiwaran Kaur, and Awtar Kaur
All Forum Workshop: The Legacy of Kundalini Yoga with Nirvair Singh and Krishna Kaur

EUROPE: Chateau Anand, Saint Pierre de Maille, France
New Times! July 25, 8:30a – 5:30p & July 26, 8:30am – 12:30p
Register Here

– Featured European Trainer Forum workshops –
Psychology & Kundalini Yoga with Haridevta Kaur
How to Lead a Rebirthing class with Sukhdev Kaur
Mentoring Skills presenters TBA
Skill Building in Content Credits for Philosophy and/or Anatomy & Physiology presenters TBA
All Forum Workshop: Economic Diversity in Kundalini Yoga – Coming Together to Share Resources presenters TBA
All Forum Workshop: The Legacy of Kundalini Yoga presenters TBA

AUSTRALIA: Australia Kundalini Yoga Festival
October 7, 6:00p – 9:00p & October 8, 9:00a – 6:00p
CHINA
October 26 – 27, times and location TBA
WINTER SOLSTICE: Hampton Inn, Lake Wales, Florida,
December 14, 8:30a – 5:30p & December 15, 8:30a – 12:30p
---
KRI June 2019 Specials

The Chakras
Kundalini Yoga as taught by Yogi Bhajan®
The chakras are the keys to being human and being happy. In this collection, Yogi Bhajan, the Master of Kundalini Yoga, defines the nature of the chakras, how they work, their interaction, projection and potency with both humor and subtlety, and often surprising candor.
Regular Retail: $29.95
Promo: $25.46
Ebook: $13.49 (10% off)
---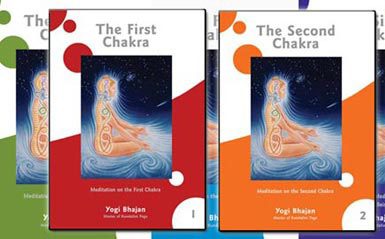 The Chakras
7 (2 DVDs per set) DVD Series
The progressive nature of the human is to succeed…and that is where the science of the chakras comes through.
The First Chakra: Meditation on the First Chakra
The Second Chakra: Meditation on the Second Chakra
The Third Chakra: Meditation on the Third Chakra
The Fourth Chakra: Meditation on the Fourth Chakra and Arti Kriya
The Fifth Chakra: Meditation on the Fifth Chakra
The Sixth Chakra: Chaar Padh Meditation and Meditation on Being a Yogi
The Seventh Chakra: Hissing Meditation for the Glandular System l and ll
Regular Retail: $24.95 per 2-DVD Set
Promo: $21.21 per 2-DVD Set
Or take advantage of our everyday Full Set Special of $130.00 for all 14 DVDs in 7-DVD packaged sets.
---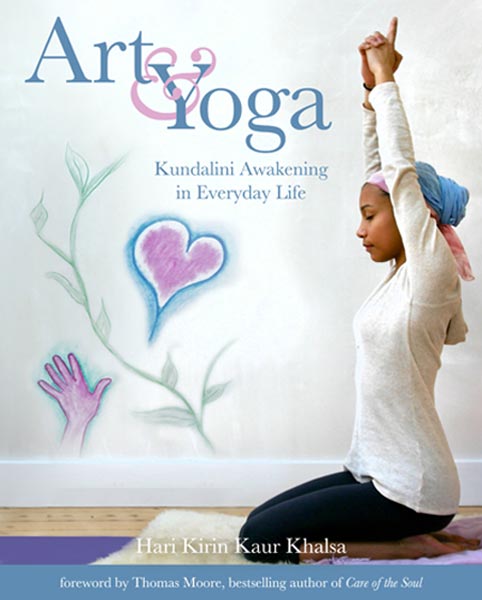 Art & Yoga
Kundalini Awakening in Everyday Life
by Hari Kirin Kaur Khalsa
"The sole purpose of life is the soul." — Yogi Bhajan
Learn to express your soul's longing, delve into images that awaken your imagination and speak of a truth yet unexplored. Allow Art & Yoga to take you on a journey to your intuitive, creative and authentic self—the True Being, awakened!
This book is for anyone interested in yoga and the arts. It explains how to create a daily Art and Yoga practice. It provides step-by-step guidelines for producing art and doing yoga as complementary practices individually, in a group, or in community. Yogis will find creative exercises to deepen their experience of yoga, while artists will discover simple, yet profound yoga and meditation practices that will help their creative flow, focus, and intuition. Along the way, we will draw inspiration from the teachings of Yogi Bhajan, nature, artists of the past, and recent developments in healing and spirituality.
Retail: $29.95
Promo: $25.46
Ebook: $16.19 (10% 0ff)
KRI Recipe of the Month for June 2019
To commemorate the 50th Anniversary of 3HO, KRI is featuring another way to prepare mung beans that is amazingly delicious!
Excerpt From:
From Vegetables, With Love: Recipes and Tales from a Yogi's Kitchen (Revised and Expanded New Edition)
Siri-Ved Kaur Khalsa
Spicy Mung Beans with Mustard Greens
Yield: 4–6 servings
Serve this in place of regular daal or as a soup. For a little variety, add a diced potato in the last 20 minutes of cooking.
2 bunches mustard greens, chopped
1 cup mung beans
6 cups water
⅓ cup oil
2 medium onions, thinly sliced
4 cloves garlic, minced
2 tablespoons minced fresh ginger
1 rounded teaspoon garam masala
¼ teaspoon cayenne or to taste
½ teaspoon turmeric
1 teaspoon cumin seeds or kala jeera
½ teaspoon pepper
2 tomatoes, peeled and chopped
½ cup ghee or olive oil
Boil greens and beans in water until very well done (about 45 minutes). Then, using a blender or food processor, coarsely purée, adding enough broth (and additional water if necessary) to attain a soupy consistency.
Meanwhile, heat oil in a skillet over a medium-high flame and fry onions, garlic, and ginger 8–10 minutes until lightly browned. Add spices and cook few more minutes, with a little extra water if necessary to prevent scorching/sticking. Add chopped tomatoes and cook another 8–10 minutes until the "masala" is very saucy (add a little water as needed) and unified. Combine this mixture with the beans-greens mixture in a large saucepan. Add ghee and cook 5 more minutes. Adjust seasoning with salt to taste.
---