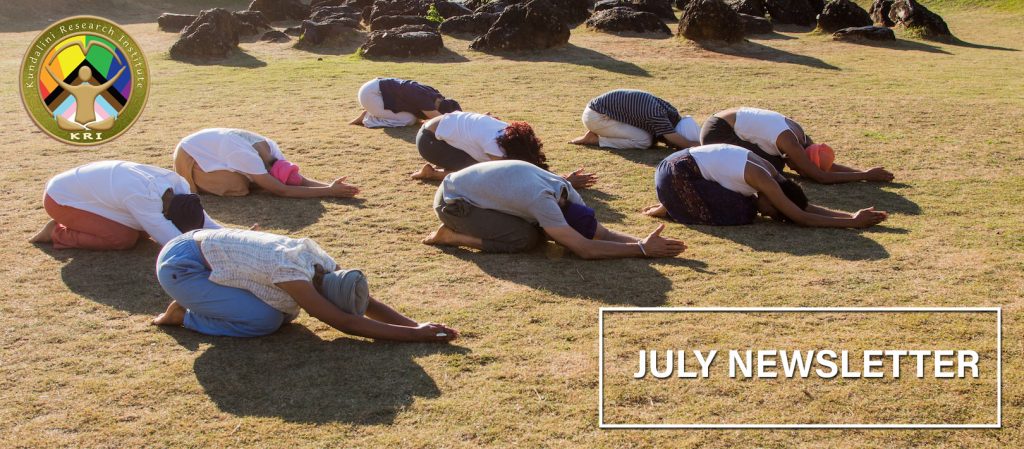 From Me to You
---
Sat Naam and greetings from Maastricht, The Netherlands!
What a strange summer we are having! I miss traveling to be in the large 3HO community gatherings that typically highlight my summers – the Summer Solstice Sadhana in New Mexico and the European Yoga Festival in France. But I must say, it was incredible to see a small miracle unfold with the 3-day Summer Solstice eSummit, as more the 7,000 people registered! The programs were very uplifting and captured the irreplaceable experience of group consciousness. Sitting with 800 people online for morning sadhana held a potency that surprised me. Now I am looking forward to the 3HO Europe Peace Prayer Day online on August 1st. Keep an eye out for the details of this event.
The impact of the coronavirus is being felt by all of us, in big and small ways, all around the world. So much rapid change, and the massive amount of uncertainty we are all facing, naturally makes us all feel unsettled, maybe even unmoored. The typical and familiar pillars on which we had grounded our sense of identity and security are shaken or perhaps even crumbled. Deep questions arise around who we really are, and who we want to become. I feel very blessed to have my personal Kundalini Yoga practice, it centers me when I feel shaky; it grounds my innermost sense of identity and Self into my highest, most expansive place. My daily sadhana connects me to my True Identity, so I can remain relaxed and flexible, even in the midst of so much stress and uncertainty. For these gifts, I bow in gratitude to the Universe. I hope your personal practice, of whatever form, type, history, or style, is supporting you through these difficult times as well.
If you need some support for how to use the teachings of Kundalini Yoga to help you right now, KRI is the place to come! Our online bookstore, The Source, has lots of Kundalini Yoga eBooks in both English and Spanish. Our Aquarian Development Series has free webinars you can participate in live, or via pre-recorded video. And we are still planning on holding, virus restrictions allowing, our Level One Teacher Training program in Bali in November. What a great way to emerge from your quarantine – by deeply immersing yourself in the Teachings of Kundalini Yoga, building lifelong positive habits, and learning how you can share this yogic technology with others!
As a fun and positive expansion, we are hosting different teachers from our huge KRI international community to lead the monthly meditation. It is wonderful to see new faces and experience their powerful energy as they teach. Do you want to lead a monthly meditation? Let us know and share the light.
Many blessings to you,
CEO, Kundalini Research Institute
Meditation of the month
Sierra Siri Prakash Bullock Lives in Bali with her ocean-dwelling husband and Green School attendee teenage son. She is pivoting through the shapes and shifts of the Aquarian age while identifying with mainstream labels called Woman, Mother, Wife, L1/ L2 KRI Kundalini Teacher, and KRI Professional Trainer. Credentials from the Piscean age include the following degrees and certificates: Bachelor Science Special Education & Deaf Studies, Master Science Holistic Nutrition & Education, Certified Body Worker from the Institute of Pyscho-Structural Balancing, and Reiki Level 1 and 2.
She is the founder and director of NorCal Women's Camp Inc., a non-profit organization in Northern California. Founded 17 years ago, their events have changed the lives of thousands of women. When her family moved to the Philippines, Siri Prakash was inspired to help build the community, organizing and teaching at the first KRI Level One Teacher Training program in 2017.
"My Intention: I am, I AM, aligning with the tendencies of the Cosmos that wants to bring all things into their fullness of being."
Full Length Meditation Video Available Here.
Yoga is One-World – Yoga e Negritude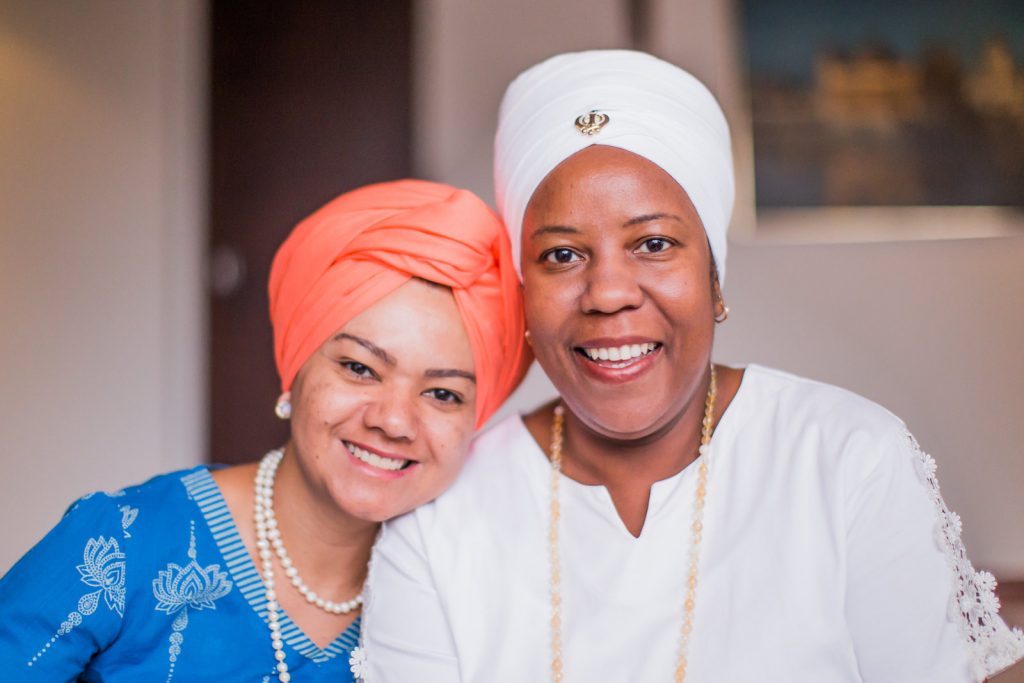 It is a reality to be confronted that there is an absence of people of color in the world of yoga and other self-care practices. Do a simple Google search and see for yourself the lack of representation of Black and Indigenous People of Color (BIPOC) in yoga media. Inspired to take action, the Yoga e Negritude project was born in Brazil, coordinated by Sunderta Kaur, a Kundalini Yoga teacher, and hosted by the Brazilian Friends of Kundalini Yoga (ABAKY)
"We questioned the predominance of white people in Kundalini Yoga classes and the difficulties of black people to attend due to economic and cultural issues," explained Sunderta. "We, teachers and students, got together to discuss these issues and thought about actions that could promote equality. One of the outcomes was photo essays with black teachers and students from our classes in Belo Horizonte (Brazil) based on the understanding that an image enhances the power of expressing and communicating with others."
What has resulted is a remarkable photo essay called "Yoga e Negritude." These pictures are amazing! Bursting with energy, spirit, and consciousness, a host of beautiful images welcome us to yoga as one-world.
"Our image, our vibration, and our vigor reflected in these images awaken us to a process of appreciation and recognition of the places that belong to us," says Prakash Sangeet Kaur of ABAKY. "Our color belongs to all places and to all eyes. It is a recognition that awakens us in the purest form that exists."
If a picture is worth a thousand words, then these images smash the barriers that exist in yoga in a way that no dialogue can. KRI is looking forward to highlighting these images on our new website as we move to a more inclusive and informed paradigm. It is time to break down the barriers in yoga.
"Racism is the most explicit form of the social barriers that separate human beings according to color, loaded with value judgment," says Devaroop Kaur of ABAKY. "For people with black bodies, integration into society comes with the denial of their history, their faith, and their way of life. It is a denial that has many forms of expression and it impacts the potential in us of what is most vital and connective … our self-love, self-appreciation, and self-care. For years, black bodies were marked and perceived by themselves as unworthy of love and, above all, of self-love. And it is in this reality, in the dance of that polarity, that we are called to serve."
See for yourself and celebrate the experience of yoga as one-world – Yoga e Negritude

If you enjoy these photos, consider supporting the Yoga e Negritude project with a donation. The way to support ABAKY in Brazil is to send funds through PayPal, using the email Comunicacao@abaky.org.br. All donations go towards funding the studies of BIPOC children at Miri Piri Academy in Brazil.
Image provided by Bernard Machado

There is a lot more work to be done.
Yoga Research
Research Evidence for Yoga Practices in the Treatment of Respiratory Tract Infections
by Sat Bir Singh Khalsa, Ph.D.
There are credible strategies with reasonable supportive research evidence for the prevention of upper respiratory tract infections (URTI's), including yoga and other mind-body practices, which can enhance immunity and disease resistance while reducing their risk of occurrence, incidence/frequency as well as their severity and duration. However, the cure for the common cold virus, once you have it, has been elusive. At most, existing treatments in both conventional and complementary/traditional medicine have only been able to either manage the symptoms to relieve discomfort or possibly shorten the duration and or severity of URTI. For example, there is arguable evidence for the efficacy of vitamin C, echinacea, and zinc.
Although there are no published research studies of significance that have demonstrated the efficacy of mind-body practices, such as yoga, for reducing the duration or severity of an existing cold, recommendations for specific yoga practices and postures can be found in abundance with an internet search. It is likely that postures, breathing techniques, relaxation, and meditation can provide some symptom relief associated with the well-known benefits of these practices on stress, mood, and well-being that are of value with any disease. Given the efficacy of these practices as prevention in reducing URTI frequency and severity, likely through enhancement of immune function, it is conceivable that mind-body practices may also reduce the duration and severity once a URTI has started, but the research to evaluate this is yet to be done.
There is an ancient ancillary yoga practice that may have efficacy for the treatment of an existing acute URTI, and that is known as Jala Neti Kriya, practiced regularly by many regular yoga practitioners. Referred to in the medical literature as nasal saline irrigation (NSI), it involves flushing of the nasal passages with a saltwater solution commonly using a neti pot. There is good evidence that this practice is useful for allergic rhinitis and sinusitis, and studies are showing that it actually prevents the occurrence, incidence/frequency as well as the severity and duration of URTI's. Proposed mechanisms as to how NSI may address acute URTI symptoms have been described in a 2015 Cochrane systematic review published by an Australian research team and include: "clearing excess mucus, reducing congestion and improving breathing. It is thought to improve mucociliary clearance by increasing the ciliary beat frequency. As well as relieving sinonasal symptoms, saline irrigation may remove infectious material from the sinuses and reduce cough associated with postnasal drip." This review evaluated five published randomized controlled trials (RCTs) of NSI in participants with acute URTI's and concluded that there is limited evidence for benefit on symptoms. Two of the evaluated trials reported a reduction in the outcome of time to resolution of URTI symptoms but it was not clinically significant. One trial showed multiple statistically significant outcomes for the NSI group at follow-up, including reduction of sore throat, nasal secretion and secretion type, nasal breathing score, and a health status score. A more recent systematic review for SNI treatment of acute URTI in children and infants published in the journal Pediatric Respiratory Reviews analyzed four RCTs. The authors concluded that "Quantitative analysis of the trials showed that SNI is beneficial in the treatment of certain rhinological symptoms. It appears to reduce the incidence of URTI and its complications in the acute phase and in the long term." However, they did not find benefit for respiratory symptoms.
Perhaps the most convincing RCT study of SNI for the treatment of the common cold was led by Dr. Sandeep Ramalingam of the Royal Infirmary of Edinburgh in the UK and published in the journal Scientific Reports in 2019. In that study, 33 otherwise healthy participants who were studied within 48 hours of the onset of a URTI and practiced regular SNI reported multiple symptoms in a diary and took nasal swabs for analysis of the virus. The intervention arm subjects showed a significant average reduction in illness duration of 1.9 days, in the duration of runny nose of 1.8 days, in blocked nose of 2.7 days, in sneezing of 1.5 days, in cough of 2.4 days, and in hoarseness of voice of 1.7 days. Furthermore, both over-the-counter medication use and the degree of URTI transmission to others within their household contacts both dropped significantly by 36 percent and 35 percent, respectively. Finally, the objective outcome measure of viral shedding (when a virus replicates inside your body and is released into the environment) from the analysis of the swabs was also significantly reduced, suggesting an inhibitory effect of SNI on the virus activity itself. Interestingly, given the pandemic of COVID-19 (a coronavirus), the authors analyzed a subset of subjects in the trial who had different coronaviruses during the study, and in a paper entitled "Hypertonic saline nasal irrigation and gargling should be considered as a treatment option for COVID-19" in the Journal of Global Health, reported that these subjects had similar improvements as all of the other participants in the 2019 study. Furthermore, they also referenced their elegantly conducted in vitro laboratory research trials on the effect of the salt (NaCl; sodium chloride) in SNI on viral activity. In those studies, they found that NaCl has an antiviral effect that works across viral types in a mechanism in which the chloride ion is shown to enter the cells, which then leads to the production of hypochlorous acid by the cell, which is the active ingredient in bleach that is well known to inhibit viral activity. These results appear highly timely and significant, although the authors cautiously concluded that, "It is unclear if hypertonic saline nasal irrigation and gargling is also effective in COVID-19 caused by SARS-CoV-2; a trial is therefore urgently needed." Given the lack of known treatments effective for acute URTIs, the benefits of both the mind-body practices and the Jala Neti SNI technique within yoga practices appear to have significant potential as nonpharmacological treatments with very low risk of side effects that are both simple and easy to perform. There appears to be significant future research potential for these approaches to URTI treatment.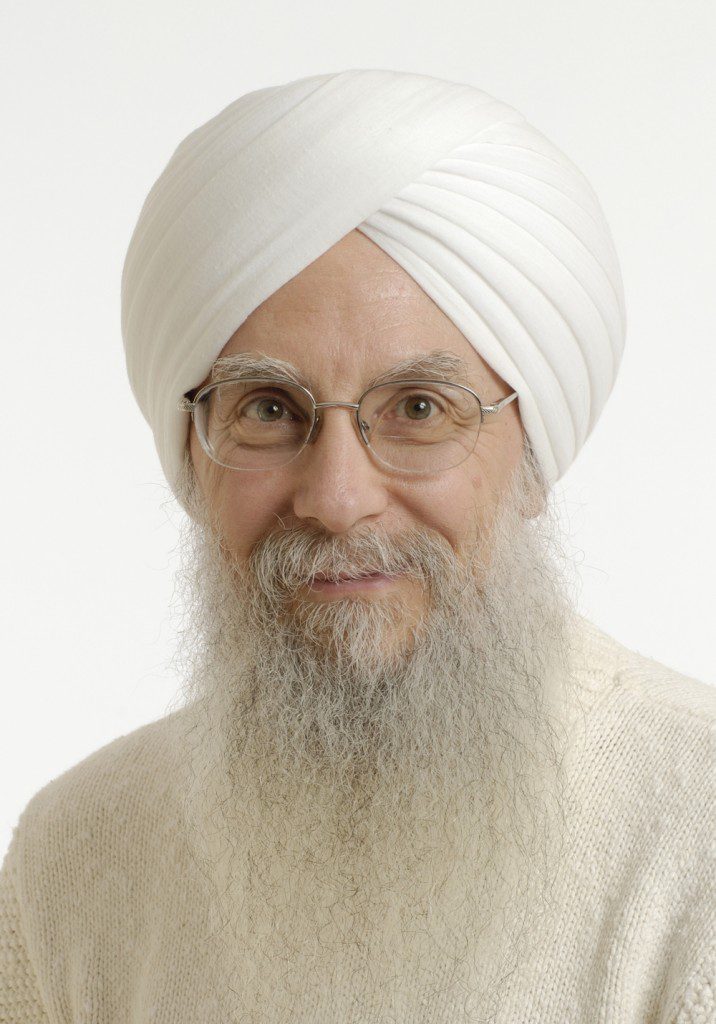 Sat Bir Singh Khalsa, Ph.D. is the KRI Director of Research, Research Director for the Kripalu Center for Yoga & Health, and Assistant Professor of Medicine at Harvard Medical School. He has practiced a Kundalini Yoga lifestyle since 1973 and is a KRI certified Kundalini Yoga instructor. He has conducted research on yoga for insomnia, stress, anxiety disorders, and yoga in public schools, he is editor in chief of the International Journal of Yoga Therapy and The Principles and Practice of Yoga in Health Care and author of the Harvard Medical School ebook Your Brain on Yoga.
Aquarian Development Series: Professional Development for Teacher Trainers
---
Wednesday July 8th 11:00-13:00 EDT. Join us live on Zoom – replay available one week later.
Our earthly experience is based on the balance of day and night, what is known and what is unknown, inside and outside. Each of us is given both the radiant, cozy light of our soul that is connected to all that exists, as well as what is hidden below our conscious awareness.
Mastering this inner polarity is the goal of yoga and meditation. The only way to truly accept that polarity we see in the world is to do it for ourselves first within. When we face our own shadow with courage and clarity, many gifts are unveiled to us. The capacity to hold the depth of this universal duality with compassion is a key foundation to continue growing as a teacher of truth. Accepting what is gives us the contentment and vitality to make the impossible possible day to day.
As sacred, powerful, and impactful as the Teachings are, the shadow of the genesis years of the Teachings and personality of Yogi Bhajan are an opportunity for us to go deep. Please join KRI and Deva Kaur from Florida to continue this work together.
Presented by: Deva Kaur has been practicing & teaching Kundalini Yoga & Meditation for over thirty years under the guidance of Yogi Bhajan. She created Yoga Source with Karen Darrow to create a sacred space for all different types of yoga & uplifting practices to have a cozy home here in South Florida. Deva Kaur is from Yoga Source, in Davie, and in Coral Springs, Florida.
---
July 14th, Tuesday 5PM EDT (New York)
Ramdesh Kaur shares with the Academy and KY Teachers how to be sure to use welcoming and inclusive language for all body types. Posture delivery cues, ways to allow and support all kinds of expression of this beautiful human body to feel welcomed, comfortable, and safe in your Kundalini Yoga offering.
Presented by: Dr. Ramdesh is the author of The Body Temple: Kundalini Yoga for Body Acceptance, Eating Disorders, and Radical Self-Love, and is also the author of Yoga and Mantras for a Whole Heart with co-author Karan Khalsa. She has many best-selling guided meditation albums that create deeply healing and accessible meditation experiences for all.
She is the host of Spirit Voyage Radio with Ramdesh on Unity FM and iTunes, a weekly podcast that brings mantra and meditation to over 300,000 listeners each year, and she is the founder of the Spirit Voyage Global Sadhanas, an online global meditation community of over 25,000.
---
July 14th, Tuesday 5PM EDT (New York)
Join us for a conversation with Gabrielle Congrave Baggenstoss, so that yoga teachers and trainers can be aware of what sex trafficking is and how to prevent harm to women/children in this world today. You will find out clear definitions, the intersection with trauma and addiction, and what you should know as a yoga teacher when you want to teach at a Crisis Center or for women recovering from Sexual Abuse. Walk away with understanding & practical tips.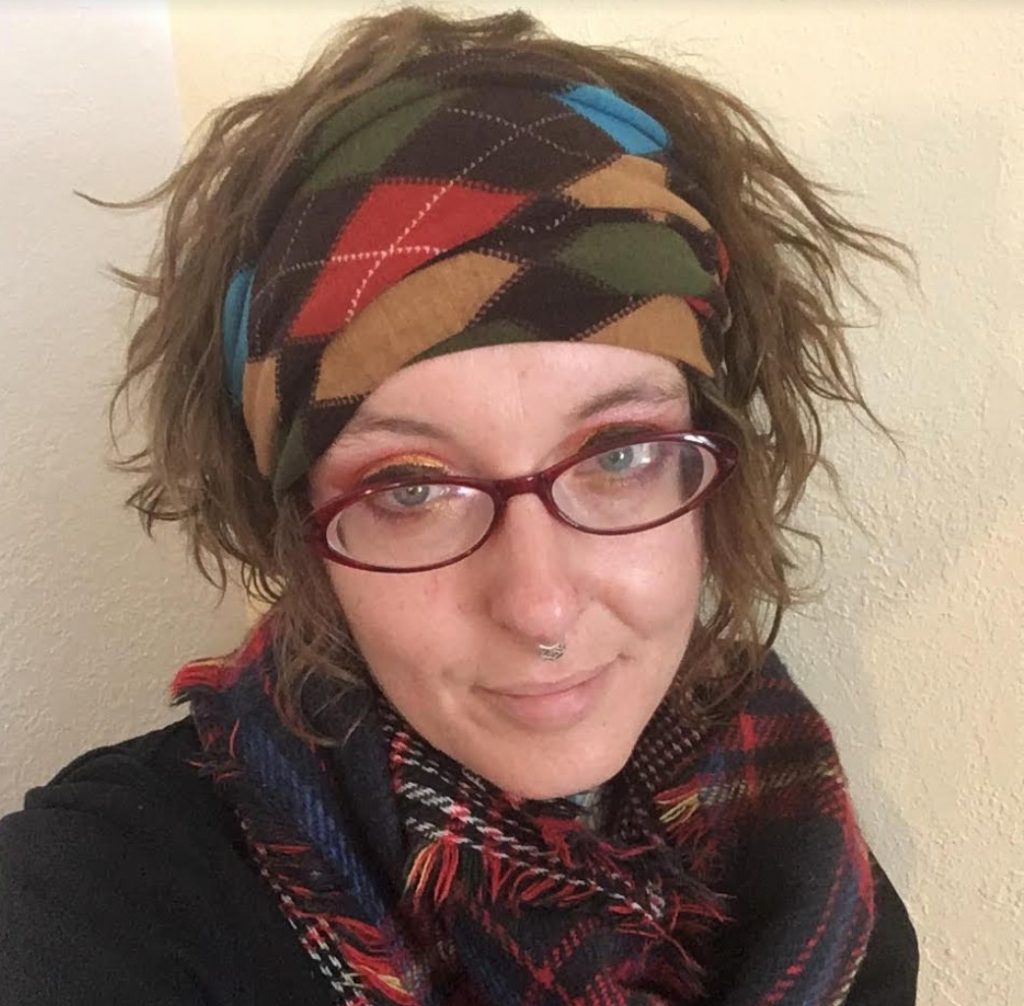 Presented by: Gabrielle Congrave Baggenstoss is a Coordinator and Advocate at Support Within Reach, a sexual violence resource center located in Northwestern MN. She is an E-RYT 200 and a YACEP, holding certifications in Hatha in the Himalayan Tradition, Kundalini Yoga, Yin Yoga, and Trauma Sensitive Yoga. Gabrielle also received her BFA in Professional and Creative Writing and works primarily with SEY (sexually exploited youth) using creative writing as art therapy and yoga to facilitate healing from sexual trauma. Gabrielle is a survivor of heroin addiction and commercial sexual exploitation.
---
Friday, July 17, 12-14:00 Eastern Time (New York)
Whatever the global situation might be presenting you with, this is an invitation to consider how we can come together as a community to create a connection. Our time together will explore this territory in a safe, supportive, and even playful environment as we bring the nuances of our personal experience into presence in our collective container.
This virtual gathering will offer a relational space to discover our common humanity through the practice of deep listening and embodied presence. This is an experiential and experimental event, where we lovingly step into new ways of being together and hold space for a deeper and more personal understanding of community to emerge.
We'll engage in a social presencing process and have an opportunity to share with each other in a meaningful way.
Presented by: Natasha and Lorenz Sell have been guiding and facilitating small group interactions since 2012. They are co-founders of sutra.co, a software platform designed around small group learning online. Sutra supports the Harvard Program in Refugee Trauma, leadership programs at UNICEF and the Presencing Institute, as well as many other organizations and individuals in creating online learning experiences that foster deep connection and communication.
Their work integrates a masters study from the Harvard Graduate School of Education with Theory U work from MIT professor Otto Scharmer and Immunity To Change methodologies from Harvard professors Robert Keegan and Lisa Lahey.
---
Join us Friday July 24th at 12 Noon EDT (New York City)
As with a Kriya or a difficult yoga posture, we hold the space to find comfort in the discomfort of the experience. We can hold a similar space for conversations around our community's relationship with diversity and inclusion. This workshop will require us to relax into the discomfort as we learn a few concepts, integrated with storytelling and dialogue. Here's your chance to ask questions of our presenter and of each other.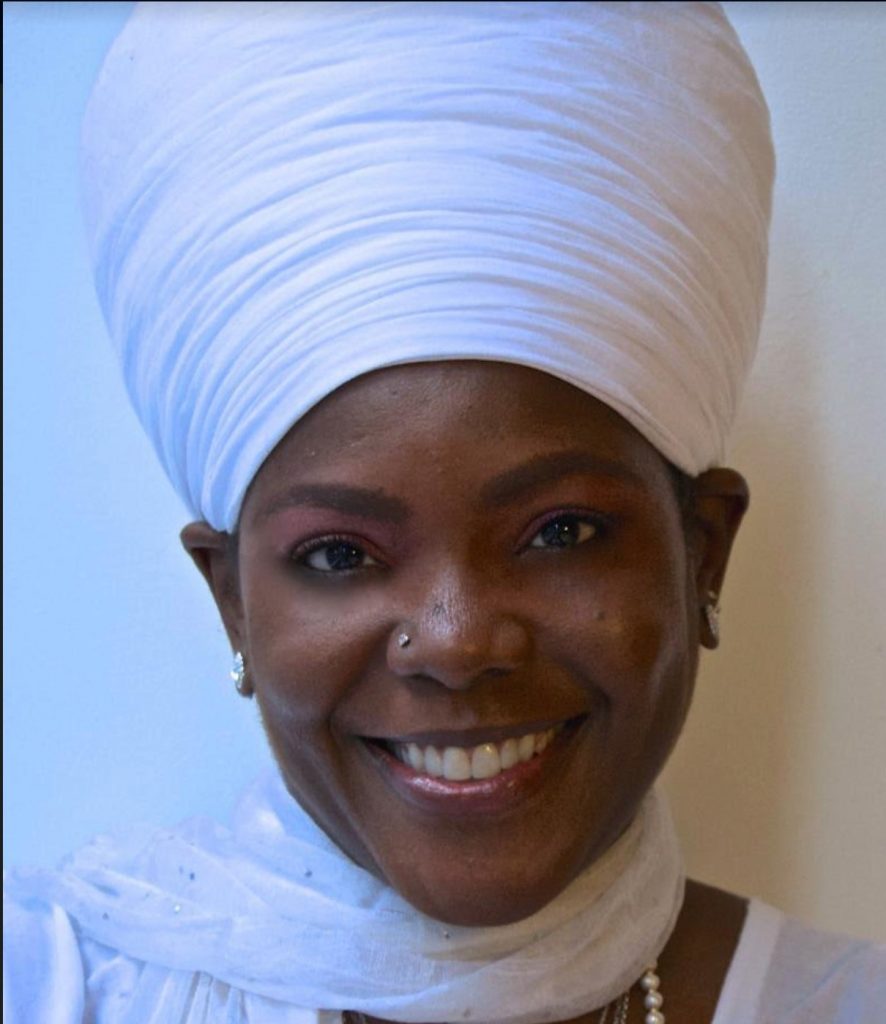 Presenter Bio:  Vedya Amrita Kaur is a KRI Certified Kundalini Yoga Teacher, Aquarian Trainer Academy Member and a Board member of the Kundalini Research Institute.  She has taught for 16 years in various venues: yoga centers, gyms, social activist seminars, and corporate retreats across New York City and Atlanta, Georgia.   Vedya Amrita loves the opportunity provided by seemingly unlikely pairings, such as partnering with Buddhist monks, Baptist Reverends and more illustrating a wonderful blending of technologies.  Vedya Amrita is the owner of Glowing House, Inc. a wellness experience specializing in Colon Hydrotherapy; Ayurvedic Counseling, and the healing benefits of Kundalini Yoga and Meditation. Vedya Amrita's enthusiasm, empathy, and love allows for a thriving space of empowerment and transformation.
Connect – Engage – Lead
Moving Forward Together as Trainers in the Aquarian Trainer Academy
KRI will have its first annual Global ATA Trainer Forum & Online Summit on July 9 – 11, 2020. Trainers from different regions of the world will engage, dialog, and work together towards collective change.
A Global Online Forum & Summit
For many years KRI has offered Trainer Forums in regions around the world –Australia, China, Europe (European Yoga Festival), Malaysia, Mexico, South America (Chile, Brazil, and soon Argentina), USA (Summer and Winter Solstice), and this year we had planned a meeting for all trainers in South Africa. Due to Covid-19 we had to cancel the meetings at Summer Solstice and the European Yoga Festival, which provided the opportunity for a creative solution: a global online Forum & Summit.

Culture, Communication, and Community
This has been the theme for the past three years for all of the regional Forums and little did we know how well this would prepare us for the Forum & Summit. During these years, we have focused on how to listen deeply to one another and how to be authentic in our communications; we have reframed Poke-Provoke-Confront-Elevate into a formula for compassionate understanding, and we have explored what it takes to build trust. We have identified these skills as foundational blocks to sustain supportive communities that are grounded in shared values. This work had begun and now we can apply these experiences to our next step together.
Connect – Engage – Lead
These three words are seeds of intention for each day of the Forum & Summit. On Day One we will connect, getting to know one another and building a container of understanding that allows for open, creative dialog. Participants will be welcomed with music and joy. There will be time for small group sharing with different cultures, as well as time for meeting within one's own region and language to discuss what is important on a local level. Day Two we will engage through the process of Open Space Technology (OST). Participants will self-initiate topics to explore, and thus the agenda will be determined by these critical conversations. These OST discussions serve as a starting point for how we, as a community, choose to move forward. Throughout this three-day process, new leaders will arise. Day Three asks of those leaders and all Forum & Summit participants to consider what they are taking on and how we will, as a collective body, lead the way into the future.
The allegations against Yogi Bhajan, the Covid-19 pandemic, and the call for racial and social justice worldwide, demands that we self-reflect as individuals and as a community. The Global Forum & Online Summit serves to initiate this process of examining the values, the culture, and the service that we are called to do together.
The Global ATA Trainer Forum & Online Summit is open to all who are in the Academy, as well as those who are interested in joining. There are two tracks to allow trainers in every time zone the possibility of attending.
For more information, to view the schedule, and to register please go to: https://na.eventscloud.com/ehome/534606
KRI JULY 2020 Newsletter Specials
Senses of the Soul
Emotional Therapy for Strength, Healing and Guidance
By GuruMeher Singh Khalsa
Emotions are the senses of your soul. Recognizing emotions as guides and allowing them to help you transcend suffering and thrive will lead to a peaceful, abundant life.

Senses of the Soul reveals how to…
Allow your emotions to serve you rather than control you.
Find answers on your own to solve problems instantly
Quit living with pain and past traumas, and resolve issues at their source
Trust yourself and maintain personal power within relationships
Discover strength in sensitivity and gain control over how you feel
Retail: $29.95
---
A Taste of India
Bibiji Inderjit Kaur Khalsa, PhD
*Secrets from the Ancient Ayurvedic Science of Life
*An Indian Cookbook for the Health-Conscious Gourmet
*Over 180 delectable kitchen-tested recipes
*Complete Instructions for serving an authentic Indian
meal
Recipes to uplift the soul and open the heart, Bibiji's cooking philosophy is that the love you put into the food you make is the purest nourishment of all. In A Taste of India, you will discover tips for preparing
food at home that fulfills the palate and brings your healing touch into your food and your home.
Regular Retail: $18.95
---
KRI Recipe of the Month July 2020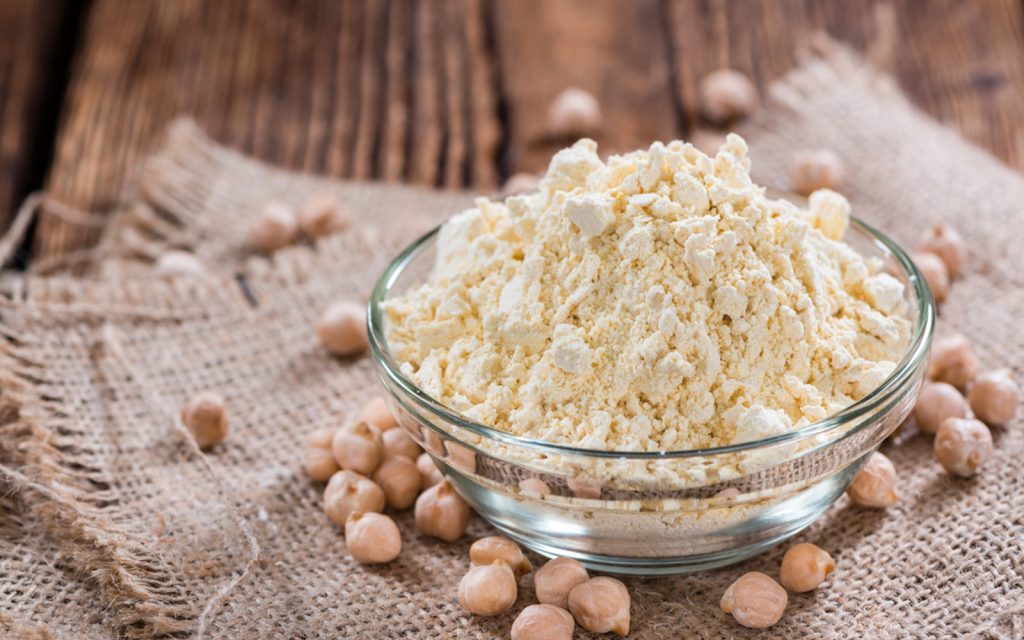 Taken from "A Taste of India, Second Edition" by Bibiji Inderjit Kaur Khalsa, PhD
Two Variations on Garbanzo Flour Pancakes
These recipes are for savory pancakes that are high in protein and gluten-free.
Garbanzo Flour Pancakes with Mung Bean Flour
1 cup garbanzo flour
1 cup mung bean flour
¼ teaspoon baking soda
1¾ cups water (approximate)
1 cup chopped onions
¾ cup peeled and finely chopped fresh ginger
1 teaspoon minced garlic
1 teaspoon salt
½ teaspoon crushed dry red chilies, or to taste
½ teaspoon oregano (ajwan) seeds
1 tablespoon Kasoon Methi (available at Indian grocers)
In a large bowl, mix together the two flours and baking soda with enough water to make a pourable batter, being sure that no lumps remain. Add the remaining ingredients and mix well.
Heat a skillet or flat pan with 1 teaspoon of olive oil. Pour or ladle about ¼ cup of batter into the pan.
When the bottom of the pancake is golden brown, flip with a spatula and allow the second side to cook. (When both sides are golden brown; if you want to make it crispy, touch each side with oil and cook each side for 30 seconds longer.) Repeat with remaining batter, adding a teaspoon of oil before each ladle of batter.
Serve with yogurt.
Yield: 16 pancakes"
Garbanzo Flour Pancakes with Mashed Potatoes
1 cup garbanzo flour
½ cup mashed potatoes
¼ teaspoon baking soda
1¾ cup water (approximate)
1 cup grated zucchini
1 cup chopped onions
¾ cup peeled and finely chopped fresh ginger
1 teaspoon minced garlic
1 teaspoon salt
½ teaspoon crushed dry red chilies, or to taste
½ teaspoon oregano (ajwan) seeds
1 tablespoon Kasoon Methi (available at Indian grocers)" "1 tablespoon Kasoon Methi (available at Indian grocers)
olive oil for cooking
In a large bowl, mix together the flour, mashed potatoes, and baking soda with enough water to make a pourable batter, being sure that no lumps remain. Add the remaining ingredients and mix well.
Heat a skillet or flat pan with 1 teaspoon of olive oil. Pour or ladle about ¼ cup of batter into the pan.
When the bottom of the pancake is golden brown, flip with a spatula and allow the second side to cook. (When both sides are golden brown; if you want to make it crispy, touch each side with oil and cook each side for 30 seconds longer.) Repeat with remaining batter, adding a teaspoon of oil before each ladle of batter.
Serve with yogurt.
Yield: 12 pancakes