---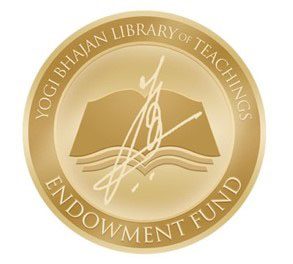 The Yogi Bhajan Library of Teachings Endowment Fund

SUPPORT THE KUNDALINI RESEARCH INSTITUTE & THE LIBRARY OF TEACHINGS

---
A Note From Nirvair
Sat Nam.
Greetings and Happy New Year from New Mexico! I am looking forward to a great new year and a new decade with all of you.

Jai Gopal Kaur Khalsa


Tarn Taran Singh Khalsa & Taran Tarn Kaur Khalsa


Sat Simran Kaur

Speaking of greatness, KRI® is honoring four individuals in 2020. The KRI Board has selected Tarn Taran Singh Khalsa, Taran Tarn Kaur Khalsa, Jai Gopal Kaur Khalsa, and Sat Simran Kaur for their many years of service to KRI, and for their steadiness and dedication to Kundalini Yoga as taught by Yogi Bhajan®. These great teachers have taught, organized, served, and inspired thousands of students and teachers over the decades. I am very happy that we can honor them on our web site for all of 2020.
Here is what Yogi Bhajan said about New Year in 1990.
"I am not in a position to be with you for New Year's Day, so I leave you with a message for you to understand. Basically, I have only one thought at this moment to share with you. Just remember, when you have walked up to the finite-limit of the last day of your life, for which you will walk, that is your cruise. But [you are not finished.] You still have to walk onto the Infinity by the will of your spirit. You have to prepare so that life in its ecstasy, joy in its reality, and truth in its blossom-ness will give you the spirit and overwhelming capacity to deal with the problems that we are going through. … It is my pleasure to wish you a Happy New Year and it is my joy to be with you through these words. Just remember,
Har, Har, Har, Har Gobindey.
Har, Har, Har, Har Mukundey
Har, Har, Har, Har Udharey
Har, Har, Har, Har Aparey
Har, Har, Har, Har Hari-ung
Har, Har, Har, Har Kari-ung
Har, Har, Har, Har Nirnamey
Har, Har, Har, Har Akhamey
"Those eight words, with four "Har" as creative appreciation, shall bring prosperity. And please remember, don't forget it, we all want to be prosperous, happy, and purposeful. The new year is going to be very clearing. Wahe Guru Ji ka Khalsa, Wahe Guru Ji Ki Fateh" – Yogi Bhajan, December 30, 1990
Thanks again for a wonderful 2019! Numerologically, 2020 is a "4" year. This is the Neutral or Meditative Mind in Yogi Bhajan's ten-body system. It is a time for all of us to heal others and ourselves, demonstrate our service, our kindness, and our meditative compassion to our families, our Dharma, and our planet. May your New Year be filled with good cheer, blessings, and deep contented happiness.
In God, I dwell,
Nirvair Singh Khalsa
CEO KRI
---
---
Level Three Teacher – Realization

Mark your calendar for the New Mexico Level Three Mela!
June 14 – 16, 2020

Deadline for 2020 Level Three applications has been extended to February 29, 2020

---
The Role of Kundalini Yoga in Psychotherapy
By Madhur Nain Webster
What is the true objective of psychotherapy? I was thinking of this question the other day after contemplating how my approach to therapy affects my clients and their overall experience. Some people only come in for a check-up or tune-up, while other clients have been working with me regularly for four years or longer. The varying frequency of each client's therapy sessions, and therefore my role in their lives, got me wondering, "What is my purpose as a therapist?"
Of course, the main purpose of therapy is to help people. My function as a therapist is primarily to help them get moving in their lives, eventually on their own. However, this doesn't always happen. It is a difficult truth for therapists to accept because it makes us confront the real-ity that we may not have provided the optimal guidance our clients need to yield the best results.
I believe much of the healing experience in therapy, or lack thereof, is due to the rela-tionship between the therapist and client. When someone attends therapy they go there to talk. Or, at least, that is the general assumption. Sometimes clients visit their therapist for guidance on processing their lives. They need help to try and make sense of something that is plaguing their mind, or to try and heal their minds after dealing with pain established during various stages of their life. Sometimes a session will result in a big epiphany, but other times that epiphany never happens. Sometimes a client will find peace with their situation, while others will continue to struggle.
How comfortable a client feels with their therapist is key when it comes to opening up and sharing their dilemma, which ultimately affects how much advice a therapist can offer. When a client is comfortable enough, they can be real with themselves and with others; they are also more willing to listen after establishing a mutually respectful relationship. If a client does not "click" with their therapist, they are wasting their time and money. There has to be some kind of spark between the two parties that ignites an engine of trust allowing the client to open up not only to themselves but to their therapist as well.
The concept of a therapist teaching a client to truly connect to themselves is not always easy to address. After all, how can we teach our clients to trust if we don't fully feel it ourselves? How can we encourage our clients to open up and reveal their inner truths if we don't know what it means to expose our own authentic self? My personal solution to this issue has been achieving and maintaining a strong sense of self-awareness. I do this with deep reflection through the daily practice of meditation.
For over thirteen years I have practiced Kundalini Yoga as taught by Yogi Bhajan, with-out missing a single day, and have seen its positive results in my own life. It is something I per-sonally believe has been a useful therapeutic tool. I knew that I had to have this authentic expe-rience with meditation before offering it to my clients for their own self-healing purposes. Now-adays, I encourage 75 percent of my clients to practice daily meditation at home as part of their healing process.
As therapists, we are always directing our clients to walk daily, drink more water, drink less coffee, write in a journal, spend time in nature, and develop other positive habits. All of that is good, solid advice that is easy to accomplish. So why is it that so many people have a hard time changing their habits and following through with their homework? Is it because they do not like to be told what to do? Is it that they are afraid of change? Is it that they don't know where to start? No matter the excuse, the outcome is the same – they remain "stuck" in the old, and some-times destructive, mental patterns.
I teach my clients about Kundalini Yoga and meditation specifically, as this is the yoga of self-awareness. Being "self-aware" does not mean you are just awake in your life; it means that you are capable of self-reflecting so that you are active in your self-corrections. Being self-aware means that, because you recognize your issues, you can trust yourself to work through them. With practice you are able to uplift yourself through self-reflection. Instead of feeling stuck, daily practitioners recognize the moves they need to make in life — and then they initiate the proper movements to push their mind into a more positive state.
Kundalini Yoga guides us to poke, provoke, and confront the mind. While confrontation often has a negative connotation, it does not have to be a negative action; in fact, if approached correctly it can result in positive results. Yes, confronting the self may be difficult at first, espe-cially because it involves being insightful and perceptive to your own needs. But, as my mother says, "Life without conflict is life in a coffin." If we do not confront ourselves and recognize our issues, we will remain stuck in our old ways of thinking and being. Being honest is being honora-ble.
Kundalini Yoga is a tool that helps people get unstuck and out of their own way. The trick is that you have to be able to self-initiate and show up in a class. Once you are there and you tune into the space with the rest of the meditators your journey will begin. This journey entails self-discovery and facing your innermost issues – fear, embarrassment, anger, uncomfortableness, or other internalized feelings. Kundalini Yoga helps us to break through those barriers. The process of meditation provokes this self-examination through deep insight. When the client has this ex-perience and then comes to therapy, they are more equipped to share their feelings with their therapist. The deeper work can then continue.
Most of us don't want to face our problems or even think about them. We assume that over time we will forget about the issues and that they will go away. However, problems don't always just disappear. When we find we can't face issues that continue to haunt us, then we can't evolve and change in other parts of our psyche. When we don't change, we sit in stagnan-cy and continue to suffer; this can directly result in anger, anxiety, depression, and other "stuck" feelings. This is when self-awareness is critical to the process of healing and this self-awareness is the goal of Kundalini Yoga. That is why I believe more therapists should encourage their clients to practice meditation at a studio while they regularly attend therapy. It will support your client in their life goals, including the process of healing.
The one constant in life is change. Like a running stream, we need to continue evolving just as we continue breathing. This is why I recommend Kundalini Yoga and meditation to help initiate change in the mind, body, and soul. It will change your thoughts. Talk to your own ther-apist about attending yoga classes and setting goals about what you hope to achieve by utilizing meditation practice. Try attending classes twice a week for at least three months to help establish a rhythm. Eventually, yoga and meditation will become a healthy habit; a habit that will help support other self-healing tools such as daily walks, water intake, mindful journaling, and more.
Find a Kundalini Yoga and meditation teacher near you by visiting the International Kundalini Yoga Teachers Association.
Madhur Nain Webster
Born into an ashram in Amsterdam and raised by spiritually-minded parents, Madhur-Nain Webster's life has been balanced by the traditions and practices of Kundalini Yoga. Her love of humanity and fascination with the human mind and behavior guided her towards a career where she could influence people and enrich their lives through the use of meditation.
She received her master's degree from the University of Oregon and current practices as a licensed Marriage and Family Therapist in Napa, California. Madhur-Nain is a Lead Kundalini trainer and teacher as certified by KRI.
She travels around the world to share her yogic experience and knowledge with those looking to enhance their lives. Her book, The Stressless Brain, is available on The Source. "Breathing keeps you alive, meditation keeps you sane."
---
KRI Specialty Training – SuperHealth
"Let there be no misunderstanding. As yogis, we have no idea or inclination to use drugs. Drugs are the worst thing on the planet. The non-clinical use of drugs is destructive to both mind and body. We have never supported drugs and will not support them now or at any time in the future. This has to be very clearly understood. We cannot lead anyone who seeks these teachings into a path of destruction, which is the only path of drugs. Our reality is a God-conscious reality of happiness, health and prosperity which leaves no room for the destruction of the self-caused by the use of drugs. It is our policy to exalt the self." ~Yogi Bhajan, April 27, 19941
We live in a time where taking drugs and alcohol have become a way of life. The opioid crisis is running rampant and abuse of prescription medications leads to a serious addiction. Today, every 19 minutes there is an accidental drug overdose in the United States.
Yogi Bhajan understood the onslaught of stress, an overload of information and constant social pressure, that would be bombarding our psyche. He understood what the future held and gave us healthy ways to navigate these addictions with the precise science of SuperHealth®.
He referred to Kundalini Yoga teachers as "analytic technicians of the teachings" and ones who would give hope to the hopeless and strength to the weak. SuperHealth consists of very specific Kundalini yoga sets, meditations, sound healing, mantra, breathwork, restorative nutrition, therapeutic juice formulas, and Humanology teachings. All of them work together to bring one to the most optimal physical and mental vitality and spiritually — from recovery to self-discovery.
Click here to learn more about how SuperHealth technology helps with addictive substances and behaviors.
SuperHealth hosts its annual Specialty Training "Yogic Science to Break Habits & Addictive Behavior" in Espanola, New Mexico on March 21-28, 2020. Join Kundalini Yoga teachers from around the world in learning about SuperHealth. Experience the teachings and serve the world!

Mukta Kaur Khalsa was trained personally by Yogi Bhajan in SuperHealth therapies for over 35 years. The sensitivity and insight she obtained gives her a unique ability to blend yogic science with health and healing. She is the Director of SuperHealth, Nationally Certified Addictions Counselor, Licensed Professional Mental Health Counselor and Drug & Alcohol Counselor, Special Representative to the United Nations Office of Drug Control and Crime, Vienna, Austria. She is the author of two books "Meditations for Addictive Behavior" and "Healing Addictive Behavior."
1This quotation is from Mukta's contemporaneous notes and cannot be verified in the Yogi Bhajan Library of Teachings.
---
Ethics and Professional Standards
The Office of Ethics & Professional Standards & Conscious Conflict Resolution (EPS) works to maintain the ethics and integrity of all the Yogi Bhajan-inspired entities and communities including Kundalini Yoga students, KRI-certified Teachers, and KRI Teacher Trainers.
If you are facing ethical, environmental, or professional difficulties within the KRI teaching community and you need assistance, help is at hand. EPS introduces a confidential Helpline – 1.888.805.4888 – available to all students, teachers, and trainers, 24 hours a day, seven days a week. This helpline offers you a safe avenue to communicate if you feel that your rights as a Kundalini Yoga student have been disregarded.
Know your rights and stand for your rights. We will stand with you.
For more information about EPS and the complaint procedures, visit us online.
Know your rights – 10 Rights of a Kundalini Yoga Student
---
Yoga for Treating Obsessive Compulsive Disorder
Sat Bir Singh Khalsa, Ph.D.
Obsessive-Compulsive Disorder (OCD) is a psychiatric condition that was previously classified as one of the anxiety disorders, specifically as a personality disorder, but is now classified in the new diagnostic category of Obsessive-Compulsive and Related Disorders. Patients with OCD experience uncontrollable and continuously reoccurring thoughts or obsessions and/or compulsive behaviors that are severe enough to interfere with their lives. Obsessions include symptoms such as uncontrollable fear of germs or contamination, aggressive thoughts, unwanted forbidden or taboo thoughts on sex, religion, or harm, and insistence on things being symmetrical or in order. Compulsions are uncontrollable, ritualistic, or habitual behaviors in response to obsessive thoughts such as excessive cleaning or handwashing, ordering objects in a very precise way, counting, and repeatedly checking to see if everyday tasks have been done. Symptoms of OCD have been portrayed by actor Jack Nicholson in the movie As Good as It Gets and actor Tony Shalhoub in the TV series Monk. Although these showed some humorous circumstances, OCD is a bona fide mental health disorder that can cause significant suffering. The USA Network that aired Monk, launched a public service campaign to increase awareness of OCD and its treatment and the show's website provides OCD information.
The overall prevalence of OCD in the population is about 1 percent, with about half of patients exhibiting a serious impairment; it is higher in females and is highest in young adulthood but decreases with age. Potential risk factors for OCD include a genetic predisposition, specific abnormalities in brain structure and function, and childhood trauma although the underlying cause of this disease is unknown. Conventional treatments have included pharmaceuticals, psychotherapy including cognitive-behavioral therapy (CBT), and brain stimulation therapies. However, despite significant improvements with these treatments many patients are still left with significant symptoms, suggesting the need for additional treatment strategies.
Research on mind-body therapies, such as progressive relaxation, have shown some benefit. One of the first reports of meditation/mindfulness for OCD was a single-patient case report published in 2008 involving mindfulness researcher James Carmody showing that an adapted form of the Mindfulness Based Stress Reduction (MBSR) program yielded significant improvement in the score of the clinician-administered Yale-Brown Obsessive-Compulsive Scale (YBOCS), the most common clinical instrument for this disorder. At a 3-month follow-up, the patient exhibited only mild OCD symptoms with improved quality of life and functioning including return to full time work. However, he noted "a need for continued mindfulness practice in order to refine his ability to bring 'mindfulness to everyday OCD.'". Subsequently, a number of OCD studies including randomized trials (RCTs) have demonstrated the efficacy of mindfulness-based treatments such as the Mindfulness Based Cognitive Therapy program (an MBSR derivative) and so-called "third-wave" therapies, melding mindfulness-related practices with CBT. A 2019 review of "new-wave" OCD treatment studies in the Indian Journal of Psychiatry by authors from the prestigious National Institute of Mental Health and Neurosciences (NIMHANS) in India, identified 40 published trials that provide encouraging evidence for these therapies on OCD symptoms.
The basic premise behind the use of meditation/mindfulness-based approaches is the increase, with practice, in the self-regulation of attention, which is at the heart of meditation and yogic practices as originally described in Patanjali's Yoga Sutras. This ultimately leads to the capability of meta-cognition, the skill of self-regulation of thought processes and the realization that one's true identity/self is beyond thought processes, and therefore that thought processes can be regulated, even if those thinking patterns are dysfunctional, as they are in OCD. An example of this can be seen in a quote from a subject in a 2012 qualitative study of MBCT in Germany: "When this urge comes, like let's say, I want to step out right now and wash my hands, that I then first pause for a second and remind myself to also be mindful with myself…". Recent research on mindfulness-based approaches is now actually investigating which specific aspects of mindfulness are most effective in countering obsessive intrusive thoughts (OITs). A 2018 paper in the journal Mindfulness concluded that "…acting with awareness and acceptance may confer protective characteristics in relation to OITs, but that the observe facet may reflect a hypervigilance to OITs. Mindfulness-based prevention and intervention for OCD should be tailored to take account of the potential differential effects of increasing specific facets of mindfulness."
Research on yoga practices for OCD actually predate studies of meditation/mindfulness alone. In 1996, a case series yoga-for-OCD-treatment study was published in the International Journal of Neuroscience by David Shannahoff-Khalsa. The intervention consisted of a series of physical exercises followed by multiple specific meditations that incorporated posture, breath regulation, and mental focus (some of which could be practiced for up to 31 minutes) intended to reduce anxiety, stress, and mental tension from Kundalini Yoga as taught by Yogi Bhajan. It also included a key yoga practice thought to be specific for OCD, a specific left-nostril breathing meditation that included breath retention after the inhale and exhale. Most of the subjects completing the trial showed a substantial average improvement of 54 percent in YBOCS scores at three months, with some of these experiencing continued improvement up to one year. This study was followed by an RCT published in 1999 that added researchers from the Scripps Research Institute and the University of California, San Diego. The primary treatment group practiced an hour-long version of the Kundalini Yoga practice from the earlier study, whereas the other group practiced relaxation response and mindfulness meditation practices for 30 minutes. After 3 months of treatment, improvements in the yoga group were significantly greater than those in the meditation group on the YBOCS and on another measure of obsessive compulsiveness and mood disturbance. Subjects in the meditation control group then underwent the yoga protocol, and the now-combined treatment group showed continuing additional improvements in YBOCS scores continuously through the 15-month evaluation. The degree of improvement at 3 months was clinically significant and on a par with conventional pharmaceutical treatment suggesting that this yogic therapy is a viable, and potentially preferable, behavioral intervention.
The latest RCT study of Kundalini Yoga for OCD in Brazil has been published in the prestigious journal Frontiers in Psychiatry in November of 2019. For this study, Shannahoff-Khalsa was joined by a team that included researchers from the Department of Psychiatry at the University of Sao Paulo, and together completed a larger RCT with a similar design to the study in the 1999 paper, with the control group practicing the relaxation response meditation. After four-and-a-half months of treatment, the improvement in the YBOCS score was significantly better than that in the control condition. Subjects completing the yoga treatment experienced a 40 percent improvement, which was similar to that for the previous study; about one third of the patients in the yoga group were in full remission from the disease. In addition, secondary measures from validated questionnaires for mood disturbance, anxiety, and depression also showed improvements with yoga that were significantly better than the control group. In a second phase of the study, in which control subjects then also underwent the yoga treatment protocol, the results for the YBOCS and secondary measures were again similar to the previously published RCT in which improvements continued through about one year of treatment time. The authors concluded that Kundalini Yoga as taught by Yogi Bhajan "shows promise as an add-on option for OCD patients unresponsive to first-line therapies".
The only other trial evaluating a yoga intervention for OCD was published in 2016 by a NIMHANS research team. This trial was largely designed as a preliminary test and refinement of a hatha yoga protocol but did include a small single group treatment trial. This study reported a statistically significant improvement in the average YBOCS score for 10 subjects completing two weeks of the treatment with score improvements similar to those for the Kundalini Yoga trials.
Clearly, there is now reasonable preliminary evidence for yoga as a treatment modality for OCD. The meditative component of yoga may be one mechanism by which yoga is exerting clinical improvements, and it remains to be determined how much the postures and breath regulation practices may also be contributing.
Additional research is warranted for yoga as a behavioral treatment that provides an additional option for patients, which is free from side effects of pharmaceuticals and may provide benefits in patients who have had experienced insufficient improvement with conventional treatments.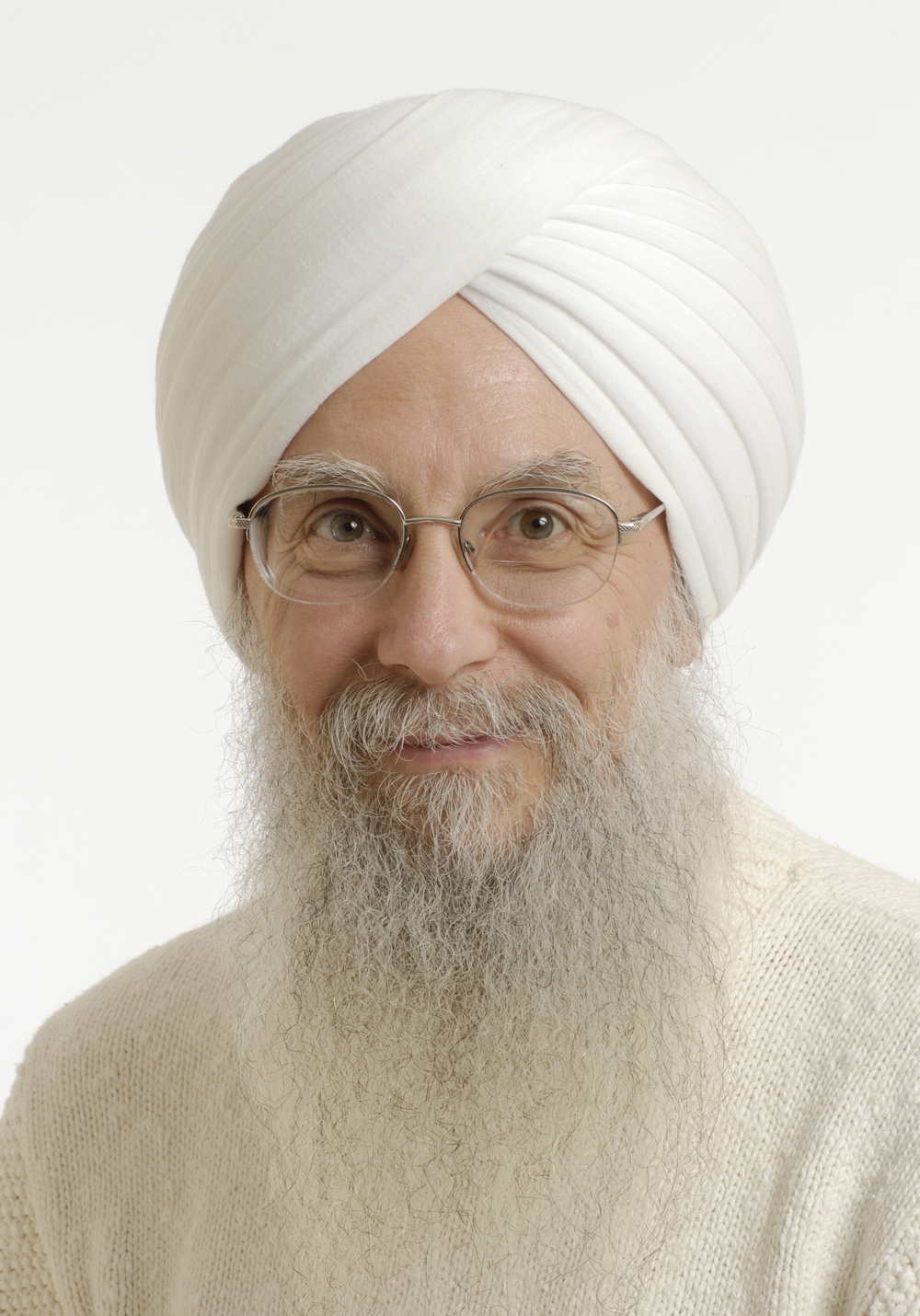 Sat Bir Singh Khalsa, Ph.D. is the KRI Director of Research, Research Director for the Kripalu Center for Yoga & Health, and Assistant Professor of Medicine at Harvard Medical School. He has practiced a Kundalini Yoga lifestyle since 1973 and is a KRI certified Kundalini Yoga instructor. He has conducted research on yoga for insomnia, stress, anxiety disorders, and yoga in public schools. He is editor in chief of the International Journal of Yoga Therapy and The Principles and Practice of Yoga in Health Care and author of the Harvard Medical School ebook Your Brain on Yoga.
---
Sat Nam from The Yogi Bhajan Library of Teachings
Happy New Year to all the Kundalini Yogis around the world! I offer my deep prayers for health, happiness, and peace to all people of the earth.
The Yogi Bhajan Library of Teachings bring us so much information that is useful in our everyday life. This month, we are featuring Pittra Kriya, a beautiful kriya to shed stress and increase vitality. This 33-minute yoga set is a great one to use in yoga class after a nice warm-up and followed by a deep relaxation. These exercises must be done together, and not for more or less than 11 minutes each. If you are suffering from stress or grief, practice this kriya as a 40-day sadhana to re-set your mental flow. Yogi Bhajan said, "If you can spare 33 minutes in your life to do this kriya, you can eat up your own stress. The first exercise is going to take care of your glandular system and will affect the liver; it will relax you. The second exercise will balance the chakras. The third exercise will balance your parasympathetic and sympathetic nervous systems."
From all of us at the Library of Teachings, we wish you all the best for 2020. Make it a good year!
In Gratitude,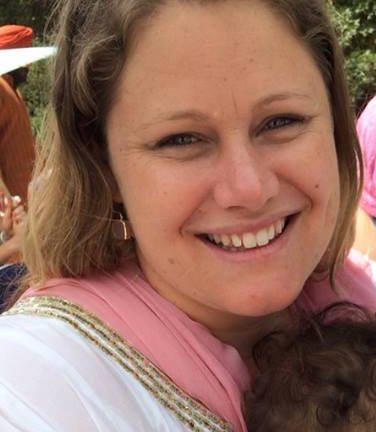 Shabd Simran Kaur Adeniji, Fundraising Coordinator
The Yogi Bhajan Library of Teachings®
Kundalini Research Institute
Email: donations@kriteachings.org
Find us on Facebook "The Yogi Bhajan Library of Teachings"
www.libraryofteachings.com
The Yogi Bhajan Library of Teachings is a non-profit organization and all donations are tax-deductible under IRS code 501(c)(3).
---
KRI Specials for January 2020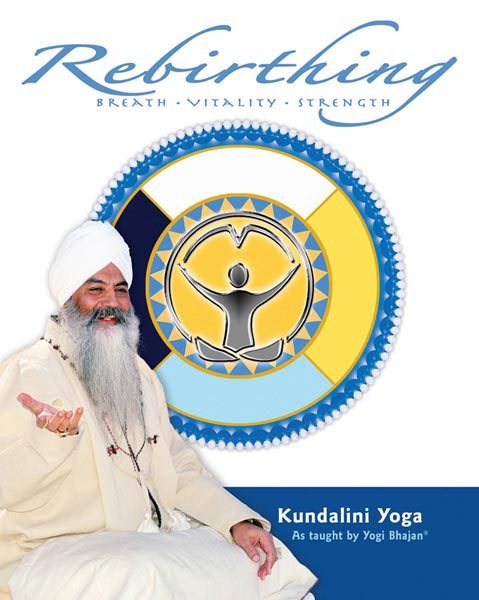 Rebirthing
Breath, Vitality & Strength
Kundalini Yoga as taught by Yogi Bhajan®
The idea of rebirthing is to release the subconscious, the storehouse of misery. – Yogi Bhajan
Heal the pain and overcome the obstacles that keep you from living your best life-awakened, rejuvenated, and present to your purpose.
Rebirthing courses by Yogi Bhajan are some of the most talked about classes he offered in his 35 years of teaching. These kriyas are now available in a single manual along with the lectures that accompanied them.
All 32 courses are represented in this manual; and 24 are available in the accompanying DVD series.
Courses include:
Clearing the Magnetic Block from the Womb
Removing the Fears from the Fifth Month in the Womb
Unloading the Pain of Perpetual Memories
Ghost Kriya: Clearing the Ghosts and Opening Intuition
Forgiveness and Unloading the Subconscious Garbage
Regular Retail: $39.95
Promo: $33.96
---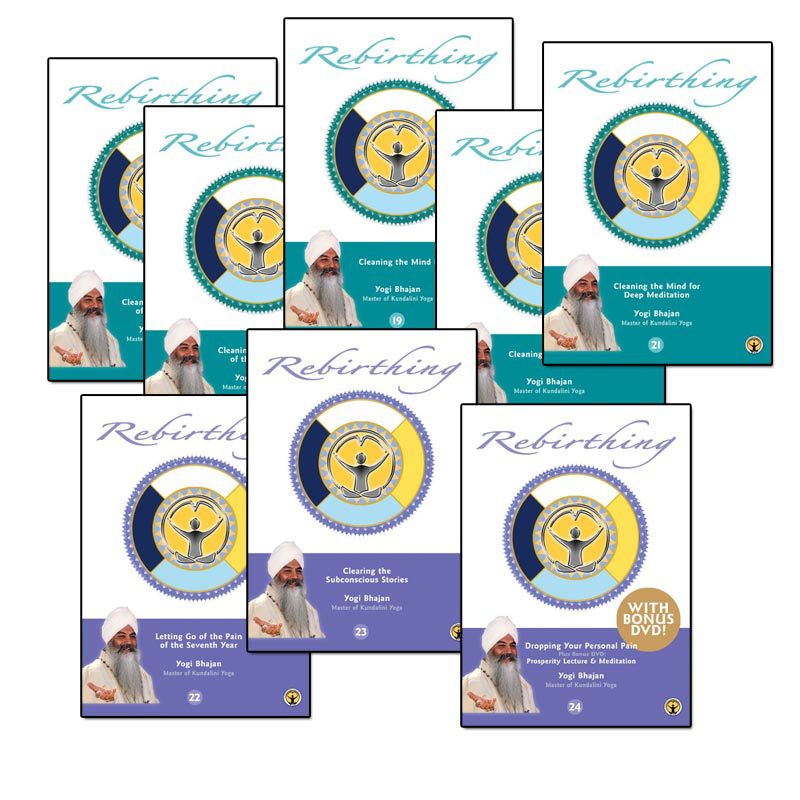 Rebirthing DVD Lecture Series
Includes 24 DVDs from the Rebirthing courses, which Yogi Bhajan taught from the fall of 1988 through the spring of 1989
The idea of rebirthing is to release the subconscious, the storehouse of misery. – Yogi Bhajan
1. Rebirthing l
2. Rebirthing ll
3. Rebirthing lll
4. Rebirthing lV
5. Unloading Your Pain & Fear l
6. Unloading Your Pain & Fear ll
7. Unloading the Pain of Perpetual Memories l
8. Unloading the Pain of Perpetual Memories ll
9. Release Your Garbage
10. Ardh Kechari Kriya
11. Getting Rid of Transit Memories l
12. Getting Rid of Transit Memories ll
13. Removing the Fears from the Fifth Month in the Womb l
14. Removing the Fears from the Fifth Month in the Womb ll
15. Clearing the Magnetic Block from the Womb l
16. Clearing the Magnetic Block from the Womb ll
17. Cleaning the Clutter of the Mind l
18. Cleaning the Clutter of the Mind ll
19. Cleaning the Mind l
20. Cleaning the Mind ll
21. Cleaning the Mind for Deep Meditation
22. Letting Go of the Pain of the Seventh Year
23. Clearing the Subconscious Stories
24. Dropping Your Personal Pain plus Bonus DVD: Prosperity Lecture &
Meditation
Regular Price: $19.95 per DVD
Promo: $16.96
These are also sold in 3 sets of 8 each for $120.00 per set, which is 25% off regular retail!
---
New Book!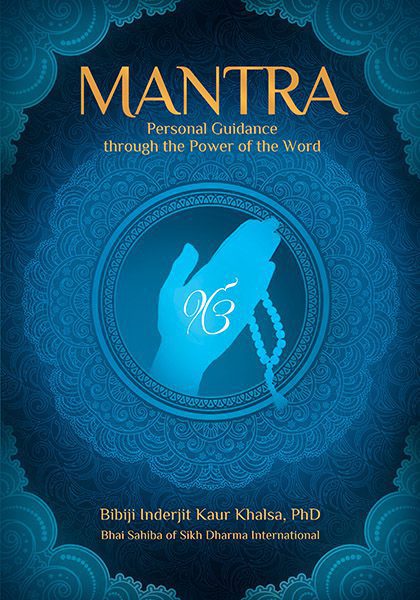 Mantra: Personal Guidance through the Power of the Word
By Bibiji Inderjit Kaur Khalsa, PhD, Bhai Sahiba of Sikh Dharma International
This book contains hundreds of beautiful mantras to recite and repeat for personal needs like clarity, healing, intuition, peace, self-esteem, stability, trust and wisdom.
Mantra is an important component of Kundalini Yoga as taught by Yogi Bhajan®. Kundalini Yoga teachers follow a variety of spiritual paths, and the mantras in Kundalini Yoga are of a universal nature. They transcend religious belief and embody universal truths that every human being can experience.
The mantras in this book have been lovingly collected, translated, and commented upon by the devoted wife of Yogi Bhajan.
Retail: $39.95
Promo: $33.96
---
Trainer's Corner
We are nearing the end of our 2019 – 2020 cycle with three upcoming Forums in Latin and South America—a total of nine Forums worldwide!
In December the Winter Solstice Trainer Forum provided participants a deeper experience of community, which was felt in the workshops on diversity & inclusion, vulnerability and trust in group spaces, and the Level Two: Vitality & Stress revision.
A new Forum cycle will begin at Summer Solstice 2020. Our theme of Culture, Communication, Community will continue through its third and final year.
Contact trainerforum@kriteachings.org for questions.
Upcoming Forums:
Chile: January 28 – 29, 2020 at Yogi Yi in Santiago, Chile
Mexico: February 11 – 12 at Rama in Mexico City, Mexico
Brazil: February 22 – 23 in Belo Horizonte, Brazil
Summer Solstice: June 17 – 18 at Hacienda de Guru Ram Das in Espanola, New Mexico
Stop the drums of war
It is time again to change the rhythm of the drums. Let them vibrate with the heart of humanity.
Meditation: Calm the Drums of War
Now is the time to meditate on these sounds.
Tarn Taran Singh and I moved to Hamburg, German in 1975 and opened the first Kundalini Yoga Ashram. During the 1980's, Russian tanks lined up on the East German border which was 20 minutes from Hamburg. The entire country was so tense about this Cold War threat.
I called Yogi Bhajan and asked if we should leave. He said: "Stay. Chant Sat Naraayan with crystal clear projection and purity of heart. Chant to stop the drums of war."
Please reach out to Congress, connect with your community. Make your voice known in many venues.
---
KRI January Recipe of the Month
Excerpt From:
Siri-Ved Kaur Khalsa
From Vegetables, With Love:
Recipes and Tales from a Yogi's Kitchen
(Revised and Expanded New Edition)

Hearty Winter Borscht
Yield: 6 servings
6 medium beets with greens (2 bunches)
12 ounces white or red rose potatoes
1–2 carrots
4 cups vegetable broth or water
2 tablespoons ghee or oil
1 onion, finely chopped
½ teaspoon black pepper
1 teaspoon salt
1 tablespoon lemon juice
½ cup chopped green onions or cilantro for garnish
½ pint sour cream (optional garnish)
Rinse beets, cut off tops and root ends, and carefully peel. Cut into ¼-inch bite-size slices. Discard root ends. Coarsely chop greens. Scrub potatoes and cut into bite-size cubes. Scrub carrot and slice into ¼-inch rounds.
Bring 4 cups water to a boil. Add beets, greens, potatoes, and carrots. Return to boiling point, then lower heat and simmer for about 30 minutes (until tender).
Meanwhile, heat the ghee or oil in a small fry pan over a medium flame. Add chopped onion and sauté until quite tender and barely browned. You will need to stir frequently to prevent browning.
Place 2 cups of vegetables with 1 cup of broth into a food processor or electric blender and process until a smooth purée. Return to the soup pot and add cooked onions, pepper, salt, and lemon juice. Add a little more water if a thinner consistency is desired and stir. Heat thoroughly. Place in serving bowls. Top each serving with a dollop of sour cream and garnish with minced green onions or cilantro sprig.
---