---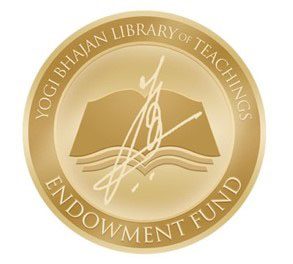 The Yogi Bhajan Library of Teachings Endowment Fund

SUPPORT THE KUNDALINI RESEARCH INSTITUTE & THE LIBRARY OF TEACHINGS

---
A Note From Nirvair
Sat Nam, and Greetings from New Mexico!

It is the fall season in this hemisphere. If you have the eyes to see and a connection to our Mother Earth, it can help you understand yourself and be inspired to make the shift as She changes Herself in this season. Yogi Bhajan gave one such instruction on October 26, 1988:
"The reason that you are rude to yourself is that you don't want to understand the sophistication about yourself. You are insecure about yourself is because you do not see the vastness of God. How blind can a person be, that they go through the fall season, seeing every leaf falling down and yet his own leaf of ego doesn't come down? Can you understand that winter will come, and the entire land will be covered with the whiteness and the grace of snow? Man has never even tried to cover for that season with his own grace."
The equinox time, whether it is in the fall or spring, is a great time to balance the tattvas ( the elements of earth, water, fire, air, and ether that comprise your body) and to tone up the vagus nerve. This will help you prepare for the upcoming season.
Are you registered at the Yogi Bhajan Library of Teachings®? When you register, you can have access to our wonderful kriya database. We have 530 kriyas written up and we are using grants from Yogi Tea and your donations to add more every month. If you search on the word "tattvas," four great kriyas come up. If you search the word "vagus," five great kriyas come up. Certainly, enough to keep you busy this equinox time!
Another beautiful opportunity for growth this fall is The 21-Stages of Meditation that is being offered in Espanola, October 13th to 20th. Students and teachers from all contemplative traditions are invited to participate in this deep meditative experience.
Thanks to all the great students, staff, and trainers for the amazing Level One Teacher Training in Kundalini Yoga as taught by Yogi Bhajan® Immersion this last August. One of my favorite moments is when the entire class sings happy birthday to Yogi Bhajan as his grand birthday party. So much fun and so inspiring! Join us next year if you can for a truly exceptional experience.
All the best with blessings,
Nirvair Singh Khalsa
CEO Kundalini Research Institute
---
---
Patience Pays – Let God Work for You

The affirmation "Patience Pays" given by Yogi Bhajan, is one of the most beloved and well-used affirmations in the teachings of Yogi Bhajan. It is the perfect answer for many unasked questions, and it gives a sense of serenity and trust. The Gurbani quote in the affirmation is by the Third Guru, Guru Amar Das ji. He says, "Why do you doubt, oh mortal being? The Creator Lord Himself shall protect you. He who created you, will also give you nourishment."
Guru Amar Das ji calls us out for our lack of trust and reminds us that the One who brought us here will take care of us! Introducing your students to this affirmation is a great gift to them – try it and see.
Here is a beautiful quote by Yogi Bhajan explaining his understanding of Patience Pays.
I am very surprised at how you take the meaning of the words, "patience pays." "Patience pays" means that your methodological advancements and production will give you the best results. It does not mean that when somebody is bullying you and you keep on tolerating it, that this is going to pay off for you.

So, let me make it very clear. Patience is the methodological advancement of one's own mental psyche. [And what does that mean?] The words are very simple – there is a psyche and each molecule of your psyche is alive. [This psyche pervades everywhere,] it is all around. All the people you know and all the people you want to deal with make up a multifaceted energy field. God is everywhere, and you know it is everywhere, but when it is manifested from Gupt… Gupt means "that which is hidden or unknown to the Chitre." Chitre means "the known." So, when God is brought and manifested – when we sit here and we talk about God, and we talk about love, and we talk about elevation, that is where we manifest God. God has to be manifested from unknown to known.

Whosoever shall [manifest God in this way] shall be exalted and this is the methodological projection of your personality. You go in a church and you sing hymns in the praise of the Lord. I don't know if that Church is a special place or not, but it becomes special when you exalt the Lord God. – Yogi Bhajan October 20, 1983
Download the audio from the SikhNet Gurbani Media Center here. Listen deeply to this affirmation and allow the hidden Divinity to emerge from the reality that surrounds us. Share this with your students and help bring prosperity and satisfaction to their lives.
"Patience pays. Wait. Let the hand of God work for you. The One who has created you, let Him create all the environments, circumstances, and facilities and faculties.
Too kaahay doleh paraanee-aa tudh raakhaigaa sirjanhaar.
Jin paidaa-is too kee-aa so-ee day-ay aadhaar.
Oh individual, why you are in a very doubtful state? The One who has made you will take care of you. The One who has created this Universe, all the planets, planetary faculties, and facilities on Earth, He is the One who has created you. Wait. Have patience. Lean on him. And all best things will come to you.
Dwell in God. Dwell in God. Dwell in God. Befriend your soul. Dwell in God and befriend your soul. Dwell in God and befriend your soul. Dwell in God and befriend your soul. All the faculties and facilities of the Creation, which are in your best interest, shall be at your feet. You need million things. Million things will reach you if you are stable, established, firm, patient. Remember, Creator watches over you and Creation is ready to serve you, if you just be you.
So please take away the ghost of your life and stop chasing round. Consolidate. Concentrate. Be you. And may all the peace and peaceful environments, prosperity approach you forever. Sat Nam"
---
21 Stages of Meditation in Espanola this Fall
Many of you have been to Espanola in the summer months to attend Summer Solstice or KRI trainings. Summer is hot and dry with long days and incredibly high energy. But have you experienced New Mexico in the fall?
As October unfolds across the deserts and the mountains, a dramatic and deep transformation is revealed. All of nature begins the process of preparing for winter – long months of cold and quiet. Waiting. Working on the inside as the outside slows to a pace of suspension.
The energy of transformation is strong, and it affects all things. The leaves on the trees turn color, the most spectacular brilliant gold, before falling. The plants push greedily green for one last day of fruit and flower – until they wilt before the specter of cold. And we, as Kundalini Yogis and meditators who live at Hacienda de Guru Ram Das, say goodbye to our last guests and visitors and once again turn towards each other in community and loving support.
This October we invite you to experience the sweetness of fall in Espanola with us. The 21 Stages of Meditation is a priceless opportunity to expand your inner horizons, experiencing the transformative effects of deep meditation. Students and teachers of all levels and from all contemplative traditions are welcome. Together we will complete three meditative journeys towards the pinnacle of our own inner awareness.
Join us and experience a New Mexico you have never seen before. The 21 Stages of Meditation, October 12-20, 2019 at Hacienda de Guru Ram Das.
Española City of Love
By Yogi Bhajan
Leaves changing, colors changing. Color in wide range.
Cottonwood trees golden yellow, standing tall – friendly fellows,
Golden marigolds fading in frosted morning air.
Beautiful blue sky, star laden.
A bright star falling. Falling.
Falling.
Cold announcing fall. Winter settling in.
Crystal air moving white – silent heavenly snow falling covering all.
Majestic mountain peaks so tall.
Home of our Guru, warm and cozy, the fire reflecting.
Rosaries repeating the ancient formula of infinite longing.
Calling. Repeating. Meditating on God's Name. Essence of the heart's beat.
Española, city of love. Peaceful. Graceful. Vision of the white dove.
4 seasons woven with crystal blue sky, star-laced nights.
Land of enchantment glistening with God's light.
Within this sanctuary, I have built my dome.
Great! Great is Española!
God's real home.
---
Yogic Slow Breathing: A Better Way to Ventilate
By Nikhil Ramburn and Sat Bir Singh Khalsa, Ph.D.
The most common breathing practice in yoga is long, slow, deep breathing. However, despite its simplicity and multiple benefits, it is also relatively misunderstood. The slow breathing practices in yoga are not simply slower, they are also deeper, with the diaphragm and lungs expanding more fully with each breath. Yogic breathing involves the noticeable movement of the abdomen, which extends outwards on each inhale, thereby earning it the name of abdominal or belly breathing. Apart from simple slow, deep breathing, yogic breathing or pranayama practices also included modified techniques such as Ujjayi, which involves a slight constriction of the glottis to create an audible breath. Other yogic breathing patterns may call for different breathing frequencies, different breath inhalation, retention, and exhalation ratios, segmented inhales and exhales, and breathing through specific nostrils. The deeper expansion of the lungs in simple long slow yogic breathing effectively increases the lung surface available for gas exchange and so it is more efficient use of the lungs. In addition, dead space ventilation (movement of air during breathing in the trachea between the mouth and lungs that does not participate in gas exchange) is relatively reduced. The resulting increase in efficiency is equivalent to one possessing a larger lung.
Unfortunately, the understanding of the accurate benefits of yogic breathing is often compromised by certain claims and misconceptions. The most common of these is the notion that slow yogic breathing increases oxygen in the blood and that most the public not privy to practicing this type of breathing are walking around chronically oxygen-deprived. In fact, unless one has a respiratory condition, such as chronic obstructive pulmonary disease or one is at high altitude, blood oxygen levels are normally well maintained at very high levels. It should be noted that respiratory physiology is a complicated issue whose details are outside of the scope of this article, however, the reality is that both slow and rapid yogic breathing practices, if done appropriately, do not yield significant changes in oxygen or carbon dioxide levels. The main reason for this is that the effect of the deeper breath in long slow deep breathing is counterbalanced by the slower respiration rate. Deeper breathing with a typical respiration rate would actually lead to clinical hyperventilation, a potentially harmful state, which should be taken into account when practicing yogic breathing.
Research on the long slow pranayama practice, when practiced appropriately, has been shown to slightly improve gas exchange under normal conditions. In early studies in 1964, at the Department of Psychiatry at Yale University, research fellow K.T. Behanan (trained in yoga at the Kaivalyadhama Yoga Institute in India) examined the effects of a series of pranayama practices on himself, with the results published in both a monograph and the Journal of Applied Physiology by his mentor. Three representative patterns of yogic breathing were tested, namely Ujjayi, Kapalabhati and Bhastrika. While these techniques required a 12-35% increase in oxygen consumption above baseline, the relaxed breathing that immediately followed, showed little indication that the subject had been exerting himself. A very thoroughly done study by Frostell et al. in 1983 using state of the art respiratory physiological research measures in advanced pranayama practitioners, made it clear that both slow and fast types of pranayama yield minimal changes in both oxygen and carbon dioxide levels. A more recent pranayama research study published in the journal Evidence-Based Complementary and Alternative Medicine in 2013, had 17 yoga-naive participants tested to see if Ujjayi resulted in greater oxygen saturation when compared to regular slow yogic breathing. The results showed the greatest improvements in slow breathing without Ujjayi, likely due to the increased respiratory effort. However, Ujjayi did result in greater oxygen saturation. The researchers concluded that simple slow breathing with equal inspiration/expiration is the best technique for yoga naive subjects.
In addition to these studies performed under normal conditions, there is a growing body of evidence that yogic breathing improves gas exchange under altered, challenging conditions as well. In 1968, Shanker Rao from the Armed Forces Medical College in Pune, India looked at one subject who attempted yogic respiratory control at two different altitudes. The observations were carried out in the South-Western foothills of the Himalayas (12,500 ft.) and in Pune (1,800 ft.). He observed that the subject met increased demands for oxygen at high altitude by using long slow yogic breathing, which was effectively improving respiratory efficiency by increasing tidal volume (the total volume of air exchanged in each breath) instead of increasing the frequency of respiration.
Recent studies with a larger group of subjects support these early findings. In 2001, Luciano Bernardi et al. conducted a study in Albuquerque NM, comprising of 19 controls and 10 western yoga trainees to test breathing patterns and autonomic modulation at simulated high altitude. The researchers found that yoga trainees maintained better blood oxygenation without increasing ventilation (slow yogic breathing being a more efficient breathing method) and had reduced sympathetic activation when compared to controls. A subsequent study by Bernardi et al. looked at Caucasian yoga trainees, Nepalese Sherpas and Himalayan Buddhist monks. They found that yoga trainees were able to maintain oxygen exchange rates at high altitude that resembles the Himalayan natives. Therefore, respiratory adaptations induced by yoga practice may represent an efficient strategy to cope with altitude-induced hypoxia (inadequate oxygen supply). Another recent study lead by Colonel Himashree of the Indian army and published in 2016, further confirmed these findings with a large sample size of two-hundred Indian soldiers divided equally between an exercise control and yoga practice group. Indeed, the yoga group performed better at high altitude in a number of health indices such as respiratory rate, systolic and diastolic blood pressure and anxiety rates.
In summary, slow yogic breathing is the most efficient way to ventilate and exchange oxygen and carbon dioxide. However, in addition to this benefit, long slow yogic breathing is also known to also offer numerous additional benefits including beneficial effects on heart rate variability, the chemoreflex response, autonomic function, and even on mood and mental health.
Reprinted from KRI Newsletter, February 2017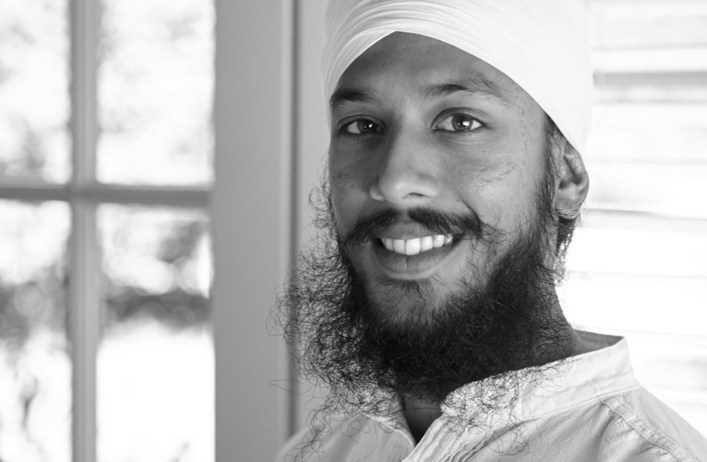 Nikhil Rayburn grew up practicing yoga under mango trees in the tropics. He is a certified Kundalini Yoga teacher and has taught yoga to children and adults in Vermont, New Mexico, Connecticut, India, France, and Mauritius. He is a regular contributor to the Kundalini Research Institute newsletter and explores current yoga research.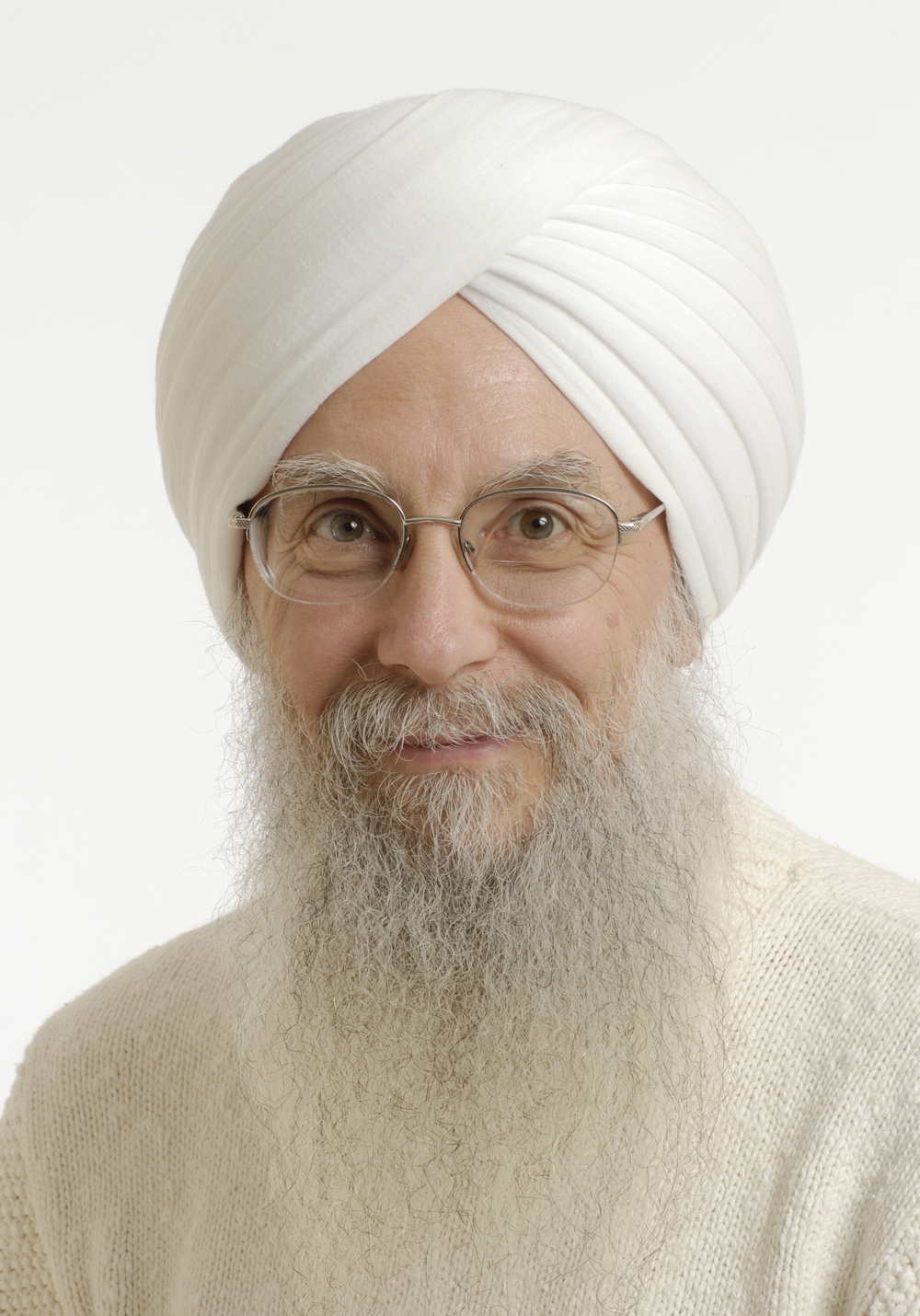 Sat Bir Singh Khalsa, Ph.D. is the KRI Director of Research, Research Director for the Kripalu Center for Yoga & Health, and Assistant Professor of Medicine at Harvard Medical School. He has practiced a Kundalini Yoga lifestyle since 1973 and is a KRI certified Kundalini Yoga instructor. He has conducted research on yoga for insomnia, stress, anxiety disorders, and yoga in public schools. He is editor in chief of the International Journal of Yoga Therapy and The Principles and Practice of Yoga in Health Care and author of the Harvard Medical School ebook Your Brain on Yoga.
---
Sat Nam from The Yogi Bhajan Library of Teachings
Searching the Yogi Bhajan Library of Teachings® – Tips and Techniques
Searching the Library of Teachings for a special topic of interest is one of the most functional and versatile aspects of the Library. I find that I use this quite a bit – either for preparing for class, writing on a topic, or just following the trail of my curiosity. There are several ways to approach searching.
Words and Phrases
In the Library of Teachings, search words are used in a very similar way to searching Google. You can use a keyword and that is always an easy way to start. But because the Library is so extensive, a single word search is likely to bring up dozens, if not hundreds, of lectures.
A good way to narrow down your search is to use double-quoted phrases in the search text. For example, "yoga of awareness", can be treated as an exact phrase in a search and give you more specific results.
Searching also supports NEAR, AND, OR, grouping with parentheses ( ), and negation with a minus sign ( – ). You can combine all of these elements of the grammar together to easily form complex queries. Here is an example of how to use these tools, and remember AND, OR, and NEAR must always be uppercase:
| Keyword | Example | Description |
| --- | --- | --- |
| any terms | pineal pituitary | Searches for documents matching all terms. The example matches documents that have both the term pineal and the term pituitary. |
| AND | pineal AND pituitary | Combines the terms on either side with an AND . This example is equivalent to the previous example, as AND is the default way to combine terms. |
| OR | pineal OR pituitary | Combines the terms on either side with an OR . The example matches documents that have at least one of either of the terms pineal or pituitary. |
| " " | "yoga of awareness" | Anything within the double-quote marks is treated as a phrase. The example matches documents having the phrase "yoga of awareness" (without the double-quote marks). |
| NEAR | pineal NEAR pituitary | Matches terms on either side of the NEAR where they are within 10 terms of each other. The example matches documents where pineal is within 10 terms of pituitary . If you add a / followed by a number to the keyword, then it uses the number to specify the number of terms for the distance. For example, pineal NEAR/2 pituitary matches pineal within 2 terms of pituitary . |
| ( ) | (pineal OR pituitary) thymus | Indicates grouping. The example matches documents that have at least one of the terms pineal or pituitary, and also have the term thymus. |
| - | pineal -pituitary | Indicates a NOT query. The example matches documents matching pineal but not matching pituitary. |
Wildcards
Searching the Library of Teachings also uses two wildcard characters: * and ? .* will match any amount or combination of letters, whereas ? will match exactly one non-space character.
For example, he* will match any word starting with he, such as he, her, help, hello, helicopter, and so on. On the other hand, he? will only match three-letter words starting with he, such as hem, hen, and so on.
Search by Date or Catalog Number
And other great feature is the magnifying glass which allows the user to search a lecture or kriya by date or catalog number. This can be a great shortcut if you already have this information, and you are looking to find a specific lecture.
This brings up an advanced Search Helper box where you can input a date or Library Code, or even a date range if you aren't exactly sure of the date.
There are even more search options to help you zero-in on the information you are seeking. Click on the Search Tips to get helpful insights on how to locate the information that you need. There is more than one way to search and it is worth your time to understand all the features. Take a moment and watch this brief Search video to start searching like a pro.
If you are like me, you will start searching for one thing – and find a hidden gem about something else entirely. Open yourself up to the wisdom of the teachings of Yogi Bhajan and enjoy the journey! Sat Nam.
In Gratitude,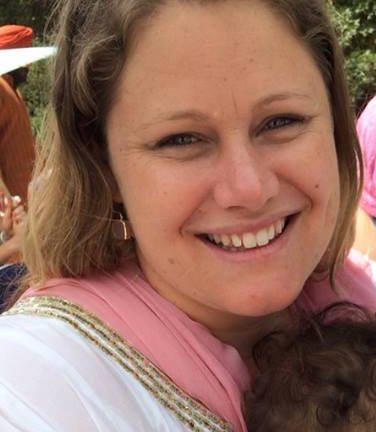 Shabd Simran Kaur Adeniji, Fundraising Coordinator
The Yogi Bhajan Library of Teachings®
Kundalini Research Institute
Email: donations@kriteachings.org
Find us on Facebook "The Yogi Bhajan Library of Teachings"
www.libraryofteachings.com
The Yogi Bhajan Library of Teachings is a non-profit organization and all donations are tax deductible under IRS code 501(c)(3).
---
September KRI Newsletter Specials
KRI presents:
The Everyday Series
Books to explore your Yogic Life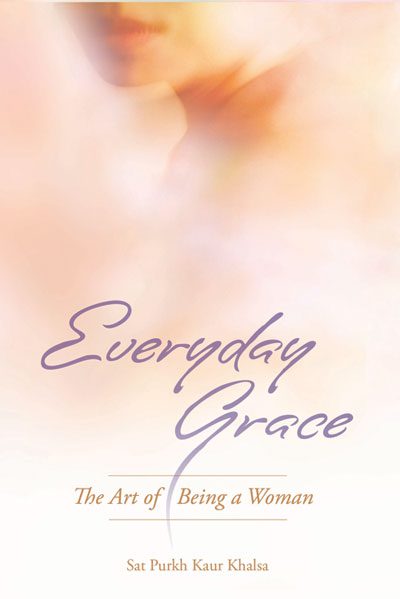 Everyday Grace
The Art of Being a Woman
Sat Purkh Kaur Khalsa
Every woman has within her an inner grace – an everyday grace. Combining personal experience with the teachings of Yogi Bhajan, Everyday Grace explores a woman's path toward her highest identity – the Grace of God – with an authentic, contemporary voice.
"Everyday Grace is a perfect companion to any women's yoga course. I only wish Sat Purkh had been around to translate these teachings thirty years ago!"
Regular: $17.95
Promo: $15.26
---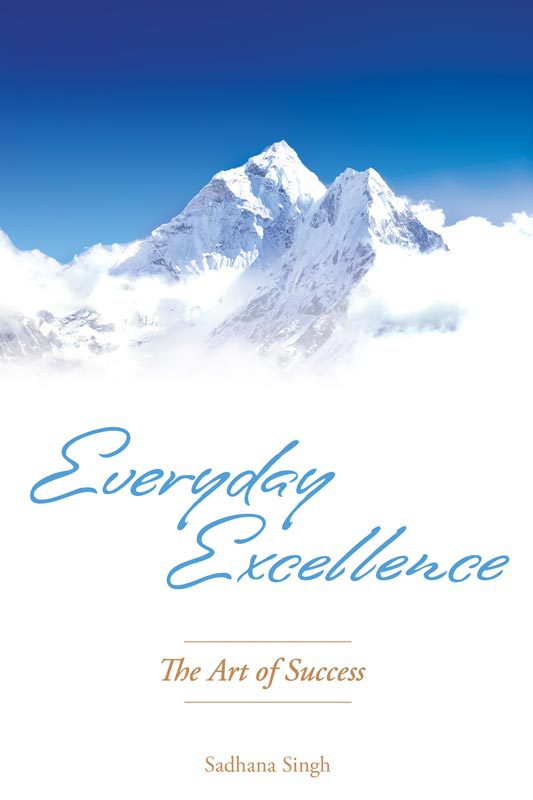 Everyday Excellence
The Art of Success
Sadhana Singh
Everyday Excellence gives you the tools you need to break through your existing patterns that hold you back from being successful. Yogi Bhajan's Eight Elements of Excellence, as outlined in these pages, is your road map. Begin your journey today – and every day!
Regular: $17.95
Promo: $15.26
---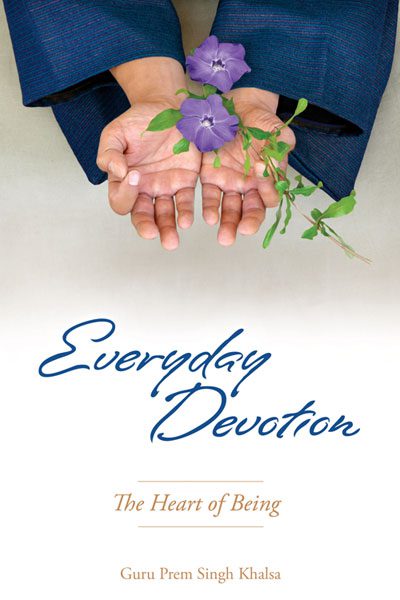 Everyday Devotion
The Heart of Being
Guru Prem Singh Khalsa
Learning to live from the heart is a journey toward a life of devotion. Our bodies become a living prayer – devotion in motion.
Guru Prem guides you from the simplest breath exercises to some of the most advanced asanas in our practice.
• Breath & Bones guide the breath and detail the nature of asana
• Kundalini Yoga as taught by Yogi Bhajan®
• Tips for developing and perfecting your own practice.
Regular: $17.95
Promo: $15.26
And take advantage of our every day special price on the Combo Pak of all 3 Everyday books for $39.95. 25% off regular retail. Available anytime!
---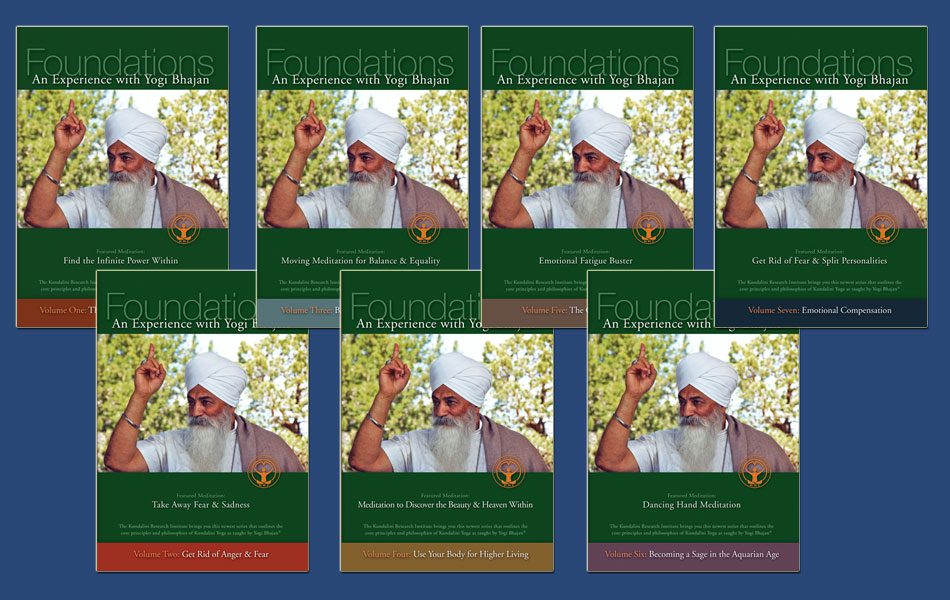 Foundations DVD Series
Create a firm foundation for your yogic practice and gain insight into what it takes to live as a Teacher of Kundalini Yoga as taught by Yogi Bhajan with these essential lectures and meditations.
Volume 1: The Purity and Power of a Teacher
Volume 2: Get Rid of Anger and Fear
Volume 3: Balance & the Law of Equality
Volume 4: Use Your Body for Higher Living
Volume 5: The Change of the Age
Volume 6: Becoming a Sage in the Aquarian Age
Volume 7: Emotional Compensation
Retail: $19.95 per DVD
Promo: $16.96
Or take advantage of our regular full set discount of all 7 DVDs for $108.00!
KRI September Recipe of the Month

Excerpt from: From Vegetables, With Love: Recipes and Tales from a Yogi's Kitchen (Revised and Expanded New Edition).
Siri-Ved Kaur Khalsa

Puerto Rican Pink Beans with Olives & Avocado
Yield: 6 servings
So rich and flavorful, this is one of my favorite bean dishes. Serve with Arroz Colorado (page 177) or plain rice and green salad.
3 cups pink beans
1 potato, peeled and chopped
Olive oil
1 onion, diced
¾ teaspoon black pepper
1 jalapeño pepper, diced
8 mushrooms, chopped
2 teaspoons salt or ½ cup Bragg Liquid Aminos
1½ cups tomato sauce
1 tablespoon oregano
2½ tablespoons basil
1 cup chopped roasted green chiles
1 medium can pitted green olives
½ cup butter
6 cups cooked rice
4 ripe, firm avocados
Clean beans and soak overnight or for at least 8 hours in 3 quarts of water. Drain off water and discard. Put beans in a 6-quart pot or pressure cooker and add enough fresh water to cover the beans by at least 1 inch. Bring water to a boil. Add potatoes and 1 tablespoon of olive oil. Cook uncovered, over a medium-high flame until soft (about 1½ hours) or a pressure cooker under high pressure for 12 minutes. When beans are soft, drain and reserve liquid.
Heat ¼ cup olive oil in a large sauté pan or sauce pot over a medium flame. Sauté onion about 8 minutes until browned. Add pepper, jalapeño, and mushrooms. Sauté until all are soft, adding small amounts of water as necessary to prevent scorching. Add salt and tomato sauce. Bring to a boil and add oregano, basil, chopped long green chiles, and olives. Simmer on medium-low heat for 15 minutes.
Add beans to sauce and add as much bean liquid as necessary to make a saucy consistency (should not be thick). Add butter and cook for 30 minutes on low heat, stirring occasionally.
Serve over rice, garnished with slices or chunks of avocado.
Yogi's Kitchen Tip
A Note about Storing Dried Beans
Plan on using your dried beans within a few months of purchase. Their flavor deteriorates with time. Remember, the older they are, the longer they will take to cook!
---
Trainer's Corner
What is a Trainer Forum?
A Trainer Forum is a meeting place for open dialogue amongst members and applicants of the Aquarian Trainer Academy. It is an opportunity for professional development as a trainer, a time to come together as a community of trainers to refresh our spirit and revisit our values, build skills and share best practices, create new relationships and deepen existing ones.
If you are interested in joining the Steering Committee for your local/regional Forum contact trainerforum@kriteachings.org
2019 TRAINER FORUMS: CULTURE, COMMUNICATION, COMMUNITY
• AUSTRALIA: Australia Kundalini Yoga Festival
October 7, 6:00p – 9:00p & October 8, 9:00a – 6:00p, including 2.5 hours of chanting to Guru Ram Das in honor of his birthday.
• CHINA
October 26 – 27, Fuzou, China
• WINTER SOLSTICE: Hampton Inn, Lake Wales, Florida,
December 14, 8:30a – 5:30p & December 15, 8:30a – 12:30p
For more information visit: http://trainersupport.kundaliniresearchinstitute.org/trainer-forum/
---