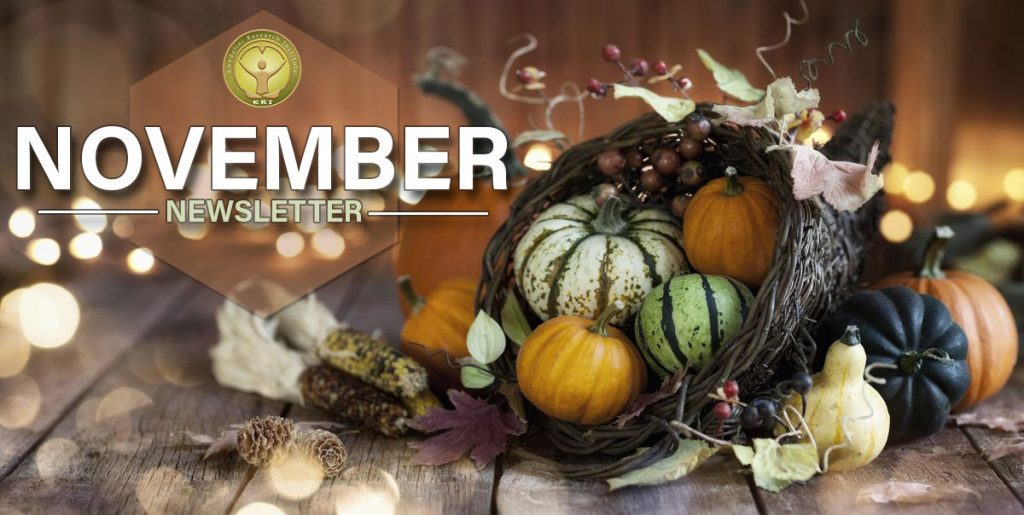 From Me to You
---
Sat Naam and heartfelt greetings from The Netherlands.
As a recently emigrated American, I still hold the holidays of my youth in my heart. November 26th is Thanksgiving Day in America and I view this month as a time to reflect on all that I have to be grateful for in my life. Some of these include my family, my friends, the teachings that Yogi Bhajan, the amazing staffers and volunteers at KRI, and the broader, beautiful Kundalini Yoga community. I am a blessed and grateful man.
Modern science is showing how incredibly powerful gratitude is as a key to happiness. It is not just a feeling that can arise in response to something positive happening in your life, but an encompassing attitude that can be cultivated to positively change your neurochemistry, your resiliency, and your happiness. From Aristotle to the Buddha, practicing gratitude has been a precept of ancient wisdom traditions around the world.
What are you grateful for?
If you're like me and enjoy learning about how modern science is validating many of the benefits of yoga and meditation, check out our science-focused online workshops here – and look out for monthly new science-focused webinars, taught by members of KRI's research advisory committee!
Another important theme in KRI's online courses center on the topic of social justice. The traditional American celebration of Thanksgiving brings up issues of racism and colonization that are still not resolved to this day. As householder yogis, it is important that we use the clarity and courage that our yoga practice gives us to stand-up for and speak-up for all oppressed peoples, and to recognize and work to change systemic racism. We hope you are finding your own way to be an agent of social and planetary justice, and we are happy to offer a few yogic tools to help you.
Wishing you the best of things, Sat Naam.
CEO
Kundalini Research Institute
Meditation of the month
Meditation of the Month with Sat Siri
Sat Siri, a lifelong yogi, and an athlete is a former ballerina with the Australian Ballet. She has been practicing yoga and meditation for over 30 years and completed her Kundalini Yoga teacher training in 2003. She is a trail-blazing Yogini who frequently travels internationally and trains new teachers in Australia, India, Canada, and the United States. She is the Lead Trainer for KRI Level One training.
Yoga Research – Sleep
The Evidence for Yoga Improvement in Sleep Quality
by Sat Bir Singh Khalsa, Ph.D.
The importance of getting both sufficient and a higher quality of sleep has been slowly growing in the public consciousness over the past few decades. This is with good reason and due in no small part to sleep scientists and clinicians promoting this actively. Research on sleep has revealed its importance in a wide variety of human functioning including cognitive and academic performance, emotion and stress regulation, cardiovascular function, endocrine function, metabolism, glucose regulation, immune function, and even in appetite and weight regulation. With surveys showing that fully a third of the population is choosing to sleep less than 6.5 hours per night on average, encouraging the public to respect their body's need for close to 8 hours of sleep is important in order to address the epidemic of non-communicable disease (e.g. obesity, diabetes, cardiovascular disease, etc.) for which insufficient sleep is now a known risk factor.
A significant issue that interferes with the ability to get quality sleep is the high prevalence of chronic stress and mood disturbance in modern society. Perceived stress and anxiety increase psychophysiological arousal, which manifests as a heightening of the "fight or flight" response in the body through elevation of the stress hormones adrenaline and cortisol, and increased activity of sympathetic nerve affecting organs and tissues throughout the body. It also manifests psychologically to keep you alert, keyed up, and on edge, which will interfere with good sleep quality. Everyone has experienced how sleep is lighter, more difficult, and easily disturbed under stressful life circumstances such as the night before a major life event such an exam, court case, or major move. Sleep is a passive process that relies upon our ability to quiet down, relax, and deactivate. When we put ourselves in the proper state for sleep, then sleep happens. In fact, trying to fall asleep quickly is a good prescription for creating difficulty falling asleep because it generates a performance anxiety.
Given this relationship with psychophysiological arousal and sleep, it makes sense that behavioral practices such as mind-body techniques that reduce such activation will be conducive for sleep quality. Practices such as yoga, tai chi, and qi gong that combine multiple mind body practices (physical exercise/movement, breathing, relaxation, meditation) are therefore likely to help with sleep quality. Evidence supporting this comes from survey studies of yoga practitioners. A study conducted in Spain and published in 2009 compared a group of long-term yoga practitioners with a matched control group of non-yoga practitioners on a standardized sleep quality self-report questionnaire, the Pittsburgh Sleep Quality Index (PSQI). As expected, the control group had an average score of 4.25, which is below the PSQI cutoff score of 5 demarking "good sleepers" (lower scores indicate better sleep). The yoga practitioners scored 2.92, which was statistically significantly better than the non-yoga practitioners. Similarly, a study conducted in India on long-term elderly yoga practitioners showed a yoga group PSQI score of 3.77 compared with a significantly higher control group score of 8.00 (the high score in the control group is consistent with the well-known geriatric degradation of sleep quality). However, the weakness with so-called "cross-sectional" survey research studies is that the participants have self-selected yoga practices. This issue is associated with the potentially fatal experimental flaw that makes conclusions of causality attributing the yoga practice as the active agent. For example, it is possible that people who choose to practice yoga are also more health conscious, exercise more, and are in a higher socio-economic status any of these factors alone could by themselves be responsible for improved sleep in the yoga practitioners.
Other studies of sleep in long-term yoga practitioners have gone further with quantifying these findings and provide some additional confidence in the positive effects of yoga for sleep. Dr. Alyson Ross, a yoga researcher at the National Institutes of Health, conducted a study published in 2012 of over 1,000 yoga practitioners that had a widely varying history of duration (i.e. years of practice) and frequency of practice (yoga class attendance and home practice). The analysis showed that practice frequency (largely driven by home practice) was significantly correlated with a reduction in self-reported sleep disturbance; for every additional day per week of yoga practice, there was a quantifiable improvement in sleep. Furthermore, there was also a significant correlation of higher sleep quality with the practice of more vigorous yoga poses. Further analysis of data from this study published in 2013 evaluated yoga practitioners' attribution of benefit of yoga practices. This study reported that 68.5% of long-term practitioners "agreed" or "strongly agreed" with the statement "My sleep is better because of yoga." (26.7% neither agreed or disagreed and only 4.8% disagreed or strongly disagreed with this contention). These results showing correlations with practice, and attributions of causality, are somewhat stronger than simple cross-sectional studies.
However, the strongest studies are "prospective" research trials in which yoga practices are initiated by non-practitioners and before and after measures are acquired. A few such prospective studies have evaluated sleep quality changes in largely healthy normative populations following a yoga practice intervention. A randomized controlled trial (RCT) of 69 elderly home residents in India showed that the yoga group, after 6 months of practice, exhibited a significant reduction in the time taken to fall asleep, an increase in the total sleep time in hours, and an improvement in the feeling of being rested in the morning after sleep as compared with controls that did not practice yoga. A more recent but very similar RCT by researchers at the National Institute of Mental Health and Neuroscience, in the same kind of population in India, found statistically significant improvements in sleep quality on the PSQI as compared with no-treatment control subjects. A Chinese RCT of nurses (another population prone to sleep disturbance) revealed that a 6-month yoga intervention yielded statistically significant improvements in sleep quality. Finally, a 2019 publication of an RCT by a Swedish research team evaluated the effects of a 6-week yoga intervention in young adult students. Although the yoga group did not show statistically significant improvements in sleep compared with the control group, after analysis of levels/amount of yoga practice, those participants that practiced yoga more frequently and intensively (i.e. a higher dose of yoga) showed a statistically significant correlation between dose and sleep quality improvement.
These data all suggest that yoga practices can improve sleep quality in the general population. In fact, improvement in sleep quality and depth is often reported by individuals who have recently begun a yoga practice. For example, in qualitative research we conducted on yoga interventions in public school settings, sleep was often reported as a characteristic that was improved. Sample student interview quotes from these studies include: "Yoga definitely helped with sleeping … it would take me a long time to get to sleep. When I was doing yoga it was much easier to fall asleep and stay asleep."; "…I also do the three-part breathing so that I can relax myself before I try and fall asleep."; and "Yea, I can sleep a lot better, fall asleep faster." Larger more extensive trials are warranted to further advance our confidence in these findings.
There is a growing body of research suggesting that yoga may improve sleep in the clinically significant condition of chronic primary insomnia, which involves a substantial impairment in sleep characteristics over a prolonged time period. But that is another story.
Sat Bir Singh Khalsa, Ph.D. is the KRI Director of Research, Research Director for the Kripalu Center for Yoga & Health, and Assistant Professor of Medicine at Harvard Medical School. He has practiced a Kundalini Yoga lifestyle since 1973 and is a KRI certified Kundalini Yoga instructor. He has conducted research on yoga for insomnia, stress, anxiety disorders, and yoga in public schools, he is editor in chief of the International Journal of Yoga Therapy and The Principles and Practice of Yoga in Health Care and author of the Harvard Medical School ebook Your Brain on Yoga.
A Yogic Model of Grief Recovery as the Integration of Change
by Dr. Shanti Shanti Kaur Khalsa and Dr. Sat-Kaur Khalsa
We are in a time where many of us are experiencing multiple losses: Our daily life as we have known it due to a potentially fatal disease, serious questions about our teacher whether one believe those questions or not, learning about our children's experience with schooling in India, exposing racial injustices, and other personal losses we may experience during this tumultuous time. Because of these losses, we are individually and collectively experiencing deep and profound grief.
Our intention for offering this document is to provide a guide for individuals and the leaders of our organizations to assess where we might be in the grieving process. It may be a helpful way to explore how grief can ultimately serve the process of transformation. When we do grief work well, there is a solid footing for the future.
The poet Paul Monette described his experience of grief as a sword that cuts through any illusions about life and who we are. Like a spiritual sword, grief can take us directly through the pain of the mind and heart and lead us to the joy and infinity of the soul.
This guide is a non-linear model. We move in and out of the various stages. We recognize that it is vital for people to have the opportunity to experience these stages in whatever time frame best meets their needs, in order to allow for the spectrum of grief response.
The Grief Process
Shock – One can feel confused, paralyzed, or be unable to act or think clearly. Shock is most typically an initial response but can be delayed. Additional information or upsetting events could cause this stage to reoccur.
Denial – Characterized by clinging to what was, unable to accept the information that caused the response.
Numbness – Characterized by "checking out" or shutting down emotionally. Inability to feel or to express emotion. Feeling a sense of heaviness in the body. Can evolve into depression.
Destabilization / Falling Apart – Characterized by wide swings of emotion that can include anger, fear, depression, sadness, emotional reactivity, confusion, self-doubt, inability to focus, and a sense of loss. This can be experienced by both individuals and communities/organizations. May include dealing with underlying guilt, shame, and/or resentment. It is recommended to refrain from making major life-changing decisions for at least a year from the initial event(s).
Grief is like water; it has to move or it stagnates. Nothing identifies, releases, or transforms emotional pain as quickly or completely as a mantra. The most direct way to do this is through the sound current by consistently chanting in the company of the Sadh Sangat. If circumstances prohibit this, you can chant out loud on your own, with your family, or join virtual offerings. Heart-centered healing mantras like Guru Guru Wahe Guru, Guru Ram Das Guru are helpful. Applying mantra to the grief process provides clearing of emotional attachment to the past and an awakening of what is possible now.
Grief Recovery as the Integration of Change
Grief recovery begins with the recognition that one's life and circumstances are not going to return to the way they were and an acknowledgment of, or an allowing for, the integration of the change. A conscious decision to actively participate in this integration initiates the process of grief recovery.
In order to be able to move effectively from the experience of grief into grief recovery, it is essential to first raise your Shakti/vitality/energy and to elevate your spirit.
Below are the tasks and decisions that support and facilitate the integration of change. Although multiple losses may be concurrent and/or interrelated, it is helpful to identify and process each loss one at a time.
It is our hope that this information proves helpful to you in this time of change.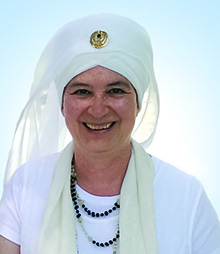 Shanti Shanti Kaur brings the ancient teachings of Kundalini Yoga into modern medicine as Founding Director of the Guru Ram Das Center for Medicine & Humanology. A Kundalini Yoga teacher since 1971, Dr. Khalsa began to specialize in teaching Kundalini Yoga and meditation to people with chronic or life-threatening illness and their family members in 1986. She is a Certified Yoga Therapist, a Mentoring Lead Trainer for Levels 1 and 2 Kundalini Yoga teacher training, a Medical Family therapist, and a charter member of the International Association of Yoga Therapists.
Sat-Kaur Khalsa, Ed.D., LMFT, LPCC
Dr. Sat-Kaur Khalsa is a renowned psychotherapist and counselor in private practice in Santa Monica, California, and Santa Fe, New Mexico. She is a licensed Marriage and Family Therapist in California and New Mexico as well as a licensed Clinical Mental Health Counselor in New Mexico. Since 1983, Dr. Khalsa has served clients from all areas of the entertainment industry, as well as professionals, entrepreneurs, homemakers, athletes, and spiritual seekers.
Level 3 Teacher Training
Save the Dates for 2021
The Level Three Program is expanding in 2021 and we have made new changes to make the program more accessible! Here is a quick list of all the updates:
Joining the Level Three Program is Much Easier Now for Students in Mexico
We are now launching the Level Three Program in Mexico! Due to the South America 2021 Mela being held online in both Spanish and Portuguese, participants from Mexico will be able to easily join this program as the start to their Level Three journey. In the future, as programs transition back to being held in person, the Mexico Level Three program will separate from the South America program and the in-person Melas will be held yearly in Mexico.
South America and Mexico Mela Application Window Opens
Are you in South America and want to join the Level Three program? The Mela will take place Online from February 19 – 21, 2021.
The window to apply and become part of the Level Three experience in Latin America has now begun! The application window for new participants closes January 31, 2021. If you are thinking about joining, now is the time to apply!
Returning 2021 South America Cohort
If you started the Level Three journey in South America 2020, you can now register for the 2021 South America Mela. We will send out a separate link for Mela Registration to all of the 2020 South America Cohort.
2021 Melas Will all be Online
With Covid-19 still imposing traveling and financial restrictions all over the world, we recognize that it is not a time where meeting physically is an option.
The Level 3 Planning teams, as well as the Level 3 Steering Committee, recognize the importance of holding the Mela to create a space where we continue to support each despite all of the blocks and challenges. With the success of the online 2020 Melas, the decision has been made that the 2021 US, Europe and South America Mela will be held Online again.
Visit the New Level Three Website
We have redesigned the Level Three landing pages on the KRI website. Now you can easily find all the information about the different programs in English, Spanish and Portuguese! To find out more about the dates, locations, program, requirements, and application process click below:
Testimonials for the Online Level Three Program
"The online platform created a real sense of connecting through the ethers, the aura, and radiant body. We really can connect at the L3 level this way – beautiful to experience with so many conscious and elevated beings" SHK from Canada
"Very convenient to be able to do this online! Affordable, practical, environmentally friendly" SK from Norway
"Actually, far beyond my expectations. Technique worked very well and smoothly. The feeling of group and shared space was amazing over these days, and maybe even more strongly felt than in the physical meeting." HAK from Sweden
We look forward to seeing you in the Level Three programs!
Many blessings,
Amrit Vela Kaur
Level Three Administrator
Amrit Kaur, also known as Amrit Vela Kaur, was born and raised in a family that practiced Kundalini Yoga. She studied at Miri Piri Academy for three years and got her university degree at Texas State University. She currently lives in Santiago, Chile with her wife and pets. She is a KRI Lead Trainer and a Hatha Yoga Instructor and teaches Level One Teacher Trainings all over South America. She works as the Level Three Administrator and newsletter editor for KRI. She is the founder of the school Kundalini Surji and the creator of the website www.KundaliniHoy.com
KRI Presents!
November Online Courses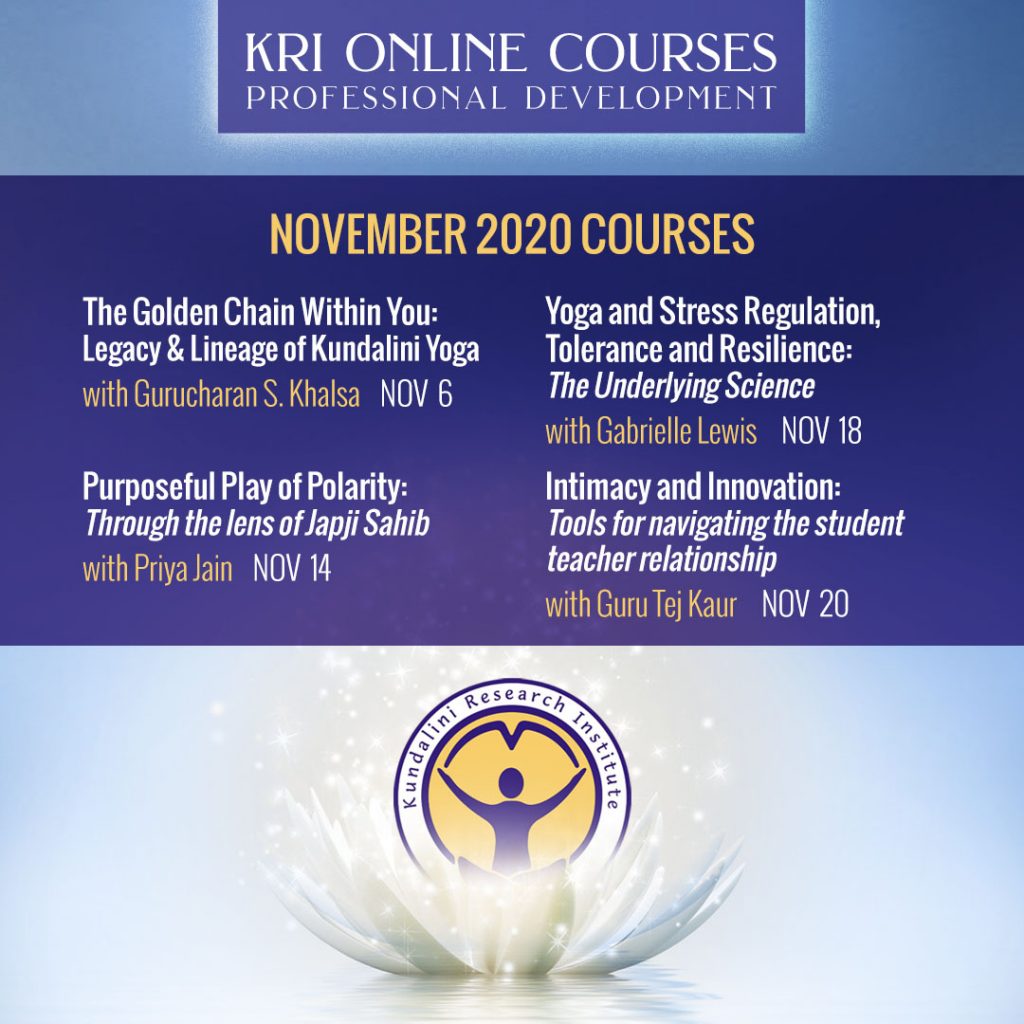 See all of our courses here: Choose the Learning That is Right for you!
The Golden Chain Within You: Legacy & Lineage of Kundalini Yoga with Gurucharan Singh
Friday, November 6th, 12:00 PM Eastern Time
What does it mean to become a part of the lineage of the golden chain? Embrace your past, present and project into the future as a teacher that leaves a mark of the legacy of teachings.
Join Gurucharan S. Khalsa, who has been teaching Kundalini Yoga since the '70s, for this rich experience in learning a useful process that upgrades your relationship to your personal history as an integral foundation to the legacy you leave.
Presented by:
In the 1970's while Director of Community Services at KRI, teaching Kundalini Yoga to addicts and high-risk youth, Yogi Bhajan told Gurucharan S. Khalsa, Ph.D. to get a Ph.D. in Psychology. Still a lifelong teacher of Kundalini Yoga with an interest in its therapeutic value, Gurucharan is a Mentoring Lead in the Aquarian Trainers' Academy and licensed as a Psychologist and a Marriage and Family Therapist; he is also certified in Hypnosis, Bioenergetic Analysis, and Yoga therapy.
Purposeful Play of Polarity: Through the of Japji Sahib with Priya Jain
Saturday, November 14th, 12:00 PM-2:30 PM Eastern Time
It may seem like the world has never been as divided and polarized as it feels right now! But the play of polarity is as eternal as life itself.
Have you ever thought about what the purpose of polarity is? Through Japji Sahib we can comprehend this purpose and navigate the ongoing dance of polarity always present in the world.
In this webinar, Priya Jain invites you on a cosmic ride with Guru Nanak, as he guides our understanding of the "purposeful" play of polarity, through the lens of Japji Sahib.
Please bring water, a head covering, a pen and a journal.
Presented by:
Born and raised in Punjab, India, Priya Jain was exposed at a young age to a diverse range of religious beliefs, traditions, philosophies, and spiritual practices, which sparked her curiosity and enthusiasm for Self-exploration. Her firm foundation in the wisdom traditions of the East and her curious application of science and practicality of the West brings about a seamless bridging of the Heart and Mind, in all her offerings. She is a lead trainer with KRI and the founder of Seventh Chakra Yoga studios in Orange County California, where, along with her husband Peter, she serves a robust community of like-minded seekers. She can be reached at Priya@seventhchakrayoga.com; webpage: https://www.seventhchakrayoga.com/
Yoga and Stress Regulation, Tolerance and Resilience: The Underlying Science with Gabrielle Lewis
Wednesday, November 18th, 11:00 AM – 12:00 PM Eastern Time
Join researcher Gabrielle Lewis for an in-depth look at the stress response, and the evidence-based data on Kundalini Yoga on stress regulation, tolerance, and resilience. We'll discuss what stress is, the physiological mechanisms that are involved, as well as the research on the impact of yoga on stress, and how this can inform your students when presenting at teacher trainings. We'll also discuss ways you or your colleagues can get involved in research, and support the underlying science of Kundalini Yoga and meditation.
Presented by:
Gabrielle Lewis started her journey into the world of mental health at the University of Durham, an Ivy league school in England, graduating with a first-class honors degree in Applied Psychology.
Since then her love for understanding the science of how the mind, and body connect has led her to study the ancient practice of yoga and meditation with world renowned teachers.
Gabrielle's passion for psychology, yoga, and meditation has fused all of these elements together. Today she finds herself teaching in many different environments from mental health facilitates, the corporate world, universities, nationwide assisted living homes, as well as a Special Forces Unit. Gabrielle also has a keen interest in research and sits on the Kundalini Research Institute's Research Advisory Committee and is working on researching the stress response in different demographics, and health conditions.
Intimacy and Innovation: Tools for Navigating the Student-Teacher Relationship with Gurutej Kaur
Friday, November 20th, 11:00 AM – 1:00 PM Eastern Time
How to allow true intimacy with your students' hearts and essence without the burden of being inappropriate? This can be a challenge for any teacher. Intimacy means being connected and seeing into a person or situation.
The definition of intimacy is: closeness, coziness, familiarity……… not what we think of today which is more like foreplay. We want to know how to connect with True Intimacy and authenticity with our students.
Let's explore this topic together in an interactive workshop where we expand on the definition of intimacy and how to apply it to our lives. Be there to experience intimacy.
1. How to create and practice intimacy with yourself. Your life.
2. How to create intimacy in your classes and know the difference between seduction, using and intimacy.
3. How to work with students who want more intimacy than is appropriate.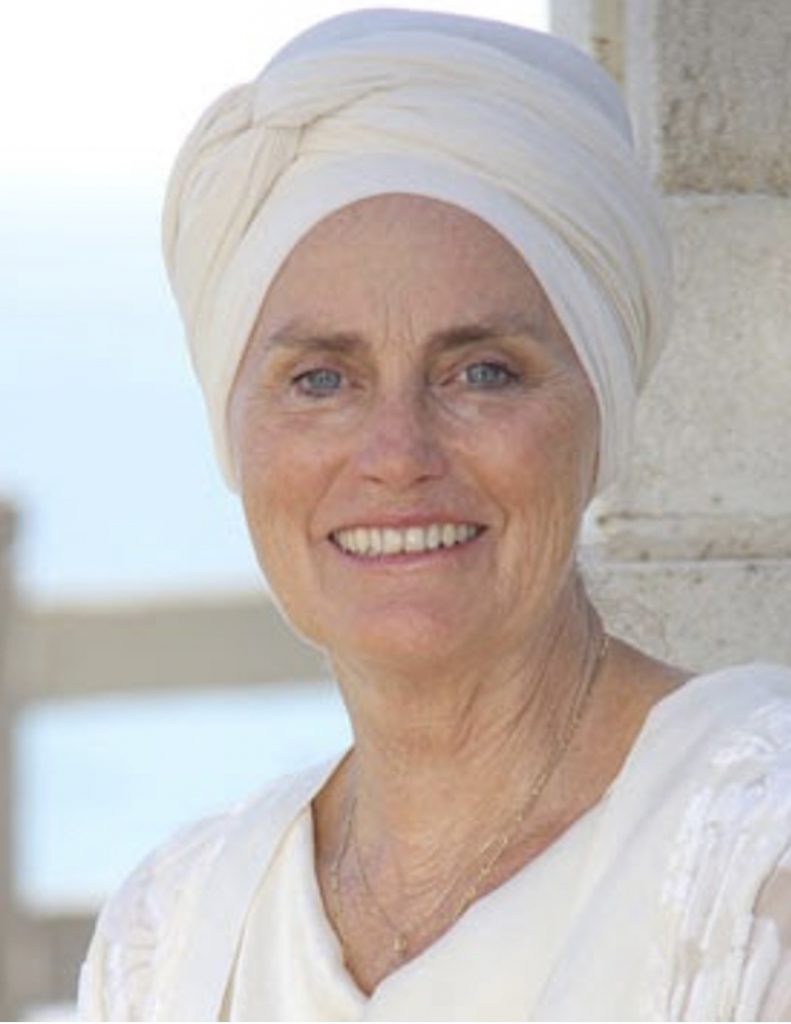 Presented by:
For over 50 years, Gurutej has been living her destiny and continues to awaken the spirit of all she touches. Gurutej emerged as a founding practitioner of Kundalini. Gurutej is now considered a foremost authority on Kundalini Yoga and internationally recognized as one of a handful of Kundalini Yoga Masters and more.
When not traveling the world and teaching, Gurutej can be found at The Blessings Center in Los Angeles. You can also enjoy her blog or suite of online books, programs, classes, or products at http://gurutej.com
---
The Global Teachers Forum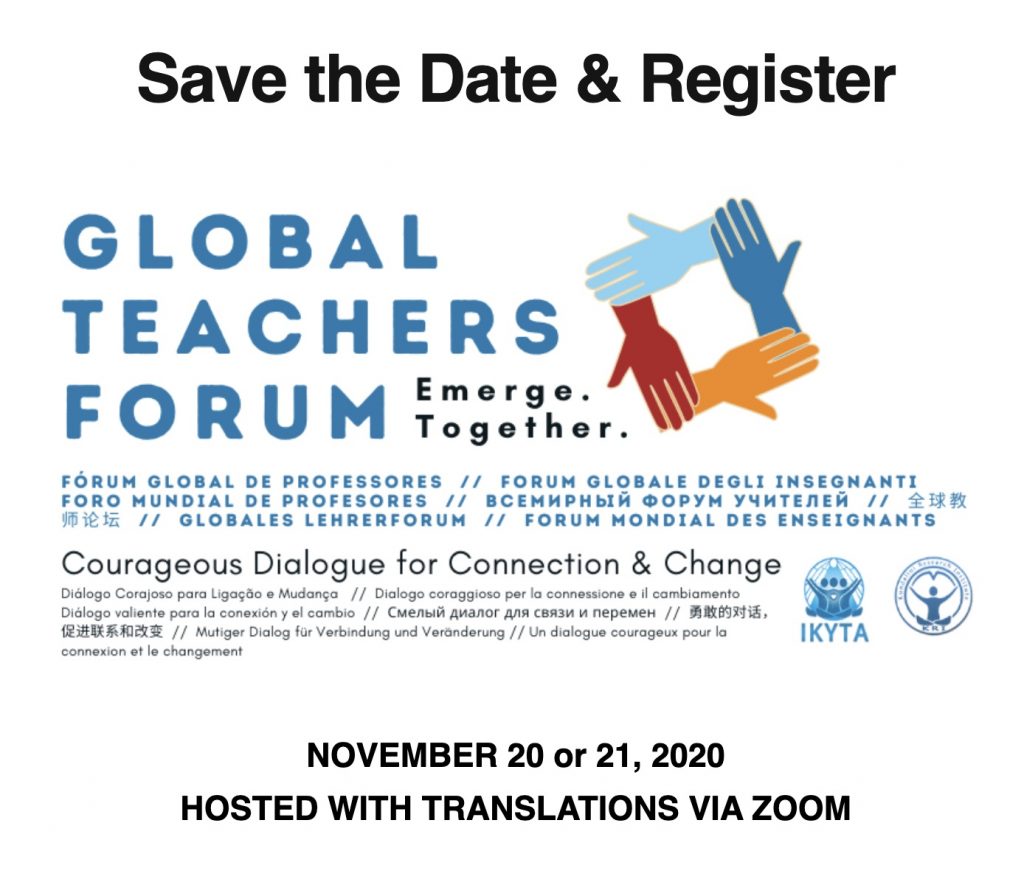 The Global Teachers Forum is a welcoming space for all KRI-Certified Kundalini Yoga teachers worldwide. It is being convened in the spirit of transformation and growth to support our teachers during this challenging time in our community. The Global Teachers Forum is a platform for dialogue, offered in several languages, to envision a new future together that supports each of us who are sharing Kundalini Yoga in our centers, from our homes, and in so many ways. Ultimately, it is our hope that these conversations will serve to support, educate, empower, and uplift all teachers who participate.

These conversations will utilize a format that is non-hierarchical, collaborative, respectful, deliberate, mindful, and will prioritize the process involved in deep listening, intentional speaking, and courageous creativity – with teachers all over the world.
More information and to register – The Global Teachers Forum
Source Specials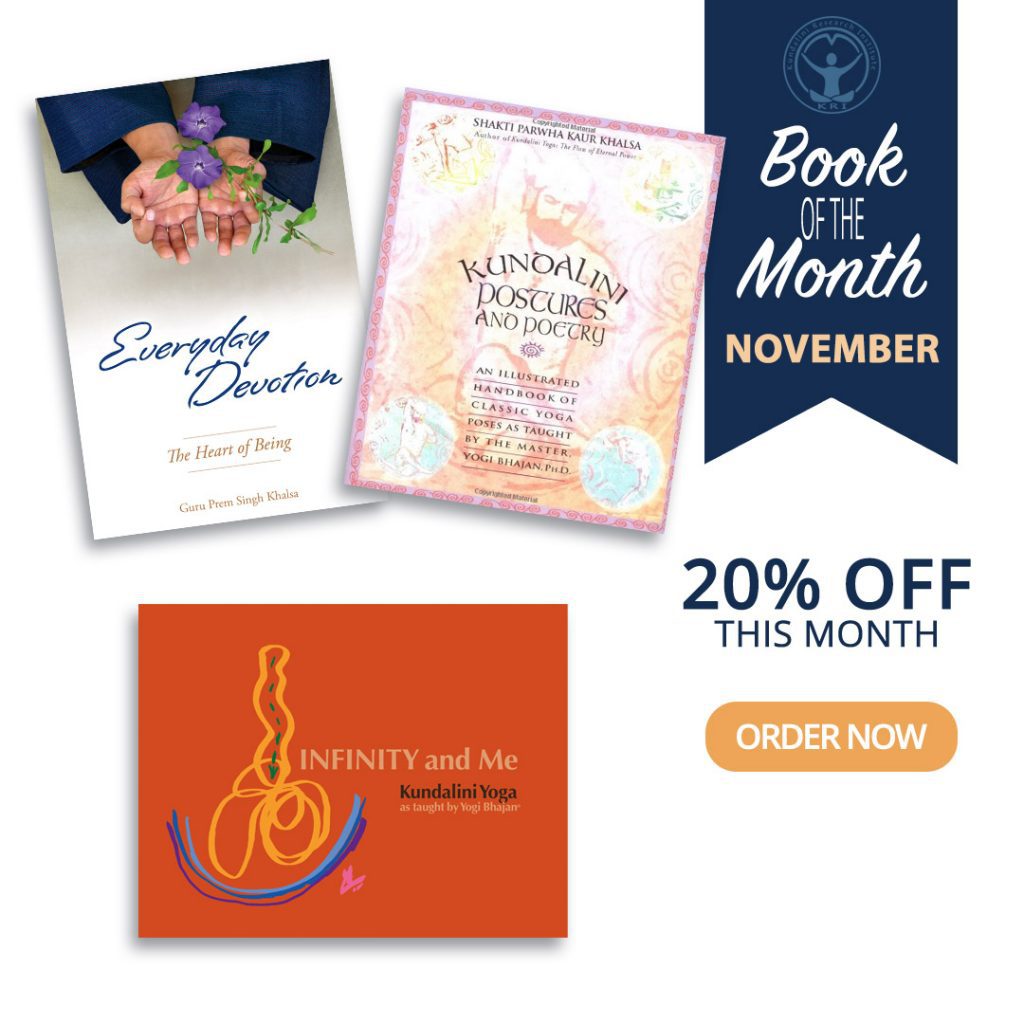 Infinity & Me
Compiled and Illustrated by Harijot Kaur Khalsa
The 21 Stages of Meditation clarifies the process and outlines the steps toward your own progress in meditation. Defined by Yogi Bhajan and elucidated by Gurucharan Singh, "The 21 Stages of Meditation" is a key work in deepening your understanding and experience of meditation. Ranging from Upset and Boredom to Humility, Graceful Enlightenment, and the Sage, explore these stages and the three distinct meditative journeys, which culminate in the pinnacle of contemplative awareness, the Stage 21st, also described as The Infinite Pulse.
---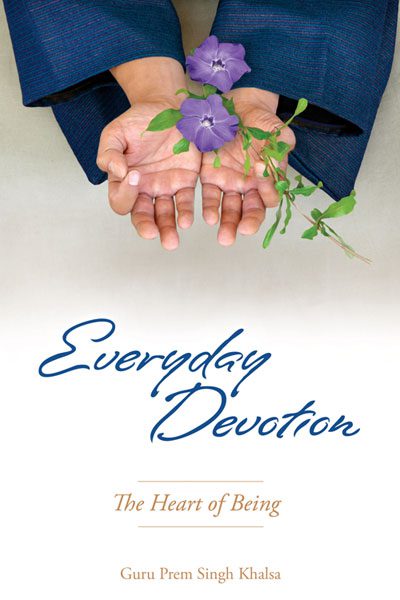 Everyday Devotion
The Heart of Being
By Guru Prem Singh Khalsa
Devotion is a very rare process in life. It has its own geometry, symmetry, and balance. How we bend and bow, turn and twist, gives form to our devotion. In this book, Guru Prem guides us from the simplest breath exercises to some of the most advanced asanas in our practice. A gymnast, somatic therapist, posture specialist, the author tells the story of the body and the spirit, the mind, and the heart, through his daily acts of surrender. He shares tips on how to live from the heart like a magnificent journey of devotion, in which our bodies become a living prayer.
---
Kundalini Postures & Poetry (Ebook)
By Shakti Parwha Kaur Khalsa
This unique book teaches yoga through poetry and was compiled by Shakti Parwha Kaur, one of Yogi Bhajan's most accomplished students. Revealing simple yogic techniques that can be enjoyed by everyone regardless of age or physical ability, the poems and accompanying photographs will help yoga practitioners experience the flow of energy that exists in everyone.
Recipe of the Month – October
Sesame Sourdough Bread
Extract from "Foods for Health & Healing"
Ingredients:
1 package sourdough starter
1 package dry yeast
3 cups sesame seeds
2 tsp, salt
1 oz. sesame oil
1 1/2 cup warm milk
5 cups whole wheat flour
3 cups chopped peeled apples
2 Tablespoons honey
2 Tablespoons melted butter
Prepare sourdough starter as per package directions. (You'll need to do this about four days in advance.) Blend sesame seeds with sesame oil to make sesame butter. Set aside. Put 3 cups sourdough starter in a warm bowl. Stir in (in order) 1 cup whole wheat flour, honey, dry yeast, salt, warm milk, 2 cups sesame butter, chopped apples and melted butter. Stir well. Stir in 4 more cups whole wheat flour.
Knead bread on a well-floured board until smooth and elastic. Lightly oil the dough and place in a large warm bowl. Allow to rise for about 2 hrs. until double size. Punch down and let rise again for 30 minutes. Divide dough into two equal loaves. Place in well-greased loaf pans. (Dough should fill the pans no more than half full.) Allow to rise for about 90 minutes. Oil the top of each loaf. Bake in pre-heated oven at 375 degrees for 45 minutes. Remove from loaf pans. For a softer crust, oil or butter sides and bottom immediately.