Amrit Singh Khalsa of Espanola has spent a lifetime with art, reflecting his environment beautifully in color and form.  This summer, Amrit completed a bronze rendering of Yogi Bhajan to honor his memory and unveiled it at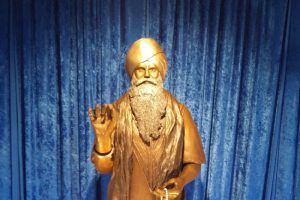 the Yogi Bhajan birthday party. This statue stands 4 feet tall and gracefully remembers Yogi Bhajan's dress, smile, and penetrating eyes.
Amrit Singh has a vision of casting a monumental 10-foot statue to be placed at "the Ranch," his home in Espanola, New Mexico. Amrit Singh will supervise every aspect of the enlargement process and the final placement of the monument.
The Legacy of Yogiji Foundation would love all our friends and students to participate in this royal project. Join us here in fundraising. The amount is not important , but take the time to participate.  Miracles are expected!