Overview of Program
Learn how to communicate your whole Self, with awareness, kindness and fearlessness. In this course we will explore different ways you can elevate your communication so that life becomes a flow, in harmony with the Infinite.
Dates:
Module 1: July 17 and 18, 2021
Module 2: July 24 and 25, 2021
Module 3: July 31 and August 1, 2021
Daily Schedule
The course will begin every day at 8:30am MST (New Mexico Time) and end around 6:30pm MST (New Mexico Time)
Online Modality
Enjoy connecting with others while staying in the comfort and safety of your own home. The course will be held 100% through Zoom. We will send out the Zoom link a few days to those who are registered to the course.
Manuals:
The course comes with a manual. You can choose to receive either an Ebook version of the manual or a hard copy when you register.
General information of the course
Price
| | | |
| --- | --- | --- |
| | Early Registration (by April 30, 2021) | Standard Registration (by July 16, 2021) |
| General | $795.00 | $895.00 |
| Full-Time Students and Seniors (55+), | $720.00 | $820.00 |
| IKYTA Members or any member for local Kundalini Yoga National Teachers Associations | $720.00 | $820.00 |
*Program Rates include: Tuition and Manuals

Scholarships
We are opening up 10 spots at a discounted scholarship rate. If you would like to apply for a scholarship please contact us at level2@kriteachings.org
Other Discounts Available….
If you are an HGRD Member, a Dharmic Employee, or a Miri Piri Academy student you may be eligible for a significantly discounted rate for this training program. Please contact level2@kriteachings.org for more information.
Payment Policy: You must be paid in full in order to secure your space in the training program. All registrants must be paid in full by February 26, 2021 in order to attend.
Cancellation Policy: For all cancellations KRI must receive your written request for a refund mailed to KRI, PO Box 1819, Santa Cruz, NM 87567, or faxed to 505-753-5982, or emailed to level2@kriteachings.org.
Course Cancellation Fees:
Before April 30, 2021 – $75 fee
Between May 1 – July 16, 2021 – $150 fee
After July 17, 2021 – No Refund
This program is led by Lead Trainer, Nirvair Singh, with the help of some of our top teachers around the globe.
Teaching team: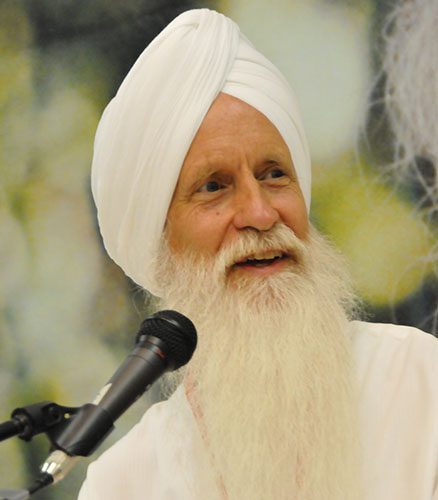 Nirvair Singh
From United States
Nirvair Singh Khalsa began studying with Yogi Bhajan in 1971. He is a retired University Instructor at the University of Alaska Anchorage where he taught classes in Kundalini Yoga for 31 years. He has authored nineteen best-selling DVD's/Videos and four books on Kundalini Yoga as taught by Yogi Bhajan®. http://www.kundaliniyoga.net
He has also taught classes, workshops and trainings throughout the Americas, Europe and Asia, including the Level One Immersion offered yearly in Espanola, NM. He is a Yoga Alliance E-RYT 500 certified teacher trainer. He lives with his wife of 40 years, Nirvair Kaur, in Tesuque New Mexico.
Amanbir Singh
From United States
Amanbir is a licensed acupuncturist and yoga therapist with over 15 years experience of teaching Kundalini Yoga. He has worked privately assisting people across the globe to master their own health through the complement of Taoist Medicine, Astrology, Herbs, and Yoga Therapeutic tools. He has created curriculum and taught in several international Kundalini Yoga, Hatha, and Yoga Therapy trainings.
Amanbir brings his sense of humor, uplifting music, and extensive knowledge of the healing field into every class. He is known for holding a welcoming space for all cultures, genders, orientations, and races to elevate in communion.
Amanbir holds a Bachelors of Science in Engineering from the Cooper Union. Also a Masters of Traditional Chinese Medicine from the Pacific College of Health and Science. He is currently a Professional Teacher Trainer recognized by the Kundalini Research Institute. He serves a director on the board of Free Food Kitchen Revolutionary Yoga NPO, raising capital and serving food to communities in extreme need in South Africa.
Amrit Vela Kaur
From Chile
Amrit Kaur, also known as Amrit Vela Kaur, was born and raised in a family that practiced Kundalini Yoga. She studied at Miri Piri Academy for three years and got her university degree at Texas State University. She currently lives in Santiago, Chile with her wife and pets. She is a KRI Lead Trainer and a Hatha Yoga Instructor and teaches Level One Teacher Trainings all over South America. She works as the Level Three Administrator and newsletter editor for KRI. She is the founder of the school Kundalini Surji and the creator of the website www.KundaliniHoy.com 
Ardaas Singh
From Portugal
Ardaas Singh began his career as a musician, university teacher and researcher. Even though his parents are both yogis and was surrounded from birth by yogic books and chakra drawings, Ardaas didn't begin his yogic studies until 2002, while working on his Phd in Artificial Intelligence. His first steps in the path were as a Mantra Yogi under the training of Muz Murray in U.K., France and India. He then trained in Sat Nam Rasayan Healing and completed the intensive training to become a Kundalini Yoga Instructor in New Mexico, US. Apart from India and the US, Ardaas has also travelled throughout Europe receiving the teachings of Karam Kriya from his Spiritual Teacher, Shiv Charan Singh. At present, Ardaas Singh is fully dedicated to the transmission of the teachings as an international trainer of Karam Kriya Consultants and Kundalini Yoga Teachers Level 1 and 2.
Shama Kaur
From Egypt
Originally from Cairo, Shama Kaur was Egypt's first Kundalini Yoga Teacher & Trainer in 2012.   
In Arabic 'Shams' means sun and 'Shama' means candle, put them together and her name means the one who shines the light of her inner soul. 
Since the age of 25, Shama has been teaching Kundalini Yoga in Egypt. Her passion for this mission has taken her across the Middle East and North Africa, where she has taught in Jordan, Kuwait, Palesinte, Dubai, Morocco and Tunis. She has also launched and been part of Teacher Training Programs in Palestine, Egypt and Dubai.  
Shama is a Professional Trainer in the Aquarian Trainer's Academy, teaching as part of level 1 and level 2 trainings in the ME region. 
She is also the founder of YallaYoga, an innovative Social Enterprise serving as both a yoga educational institute and a healthy lifestyle community center.
Sierra Siri Prakash Bullock
From Bali
Professional Level Trainer & Well-Being Facilitator
Currently living in Bali with her husband and teenage son, she enjoys community cooking, book clubs, board games & making kombucha. She is appreciated for her down to earth values of empathy, authenticity, finding win-wins, creativity and imagination.
She creates a safe space of belonging for skills to be cultivated to master change, stability & steadiness. She holds a sacred space of belonging to give form to vision and manifest dreams into realities. She contains a sovereign space of belonging with harmonious connection for the creation of enduring purpose and value.
Siri Prakash brings years of learning from a diverse collection of degrees and certificates such as B.S. Special Education, Deaf Studies; M.S. Holistic Nutrition & Education; 200 hour Certificate Psycho-Structural Balancing and most recently Therapeutic Spiral Model strategies.
She has served on the following training teams: first time KRI Level 1 programs for Napa (2011) and Philippines (2017/18); global team for KRI 21 Stages of Meditation (2020); KRI Bali Level 1 (2020); KRI Bali Level 2 Vitality & Stress (2020); KRI Bali Immersion (2019); KRI Level 1 Bali Seva program (2018/2019). Siri Prakash is the Founder and Board Director for NorCal Women's Camp, a non profit organization in California whose events have helped hundreds of women transform their lives. Embracing the opportunity to be the change for new revival, she recently joined the 3HO Foundation as a board member.
In conjunction with your Level One KRI Certification, this 300-hour/2-year certification program qualifies you for the Yoga Alliance 500-hr E-RTY certificate. It consists of five different, independent and unique 62-hour modules. Once you complete all five modules you can request your Level Two certificate from KRI.
If you do not yet have a Level 1 KRI certificate you can still take the course. You can one Level Two module before you Level 1 course and still have it count towards your Level Two certificate. If you take more than one Level Two module before completing your Level 1 program, you will not receive a letter of completion, and hence they will not "count" towards your eventual Level Two certification.
Contact us:
If you have any questions about this course, please contact us with your questions or concerns to level2@kriteachings.org