---
---
Overview of Program
The 21 Stages of Meditation gives you tools and experiences to deepen your meditation and come to a profound understanding of your Self. Complete three meditative journeys toward the pinnacle of contemplative awareness: The Infinite Pulse.
Students and teachers from all contemplative traditions are invited and encouraged to participate in the vibration of this immersive experience.
Dates:
Journey One: October 11-12, 2021
Journey Two: October 13-14, 2021
Journey Three: October 15-16, 2021
You may take the entire course or choose a 2 day journey.
Daily Schedule
The course will begin every day at 8:00 am MST (New Mexico Time) and end around 5:30 pm MST (New Mexico Time)
Each day is designed to experience around 8 hours online. Breaks will be offered between certain meditation stages.
Online Modality
Enjoy connecting with others while staying in the comfort and safety of your own home. The course will be held 100% through Zoom. We will send out the Zoom link a few days prior to the course to all registered students.
Manuals:
This course includes a copy of the manual in eBook format. You will receive the code to redeem the eBook before the course begins.
All students enrolled will also receive a 25% discount code to order a hard copy of the manual.
General information of the course
Price
Early Registration (by September 13, 2021)
Standard Registration (After September 14, 2021)
General (All 3 Journeys)
$519.00
$574.00
Single Journey (1 weekend)
$180.00
$200.00
Conscious Contribution
(includes $108 donation to sponsor 1 scholarship for attendance)
$627.00
$682.00
Scholarships
We are opening up scholarship opportunities. If you would like to apply please click here to fill out this form.
Discounts Available
There are special prices available for:
Dharmic Employees
IKYTA or other National Teacher Association members
MPA affiliates
Full time students
Seniors 55+
If you have attended a KRI Event in Española or Online (Level 1, Level 2, Level 3 Mela, 21 Stages or Trainer Forum), you are eligible for an additional 10% discount.
If you apply for any of these discounts, please write to: 21stages@kriteaching.org
This program is guided by Lead Trainer, Nirvair Singh, with the support of some of our top teachers from around the globe.
Teaching team: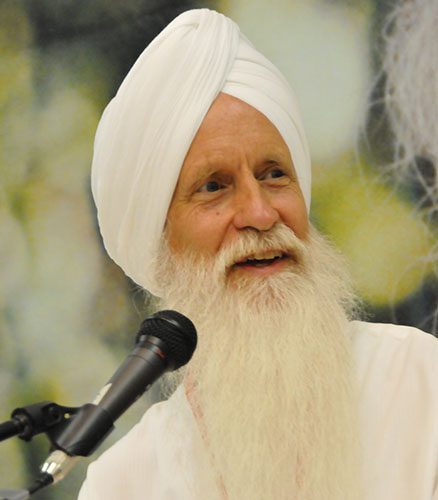 Nirvair Singh
From United States
Nirvair Singh Khalsa began studying with Yogi Bhajan in 1971. He is a retired University Instructor at the University of Alaska Anchorage where he taught classes in Kundalini Yoga for 31 years. He has authored nineteen best-selling DVD's/Videos and four books on Kundalini Yoga as taught by Yogi Bhajan®. http://www.kundaliniyoga.net
He has also taught classes, workshops and trainings throughout the Americas, Europe and Asia, including the Level One Immersion offered yearly in Espanola, NM. He is a Yoga Alliance E-RYT 500 certified teacher trainer. He lives with his wife of 40 years, Nirvair Kaur, in Tesuque New Mexico.
Amanbir Singh
From United States
Amanbir is a licensed acupuncturist and yoga therapist with over 15 years experience of teaching Kundalini Yoga. He has worked privately assisting people across the globe to master their own health through the complement of Taoist Medicine, Astrology, Herbs, and Yoga Therapeutic tools. He has created curriculum and taught in several international Kundalini Yoga, Hatha, and Yoga Therapy trainings.
Amanbir brings his sense of humor, uplifting music, and extensive knowledge of the healing field into every class. He is known for holding a welcoming space for all cultures, genders, orientations, and races to elevate in communion.
Amanbir holds a Bachelors of Science in Engineering from the Cooper Union. Also a Masters of Traditional Chinese Medicine from the Pacific College of Health and Science. He is currently a Professional Teacher Trainer recognized by the Kundalini Research Institute. He serves a director on the board of Free Food Kitchen Revolutionary Yoga NPO, raising capital and serving food to communities in extreme need in South Africa.
Shama Kaur
From Egypt
Originally from Cairo, Shama Kaur was Egypt's first Kundalini Yoga Teacher & Trainer in 2012.   
In Arabic 'Shams' means sun and 'Shama' means candle, put them together and her name means the one who shines the light of her inner soul. 
Since the age of 25, Shama has been teaching Kundalini Yoga in Egypt. Her passion for this mission has taken her across the Middle East and North Africa, where she has taught in Jordan, Kuwait, Palesinte, Dubai, Morocco and Tunis. She has also launched and been part of Teacher Training Programs in Palestine, Egypt and Dubai.  
Shama is a Professional Trainer in the Aquarian Trainer's Academy, teaching as part of level 1 and level 2 trainings in the ME region. 
She is also the founder of YallaYoga, an innovative Social Enterprise serving as both a yoga educational institute and a healthy lifestyle community center.
Sierra Siri Prakash Bullock
From Bali
Professional Level Trainer & Well-Being Facilitator
Currently living in Bali with her husband and teenage son, she enjoys community cooking, book clubs, board games & making kombucha. She is appreciated for her down to earth values of empathy, authenticity, finding win-wins, creativity and imagination.
She creates a safe space of belonging for skills to be cultivated to master change, stability & steadiness. She holds a sacred space of belonging to give form to vision and manifest dreams into realities. She contains a sovereign space of belonging with harmonious connection for the creation of enduring purpose and value.
Siri Prakash brings years of learning from a diverse collection of degrees and certificates such as B.S. Special Education, Deaf Studies; M.S. Holistic Nutrition & Education; 200 hour Certificate Psycho-Structural Balancing and most recently Therapeutic Spiral Model strategies.
She has served on the following training teams: first time KRI Level 1 programs for Napa (2011) and Philippines (2017/18); global team for KRI 21 Stages of Meditation (2020); KRI Bali Level 1 (2020); KRI Bali Level 2 Vitality & Stress (2020); KRI Bali Immersion (2019); KRI Level 1 Bali Seva program (2018/2019). Siri Prakash is the Founder and Board Director for NorCal Women's Camp, a non profit organization in California whose events have helped hundreds of women transform their lives. Embracing the opportunity to be the change for new revival, she recently joined the 3HO Foundation as a board member.
KRI must receive your written request for a refund in case of cancellations at 21stages@kriteachings.org.
Cancellation Fees:
Before Sept. 1: $75 fee
Sept. 1 – Oct. 7: $150 fee
After Oct. 8 – No Refund
Full refunds will be offered to those affected by COVID-19
Conscious Contibution:
Community support to contribute to KRI's 21 Stages scholarship fund. This non-tax- deductible donation option includes an additional $108 that goes directly towards supporting the scholarship fund. This is an opportunity to put privilege to power and support black, indigenous, or persons of color, anyone who is economically disadvantaged, or anyone located in a country with weaker currency. Your donations are kindly appreciated.
Payment Policy: You must be paid in full in order to secure your space in the training program. All registrants must be paid in full by October 8th, 2021 in order to attend.
Contact us:
If you have any questions about this course, please contact us at 21stages@kriteachings.org