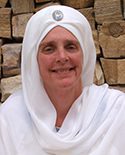 Welcome to the launch of the We Are KRI! blog.  For many years now, I have been traveling the globe, working with all levels of KRI teachers to train, mentor, and coordinate a sustainable network of teachers for future generations.  It is exciting work, and those of you who know me, know that I love it.  I can't believe how many lovely, talented, and dedicated teachers make up KRI.  I hold each one dearly in my heart.  But now, I want to share it with you, too!  So, stay tuned for my news and enjoy the travel with me!
Most of my traveling is with the Trainer Development Programs offered by KRI to support our certified instructors.  This can be Global Trainer Forums, individual mentoring, peer coaching, or just sharing in the joys and challenges of walking this great path. Trainers from all levels of the academy are required to attend a Trainer Forum at least once every two years as an important step in the life-long journey of developing the skills and caliber of a trainer in the Aquarian Teacher Program.   The Trainer Forum is for you, the trainer, and keeps you up to date with the growth and development of of the KRI Aquarian Trainer Academy.  It is an inspiring opportunity to refresh your skills, build relationships with other trainers, participate in important discussions regarding the culture and policies of the Academy, and meditate together in the company of peers.
But this doesn't have to be all about me. I would love to hear from you and see what great things you are doing.  Drop me a note, send me a picture, and I will share it here on the blog.
What is KRI?  Well the answer to that is simple – We Are KRI!