"Dithey Sabhey Thaav, Nahi Tudh Jey-ia" "I have seen all places, but there is none like thine!"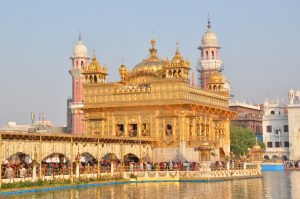 Written by Guru Arjan Dev ji upon the completion of the Sri Harmandir Sahib, the Golden Temple, it is just as true today as it was then.  There is no place on earth like Guru Ram Das' home, the Harmandir Sahib.
Join our sister organization, Sikh Dharma International, October 23th and 24th for the Guru Ram Das Chetna Yatra in India to celebrate Guru Ram Das ji's birthday. Chetna is a beautiful word that means "awaken." This yatra will be a trip of seva and devotion to awaken the love of Guru Ram Das in the sangat and in ourselves.
Together with our Kirtan jathas, the Yatra will attend programs throughout the Punjab on the 23ed and 24th. We will travel together by bus, returning each night to Amritsar. Most mornings will be at your leisure for darshan at Sri Harmandir Sahib and enjoying Amritsar.
On October 25th, we will join Miri Piri Academy and the huge sangat of Amritsar in the streets for a jaloose in honor of Guru Ram Das ji. That night we will attend the Raag Kirtan Darbar at the Manji Sahib Hall at Sri Harimandir Sahib to hear classical Kirtan, including our own Chardi Kala Jatha.
On October 26th, we will celebrate Guru Ram Das' birthday with thousands of devotees at the Harimandir Sahib. The crowds will be big and our spirits will be soaring!
On October 28th, we will complete the Yatra with Sunday Gurdwara at Miri Piri Academy, tour the campus, and enjoy the school.
This is a seva yatra and highly affordable.  Make this your year to meditate at the Golden Temple of Amritsar!