Amore rivoluzionario: Aprire il cuore alla giustizia sociale
Questo è un periodo in cui vediamo la violenza e il dolore nel mondo. Questo momento urgente ci chiama a cambiare e a connetterci. Dobbiamo comprendere il percorso di trasformazione e di empatia per sopravvivere a questi tempi difficili.
Il dottor Nirinjan Kaur ha creato una serie in quattro parti basata sul libro di Valarie Kaur, "See No Stranger: A Memoir and Manifesto of Revolutionary Love". In questo corso esploreremo i concetti del libro e come l'amore rivoluzionario sia la soluzione ai nostri conflitti attuali. L'Amore Rivoluzionario ci chiama ad essere coraggiosi e a lottare per la dignità di ogni vita.
Alla fine di questo viaggio dovreste uscire da questa esperienza impegnati e saldamente radicati nella vostra autenticità, nei vostri principi e valori e nel modo in cui volete presentarvi nel mondo per prendervi cura di voi stessi e degli altri.
Perché seguire questo corso è meglio che starsene a casa da soli a leggere "See No Stranger":
Siete sensibili a ciò che accade, vedete il conflitto intorno a voi e avete bisogno di SUPPORTO all'interno di un'esperienza di gruppo autonoma per integrare questi concetti e far sì che il cambiamento avvenga davvero. Questo è ciò che è così prezioso. Abbiamo già organizzato dei club del libro e sappiamo che il dialogo con la comunità è un modo per appropriarsi dei concetti e del linguaggio, in modo da poterli condividere con chi ci circonda e avere gli strumenti per cambiare il mondo. Anche se pensate di non avere tempo, basta saltare su una o due delle opzioni dal vivo e ascoltare/guardare le repliche per avere ciò che vi serve per un'evoluzione interiore del cuore che si trasformi in azioni incarnate in questo mondo.
Maggiori informazioni
Ci chiediamo: come possiamo aiutare?
Come possiamo sederci nel dolore l'uno con l'altro e nel dolore che stiamo provando tutti?
Come possiamo imparare ad ascoltare coloro con cui non siamo d'accordo?
Come possiamo aprirci alle loro storie per reimmaginare un mondo in cui tutti ci sentiamo ascoltati, sicuri e amati?
Come possiamo, attraverso la comunità e il dialogo, imparare insieme e passare dalla passività all'azione?
Insieme ci rinnoviamo e impariamo a sostenere un vero cambiamento.
Cosa include questo corso:
4 sessioni di due ore con il Dr. Nirinjan Kaur
Partecipazione a un'apparizione con Valarie Kaur
Accesso alle registrazioni della sessione nel caso non sia possibile effettuarle.
Per acquistare il libro di testo "I See No Stranger", consultare il sito web di Valarie Kaur(cliccare qui per informazioni).
Nirinjan Kaur Khalsa-Baker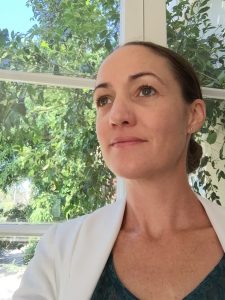 Nirinjan Kaur Khalsa-Baker, Ph.D., è Istruttore Senior di Studi Teologici presso la Loyola Marymount University, dove ha ricoperto anche il ruolo di Professore Clinico di Studi Jain e Sikh (2015-2018) e di Direttore ad interim di Studi Yoga Graduati (2019-2020). È nata nella comunità 3HO come sikh di seconda generazione a Tucson, in Arizona. All'inizio degli anni 2000 Nirinjan ha lavorato per 3HO Events, ha ottenuto la certificazione KRI di livello 1 ed è diventata la prima esponente femminile della tradizione del tamburo Sikh, Amritsari-Baaj sul jori-pakhawaj. Nel 2014 ha conseguito un dottorato di ricerca in Studi Sikh presso l'Università del Michigan, Ann Arbor. La sua ricerca etnografica e le sue pubblicazioni indagano sul kirtan sikh storico, moderno e transnazionale. Utilizzando una lente decoloniale, esplora la diversità e i ruoli di genere nell'identità, nella pedagogia e nella pratica sikh. Nel corso della sua attività di ricerca e insegnamento, sottolinea l'importanza delle pratiche incarnate per coltivare l'azione etica nella vita quotidiana.
La dottoressa Nirinjan Kaur ha stretto amicizia con Valarie Kaur dal 2016, collaborando con Jasvir Kaur Rababan al Mai Bhago Leadership Circle per rafforzare la sorellanza delle donne sikh nella giustizia sociale. Nirinjan si è seduta al fianco di Valarie durante la stesura di See No Stranger, ascoltandola mentre consegnava ogni capitolo come parte della sua Congrega del Libro, e ha fatto appello alla loro saggezza più profonda, come evidenziato nel capitolo. 9 "Transizione". La dottoressa Khalsa ha insegnato See No Stranger ai suoi studenti universitari della Loyola Marymount University, proponendo il pensiero e la pratica sikh attraverso la lente dell'amore rivoluzionario come appello dei nostri tempi.
Ratings and Reviews
Teacher