THE KUNDALINI RESEARCH INSTITUTE
KUNDALINI YOGA AS TAUGHT BY YOGI BHAJAN®

Download the
KRI Crisis Kit
here.

---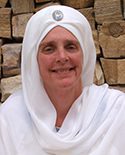 The Kundalini Research Institute Invites you—trainers, teachers and students—to become contributors. Help us provide more tools to teachers and students of Kundalini Yoga as taught by Yogi Bhajan® all around the globe. Submit a short video clip for our dynamic new interface: "We Are KRI". Give us your perspective on relevant and timely questions, tell your story, teach a meditation, or promote your upcoming event.

Send your inquiries here: wearekri@kriteachings.org
Subscribe to the WE ARE KRI Blog below
Become A Teacher and Serve Your World
---
Are you interested in teaching Kundalini Yoga (as originally taught by Yogi Bhajan) or learning more about this sacred technology? It is a beautiful practice that will surely enrich your life and develop fitness of mind, body and spirit.
Be aware during your search for a teacher training about who your trainers are, their qualifications and legitimacy, and what association you will be certified with once you graduate. Too many students have been misinformed and have had to re-take their training with legitimate teachers once they discovered they were not properly trained or certified after completing their training.
LEARN MORE
---
The KRI Kitchen
---
---
Yogi Bhajan Videos
---
Newsletter and Daily Quotes
or
Text KUNDALINI to 22828
---
I Am A Woman and
The Master's Touch Daily Quotes