Die Geschichte des Kundalini Yoga
Art des Inhalts
[cpt-terms key="type-of-content"]
Art der Erfahrung
[cpt-terms key="type-of-experience"]
Interessieren Sie sich für die Geschichte und Philosophie von "Yoga"? Heute haben wir die unglaubliche Technologie des Kundalini Yoga, aber wie kam es zu dieser Technologie?
In diesem meistverkauften Kurs werden wir unsere Zehen in den Fluss der Geschichte tauchen und einen Einblick bekommen, wo "Yoga" begann, wie es sich im Laufe der Zeit verändert und entwickelt hat und wie es zu dem wurde, wo wir heute sind.
Sie werden überrascht sein über die vielen Bedeutungen des Wortes "Yoga", wie es in der Vergangenheit verstanden wurde. "Yoga" ist so viel mehr, als Sie zu wissen glaubten!
Die 6-teilige Serie besteht aus 2-stündigen Kursen mit zwei bereichernden Frage-und-Antwort-Sitzungen.
In diesem Kurs behandelte Konzepte:
Alte Geschichte
Das Volk der Veden
Die Shramanas
Die Bhagavad Gita und Bhakti
Das Yogasutra
Tantra
Hutha Yoga
Modernes Haltungsyoga
Kundalini Yoga nach Yogi Bhajan
Ist Kundalini Yoga 5000 Jahre alt?
In welcher Beziehung steht Kundalini Yoga zu Sikh Dharma?
Gibt es eine Verbindung zwischen Yoga und Schamanismus?
Weitere Informationen:
12 Stunden sorgfältig gestaltete Vorträge, die die Geschichte des Yoga von der Antike bis in unsere Tage umfassen
Jedes Video enthält 2 vorab aufgezeichnete Frage-und-Antwort-Sitzungen
Powerpoints aller Vorlesungen
Zusätzliches Lesematerial für jeden Abschnitt + eine empfohlene Leseliste
Schriftliche Abschriften aller Sitzungen
Pavan Dev Kaur (Jeannette Darcy)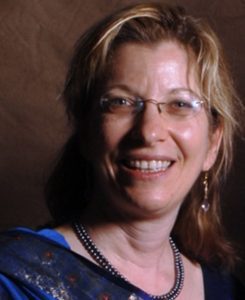 Pavan Dev Kaur (Jeannette Darcy), M. Div., IKYTA zertifiziert, RYT-200, ist Kundalini Yoga-Lehrerin und unabhängige Wissenschaftlerin, die Vorträge über vergleichende Religion, indische Philosophie und die Geschichte des Yoga hält. Ihre Kurse sind unterhaltsam und erhellend, gestützt auf jahrelange persönliche und akademische Studien und gepaart mit praktischen Aktivitäten und Meditationen, die helfen, die Lehren zu verarbeiten.
Neben ihrer 30-jährigen Tätigkeit als Ingenieurin bei der NASA hat sie über 25 Jahre Erfahrung mit vielen Arten von Yoga und Meditation. Sie studierte Sanskrit und indische Philosophie an der Rice University, am American Institute of Indian Studies in Pune, Indien, und an der University of Chicago Divinity School, wo sie ihren Master-Abschluss machte. Sie studiert weiterhin bei spirituellen Meistern und lebt ein Leben des Dienens und der Dankbarkeit.
Verbinden Sie sich mit Pavan Dev Kaur:
E-Mail: pavandevkaur@gmail.com
Ratings and Reviews
Teacher
Ratings and Reviews