About 21 Stages of Meditation
The 21 Stages of Meditation gives you tools and experiences to deepen your meditation and come to a profound understanding of your Self. Complete three meditative journeys toward the pinnacle of contemplative awareness: The Infinite Pulse.
Students and teachers from all contemplative traditions are invited and encouraged to participate in the vibration of this immersive experience.
Why 21 Stages?
The real question is why do we practice in the first place? Happiness. By articulating and describing each of the 21 Stages of Meditation, we have attempted to put into words the states of consciousness that are traversed by those who use the power of meditation to enhance their lives through the pursuit of happiness and peace of mind.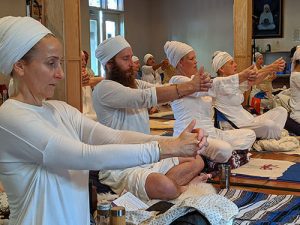 The meditations that guide us through the stages on the journey to Realization are designed to follow the natural structure and qualities of each stage. The experiences of one stage support the progress in the next stage. You can explore any of the stages on your own as an individual practice. The benefit of each meditation stands on its own; but the added benefit of practicing an entire journey comes from the intensity of the practice when done in sequence, within a concentrated period of time and in a community of practitioners.
The goal is clear: happiness.
The nature of meditation is well-defined: refine the mind and elevate your awareness.
The path is open: deepen your meditation through each of the 21 Stages of Meditation in order to reach that intangible quality we call realization.
Learn more detail about the Journeys HERE
KRI Organized 21 Stage Course
2021 21 Stages of Meditation Course
100% ONLINE
Join us online for a deeply meditative experience from the comfort of your sacred space over the course of 6 days.
Dates:
Journey One:

October 8-9, 2022

Journey Two:

October 15-16, 2022

Journey Three:

October 22-23, 2022
See full course details HERE
FAQ - 21 Stages of Meditation
21 Stages of Meditation Courses Around the World
KRI Certified 21 Stages of Meditation Courses are given all over the world by our qualified trainers. Find the course near you by exploring our course directory.
Contact Us
If you have any questions about our 21 Stage program you can contact us at any time at 21stages@kriteachings.org