Está pronto para aprender como os ensinamentos espirituais e a sua prática o podem ajudar a ter mais sucesso no seu negócio?
Junte-se ao Faith Hunter MBA, professor de yoga e empresário bem sucedido, para uma abordagem renovadora e inovadora do yoga como negócio e explorar o seu poder; projectando a sua paixão pelo bem-estar.
Cultivar a presença como professor de yoga requer criatividade, empenho e auto-consciencialização. À medida que o mundo continua a experimentar mudanças extremas, é ainda mais vital para os professores de yoga implementar estratégias enraizadas em forças pessoais e intuição para se servirem a si próprios, aos seus estudantes e fazerem o seu negócio prosperar.
Este workshop foi concebido para o ajudar a explorar o seu poder e a projectar a sua paixão pelo bem-estar. Não importa se é um novo professor, ou se procura refazer o seu trabalho; esta sessão ajudá-lo-á a aprofundar a sua consciência pessoal, a aproveitar as suas mais altas qualidades, e a atingir os objectivos mais tangíveis mesmo no meio da mudança.
A fé fornecer-lhe-á ferramentas práticas para estabelecer uma estratégia empresarial espiritualmente alinhada, e técnicas para ocupar conscientemente o espaço.
Ver o Vídeo Promocional deste Curso
Mais informações:
Conceitos gerais que este curso irá incluir:
Palestra e passos orientados para dar ao seu negócio o impulso de que necessita para prosperar
Como a sua prática espiritual é a base para uma boa gestão e projecção de negócios

Desenvolvimento de estratégia fundamental com material escrito para que possa fazer a sua própria estratégia
Meditação e visualização para abrir a sua intuição e aliviar o medo e os bloqueios

Dicas para a gestão do tempo, impacto nas redes sociais, desenvolvimento de equipas e muito mais.
Faith Hunter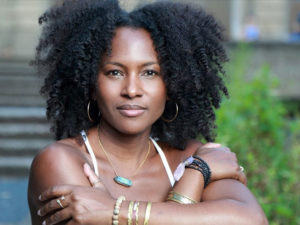 Faith Hunter MBA, E-RYT® 500 é um instrutor global de yoga e meditação, filantropo de bem-estar, motivador de movimentos, guia de cura, e um cabeça de música. Ela é a arquiteta de Spiritually Fly™, uma filosofia de vida que desperta o brilho dentro da alma, e usa as antigas tecnologias de respiração, movimento, som (canto e música), e quietude, de uma forma fresca e moderna para encorajar os estudantes a viver a vida que desejam. Com um BS e MBA, Faith também estudou a profundidade do yoga, meditação, e cura energética.
Da capa a páginas de múltiplas revistas como Yoga Journal e Essence, programas de televisão globais, e várias outras formas de meios de comunicação, Faith é um professor espiritual que mistura brilhantemente os princípios clássicos do yoga e as ocorrências do mundo real numa experiência integrada que é fundamentada, radical e inesquecível Espiritualmente Fly™. Como espírito criativo, Faith é também uma escritora que fundiu o seu amor pela poesia, meditação, e artes curativas em numerosos projectos. O seu 2º livro, Spiritually Fly: Wisdom, Meditations, and Yoga to Elevate Your Soul (Voe Espiritualmente: Sabedoria, Meditações e Yoga para Elevar a Alma) será lançado em 2021. Faith é também a proprietária Embrace Yoga DC, localizada no bairro Adams Morgan de Washington, DC, e a Fundadora/CEO da Embrace OM, uma marca de bem-estar centrada na partilha das muitas vozes da comunidade mundial.
Ligar com Faith Hunter:
https://www.faithhunter.com/
@espiritualmentefly
Ratings and Reviews
Teacher
Ratings and Reviews