¿Está listo para aprender cómo las enseñanzas espirituales y su práctica pueden ayudarle a tener más éxito en su negocio?
Únete a Faith Hunter MBA, profesora de yoga y empresaria de éxito, para un enfoque renovador e innovador del yoga como negocio y aprovecha tu poder; proyectando tu pasión por el bienestar.
Cultivar la presencia como profesor de yoga requiere creatividad, compromiso y autoconciencia. A medida que el mundo continúa experimentando cambios extremos, es aún más vital para los profesores de yoga implementar estrategias enraizadas en las fortalezas personales y la intuición para servirse a sí mismos, a sus estudiantes y hacer que su negocio prospere.
Este taller está diseñado para ayudarte a aprovechar tu poder y proyectar tu pasión por el bienestar. No importa si eres un nuevo profesor, o si buscas reelaborar tu negocio; esta sesión te ayudará a profundizar en tu conciencia personal, a aprovechar tus cualidades más elevadas, y a elaborar objetivos alcanzables incluso en medio del cambio.
Faith te proporcionará herramientas prácticas para establecer una estrategia empresarial alineada espiritualmente, y técnicas para mantener el espacio de forma consciente.
Vea el vídeo promocional de este curso
Más información:
Los conceptos generales de este curso incluirán:
Conferencia y pasos guiados para dar a su negocio el impulso que necesita para prosperar
Cómo su práctica espiritual es la base de una buena gestión y proyección empresarial

Desarrollo de la estrategia fundamental con material escrito para que usted haga su propia estrategia
Meditación y visualización para abrir su intuición y aliviar el miedo y los bloqueos

Consejos para la gestión del tiempo, el impacto de las redes sociales, el desarrollo del equipo y mucho más.
Cazador de fe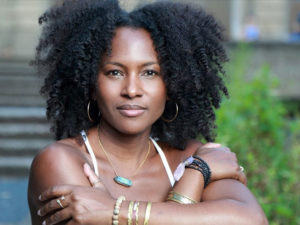 Faith Hunter MBA, E-RYT® 500 es una instructora de yoga y meditación a nivel mundial, filántropa del bienestar, motivadora del movimiento, guía de curación, y una cabeza musical. Es la artífice de Spiritually Fly™, una filosofía de vida que despierta el brillo dentro del alma, y utiliza las antiguas tecnologías de la respiración, el movimiento, el sonido (cantos y música) y la quietud, de una manera fresca y moderna para animar a los estudiantes a vivir la vida que desean. Con una licenciatura y un MBA, Faith también ha estudiado las profundidades del yoga, la meditación y la curación energética.
Desde la portada hasta las páginas de múltiples revistas como Yoga Journal y Essence, programas de televisión globales y otras formas diversas de medios de comunicación, Faith es una maestra espiritual que mezcla brillantemente los principios clásicos del yoga y los sucesos del mundo real en una experiencia integrada que es aterrizada, radical e inolvidablemente Spiritually Fly™. Como espíritu creativo, Faith es también una escritora que ha fusionado su amor por la poesía, la meditación y las artes curativas en numerosos proyectos. Su segundo libro, Spiritually Fly: Wisdom, Meditations, and Yoga to Elevate Your Soul se publicará en 2021. Faith es también la propietaria de Embrace Yoga DC, situado en el barrio Adams Morgan de Washington, DC, y la fundadora y directora general de Embrace OM, una marca de bienestar centrada en compartir las múltiples voces de la comunidad mundial.
Conecta con Faith Hunter:
https://www.faithhunter.com/
@spirituallyfly
Ratings and Reviews
Teacher
Ratings and Reviews