Uncomfortable Conversations with a Black Yogini
Through the reality of inclusion principles of oneness, this course examines the many faceted experiences of moving into inclusion work. How do we build the bridge to move into greater inclusion and oneness while still acknowledging the different racial identities?
Meditate and learn with experienced Diversity, Equity, Inclusion teacher Vedya Amrita Kaur. Create the ability to have these conversations in a safe space. Understand the lived experience of a black yogini in our community. See through the other's eyes. Develop the muscle for genuine dialogue and move forward in support.
"If we can sit together and talk about what's important to us, we begin to come alive. We share what we see, what we feel and we listen to what others see and feel."

Mary Wheatley – 2002
More Information:
General concepts this course will cover:
Through dialogue, we can support each other and cover ground that has been uncovered.

Give yourself the ability to speak your truth in these times.

Understand new ways of perceiving dialogue around race, open up and consider lived experiences different from your own.

Intersectionality; embrace all of your identity, who you are and how you live in this world with your unique perceptions.
Vedya Amrita Kaur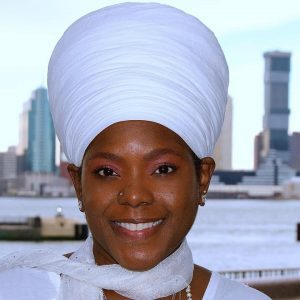 Vedya Amrita Kaur grew up in Atlanta, GA steeped in a strong spiritual foundation. Her spiritual curiosity led her to explore various approaches for living a joyous, liberated life, heightening the connection between mind, body and spirit.
Vedya Amrita is an advocate for fostering diverse and inclusive environments in yoga as a founding member of the Kundalini Yoga Diversity and Inclusion Committee. She is also on the Board of the Kundalini Research Institute (KRI). Vedya Amrita is the owner of Glowing House, Inc. a wellness experience specializing in Colon Hydrotherapy; Ayurvedic Counseling, Counseling Hypnosis and the healing benefits of Kundalini Yoga and Meditation.
Vedya Amrita lives by the quote: "We are gifted with this human life on this Earth for a purpose: to enhance peace within ourselves, around ourselves and forever." Yogi Bhajan
She teaches through a Warrior's paradigm all while nurturing students to unleash their powerful, joyous and graceful nature. Vedya Amrita's enthusiasm, open heart and neutrality holds a delightfully dynamic space for love and joy cultivating an experience you won't want to miss. She currently resides in New York City.
Visit her website at http://myglowinghouse.com
Follow her on Instagram and Facebook
Ratings and Reviews
Teacher
Ratings and Reviews