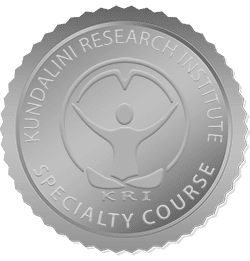 Step 1: Initial consultation to determine eligibility
Contact Siri Neel Kaur at [email protected] for an initial consultation. Together we will determine whether your product simply requires permission for use of the Teachings of Yogi Bhajan or is eligible for the KRI Seal of Approval.
If you are requesting use of a small amount of the Teachings and the majority of your product is not from the Teachings, your product is not eligible for the KRI Seal. You will complete a Permission Application and Agreement.

If the majority of your product comes from the Teachings, then you will proceed with the following steps.
Step 2: Complete and submit the Application Form including all documentation
After the initial consultation the application form will be sent to you. COmplete and return it to Siri Neel. On the application you will provide a list of the Teachings of Yogi Bhajan (including kriyas, meditations, quotations, and concepts) used in your product and your source(s) for them.
Step 3: Complete the KRI Review Process.
As mentioned earlier the best time to contact KRI is early on in your product development process. Otherwise you may need to make costly and time consuming revisions. This is especially true when  photographs and illustrations are completed before contacting KRI.
For the review, KRI will need the list of Teachings and their sources (this information is on your application) and may request scanned copies or links to your sources. The reviewer can work with you on these sections initially and eventually will need to see the complete final version of your product  before production to see how the Teachings are presented within the context of the entire product.
Allow a minimum of 4 weeks for the initial review. Depending upon the amount of material to review and the reviewer's schedule, it may take more or less time. The reviewer will work as best they can within your timeline. 
Step 4: Complete a Licensing Agreement.
Completion of a Licensing Agreement for the use of the Teachings of Yogi Bhajan, is the last step before product approval and receiving the Seal to use in your product and PR. This agreement includes a royalty clause. These funds support the ongoing development of the Library of Teachings®. These fees may be  an annual flat rate or a percentage of sales whichever arrangement best suits your particular situation and product.
KRI checklist for publication approval
We have create a quick checklist for approval process. Download this resource to help you go through the approval process!