Costa Rica Hybrid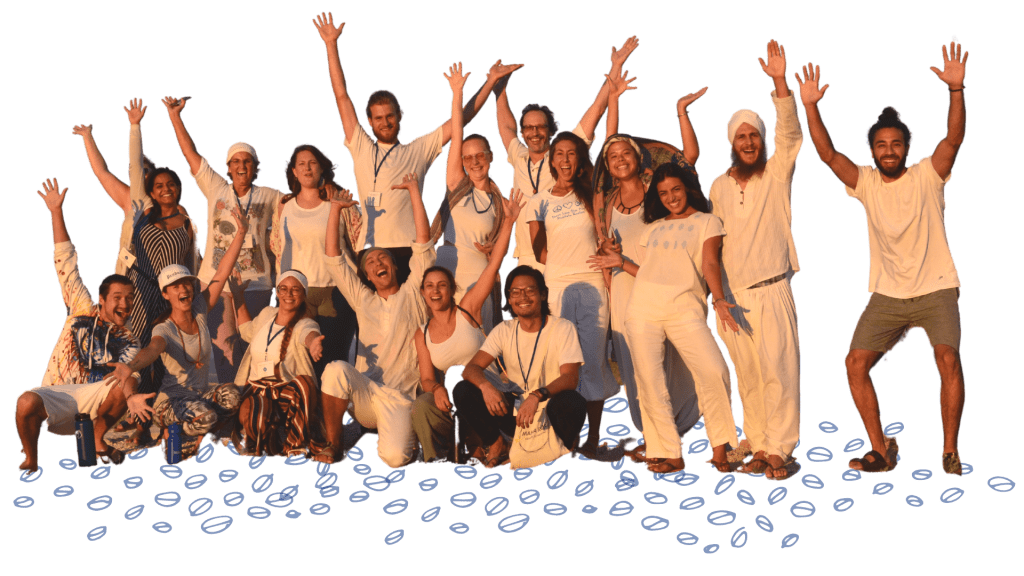 Kundalini Yoga Teacher Training
The Costa Rica Hybrid is a unique Teacher Training designed to deepen your practice of Kundalini Yoga, meditation and lifestyle, while giving you the tools and skills needed to share these spiritual practices in your communities as a Certified Kundalini Yoga Teacher.
The hybrid format consists of 6 months of online learning and a 10 day closing retreat in Costa Rica that creates an onsite uniting ceremony,  where as a group we delve into the practices and teachings to have an immersive experience. 
In this way we are all involved in the co-creation of a learning pathway that allows you to experience the vastness of the Kundalini Yoga and Meditation technology in an independent and self regulated manner culminating with a profound community engagement opportunity.
About the training
We have created a Kundalini Level One Teacher Training Program that captures the progression of the times. With the sophistication of technology, we are able to bring in a diverse teacher training team filled with high caliber trainers from all over the world. 
In this training, we will be diving into the different facets of Kundalini Yoga that point us towards understanding who and what we are, so we may project our radiance and become aligned with the present, our creativity, and infinite possibilities around us. 
Training topics include: History and Philosophy of Kundalini Yoga, Sound and Mantra, Pranayama, Kriya, Mind and Meditation, Sadhana, Anatomy and Physiology, Humanology and MORE!!!!
The course is set to run as a 6 month training, where you you will have access to the teachers and trainers for support. You have 18 months from the start of the training to complete all of the requirements.
The content will be live-streamed and recorded, giving you the optimal balance of group energy and connect with personal flexibility.  Please see the section below called "Hybrid Structure" for more details about how the course will be structured.  And feel free to email us if you have questions about how this amazing learning journey can fit into your life! 
Please keep in mind this a 220-hour teacher training. It will require your effort and your focus to certify. There are also certification requirements that will require completion for certification. Please refer to the Certification section for detailed information.
hybrid structure
6 months online
December 2021 – May 2022
The 6 months leading up to the Costa Rica closing retreat builds a support system, a network, and a constant and conscious engagement for the mind, body, and spirit. 
This segment is composed of online live streamed sessions on Zoom as well as independent study with videos and diverse learning opportunities.
The live sessions group are scheduled to meet 2 or 3 a month from 8:00 am to 1:00 pm Mountain Time (New Mexico), on the following days:
Dec 3, 4, 11
Jan 8, 22
Feb 5, 19
March 5, 19
April 2, 9, 23
May 7, 14
*Friday, December 3rd is an evening orientation
Classes are made up of a combination of Kriyas, Meditations, Alignment Checks, Practice Teaching, Lectures, Videos, Group Activities, Art Practices, Discussion, Sound & Mantra Work and related content delivery. 
There is homework every week, material for contemplation, activities of creativity and creation, and other engaging study elements. The online portion also offers flexibility with schedule. Live Zoom meetings are 5 hours each. It is highly recommended that you attend all of the hours of live-streaming, however, if you are unable too do so, we only require 80% attendance, you can watch the classes you missed on the recorded videos and have alternative assignments that are created to be enriching and enjoyable.
Costa rica closing retreat
Onsite, May 21-30, 2021
After 6 months, and with a solid basis of connection and practice that builds up to our journey in Costa Rica, we get the richness of the immersion experience with a daily routine that is filled from beginning to end, but there's also time built-in for self-reflection, lots of laughter, and restoration. 
The schedule onsite in Costa Rica will generally follow the following format:
5:00 am – 7:20 am Morning Sadhana (offered daily, only 5 required)
7:30 am – 8:00 am Breakfast
8:00 am – 12:45 pm Class 
12:45 pm – 2:00 pm Lunch
2:00 pm -6:00 pm Class
6:30 pm – 7:30 pm Dinner
7:30 pm – 9:00 pm Study/Reading, Evening Activity or Reflection Time
10:00 Lights Out
We have half days set aside with free time to walk on the beach and in the surrounding area, enjoying the property of the magical venue in the Nosara jungle or just soaking in the elegant accommodations that are in complete harmony with nature. 
Heal yourself in the vibration of the wonderland immersed in the jungle and kissed by the ocean
Soak in the waters at the beach
Explore the property 
Seek inspiration from the nature around
and much more…
*In your free time you may wish to adventure on your own or with classmates. These outings are often generated among participants and any related costs are not included in the program nor is transportation provided by KRI. If you wish to do any sight seeing, please schedule yourself to stay a day or two extra before or after the program.
100% online track
You asked and we are listening!! 
If you want to do your teacher training with KRI and the fabulous team of world trainers, but  you do not feel safe to travel, have other engagements during the retreat period or have economic restrictions, you can still join and do the entire training Online.
What does this look like?
During the Costa Rica retreat, we will be broadcasting live and recording. The expectation is that you attend 3 hours of the livestream sessions each day and you will have the opportunity to watch the rest at your own pace. You will be responsible for completing all of the elements of this part of the training as well, either live or recorded.
Please keep in mind this is a 220 hour yoga teacher training. It will take time and dedication to move through the material and your commitment and accountability comes from within. Yet we do have systems in place for peer accountability and verification of completion, as well as support from the trainers and staff. This is the age of self initiation!
Costa Rica Hybrid Program FAQ
Do I need to send proof that I have completed my prerequisits?
We want applicants to have experienced a minimum of 20 Kundalini Yoga classes prior to attending the Immersion so that you are familiar with some of the basics of Kundalini Yoga before starting the Level One Teacher Training. We do not need proof that you have attended these classes. If you are unable to attend the 20 classes, you are required to send in a written essay in addition to completing 20 KRI-certified classes online or via DVD before the program begins in December 2021. (See the Prerequisite Requirements on the Certification page.)
Can I miss a few days of the training for school or work?
You are required to complete all of the course material. Our expectation during the Online portion is that you attend 80% of the live sessions.
If you are enrolled in the 100% Online track, during the Costa Rica Retreat you are required to attend 3 hours a day live and the resto you can watch at your own pace.
Do I need to wear white the whole time?
You only need to wear nice white clothing and a white head cover while teaching your two Practice classes (Practicums). The rest of the time you may wear comfortable clothes that you can do yoga in. 
Read more ABOUT LEVEL 1 JOURNEY
Learn more about the KRI Level 1 curriculum and process.
Learn more HERE