Healing with the Siri Gayatri Mantra
Renowned sound and mantra expert and musician Dev Suroop Kaur reveals secrets to healing with this special mantra: Ra Ma Da Sa Sa Say So Hung. She will share her research, experience, correct pronunciation and ways that you can use this mantra in your life to help heal and help others heal. Join us for fun, warmth and exploration of this most beloved of Kundalini Yoga mantras.
Investigate and consider how the seed sounds of the mantra vibrate at the frequency of that which they describe. Practice, from the comfort of your own home, this mantra, which has been proven through research to reduce "pain". Study with precision hand and arm placement for the meditations that use this mantra, in order to facilitate the creation of prana. Walk away with a thorough understanding of this unique mantra's efficacy in improving the quality of life.

Included in this course as a learning resource is a research paper done on the efficacy of this mantra in helping children with cancer to reduce the amount of pain medication that they need.
More Information:
Concepts covered in this course:
Pronunciation & meaning of the Siri Gayatri Mantra

New ways to approach this mantra for maximum healing

How to use this mantra and how to teach it

Research and special information about this mantra
Format:
1 hour of pre recorded interview/lecture (from live zoom call),

now available as self paced learning.
Why Take this Course?
Join with mantra/sound expert Dev Suroop Kaur to really EXPLORE maximum healing with this most sacred of Kundalini mantras.
What does this Course Include?
This is a pre recorded process, and through lecture, dialogue with the instructor as well as a chanting sequence you will learn so much about this mantra and its special benefits. Also included is the research paper showing this mantras efficacy in a small study on pain reduction on children with cancer.
Dev Suroop Kaur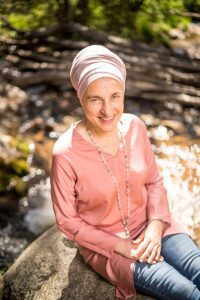 Dev Suroop Kaur delights in sharing the pure practicality of nurturing a successful and deeply authentic life. An accomplished musician, recording artist, and Lead Trainer in the KRI Aquarian Trainer Academy, Dev Suroop Kaur strives to break it down, keep it real, and guide students to their own empowered authenticity. From the deeply contemplative compositions in her recordings Sahej and Narayan, to the hip, edgy beats of her chant-rap album Kundalini Beat, Dev Suroop Kaur offers an extraordinary range of styles to invoke the experience of the Divine Spirit. She is blessed to have studied in the classical raag kirtan lineage of Bhai Avtar Singh Ragi and Bhai Kultar Singh Ragi. She deeply enjoys training students and teachers of Yoga in the science of Naad Yoga, conscious communication, and how to access the beauty and power of their personal voice as well as other Kundalini Yoga topic areas. In addition to her Kundalini Yoga studies, she is a certified Vinyasa teacher through Yoga Farm Ithaca and is currently completing a 200-hour hatha yoga teacher training with Yogasource in Santa Fe. She currently lives with her husband in Espanola, New Mexico. Dev Suroop Kaur is certified as a Registered Yoga Teacher (E-RYT500) through Yoga Alliance, and holds an MBA from the Claremont Graduate University.
[rrf_course_review course_id="32975″]