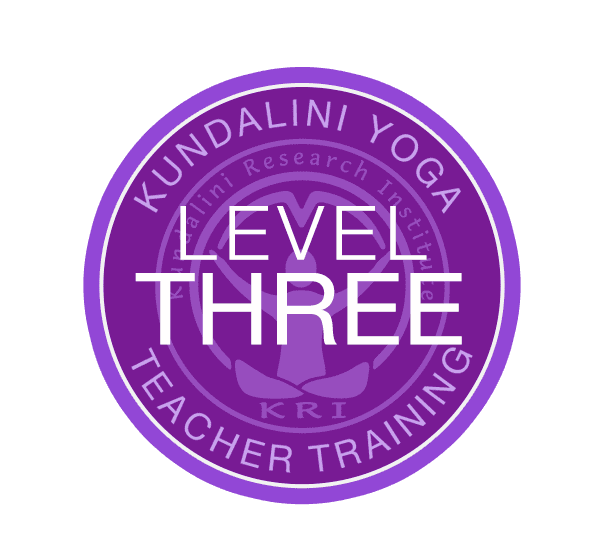 Level Three Requirements and Application
For Level Three Eligibility
Please read carefully below the requirements to join the Level Three program.
Section A: TEACHING and CERTIFICATIONS


– ALL are required –
Level One Certified

Level Two Certified (completion of all five L2 modules)

Taught 500 hours of Kundalini Yoga (since the Level 1 graduation)

In compliance with the current Code of Ethics & Professional Standards of a Kundalini Yoga Teacher and conduct yourself in accordance with the highest professional standards.
Section B: PERSONAL PRACTICE


– Need to have fulfilled a minimum of TWO practices below –

 

Option 1: TWO items from Meditation & Personal Practice category
OR
Option 2: ONE item from Meditation & Personal Practice and ONE item from Community Service.

 
Meditation and Personal Practice
Long Ek Ong Kars — 40 Days 2 ½ hours before sunrise
Kirtan Kriya — 40 Days 2 ½ hours while wearing white
Master's Touch — 40 Days 2 ½ hour
Full Aquarian Sadhana — 40 Days
A physical exercise Kriya in Kundalini Yoga as taught by Yogi Bhajan ® (60 min+) — 40 Days.
Other 40 Day 2 ½ hour meditation
Personally attended 40 of Yogi Bhajan's classes or watched 40 Yogi Bhajan videos with consciousness of a student.
Sahej Paath (any language)
Community Service
Engagement in and service to the 3HO community for at least 2 consecutive years in any of the following ways
Seva Team Leader at Solstice or Yoga Festival
Organized or host local events like White Tantric Yoga
Organized community potlucks, Full Moon Meditations etc.
Organized an Akandh Paath
Participated in communal Seva Projects like Free Kitchens
Publishing newsletters, translating KY/3HO materials
Held a role of responsibility in a national or local 3HO related organization
Other comparable activities