This was my first visit to Bali where there is such peace and harmony.  I am here with my grand-god-daughter Prem Kaur enjoying mornings filled with swimming, walks, playgrounds and pure joy.  I am also meeting the local Kundalini Yoga as taught by Yogi Bhajan® Teachers and Trainers and feeling the warm heart of this land.
Wherever I go in the world I want to connect with the local teachers and trainers to learn about their outreach, teaching and the culture of the area.  In my visit so far, I have come to understand that the Balinese have a very sacred and deep connection to their land, the elements, and their ancestors. They have a rich and humble relationship to their families, community and temples.   They live their lives based on the three harmonies Tri Hita Karna to create peaceful and happy balance in life.   Tri Hita Karana word is come from Sanskrit Language that has meaning to keep the harmony as well as balance between human to the divine, human-to-human and human to environment.  The love and joy in the faces of the people glow with this balance.
When coming to Bali I reached out to Hari Dass Kaur of Los Angeles to connect me with the local trainers.  This past year Dr. Haridass Kaur Khalsa, Ph.D. a Lead Trainer from Los Angeles led an Outreach Training for local Balinese Kundalini Yoga students to become Level One Teachers.
Before I go on let me explain Outreach Training to underserved markets. At present, there are over 700 Level One Teacher Trainings that take place around the globe and most of these are in cities where there are many students who can afford the price of Level One Teacher Training.   A small percentage of these programs are Outreach Trainings to underserved areas – areas where due to the economy, or language (lack of translation) and/or geography, long distances from where Teacher Trainers live, the students have not had access to the Aquarian Teacher Level One Teacher Training Program.   So, to meet this need there is a small but growing number of trainers that are reaching out and delivering the Level One Program receiving little or no trainer fees and sometimes paying for their own transportation in the spirit of delivering the teachings.  KRI is actively working with a group of Lead Trainers to develop and expand the numbers of these Outreach Trainings.   You may have read my recent blog post on the Outreach Training in South Africa.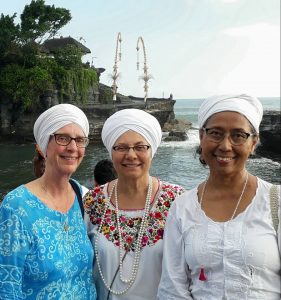 Dr. Haridass Kaur, is completely dedicated to these Outreach Trainings to underserved areas.  In her own words, "Why not? What have I got to lose? I can gain valuable experience teaching and I would travel to distant lands to those who are ready to commit to becoming Kundalini Yoga teachers."
In this past year, she responded to a heartfelt request from Savitri Devi-Amarjeet Kaur to bring the KRI Level One Program to local Balinese students. Dr. Haridass Kaur was very moved by this request, "The Bali training was especially significant as it was comprised of mostly Indonesians and Balinese students who had never done Kundalini Yoga before.  By the grace of Guru Ram Das and the support of an international team of trainers, we were able to provide and complete the first KRI Level One Teacher Training for the local people in Bali last week."
I would like for you to meet Savitri Devi- Amarjeet Kaur
My name is Savitri-Amarjeet Kaur, born and raised in Bali but was living in Toronto for 25+ years, of which the last few years were spent living at Guru Ram Das ashram. I have been practicing Kundalini Yoga since 1998, and became a teacher in 2009.  I had a deep longing for a sangat ever since I returned to Bali in 2015. There are Kundalini Yoga teachers in Bali but none of them are Balinese. Witnessing how the Balinese p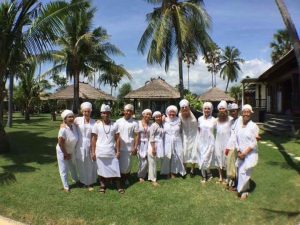 lay serving roles on their own land has awakened in me the desire to have them train as Kundalini Yoga teachers to possibly change their future. But this desire was almost futile, as their monthly salary is only USD $150. Furthermore, they often are required work on their day off during peak tourist season.
"Thankfully, G-O-D and Guru heard my prayer, and sent Dr. Haridass Kaur Khalsa a Lead Trainer from Los Angeles to Bali with her team of trainers last year and the teacher trainees graduated last Saturday. I am very grateful to the sacred technology of Kundalini Yoga. I hope that the new graduates will start spreading the teachings in their community. They are very excited to take these teachings to the villages where this technology is so desperately needed but where there has been no access up until now. We are already planning another local Level One Teacher Training Program for 2018 this time in Ubud.
"Additionally, Dr. Haridass Kaur has helped to reinstate myself with the Aquarian Trainer Academy and I am working with Hari Charn Kaur of KRI to move forward.   My goal is to be a Lead Trainer in Bali where I can sponsor programs and help develop teams of Balinese trainers.  As I am working on moving on forward, I pray that I will continue to work closely with the new teachers. Although still in its infancy, the future of Bali sangat is bright."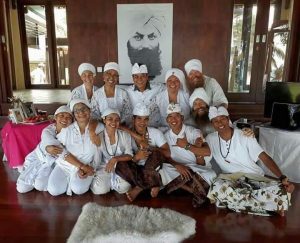 Let me introduce you to the six new Balinese Teachers: Ida Bagus Gede Buda Siwantara ,  I Dewa Made Yuda Wirama,  I Gusti Nyoman Subudiarta,   I Komang Ayu Suciani,  Ni Made Eka Pratiwi, and Rani Rachmani Moediarta.Thank you to all the KRI trainers who provided their time, flights, hotels, and service to make this training happen. We welcome the first generation of Balinese and Indonesian Kundalini Yoga teachers in Bali!
Teacher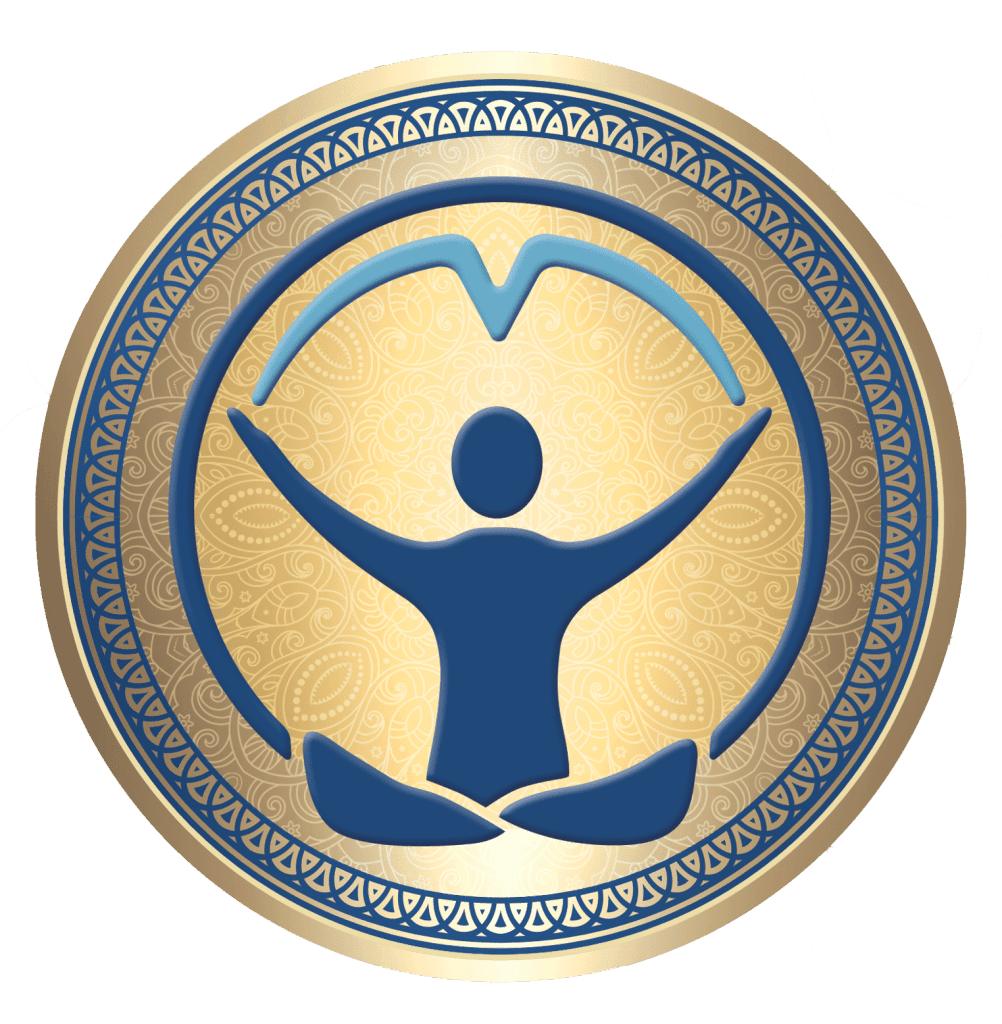 KRI is a non-profit organization that holds the teachings of Yogi Bhajan and provides accessible and relevant resources to teachers and students of Kundalini Yoga.