By Shanti Kaur Khalsa
Sant Hazara Singh was the first teacher of Yogi Bhajan, from his youth, and someone that he spoke of with respect and reverence. This amazing personality, seemingly larger than life, is mostly shrouded by the mystery of time. However, this fall we had the blessing to talk with Sant Baba Partap Singh who, when he was a child, knew Sant Hazara Singh.  He was like his grand-uncle, and Baba Partap Singh relayed to us what he remembered about him.  He told us that Sant Hazara Singh was an impressive personality dressed in his brilliant white robes and a very light orange turban. From the eyes of a youngster, he said it was sometimes hard to look at Sant Hazara Singh because he was so bright and he often wondered how he was able to keep his chola so white!  He described Sant Hazara Singh as someone who would never utter a harsh word or break any heart, revealing another dimension of his personality, and adding to Yogi Bhajan's description of him as a stern teacher. He then told us an astonishing story about Sant Hazara Singh's origins.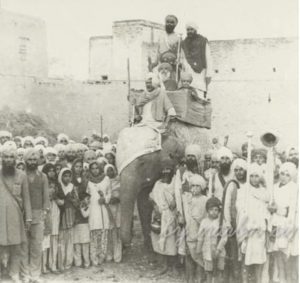 When young Hazara was only about 5 years old, a devastating earthquake shook the part of India that is now Pakistan.  His father, mother, sister, and all his relatives were killed, buried in the rubble of their homes.  By some unknown circumstance, Hazara was the lone survivor. With only the clothes on his back, young Hazara walked alone from his village to the city of Lahore.  It was here that the great Sant Baba Sohan Singh found him and took him in, giving him food and shelter in the Baba Bidhi Chand Dal sometime in the early 20th century.
Young Hazara did not know the names of his parents, the name of his village, or when he was born.  He was an orphan whose past had been wiped clean away. Baba Sohan Singh gave him a home and Hazara Singh took on Babaji's last name, Chhina.  Sant Hazara Singh remained dedicated to Baba Sohan Singh throughout his life as a student and as a son.  He served him tirelessly, sleeping on a mat under Babaji's bed.
It is still a mystery where and when Sant Hazara Singh learned Kundalini Yoga.  And, there is no indication that Sant Hazara Singh studied yoga from Baba Sohan Singh. This is part of the story that, by Guru's grace, is yet to unfold.
Teacher