Body Inclusivity with Dr. Ramdesh
Ramdesh Kaur shares with the Academy and Kundalini Yoga Teachers how to be sure to use welcoming and inclusive language for all body types. Posture delivery cues, ways to allow and support all kinds of expression of this beautiful human body to feel welcomed, comfortable and safe in your Kundalini Yoga offering. Dr. Ramdesh has years of experience in inclusion work, being a member of the deaf community and also working with women around the world to embrace and love their body throughout all stages of life.
Many people use Kundalini Yoga to heal some part of their body/mind spirit connection. Ramdesh shares her personal journey of self healing of an eating disorder through her practice. In these sensitive times, how do we celebrate the body without being overly body conscious. There are options and ways to give safety when teaching, you can develop these skills and add to what you are already doing!
More Information
General concepts this course will cover:
Understand from an experienced and charismatic teacher, how to approach all kinds of body types and be sure to be sensitive when teaching yoga.
Without being overly conscious of language, we can teach yoga in a way that is body aware.
Look beyond physical form, but teach safely and speak to all body types in a way that supports self acceptance.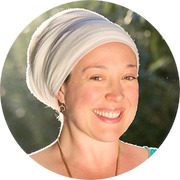 Dr. Ramdesh is the author of The Body Temple: Kundalini Yoga for Body Acceptance, Eating Disorders, and Radical Self-Love, and is also the author of Yoga and Mantras for a Whole Heart with co-author Karan Khalsa. She has many best-selling guided meditation albums that create deeply healing and accessible meditation experiences for all.
She is the host of Spirit Voyage Radio with Ramdesh on Unity FM and iTunes, a weekly podcast that brings mantra and meditation to over 300,000 listeners each year, and she is the founder of the Spirit Voyage Global Sadhanas, an online global meditation community of over 25,000.
[rrf_course_review course_id="32963″]